Fall is here and it is time to try a new, chic look with the best fall dresses in town!
Since autumn is when things start to get colder, having an ensemble of fall dresses made from the softest, yet warm fibers will help you tackle this season in style.
While pastels and breezy shades look pleasing in summers, you can get some chic fall dresses for the autumn in muted tones to bring out the best in you.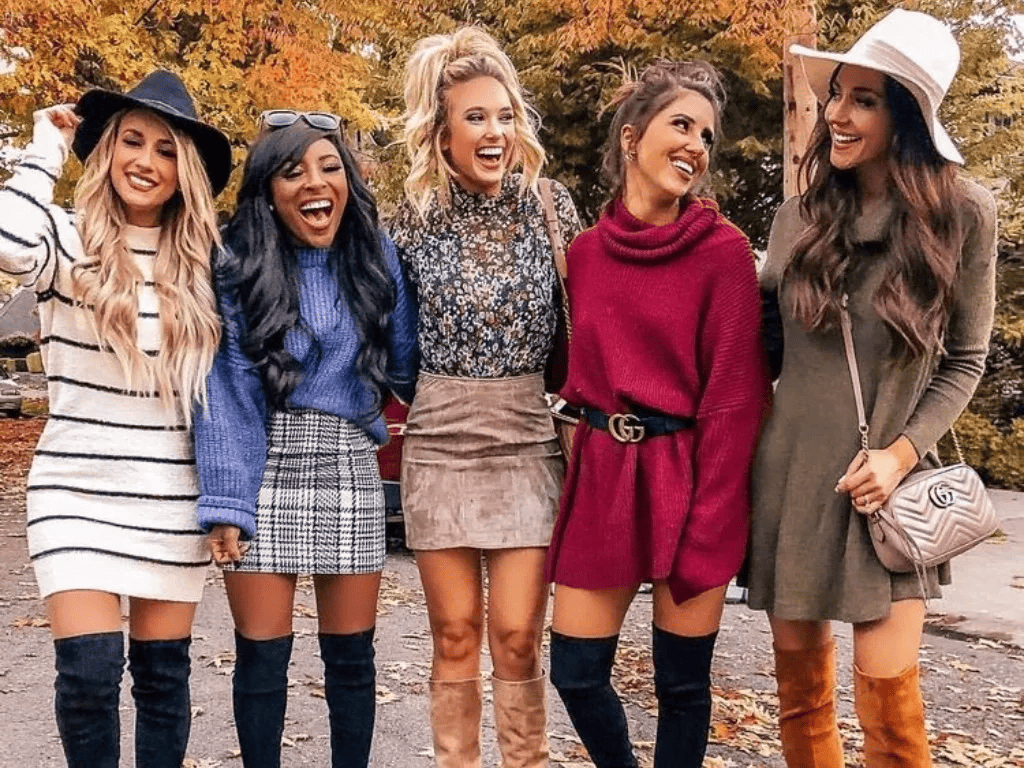 Fall is a season when you would like to ditch light shades and don on those long sleeve fall dresses in warm, earthy colors.
If you are someone who associates winter with the death of fashion, it does not have to be that. Fall fashion is knocking at your door while August and September slip away in a moment of time.
Try the most effortless looks with some planet positive and fall-friendly sustainable dresses we have listed down for you below. From cocktail evenings to attending weddings, you will look absolutely gorgeous in these ensembles that are perfect for any event or even when you want to grab a coffee while watching the falling auburn leaves.
Want to read more like this?
Get similar stories and a free sustainability checklist delivered to your inbox.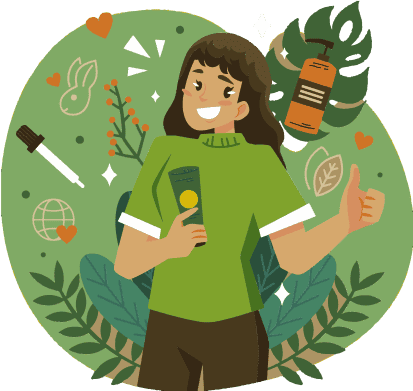 Get similar stories and a free sustainability checklist delivered to your inbox.
What is Fall Fashion?
We do not need to tell you twice that fall does not always mean that you have to adopt styles that resemble an overstuffed penguin.
Okay, yeah, for a site that writes about sustainability and how climate change is endangering polar habitats, we should not be hating on penguins. They're cute! But do those fluffy little birdies look chic and from a runway?
We know, they aren't slaying catwalks at all. That's the whole point of fall fashion- you need to layer while accentuating your silhouette and those curves while rocking those casual fall dresses like you were mean to.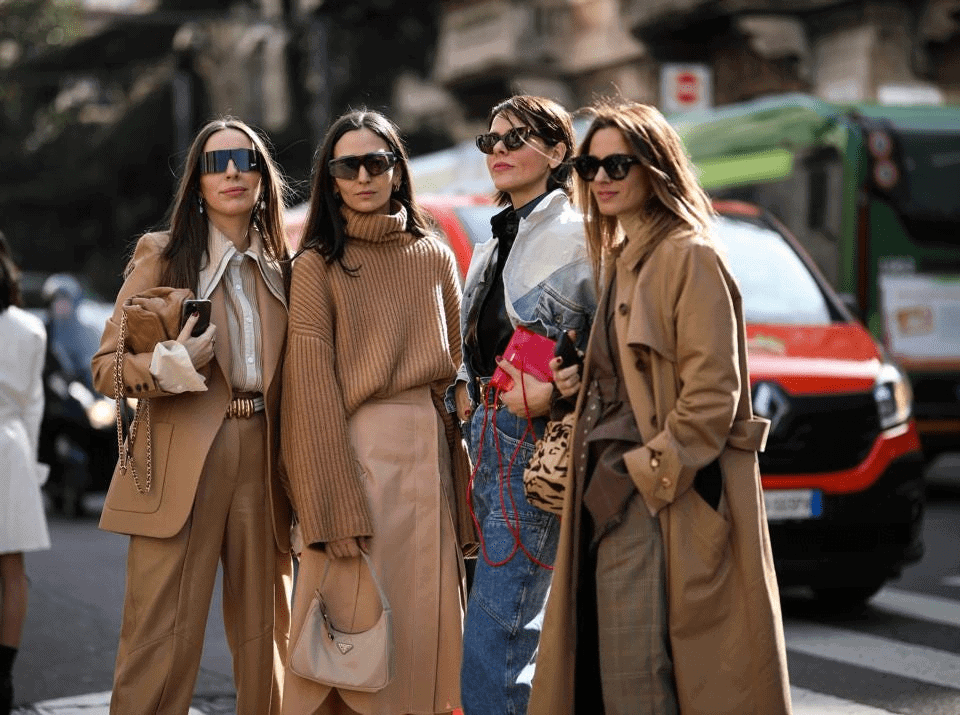 So here are some pointers about fall fashion in 2022- forget about dressing like you are going into a freaking snowstorm. Fall is a season of goodbyes and new hellos.
Basically, it is when seasons are changing. You would want to dress a little warmly during these days as you might encounter slightly chilly weather. Just like George R.R. Martin said- 'Winter is coming'.
Although nailing fall fashion might sound intimidating, wearing clothes suitable for the session do not have to scratch you like the iron throne. (Expect a lot of GoT and House of the Dragon references from us, because those jewel tones they're carrying are a bespoke fall fashion guide. But hey…we hope you encounter no Red Weddings. That will be as traumatic as landfills overflowing with global textile waste.)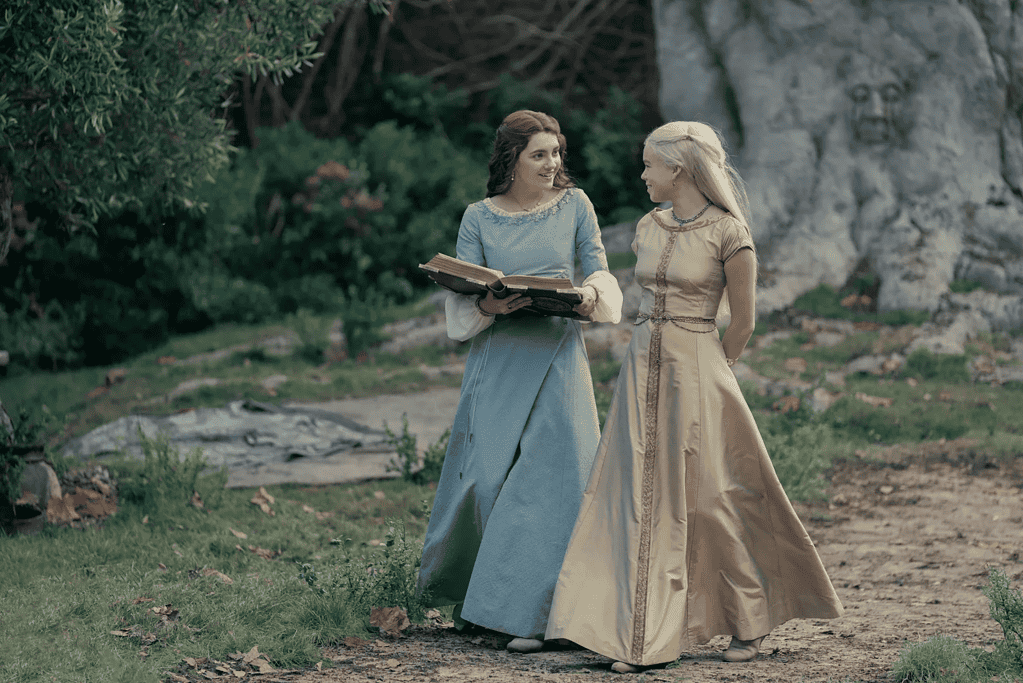 Fall fashion wardrobes usually boast of warm cardigans, light pullovers, gorgeous boots (even better when they are made from vegan leather) and cute shrugs. This is not the time when people usually think of embracing casual dresses, midis or even thigh high sweater dresses.
You know what- break that structure right now! It is possible to carry the most chic casual dresses with elan if you do it right!
We have explained it all for you- from what to wear to what is in, which colors you should seek out ASAP and how to still be sustainable while being fashionable. Go through this fall fashion 101 and at the end you will find one of the most hip list comprising 12 best fall dresses to wear this year.
Keep scrolling below to see what Be Zen has to say about the most sleek and ultra-chic dresses for both formal and casual events to wear this fall! Mark 2022 as a year where you are going to rise and shine while being planet-positive all the while!
Which Clothes Should You Wear During Fall?
People are often thrown into a tizzy when seasons change. While you pull out all those boxes full of woolens, you might find yourself at a loss with what to wear when you are invited to your friend's last minute bridal shower or bachelorette.
Even going out for a teeny tiny hangout with your closest chums seems intimidating when you are in the perpetual dilemma of a rising fashionista. YOU DO NOT HAVE ANYTHING TO WEAR! (Except for that cute little wrinkled sweater you found on a thrift store- but hey, we want to graduate a little right?)
You might be tempted to get some dresses that define your curves even more, or hide them (that's up to you- but it's good to be body positive and embrace all that we are, no?). Okay, that might not include unflattering sweaters that are clearly a guide to the do nots of fall fashion.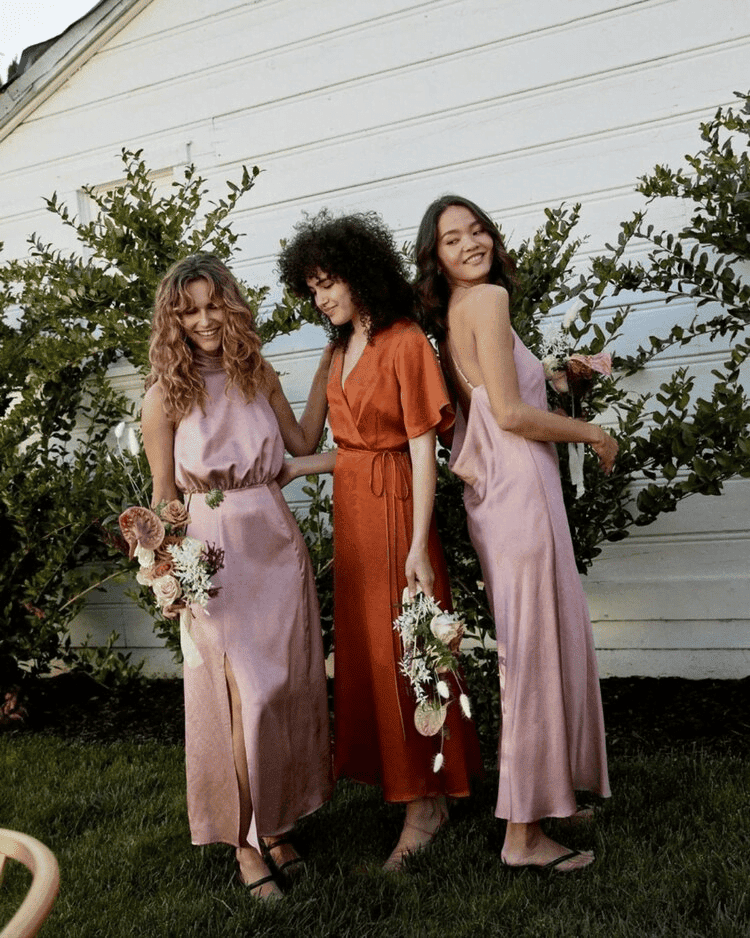 There are a few things you should remember while thinking of what should you wear- and let's begin from the don'ts.
Thou shalt not choose fabrics that are ultra-flimsy. You're aiming to be Taylor Swift's Cardigan (not her 'cardigan'. The song, please), not Sharpay Evans' from Fabulous (not that you can't be, but well, fall isn't the season to lounge by pools in a flamingo inflatable tube.).
Fall is actually the best season to get those boots and sweater dresses to work. Layer it with a shrug or a cardigan, put a belt on if you want a more structured-appearance and there you have the perfect casual fall cutie look. For added effect, carry a few books or a satchel to nail the dark academia aesthetic.
If you wish to channel your inner dark academia wannabe and merge it with a softcore aesthetic- try this, get a full sleeved white-shirt, wear a plaid printed woolen dress over it. Top it off with knee high socks and Mary Janes. Gives a sweet appearance. Or suit yourself.
A dress with a blazer? Serena Van Der Woodsen approves.
A dress with leggings? Absolutely!
A dress with a pretty belt that adds definition? We are rooting for it!
A dress? Why the hell not.
Jeans and cardigans might be a staple this fall, but try getting out of the box and embrace the range of fashion choices that dresses might entail! Fall is never complete without some sustainable dresses for us!
---
Why Should You Go for Sustainable Clothes for Fall?
We have spoken enough about fall fashion and what you can try. But as we always promise you, we aren't going anywhere without sustainability. You might think that with the incoming of winters, fast fashion might stop for a while.
Unfortunately, it isn't so. Fast fashion is a mean juggernaut that keeps going on as we continue to speak about it.
We have elaborated on the topic before in our earlier updates on sustainable and ethical clothing brands, but we will keep it short and to the point for you.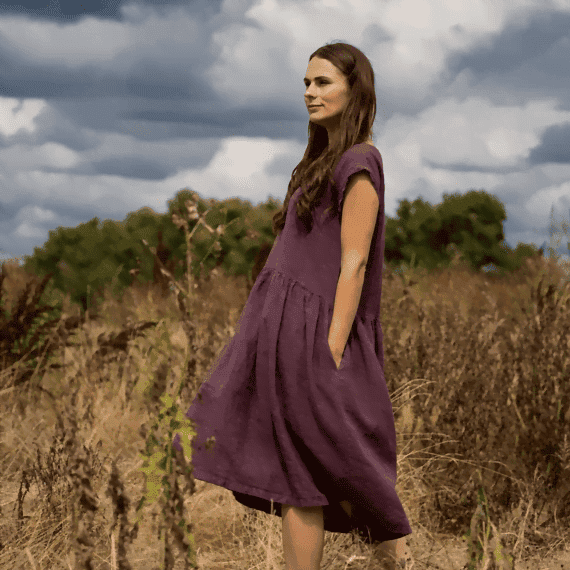 Fast fashion is slowly suffocating our planet by choking its entrails. The textile industry generates about 1.2 billion tonnes of CO2 equivalent on an annual basis, which is actually more than the most emissions belched out by heavy duty industries such as transport.
Fast fashion goods also place a humongous stress on natural resources, especially water. The harmful dyes and pollutants in these fabrics are not only non-biodegradable, but they also release harmful microplastics whenever they are washed.
We usually expect that winters or fall would mean that coats, shrugs, mufflers, caps and woolen goods will be used gently and won't be washed more often.
While this might be of some merit, the material most of these articles are made with offsets the benefits.
A lot of so-called woolen clothes are made of acrylic- which is one of the worst ranked fabrics in terms of sustainability.
But then, what can make fall dresses sustainable? Let's look at some of these factors below to decode what we mean when we say a dress is perfect for fall and sustainable-
These Dresses Are Made in Small Batches
Hear, hear. Manufacturing clothing articles in small batches means two things- one, you should not worry about mass produced textile waste that does not last you even one wear. Secondly, small batches means that your sustainable dresses are of a higher-quality and are most probably handmade. Let's get real- we as a society should embrace the maxim 'small is beautiful'.
As in, dresses produced in small batches are not only rare, but they also provide employment to skilled workers who would have been replaced by machines. Also, relish that hand-knitted warmth and do not trade it for machine produced homogeneous goods. While we cherish uniformity, where is the fun if those large batches produce more textile waste?
Sustainable Dresses Use Natural Fibers
A lot of sustainable fall dresses are made from pure wool or reclaimed textiles that have an ultra-comfortable feel. Using natural, sustainably sourced fibers makes you feel cozy, warm and safe from the effects of synthetic fabrics. Clothing made from synthetics such as acrylic, nylon, rayon and polyester is not good for your skin and can hamper air circulation.
Prefer natural fibers like organic cotton to make your style statement this fall. Such fabrics are good for you and the planet as they are biodegradable to a fault. They also do not harm the environment at any stage of production, manufacture and processing.
Sustainable Dresses are More Comfortable
Since sustainable dresses are made of breathable, moisture-wicking fibers, many of them are also anti-microbial. They are soft to touch and are not harsh on the skin unlike synthetics. For a more flowy, boho appearance this fall, you should go for sustainable dresses that make a bold style statement while being gentle on your skin.
Sustainable dresses made from natural fibers are also great at regulating your body's temperature- which is exactly what we need this fall!
Sustainable is Ethical
If we haven't said this enough, let us say it louder now. Sustainable fibers do not use harsh chemicals, colorants or fibers. We often ignore the fact that a lot of production is still helmed by human workers who are subjected to draconian work conditions in addition to harmful substances.
Sustainable fall dresses are produced keeping fair trade practices in perspective. These clothing articles are ethically produced which means that no worker was harmed during its production or manufacture. From farmers to workers to sellers, going sustainable ensures that all these links of the production cycle are getting their due and are safe and healthy.
All these factors and more ensure that your sustainable fall wear is absolutely safe, considerate and ethical. This makes such dresses a clear winner over synthetic fibers that are mass-manufactured.
---
Which Colors Are in For Fall in 2022?
According to Marie Claire's Sara Holzman- there are certain colours that make autumn, well…more autumnal. Fashion psychologists can't stress enough about the importance of colors that match your attitude. If you are someone who isn't a big fan of Barbiecore hot pink and reds, autumn is your cue to embrace all those neutral shades and warm ochres to suit yourself.
According to fashion industry experts, fall 2022 will will look even better if you include certain hues in your ensemble.
Include pops of purple, a dash of deep yellow, camel, fawn, deep burgundy, a burnt sienna or a warm chocolate in your wardrobe to stand out. You can also team up black dresses with a contrasting palette to stand out from the crowd. Try to inculcate more reds, browns, oranges and maroons. Even deep greens and off whites can give you the sophisticated look you wish for.
---
Can I Wear Long Sleeve Fall Dresses for Any Occasion?
Absolutely and without any question. Long sleeve fall dresses are suitable for most of the occasions and events on your list. Weddings, baby showers, bachelorettes, you can tick off any event with the right dress.
Just make sure that the fabric is thick enough to shield you from that occasional chill, but not too suffocating either. You can keep your fashion sensibilities intact with a few accessories if you feel that you're doing too much with the solid colours.
You can select muted tones of otherwise bright colors to suit the more earthy vibe of the season. We aren't telling you to dress up like a pumpkin spice chai latte exactly, but including warm browns with long sleeves will do the trick for you.
You can also dye your hair to go with it- we won't mind a bright streak amidst the otherwise dreary season. And with the perfect vegan hair dyes, you wouldn't have to worry if your hair are as dry as the crunchy leaves you're stepping on.
Top the whole look off with a statement handbag and a pair of heels or sneakers- whatever feels like you!
---
12 Best Sustainable Dresses for Fall
Christy Dawn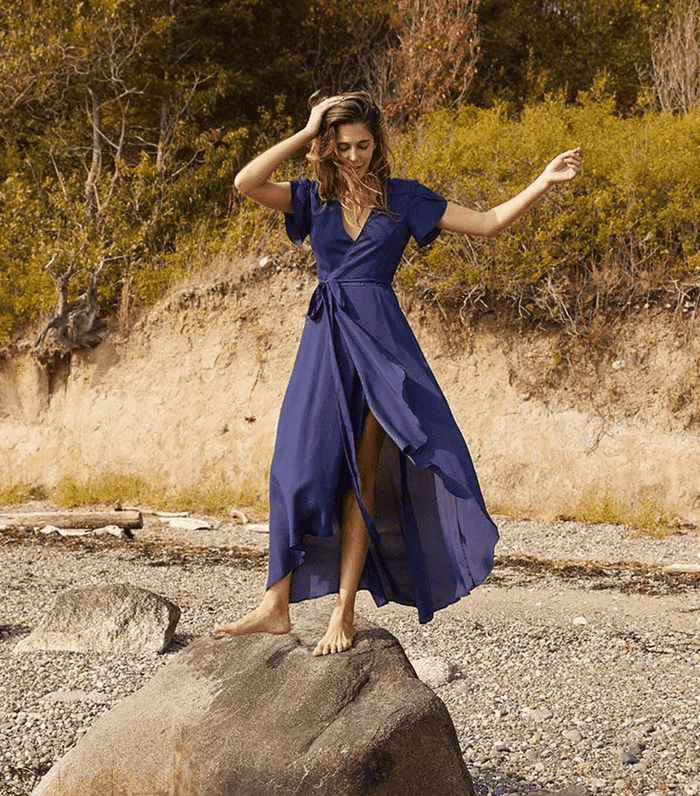 Christy Dawn dresses, like the one in this picture are made from deadstock fabric left behind by fashion companies. The brand also makes its apparel from organic cotton that is sourced directly from farms and producers. The best thing about these dresses are that they are not just sustainable, but regenerative. Their range of wraparounds, solid and shirt dresses are made to last- which means that your fall closet will never look drab even if you wear them frequently.
Shop Christy Dawn
---
OURCOMMONPLACE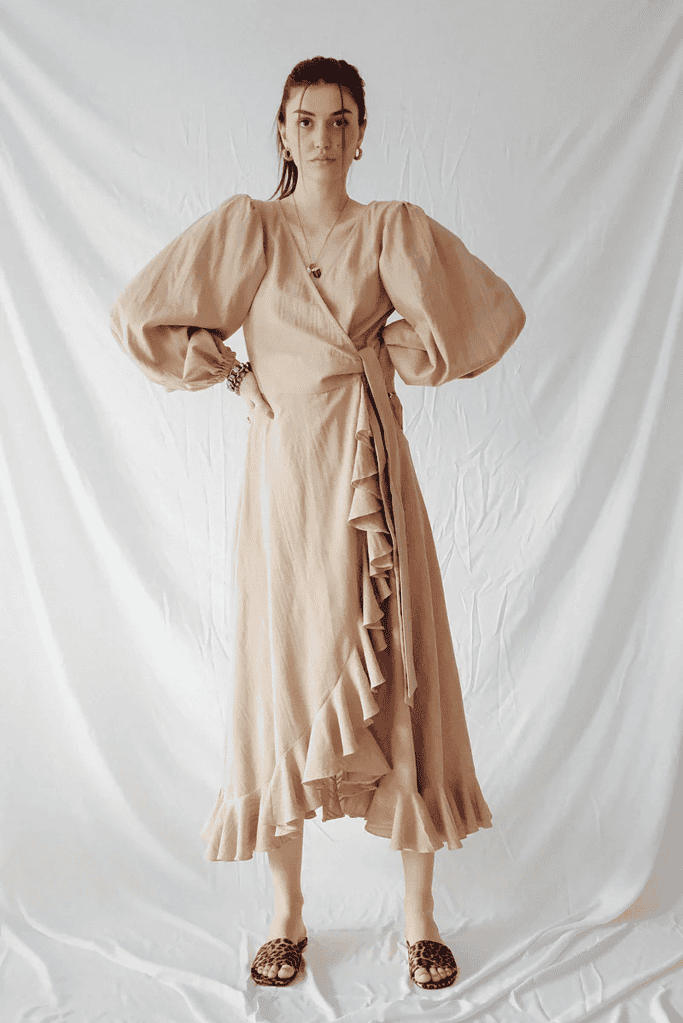 ourCommonplace has one of the best fall ensemble ranges at a budget. If you want some flattering cuts and unique sleeves, the brand should be your go-to. ourCommonplace scores well on all the progressive parameters, it is a woman-owned enterprise that delivers cruelty-free, sustainable and ethical dresses that are perfect for the season. All dresses on the brand's website are perfect to don on formal and casual occasions. We are especially in awe of their silk chiffon dresses that can elevate your boho vibe while being quite…dreamy. (straight out of a fairytale, actually.)
Shop ourCommonplace
---
Want to read more like this?
Get similar stories and a free sustainability checklist delivered to your inbox.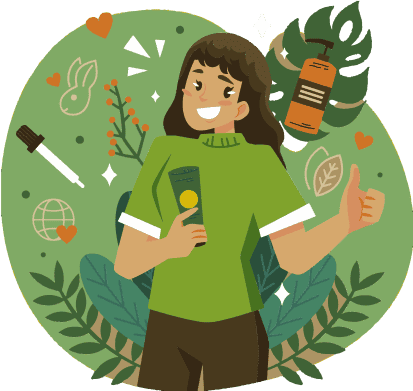 Get similar stories and a free sustainability checklist delivered to your inbox.
Boden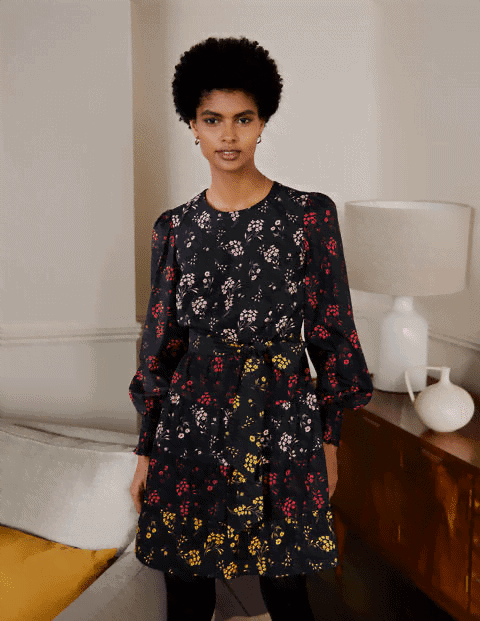 Boden also features in our list of sustainable and ethical cloth manufacturers and for all the legitimate reasons. The brand's long sleeve fall dresses are available in a variety of cuts and sizes that suit all body types. Boden is a UK-based brand that delivers you the best and the softest natural apparel at a throwaway price. Boden fall dresses are not only luxurious, but adhere to their sustainability aims that say, buy less and wear better. Handmade with the most organic fibers, Boden dresses have our heart with their commitment to planet positivity.
Shop Boden
---
Loud Bodies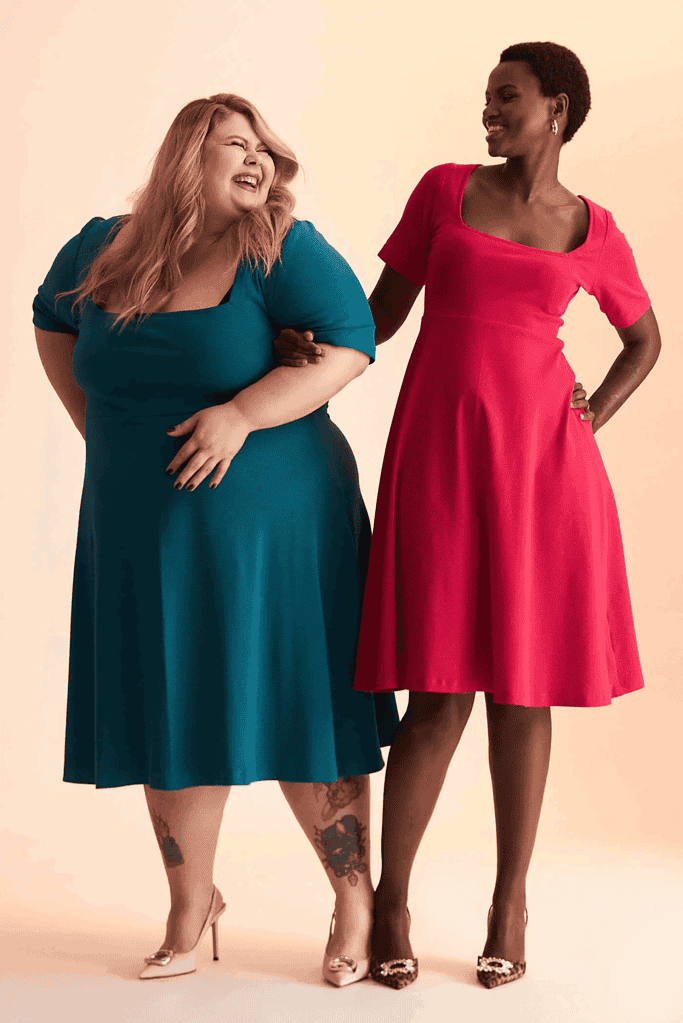 If you are looking for fashion that embraces every inch of you, look at Loud Bodies and their fall ensemble of the most sophisticated and chic dresses that will make you the center of attraction the second you walk into the room. All Loud Bodies dresses are made from organic cotton, and Tencel which are some of the best ranked fabrics when it comes to sustainability. For Loud Bodies, real style has no size.
Shop Loud Bodies
---
Son de Flor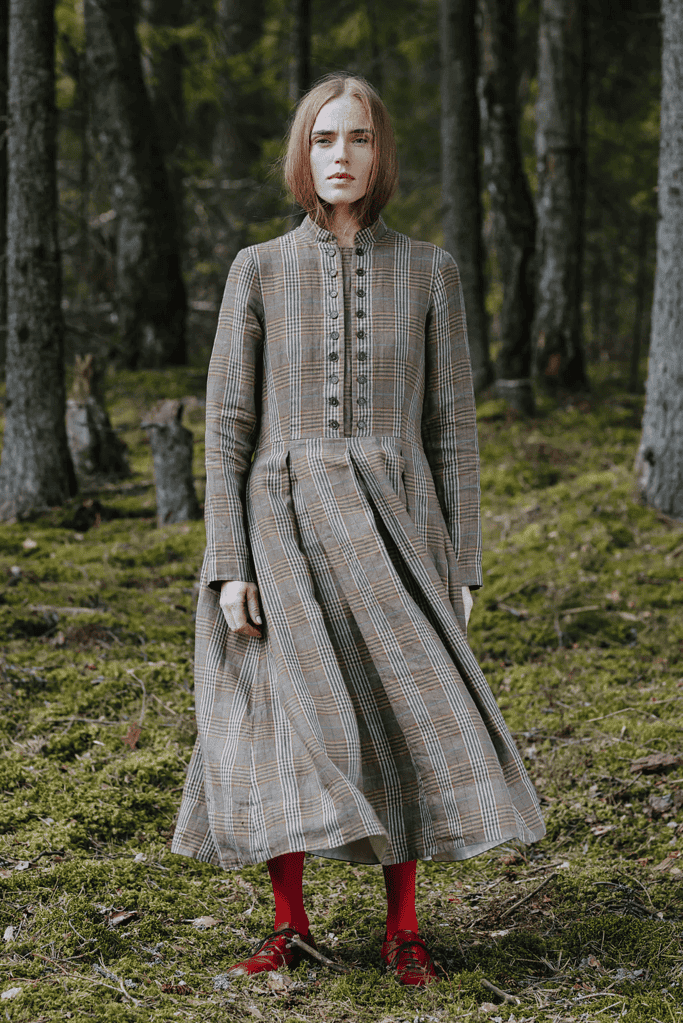 We had one look at Son de Flor's range of fall dresses and we knew that it simply has to feature on our list. But appearance is not all that to it. Son de Flor delivers pretty fall classics made from materials such as twill linen from Lithuania. All these dresses and skirts are handmade from Oeko Tex certified yarns. Building on the sustainable and rich flax cultivation tradition from Europe, the brand ships worldwide.
Shop Son de Flor
---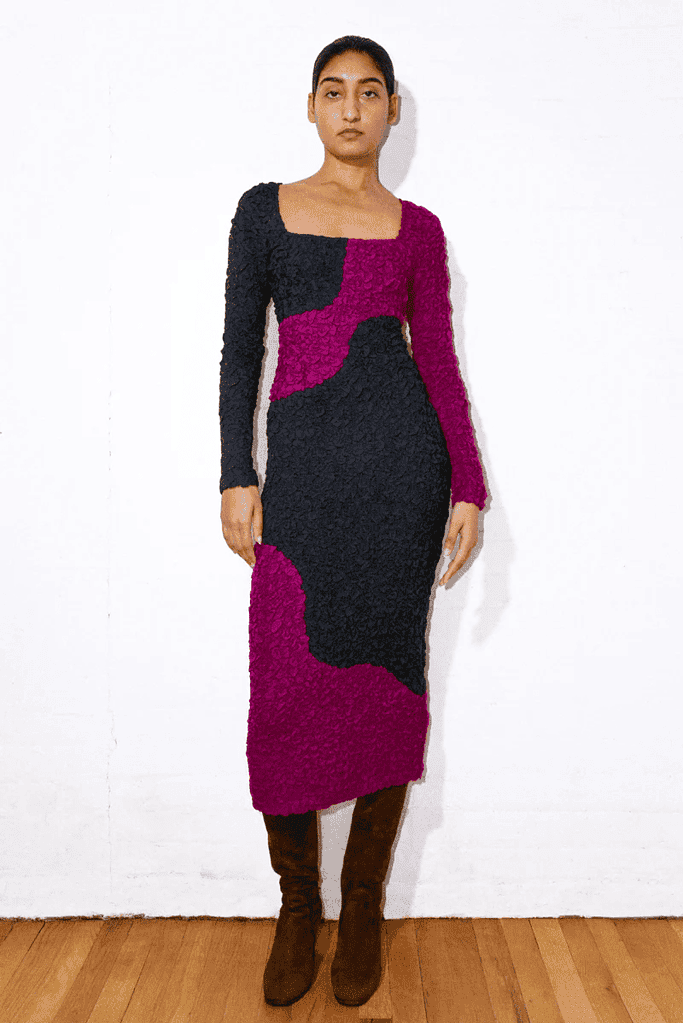 Mara Hoffman has one of the best ready-to-wear sustainable clothing collections. Feature their bestselling dresses to dazzle this fall and impress others with your charm. The brand's approach is a sustainable one, where it prioritizes natural and repurposed fibers that are climate beneficial and gentle on the skin. You can trust this brand for the safest and most chic fall dresses, something that is features on the cover of reputed magazines like Vogue.
Shop Mara Hoffman
---
Pact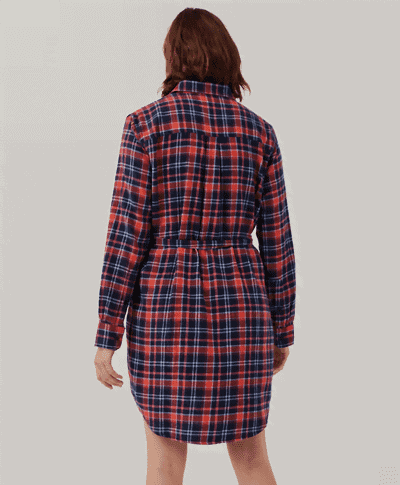 If we are mentioning sustainable apparel, Pact will be there with its range of dresses made from GOTS certified cotton. Plaid, solid colours, flannel or florals, the brand has you covered with its cute range of flutter dresses that will make your fall FOMO go away. There is no dearth of choices at Pact, where you will get the latest styles without comprising on the needs of the planet.
ShopPact
---
Tradlands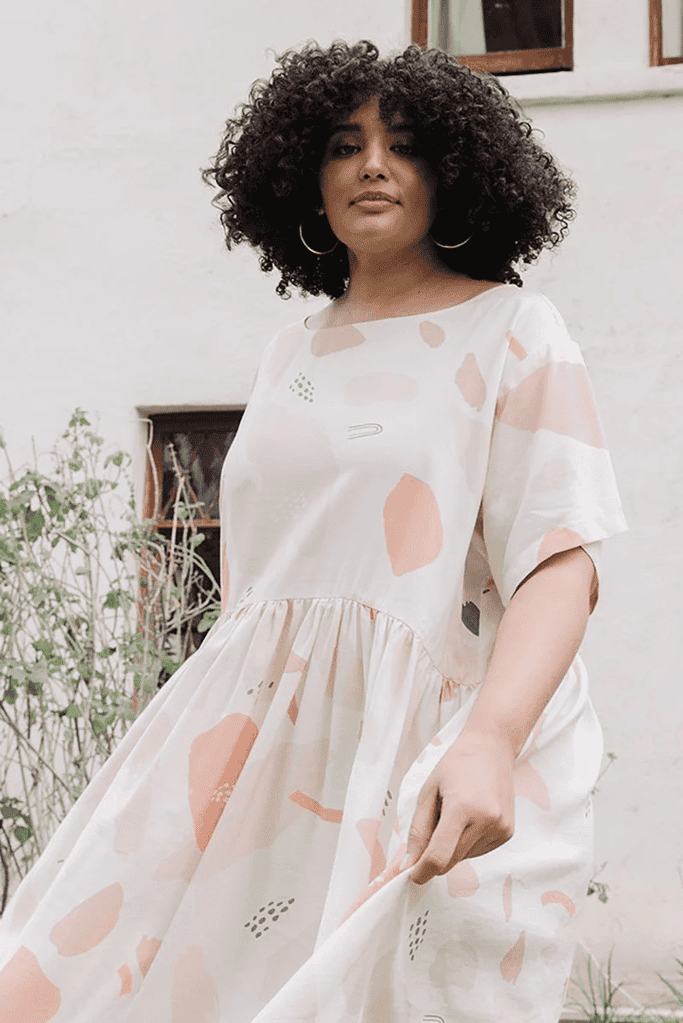 Looking for dresses that are the perfect fit? Visit Tradlands to find your ultimate dress for all those occasions, little and big. The brand features high-quality, timeless essentials on a budget. All Tradlands dresses are versatile- which means that you can effortlessly pull it off with a variety of accessories and add-ons without splurging mindlessly on all that which you don't need.
Shop Tradlands
---
Eileen Fisher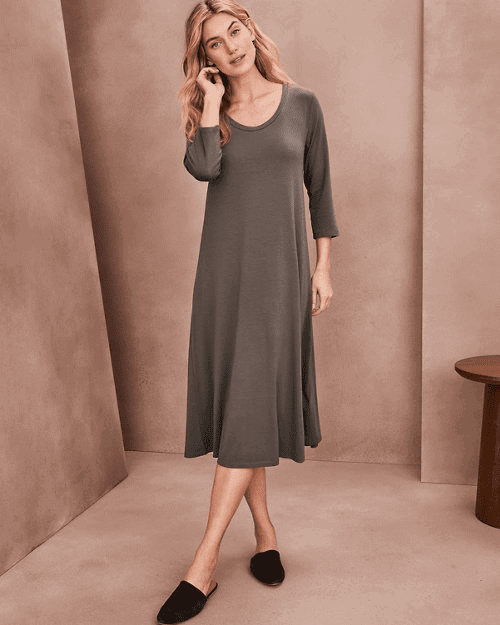 If you want to go simple, but sophisticated, try Eileen Fisher's fall range made of organic cotton. The brand also has dresses in velvet for those ultra glam parties where you simply wish to pop the champagne. Eileen Fisher aims to give your dresses three lives- through sustainability, shop renewal and social consciousness. Want fall dresses that look sharp? Hit the brand's website now to get one for you!
ShopEileen Fisher
---
Mata Traders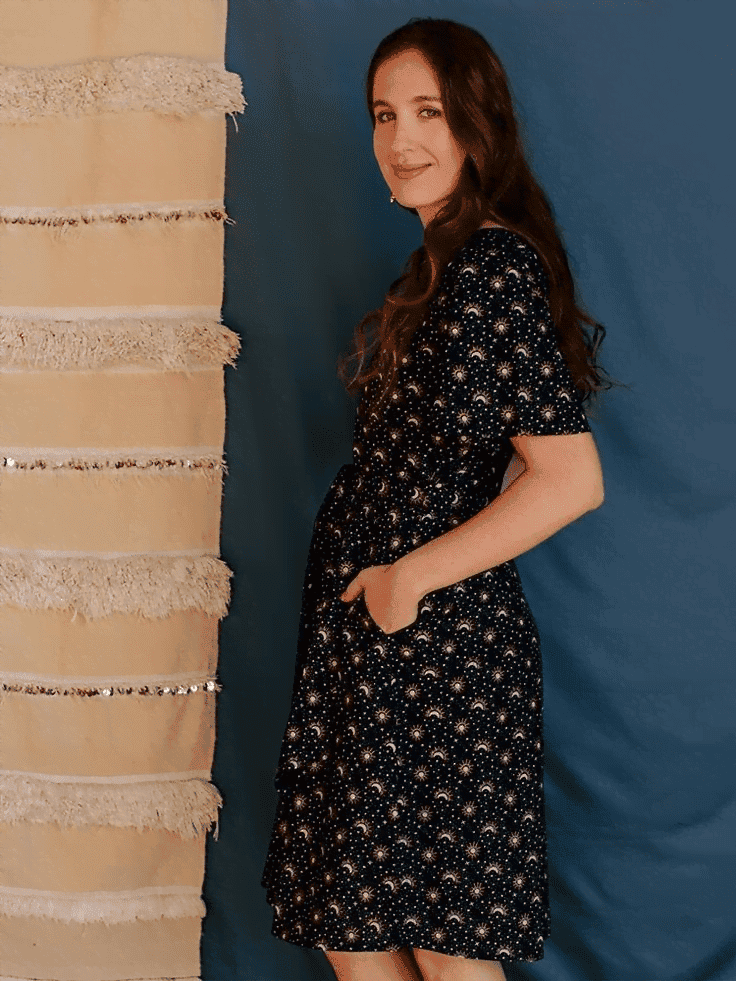 Last but not the least, Mata Traders' fall dresses take it slow while delivering the best looks for you. The brand partners with Fair Trade producers in India to give you a variety of unconventional prints that are unique and sustainable. This alternative fashion brand makes its dresses that respect worker well-being and handcrafted artistry. According to Mata, it's more tortoise than hare, and it is here to stay in your closet as a valuable fall addition.
Shop Mata Traders
---
What Do We Think About Sustainable Fall Dresses?
Sustainable fall clothing is the way to go if you are eager to make a social statement while wearing the most trendy looks. Some looks are quite timeless, and with our fall dresses recommendations you will have an adequate fall capsule of hit fashion essentials that will brave the tide of fast fashion.
For more such shopping listicles and information nuggets, stay tuned to our blog and subscribe to the BeZen Chrome Extension to pioneer planet-positive change through your cart.