It's much easier to find the perfect partner than find the perfect dress. The wedding industry generates a lot of waste. According to The Green Bride Guide, the average wedding generates 400 pounds (200 kilograms) of trash and 63 tons of Carbon dioxide. With an estimated 2.5 million marriages a year, that's 1 billion pounds of waste and the equivalent of four people's annual emissions in just one day.
Planning for sustainability is the best way to begin this exciting chapter. Millennials and Gen-Z are more committed to supporting environmentally friendly brands with their purchasing power. So, what makes the wedding industry unique? When it comes to dresses, stigmatized gender norms are a part of the problem. And in this article, we'll show you how to find a sustainable wedding gown that you'll love while also helping the environment.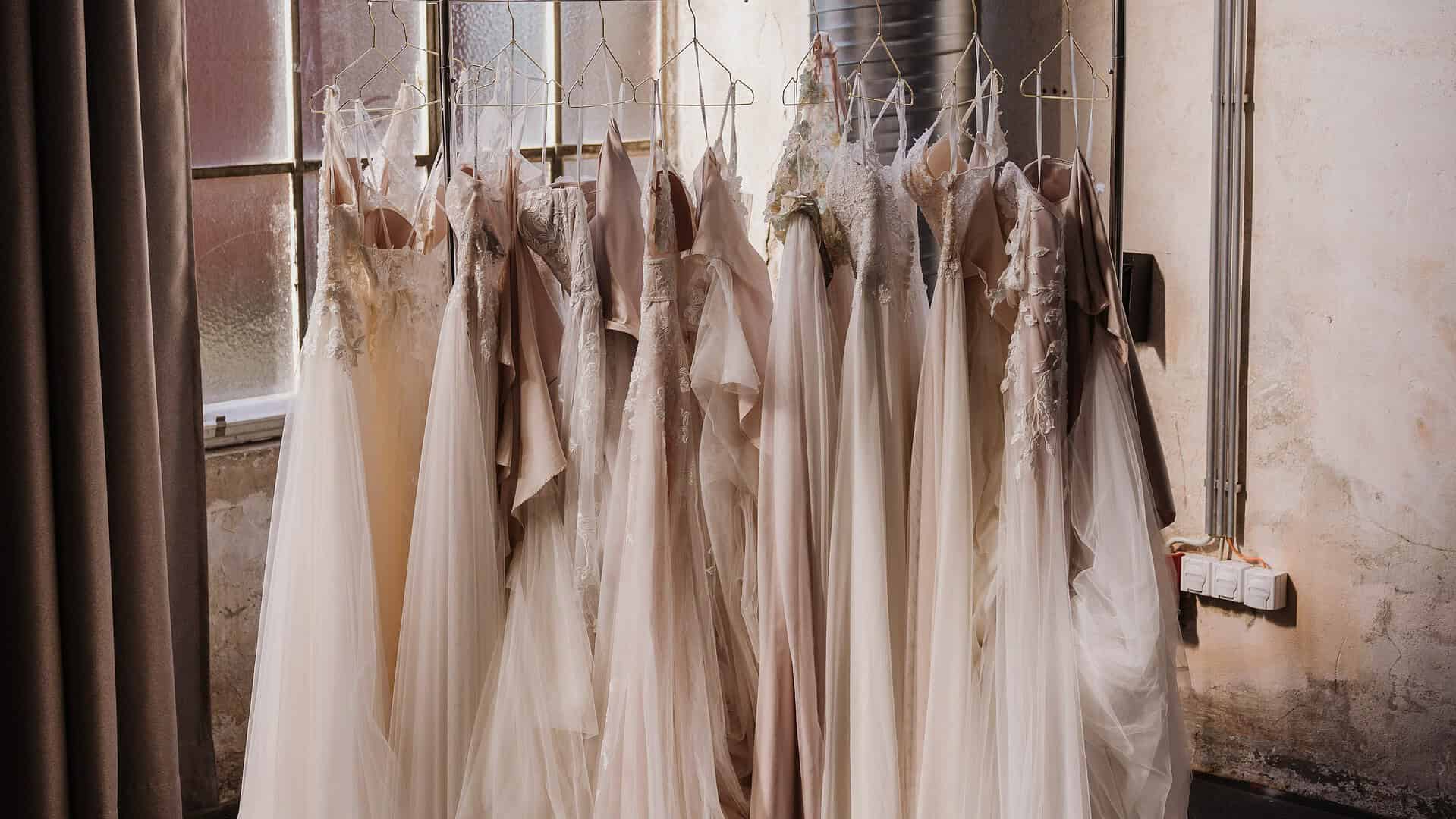 What is a Sustainable Wedding Dress?
There is no specific definition of a sustainable wedding dress, but in general, it is about significantly reducing your clothing's social and environmental impact. A sustainable wedding dress or gown could be made from recycled or eco-friendly materials or produced entirely in a local studio, resulting in lower carbon emissions. It could be a dress that has been or will be worn multiple times. Or one created by a company that reduces waste by only offering made-to-order items. On curated online closets like Borrowing Magnolia, you can rent or buy pre-owned from previous brides.
Tips for Choosing a Sustainable Wedding Dress:
Shopping for a sustainable wedding dress/gown can be difficult if you don't know who makes what. So, we've researched and made up a list of tips for you to choose a sustainable wedding dress.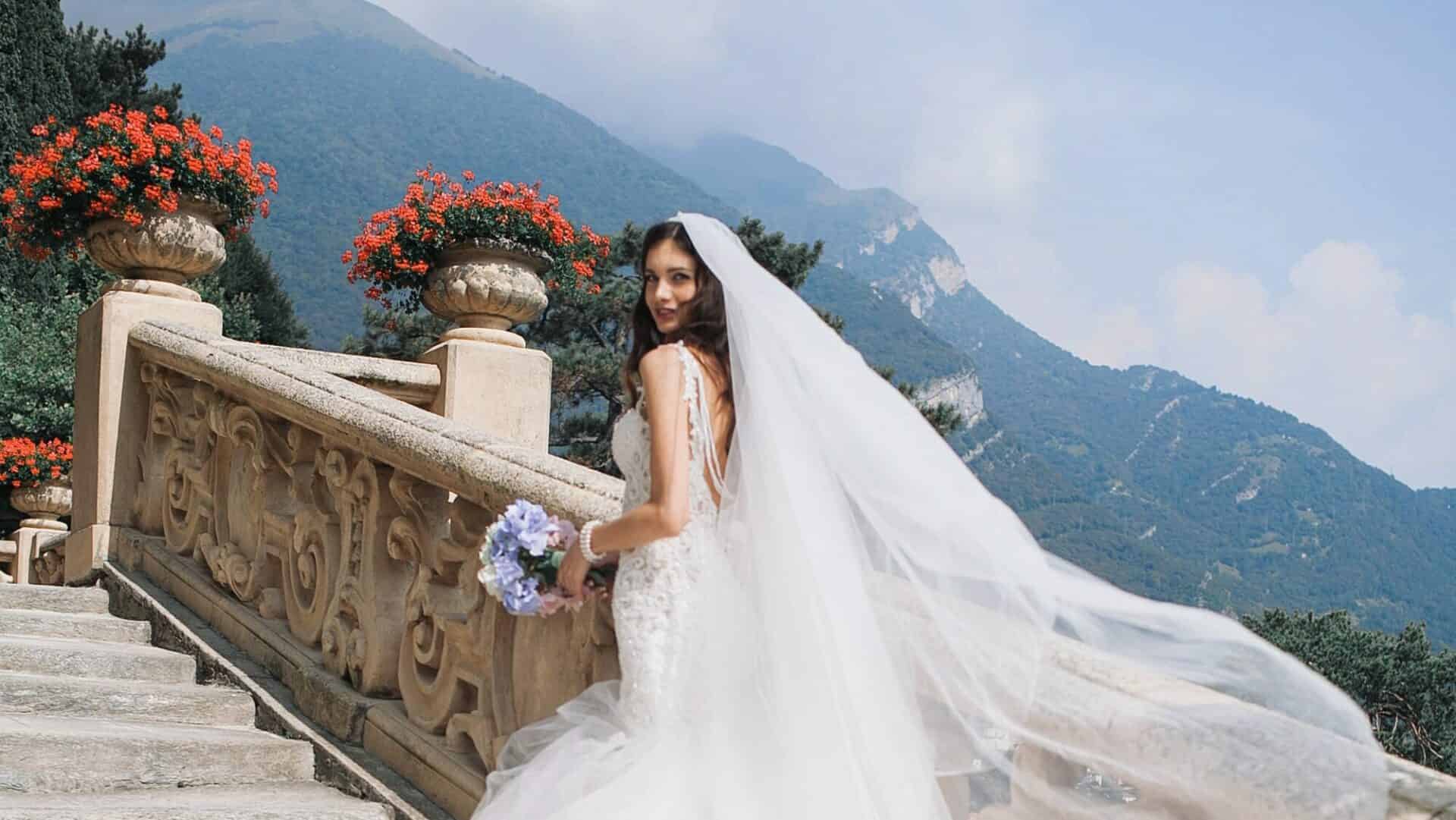 The importance of determining your style cannot be overstated. Maybe you've always loved vintage clothing, or you've always wanted a custom-made outfit designed just for you, or you're the type of fashion-forward woman who enjoys taking chances with her wardrobe. Remember that whether your wedding gown is sustainable or otherwise, you should feel at ease with it and delighted in wearing it.
Focus on one aspect of sustainability that is highly significant to you while looking for sustainable wedding dresses, and begin your search there. You can do this by going over your list again and noting the styles of wedding gowns that appeal to you. For some brides, this may mean a wedding gown made of plant-based fabric that adheres to their vegan values, while others are more concerned with the gown's human influence.
Don't dismiss well-known bridal artists simply because they don't mention sustainability on their website. Many designer bridal brands rank pretty high on the sustainability scale because their gowns are made to order, necessitate the use of highly skilled dressmakers, and are made from luxurious fabrics. For more information on their practices, it's always worth asking the staff at a boutique where they're stocked or sending an email to the brand directly.
Be realistic about the type of sustainable wedding dress you want and how much you're willing to make compromises for sustainability, and don't be too hard on yourself. The fact that you're reading this feature indicates that you're a savvy shopper.
Consider a local designer who excels in custom-made dresses or recycled wedding dresses. Their dresses will be produced ethically and locally, with a low carbon footprint, and the designer should provide you with a variety of fabrics to choose from. The cost varies greatly depending on the style and fabrics chosen, but it's worth noting that bespoke gowns are typically priced in line with comparable dresses from high-end boutiques.
Investigate what's available in bridal boutiques in your area before looking for bridal brands that mainly market themselves as sustainable. One significant benefit of shopping at a boutique is that the personnel will be far more knowledgeable about their stock items than the staff at a high street store. A one-on-one appointment gives you a unique opportunity to learn everything there is to know about how their brands operate, and there's a good chance you'll find a dress you love that is ethically produced or made from sustainable fabrics.
How much do sustainably-made wedding dresses generally cost?
When selecting a sustainable wedding dress, price is a significant consideration. Wedding gowns made from sustainable materials typically cost between $200 and $2000. While they are known to be more expensive than fast-fashion brands, purchasing a sustainable wedding gown may end up being more cost-effective.
Best Sustainable Wedding Dress Brands:
Are you starting your search for a beautiful and sustainable wedding dress for the special occasion? We've compiled a list of the best sustainable wedding dress brands committed to environmentally friendly practices.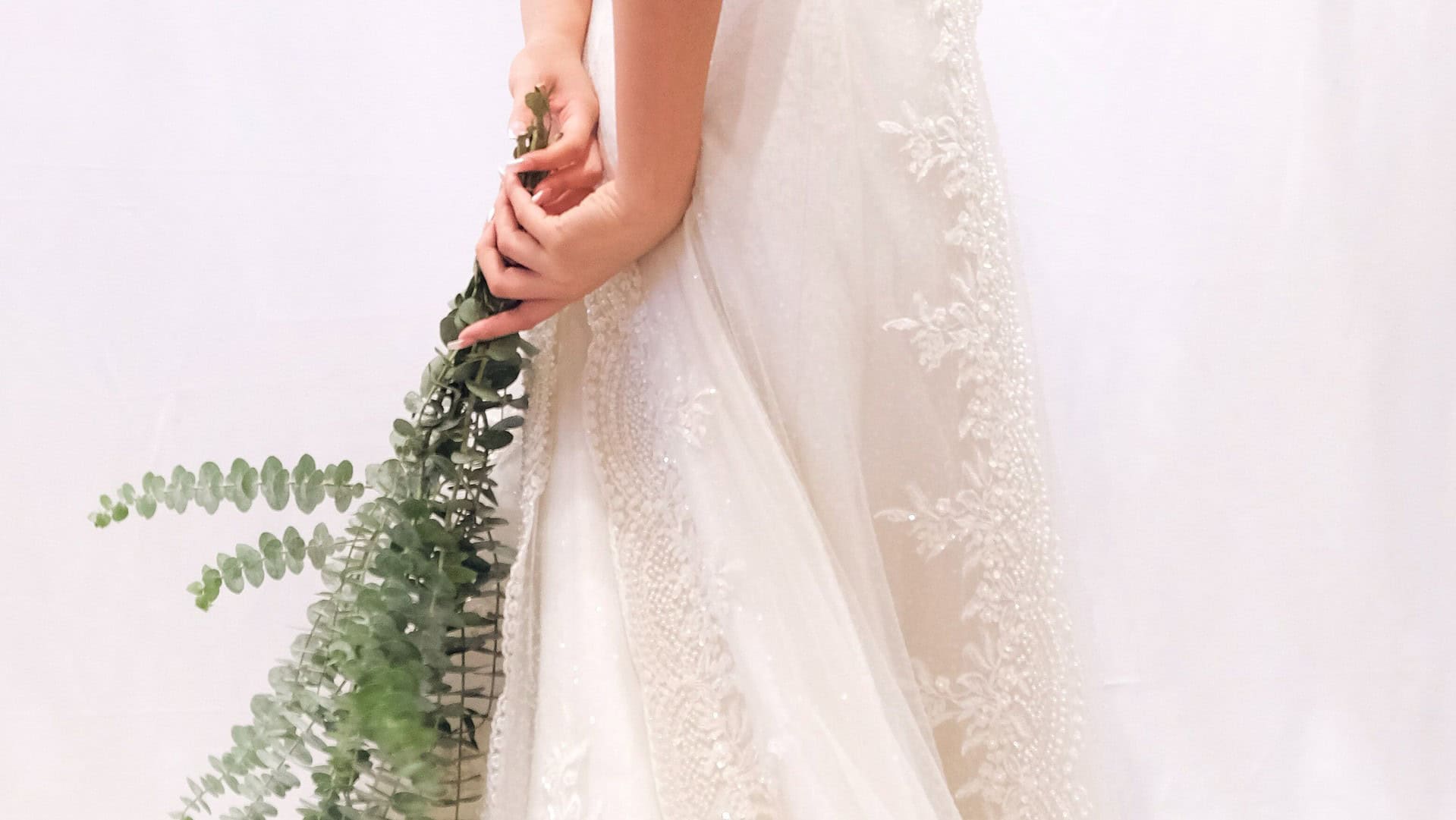 Wear Your Love
Wear Your Love is dedicated to three aspects of sustainability. Each gown has a lining made of 100 percent organic cotton, all dresses are produced in-house in their Northern California studio, where the staff is paid a decent wage, and all gowns are made with minimal waste. The company's vision is "for every bride to embody effortless beauty and femininity in a classic and understated way." This brand provides brides with the convenience of a no-pressure shopping experience without the high markups associated with bridal shops.
Wear Your Love guarantees that its designs will never compromise individual style or comfort, and it is committed to convenience, uniqueness, quality, and environmental consciousness. Additionally, leftover textiles are donated to local preschools for craft projects, and vegan dresses can be made from synthetic fibers rather than silk upon request.
Etsy
Etsy is a go-to place to find antique, upcycled, and handmade wedding gowns, as well as accessories and bridesmaids' dresses. Handmade designs from MilaBridal, vintage dresses from SixpennyBride, and affordable organic garments from the UK-based SisterOrganics are among the sustainable favorites on this certified B Corporation. Whether you're looking for a timeless designer gown from the twentieth century or a custom garment made in Europe, the online global marketplace has something for everyone.
Lost in Paris
Lost in Paris, a Sydney-based label that bridges the gap between vintage and brand new, sources its lace from antique markets in Paris, ensuring that no materials go to waste. All dresses are made ethically in Sydney, where dressmakers refashion them into one-of-a-kind wedding gowns from vintage European lace.
Reformation
Reformation is based in Los Angeles and has long prioritized eco-friendly and pro-social practices to create gorgeous, effortless dress silhouettes for women of all shapes and sizes. This brand has implemented several sustainability practices, such as knowing who makes your dress, using recycled and vintage fabrics, utilizing deadstock, reducing waste (they are 100 percent carbon neutral). Also, while monitoring the environmental impact with the RefScale, which tells you how much CO2, water, and waste you save by shopping Ref. The brand applauds femininity through dress designs that emphasize natural curves for the most stylish and graceful looks.
Rent The Runway
Rent The Runway is revolutionizing how brides say "yes" to their wedding gowns, one rental at a time. The New York Times dubbed RTR "the Netflix model of haute couture," and it's the ideal place to shop for your sustainable wedding dress, as well as eco-conscious bridesmaids' dresses, family wedding attire, and accessories. In addition, at the end of each year, the company donates gently used gowns to organizations such as Operation Prom. Rent a Runway is a fantastic option when shopping for your wedding gown, with dedicated customer service, dedication to sending customers the perfect fit (rentals include an extra size), and a no-hassle return, cleanup, and insurance policy.
Indiebride
Indiebride dresses are created in the South London studio and are developed, handcrafted, and made to order. Scraps are recycled or donated, and sustainable materials are prioritized. 
Indiebride creates heirloom-quality bohemian and vintage-inspired eco-friendly/sustainable wedding dress for the free-spirited, eco-conscious bride. Bridal trends take a back seat at Indiebride so that each gown can reflect the bride's unique personal stamp, with timeless elegance and classic silhouettes. The brand promises to assist every bride in finding her dream gown without the stress of an exorbitant price tag.
Christy Dawn
Christy Dawn is a sleek and modern showroom specializing in vintage-inspired women's clothing and footwear made locally from surplus fabric. The brand believes that sustainability is insufficient.
Honoring Mother Earth is at the frontline of everything they do, from reusing deadstock fabrics to honoring relationships throughout the dress-making process. Christy Dawn dresses have an authentic cottage-core vibe and are designed for barefoot brides who appreciate the simple, wonderful things that the earth has to give.
Larimeloom
The small, independent brand Larimeloom, based in Reggio Emilia, north of Florence, uses high-quality natural fabrics and plant-based dyes for its bohemian designs. Iconic and modern silhouettes are influenced by Italy's ancient handcraft tradition, bright, warm sunshine, glorious landmarks, and art. The brand believes in mindful consumption and the use of high-quality, long-lasting materials.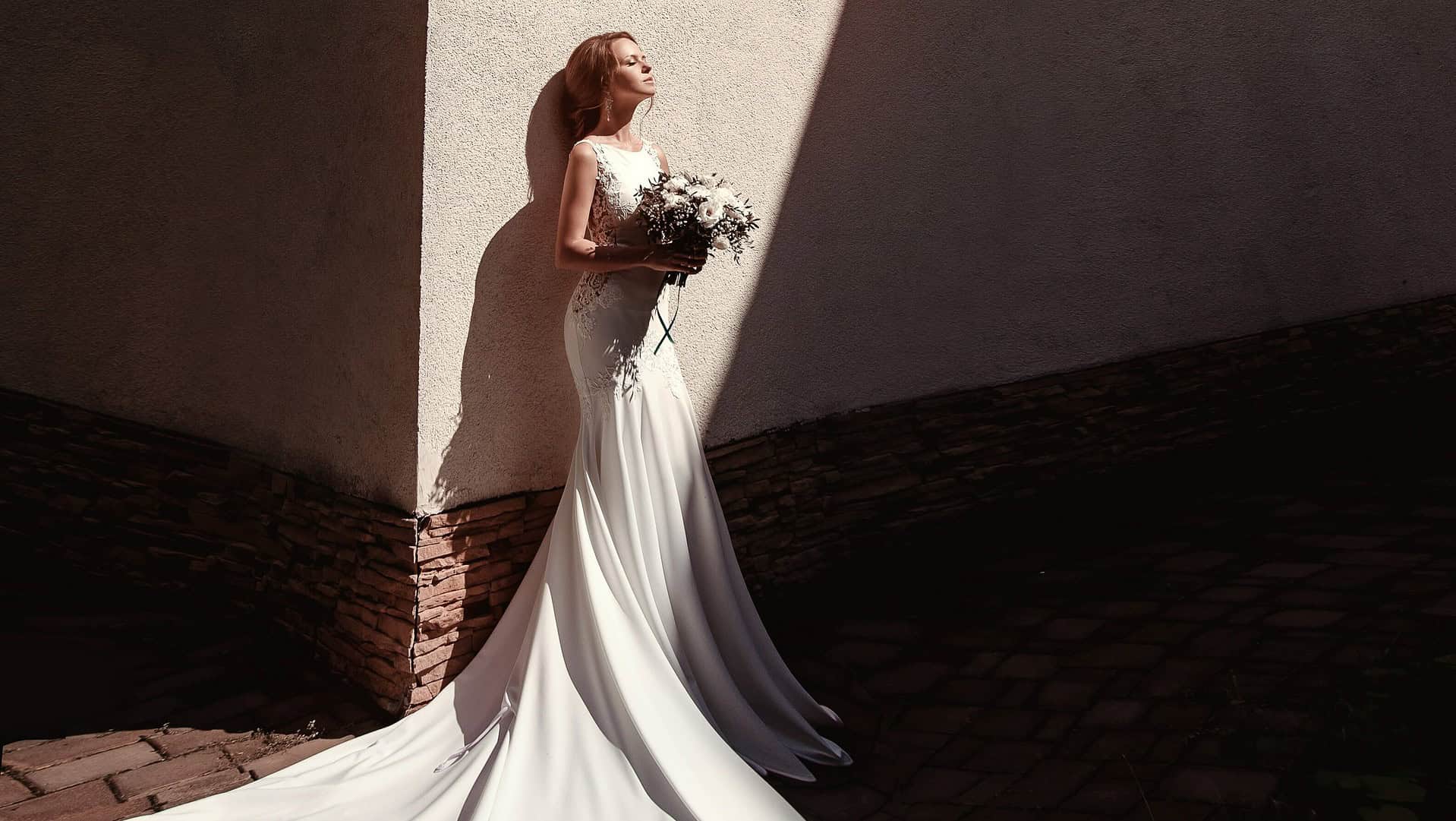 Conclusion
Brides are more interested than ever in incorporating eco-conscious practices into their wedding day, and there is no easier or more fashion-forward way for a bride to do so than by purchasing an eco-friendly/sustainable wedding dress. Tell us if you like the sustainable wedding dress idea and which is your favorite brand to choose from.