No makeup look is complete without voluminous, gorgeous long lashes, which is why a good mascara is a must-have!
After skimming through numerous makeup brands, we decided to make a curated list of the best cruelty-free mascara out there for our readers.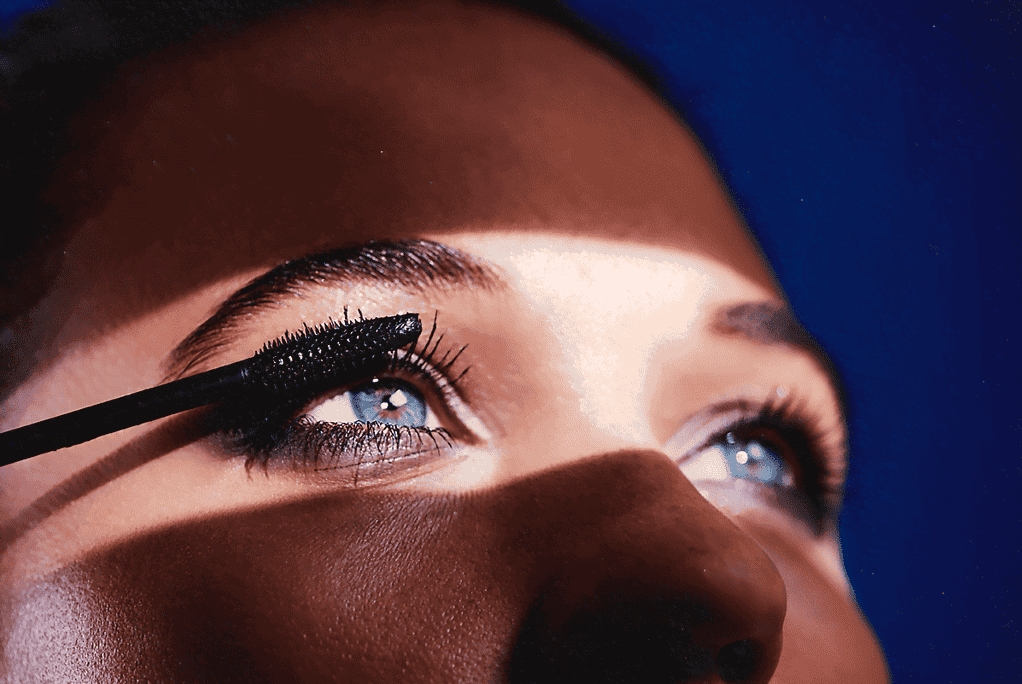 If you are a makeup enthusiast as well as an avid animal lover, you know just how difficult finding cruelty-free makeup is.
There is an endless list of makeup brands that greenwash their malpractices.
This is why we took it upon ourselves to find you the best clean mascara, which will not only leave you looking effortlessly beautiful but also clear your conscience. It is important to keep in mind that these mascaras are cruelty-free. They may or may not be vegan or organic.
Moreover, the companies producing them may not necessarily be the most sustainable although all of them have taken a few steps towards the right direction.
Without further ado, let's know everything about the best cruelty-free mascara and 5 organic mascara brands that will help you wing it like never before!
What Are The Ethical Issues In Cosmetics?
It is no secret that the cosmetic industry is riddled with highly unethical and unsustainable practices causing several problems like carbon emissions, water pollution, marine life endangerment, deforestation, smog, air pollution, et cetera.
Labor malpractices are unfortunately prevalent in several industries. The main focus of this article, however, is on animal cruelty. While several brands deny testing on animals, the truth is a bitter pill to swallow.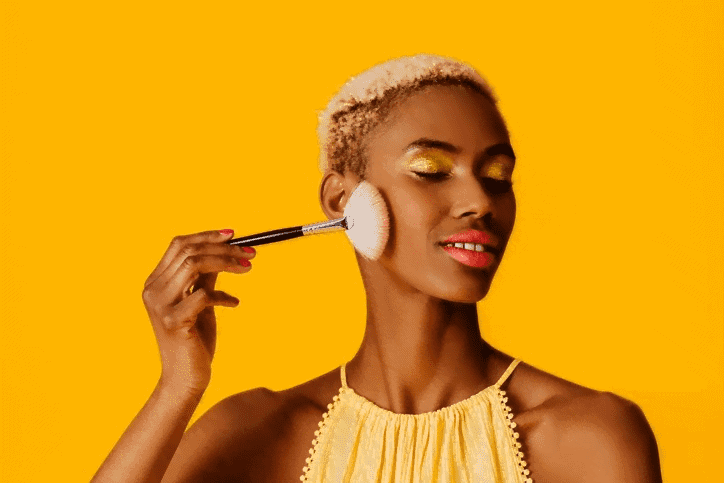 Thanks to the numerous cosmetic goods that continue to undergo safety testing on live animals, millions of animals succumb to human vanity every year.
Animal subjects endure immense pain as various chemicals are injected into their bodies, applied on their skin, and dropped in their eyes, all so that we can have our preferred deodorant smell or lipstick shade.
Sadly, animal experimentation continues to be practised.
In the US, the manufacturing corporation is generally in charge of deciding whether or not to test cosmetics on animals. Confusion for businesses looking to promote their products in the region is brought on by a contradiction of rules and regulations in the European Union between the need for safety testing to safeguard employees and a guideline to avoid animal testing unless absolutely essential.
Up until 2019, China required animal testing for cosmetics sold within its borders. Since then, advancements have been achieved, and the majority of cosmetic goods, whether created locally or abroad, no longer need to be tested.
Some of the extremely cruel cosmetic tests performed on animals include dermal penetration wherein animals have their backs shaved and have different toxic substances applied to their exposed skin.
Following that, the rats are put to death at various intervals so that the blood and tissue may be examined for alterations brought on by the substances. Another form of testing is the Draize Test in which chemicals are inserted into the eyes of the animals to check for irritability.
While we could keep describing these tests in graphic detail, I think the only conclusion that matters is that animal testing occurs and is horrible in any form.
Why Is Cruelty-Free Makeup Important?
Animal testing is a highly unethical practice. I am sure we all want a clear conscience while also looking good. Animal testing is unsustainable and unnecessary as several alternate (and much more efficient) testing methods exist.
Cruelty-free makeup tends to be healthier for your skin. You are also ditching harmful chemicals like parabens, sulfates, and synthetic dyes by opting for cruelty-free options. Companies that care for animals also tend to be more mindful of their other practices. Hence, they will usually opt for safer ingredients.
Which Mascara Brands Test On Animals?
We have listed down some of the beauty brands (which are household names) that still test on animals.
These mascaras no matter how good or affordable must be avoided at all costs. Don't worry, as our top 5 recommendations for non-toxic mascara are way better than any of these harmful brands.
L'Oreal
The L'Oreal FAQ on animal experimentation is well known for being deceptive. According to them-
""L'Oréal no longer tests any of its products or any of its ingredients on animals, anywhere in the world. Nor does L'Oréal delegate this task to others."
However, they do market their goods in China, where imported cosmetics must undergo animal testing.
The policy also addresses this gap: "An exception could be made if authorities required it for human safety or regulatory purposes." In other words, they do finance the legal requirement for animal testing of their completed goods in China.
Find out more here.
Estée Lauder
Despite saying they are "committed to the elimination of animal testing," Estée Lauder still does animal testing when it is necessary to do so.
They are not a cruelty-free business because they sell their goods in China, where animal experimentation is required. Estée Lauder owns a number of additional brands that fall under the same rules as L'Oreal.
Clinique
Clinique claims to not conduct animal testing on its website; the exact words being-
"We do not conduct animal testing on our products or ingredients, nor ask others to test on our behalf, except when required by law."
They also mention bringing to market products that comply with applicable regulations in every country in which their products are sold.
When phrased in such a manner, it usually means that animal testing is still conducted in order for companies to sell in countries that mandate it.
A cruelty-free brand will choose to not sell in such countries. Unfortunately, Clinique, at the end of the day is driven primarily by a profit motive and does not want to let go of a huge consumer base such as that which exists in China.
Find out more here.
Revlon
Similar to the earlier examples, Revlon is a privately held business that does animal testing when necessary. They are not cruelty-free since they are subject to animal testing because they are sold in China. Find out more here.
Maybelline
Maybelline, a well-known drugstore brand, adheres to the same principles as its parent business, L'Oreal. They market their goods in China, where imported cosmetics must undergo animal testing. Maybelline is not a cruelty-free company.
Find out more here.
Which Mascara is the Healthiest to Wear?
You need to avoid mascaras with chemicals like carbon black, Benzalkonium chloride, BHA, Formaldehyde, Parabens, Titanium dioxide, and Ethanolamines.
Cruelty-free mascaras tend to not contain chemicals harmful to humans. As an added measure, the best mascara is both cruelty-free and natural.
Some may not be vegan as they contain ingredients like beeswax but they are still very healthy.
Additionally, truly healthy mascaras are those manufactured by sustainable, eco-friendly brands that do not harm the planet!
Top 5 Cruelty-Free Mascara Brands That are Getting the Lashes Right!
Here is a list of some of the best cruelty-free mascara for long, voluminous, and gorgeous lashes!
Glossier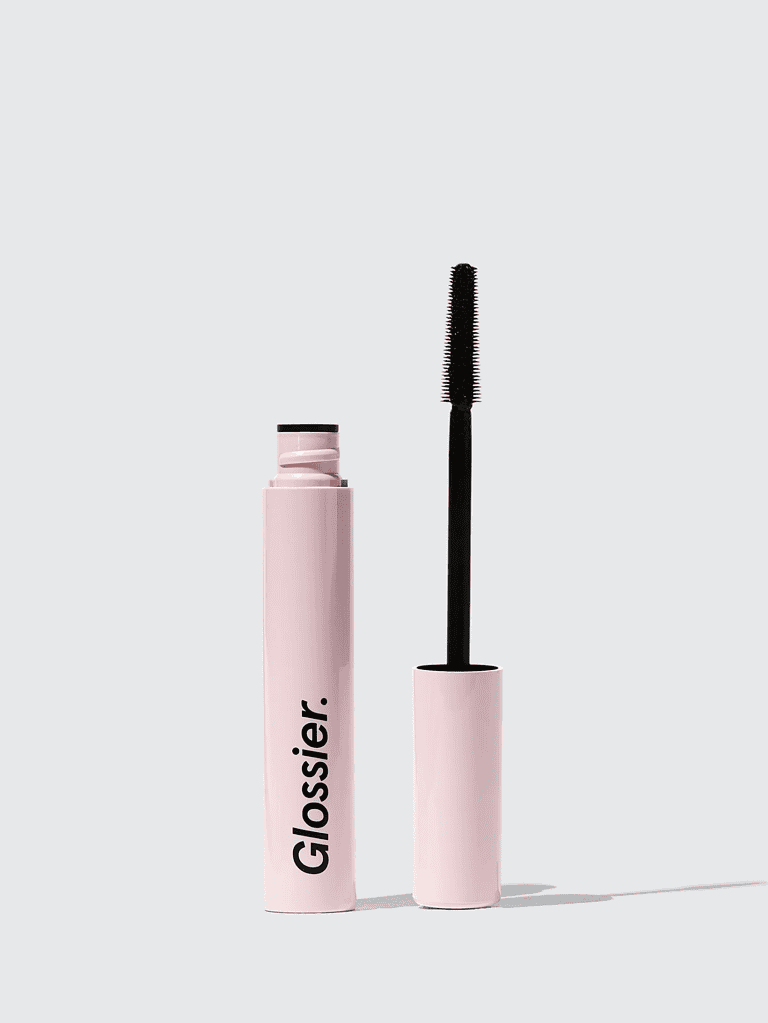 If you are a fan of the no-makeup makeup look, then Glossier's lash slick mascara is the way to go! Unlike your usual mascara, Glossier's non-toxic mascara does not give you volume. Instead, it gives you a look similar to mini-lash extensions while nourishing your lashes with provitamin B5 and biotinyl tripeptide-1 and also providing a beautiful rich black pigment using natural shine polymers. The new product employs Japanese technology to add microscopic, curled fibers to the tips of your eyelashes, a process that took the company 18 months and 248 iterations to master.
This non-toxic mascara's price of $16 for a 0.29-ounce tube falls in the middle of luxury mascaras, which are frequently above $25, and drugstore mascaras, many of which can be found for around $10. You can't go wrong with this formula if you believe you'll use this mascara frequently enough for approximately three months (which is roughly how long you should use a bottle of mascara before you throw it away).
It's also worth mentioning that Lash Sick is fragrance-free, dermatological, and ophthalmologist tested, water-resistant, and safe for those who wear contact lenses. Glossier provides customers with information on their supply chain on their website which we definitely appreciate and also mentions that non of its products use animal testing.
Due to its reliance on nonbiodegradable plastic packaging for the bulk of its products and lack of usage of certified organic components, Glossier cannot currently be regarded as sustainable.
Glitter Gelée gel was withdrawn by the company in 2020 as a result of complaints from multiple consumers over the glitter's nonbiodegradability and the foil packaging. Natural mica, which is now connected to instances of forced labor in Madagascar, is another product that the company is aiming to replace. Moving forward, the company will exclusively formulate new items with synthetic mica. However, their mascara is still worth considering due to its unique formula and the company seems to be slowly moving towards more sustainable steps.
Check out their website here!
ILIA Beauty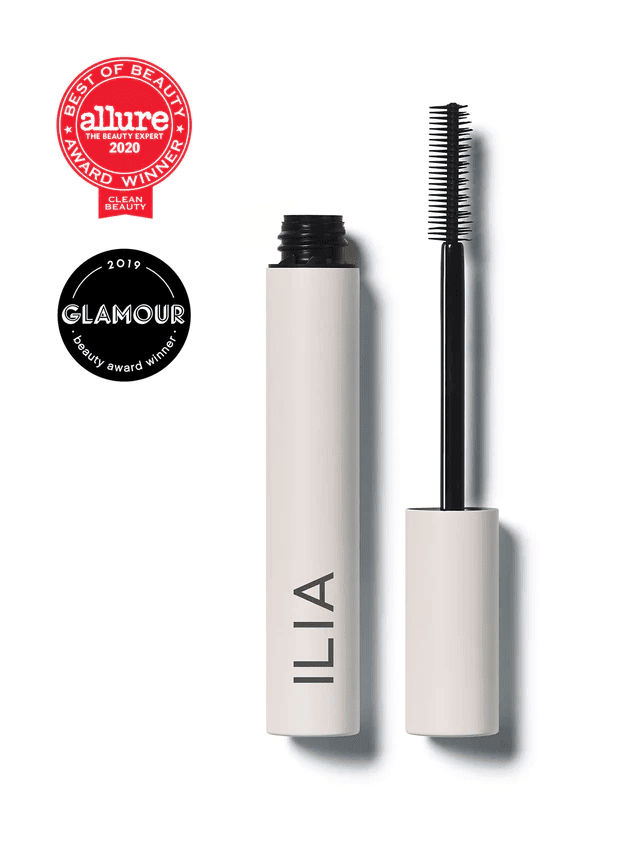 ILIA Beauty's Limitless Lash Mascara is a must-have to give you the definition, length, and drama you require to complete your eye makeup. The organic Bee and Carnauba wax used in ILIA's lightweight and nourishing, non-toxic mascara weightlessly condition each lash while also keeping them elevated throughout the day. The 99% organically derived product, which is gentle enough for sensitive eyes, also includes organic Shea Butter and strengthening Arginine (keratin) to help strengthen and improve your lashes.
Moreover, this waterproof cruelty-free mascara is cruelty-free, gluten-free, made of 100% natural dye, safe for sensitive eyes, and opthalmologist tested. It doesn't smudge or flake and provides ease of removal. It has been named the best clean mascara by Allure too.
"With transparency as our guide and color as our vehicle, we challenge the conventions of clean beauty to create something radically new, through safe, potent formulas that protect and revive your skin." Is what ILIA Beauty declares on their website and we certainly believe they are making some strides towards this. They have tried using more sustainable packaging made of recycled aluminum, glass components, and responsibly sourced paper.
They have also 1% of Super Serum Skin Tint SPF 40 sales to environmental causes—starting with reforestation. Their goal is to plant 1 million trees by the end of 2023 in partnership with One Tree Planted and only use clean ingredients in their products. However, we believe the company still has a long way to go before achieving complete sustainability. However, this is still one of the best cruelty-free mascara out there.
Check out their website here!
Covergirl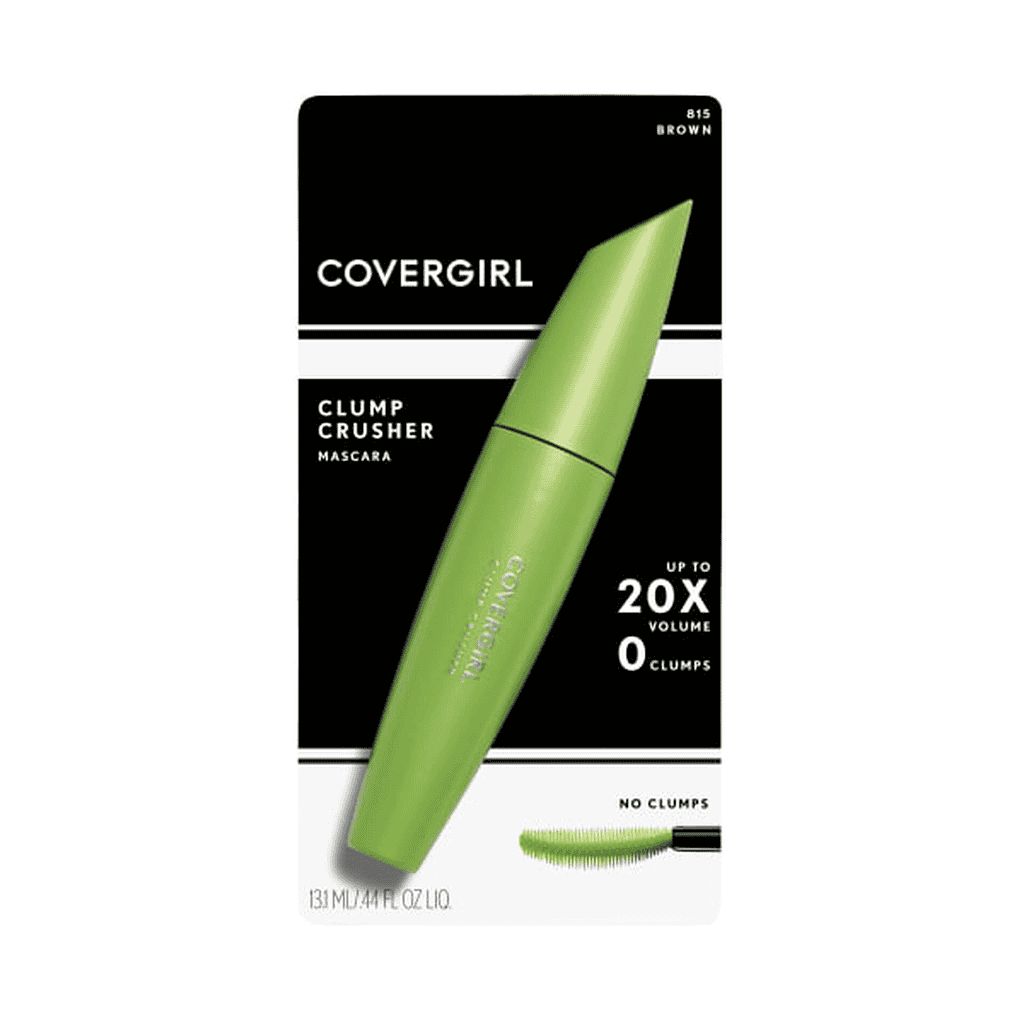 Now you might be looking for some more pocket-friendly alternatives and we believe Covergirl's Clump Crusher mascara is the right pick for you. It's biggest selling point is that no matter how much you use it, it just doesn't clump and while it may not achieve a dramatic look, it's still a perfect fit for lowkey makeup. Thie drugstore cruelty-free mascara features an innovative double-sided brush with lash-loading and clump-combing zones to crush clumps.
The formula is 100% Vegan and contains no Phthalates, Mineral Oil, Formaldehyde, Talc, Parabens, or Sulfates.
COVERGIRL is the biggest makeup brand to be Leaping Bunny Certified by Cruelty Free International.
For a company of its size and price range, CoverGirl is remarkably sustainable. Coty has growth targets for lowering its plastic consumption, emissions, and waste over the next ten years, even though the company presently uses a lot of single-use plastic to package its goods. Between 2019 and 2021, the corporation cut its operational greenhouse gas emissions by 23% and its overall energy consumption by 10%.
The parent company of CoverGirl is a signatory to the UN Global Compact, a program that offers companies a framework for sustainability and corporate responsibility. It has a unique code of conduct for business partners that covers a variety of topics, including forced labor, forced labor laws, "conflict minerals," and human rights.
Check out their website here!
Essence Cosmetics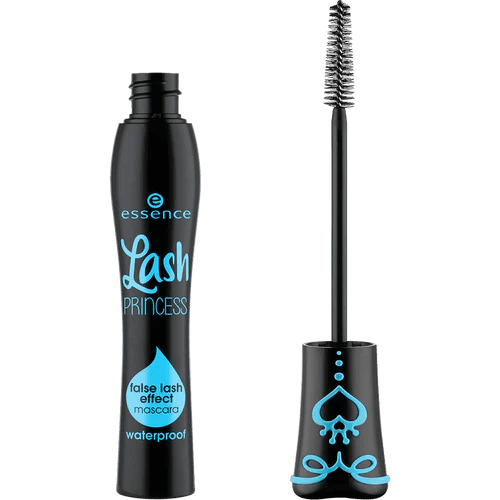 Another amazing cruelty-free drugstore mascara is the Essence Cosmetics Lash Princess False Lash Effect Mascara. With a new waterproof solution, lash princess false lash gives you a gorgeous voluminous false lash effect, so if you are a fan of dramatic long lashes, this waterproof cruelty-free mascara is the one for you! The fiber brush's conic form gives lashes sculpted length and dramatic volume. Moreover, this mascara is also ophthalmologically tested.
This non-toxic mascara is paraben-free, fragrance-free, and alcohol-free. Essence has a strong commitment to the planet – recycling, waste prevention, and the development of sustainable products are all initiatives they focus on. They have joined the cross-industry dm Rezyklat Forum, an initiative in which trade and industry come together to work on keeping valuable packaging materials in the recycling cycle and to greatly expand the use of recycled materials. Using a traffic light system, ingredients are closely monitored and evaluated for their effects on the environment, human health, and society. In addition, they have taken a lot of steps to cut CO2 emissions. Additionally, Essence participates in other programs, including the Responsible Mica Initiative and the Roundtable of Sustainable Palm Oil.
Check out their website here!
Burt's Bees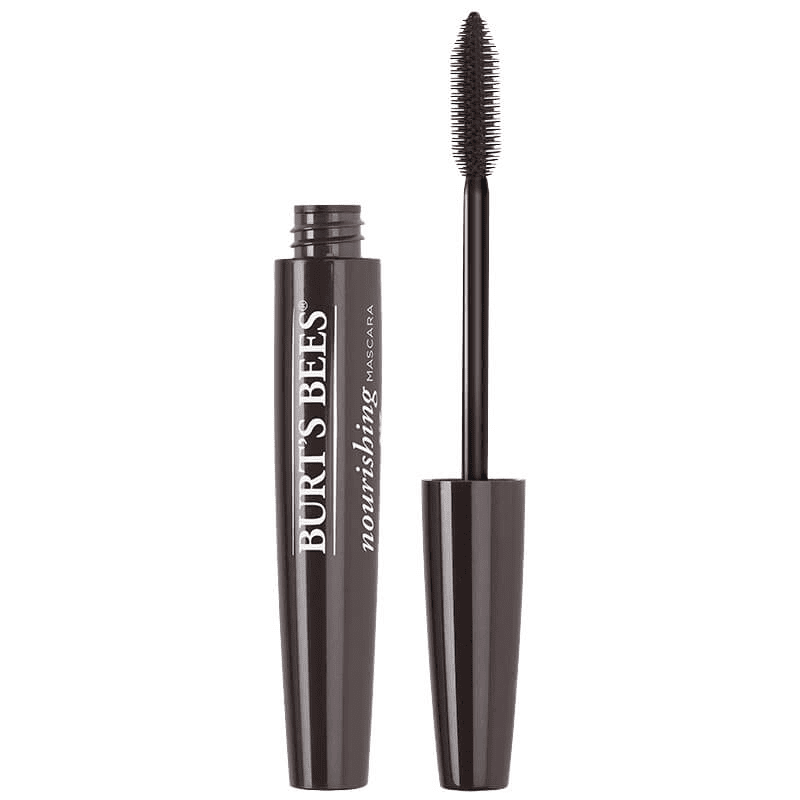 The Nourishing Mascara from Burt's Bees quickly lengthens and defines lashes. The 100% natural solution is soft enough for your delicate eye region and nourishes lashes with Jojoba Oil and naturally hydrating Glycerin.
This non-toxic mascara is formulated without parabens, phthalates, SLS, petrolatum or synthetic fragrances; ophthalmologist tested; not tested on animals and is cruelty-free.
All of Burt's Bees products are responsibly sourced, use natural ingredients, use recyclable packaging and none are tested on animals. Their operations are landfill-free, they are Carbon Neutral certified and they offset their annual water consumption through watershed restoration projects. But's Bees Foundation supports the health and biodiversity of honeybees and their employees have all put in more than 2500 volunteer hours annually.
Check out their website here!