You must be wondering, why sustainable swimwear? What's wrong with the regular bathing suit?
Wait, answer me, how long did your last fast fashion suit last you? I thought so. The majority of swimwear sold in fast fashion stores isn't built to last, as enticing as it may be.
Well, the biggie is that most swimsuits are composed of plastic, notably nylon and polyester. from stretching out, pilling pretty quickly and getting dumped in a landfill, these fabrics shed plastic microfibers when washed, which will eventually make their way into our oceans.
Everyone's to-do list must include becoming more sustainable and our closets are a fantastic place to start.
Yes, the world of sustainable fashion can be perplexing at times, but many companies are working hard to make the industry more environmentally friendly. There are many sustainable options to pick from, from wedding gown designers to loungewear companies and even jewellery; the key is to do your research thoroughly before buying.
When it comes to shopping for swimwear, this is no exception.
So, this summer, why not invest in your future travels by purchasing some long-lasting and eco-friendly bathing suits?
4 incredible fabrics that make a sustainable swimwear
There are a plethora of different fibres and textiles used to produce sustainable swimwear, so what should you look for?
Here are some of the most common sustainable swimwear fabrics that you just cannot miss on while searching for a sustainable bathing suit.
ECONYL
ECONYL is a type of recycled nylon that is mostly produced from fishing line and carpets. These raw materials are regenerated in a four-step process that produces the final product as virgin (fossil fuel-based) nylon.
According to the producers, ECONYL emits 90 percent fewer emissions than virgin nylon, and the fabric produced is infinitely recyclable back into new ECONYL yarn and products, enabling for closed-loop production systems.
Recycled Polyester
You're probably already familiar with recycled polyester if you've ever bought something that claims to be made from recycled bottles. Polyester that would otherwise end up in landfills is cleaned, broken down into small "flakes," melted into pellets, and then spun into yarn and weaved into garments.
Yulex
You may have heard about Yulex, a new material that is gaining popularity in environmentally friendly swim suits. It is said that when you use Yulex-based materials, you don't have to choose between performance and the planet. Yulex is sustainably produced from renewable rubber tree forests and proves to be a great alternative to petroleum-based rubbers.
Natural Fibres
Choosing a natural fabric over a recycled man-made one is arguably the best swimsuit choice for the planet. Some swimsuit designers have effectively reinvented cotton and hemp to make them more flexible and suitable for underwater usage. However, these natural textiles have a tendency to absorb water and sag or lose form over time, so mixing them with elastane is sometimes necessary to make them flexible.
When it comes to sustainability, it's a delicate balancing act to discover something that will be long lasting while causing the least amount of environmental damage.
Sustainable swimwear brands that you just can't miss this summer!
From mix and match bikinis to one-pieces and bodysuits, there are versatile and ethical brands that are making quite the splash.
Believe it or not, this is a new style of shopping.
Rather than opting for disposable swimwear, why not opt for these eco-friendly bathing suits that can actually withstand the test of time?
Created to be durable, functional, and built to last, swimwear from these brands isn't just a purchase, it's an investment into a product that you can use forever.
Everything they do is for the planet and its people!
P.S, since you're prepping for your beach bag anyway, be sure to add some natural sunscreens, , eco-friendly sunglasses, razors and sandals to it, too.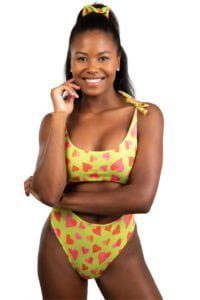 Samudra Swimwear's prints are just adorable! Their bikinis are not only vibrant and exciting, but they are also reversible. They use ECONYL® yarn, a 100 per cent regenerated nylon yarn sourced from industrial waste such as abandoned fishing nets, carpet fluff, tulle, and other materials.
That implies we won't have to invest in new resources to generate new products!
Each swimsuit is created responsibly in Spain and is OEKO-TEX and GRS certified. To reduce waste, excess fabric is fashioned into scrunchies or donated to fashion schools.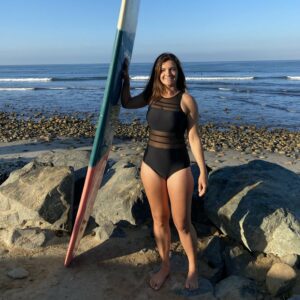 Do Good Swimwear is a small, sustainable swimwear brand for ocean lovers who want to do good, look good, and feel good. They offer simple yet classic styles that you may mix and match and cherish for years to come. Not only are they affordable, but they give back to the planet, too! and that is why you're here, right?
All of the swimsuits are created from recycled ocean garbage including fishnets and plastic bottles. In fact, a portion of the revenues from each transaction is donated to ocean conservation efforts. Isn't it a win-win situation?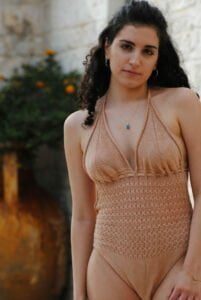 This company stands out from the rest because it is the only one on the list that does not utilise synthetics in its swimwear. Kaylyn Gardner uses 100% GOTS Certified Organic Cotton, and it's naturally dyed with avocados. Every swimsuit is made-to-order and can be given a customised fit, however, you like.
In today's world where everything is so disposable, especially in the fashion industry, Kaylyn Gardner strives to make pieces handcrafted just for you.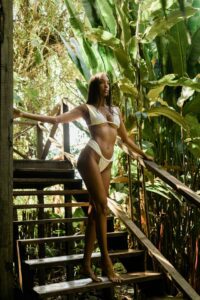 Salomé's swimsuit is created from ECONYL®, an Italian fabric that is chlorine resistant, soft, and UV protected, thanks to the science behind it. The lining is made of the same fabric ensuring that the swim at Salomé is as strong and durable as possible.
The cover-up by Salomé is composed entirely of Tencel fabric. Tencel is created from trees that have been harvested sustainably and with recovered water and chemicals, decreasing water use and waste. Tencel is a luxuriously soft fabric that is also sturdy, wrinkle-resistant, breathable, and environmentally friendly.
Girlfriend Collective's sustainable swimwear collection, which includes bikini tops, bottoms, and one-piece suits, is produced from Econyl.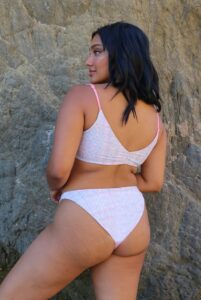 North Carolina based brand Made Trade is one of the fewer companies that are entirely size-inclusive, making the shopping experience inherently comfortable. Their swimwear is composed of biodegradable nylon fabrics like Amni Soul Eco Thread and Econyl.
Along with commendable transparency provided for their sustainability claims, the majority of Made Trade's brands are owned by females as well.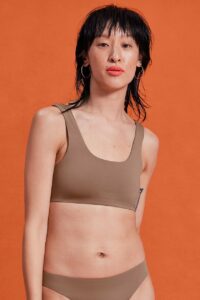 Compared to a regular swimsuit, you'll save 0.99 ounces of oil usage, 30lbs of CO2 emissions, and 0.63 KwH of energy. In addition, the brand provides 1% of revenues to Healthy Seas, an ocean dialogue initiative.
Not to forget, Girlfriend Collective has one of the most extensive size choices in the industry, with sizes ranging from XXS to 6XL.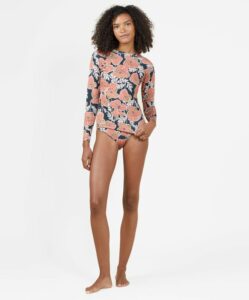 How can we leave the men out of this list! Outerknown has been a trailblazer in a number of areas, including being the first company to be certified by the Fair Labor Association (FLA) without ever exporting a product and being the first brand to provide ECONYL swimwear.
They use organic, recycled, or regenerated fibres in 90% of their products, and recycled or renewable fibres in 100% of their trunks.
Why? Because there's nothing more incredible than a clean ocean.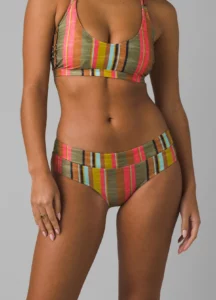 Prana has a ton of beautiful sustainable swimwear, & lots of different styles. Sustainability has been their tradition, from distributing clothing in reused fruit boxes to being the first North American fashion company to bring Fair Trade CertifiedTM products to market.
Their Fair Trade Certified™ program has given back $400,000+ to 33,000+ workers worldwide!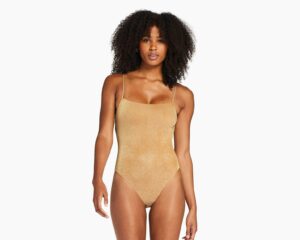 Bikinis are made from plants, not plastics!
Vitamin A offers transparency in terms of how its products have been created, where they're made, and what they're composed of. Several environmentally conscious textiles, such as organic cotton, linen, recycled cotton, and Tencel®, have been incorporated into the collection.
In the extensive range of bathing suits, there are tons of cool fabrics to choose from: EcoLux is manufactured from recycled nylon fibres; EcoRib is a stretch-ribbed swim fabric made from nylon fibre scraps; EcoTex produces fewer greenhouse gases while conserving water and energy, and BioSculpt is an organic alternative to fossil fuel-based nylon.
Add these to your sustainable fabric dictionary now!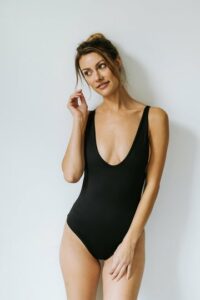 Londre is committed to making high-quality swimsuits with the least possible environmental impact, using a minimum of 6 plastic bottles recycled into each swimsuit.
Not only are their swimsuits flattering and comfortable, but you can also return them back at the end of their useful life to be recycled into new materials.
This is one of the top sustainable swimwear brands that you'll love to support, with a variety of fun and flattering styles!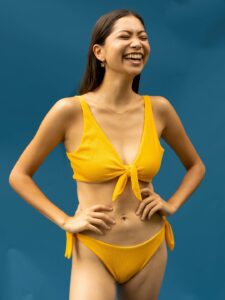 Kitty and Vibe is an ethical sustainable swimwear brand based in New York City that creates fun and alluring bikinis. The fabric is digitally printed and assembled in small batches at a family-owned factory in Bogota.
Their new Gingham Vibe collection is made entirely of recycled cloth and provides SPF 50+ sun protection. It's made with water-saving techniques and dries quickly after you're out of the water.
Fair Harbor creates fashionable swim trunks for men out of recycled plastic bottles. Fair Harbor swim designs have a northern look, inspired by the minimalistic Fair Harbor neighbourhood on Fire Island, NY.
The beachwear range was created out of great love for the waterways and a desire to keep the shoreline's magic alive for future generations. That's why their unique beachwear is constructed entirely of recycled plastic bottles, allowing for flexible comfort while also taking into account the ocean.
Witnessing the accumulation of plastic waste along the coastline, how can we ignore the fact that the places we love aren't guaranteed to last forever? The same thing incited them as well.
Sustainable Swimwear- An Investment in looking good and feeling good!
When it comes to sustainable swimwear, it's quite clear now that these brands are genuinely making a difference. Using innovative and new types of recycled fabrics, ethical working conditions, and new forms of working to reduce carbon footprint, products are being made with a clear conscience.
But what's the point of upholding such commitment to sustainability if we as consumers are not ready to make this shift in our fashion wardrobe?
When you choose sustainably made clothing, know that you're voting for social and environmental responsibility, for transparency, and for a fundamental shift in the way clothing is manufactured.
Each swimsuit is an investment in looking good and feeling good. You will not only look gorgeous, but you will also be supporting an eco-friendly lifestyle, ocean conservation, carbon offsetting, and whatnot, all of which will make you proud.
Happy Shopping!