2023 is here- and all of us want to shine like never before. Resolution lists include upping your game, which means we want a visibly more aesthetic and healthier appearance. Hair goals have been there on the list for some time.
There is something about an enviable soft and shiny mane that makes us look and feel more confident and attractive.
Besides eating healthy– is there another surefire way to achieve those frizz-free locks without making them drier than they already were? And that too without harming the planet's health? With these green conditioners, you get the best of both worlds. Getting healthy hair and scalp in a planet-positive manner isn't too far-fetched now.
Sustainability has entered the beauty industry jargon and all its verticals- big and small, and for the better. Beauty products and cosmetics, especially haircare goods such as hair dyes, shampoos, and conditioners are infamous for being loaded with all kinds of chemicals that deliver the opposite of what they claim.
Enter sustainable hair care products such as eco-friendly conditioners. Conditioning is an important part of our haircare routine and several stylists swear by it. The reasons are pretty self-explanatory.
Conditioning not only makes hair smoother, but it also detangles, nourishes, and strengthens the hair from the cuticle. Using an eco-friendly and sustainable conditioner can work wonders for your tresses, even if it seems like an inconsequential change.
What are Sustainable Conditioners All About?
Sustainable conditioners earn the moniker as they are more eco-friendly, both in terms of ingredients and packaging. They are a product of some conscious haircare brands that have resolved to make haircare routines safer and more planet-positive. But how, exactly?
We don't want to overstate the obvious, but haircare products are usually overloaded with chemicals that can be harmful for the environment and your hair.
You might wash your hair only once a week, but the damage stays around- in your hair and out in the environment. Shampoo and conditioner pollution is real, says Hairstory's Alexander Brebner.
It comes down to two factors that contribute to environmental degradation, continues Brebner- plastic packaging and harmful ingredients. We have already dwelt on the damage plastic packaging can deal to the environment in our article on zero-waste toothpaste options.
Watch YouTuber Sedona Christina explain why zero-waste haircare is the need of the hour-
A snapshot of clogged water bodies, dead animals and soil pollution instantly creates a mental picture when we talk about stray plastic bottles floating away in the oceans.
As for ingredients, rinse offs can be ingested by marine organisms and can wipe them out. In fact, believe it or not, but shampoos, hairsprays and conditioners are also guilty of air pollution. Also, heard of biological magnification?
If you have, chances are that you must have heard it only while referring to pesticides in farm produce. However, the term has come to encompass all the chemical residue consumed by organisms via water bodies that can stay in the system and hollow it out from the inside. Even humans are not spared this menace.
Haircare products heavily loaded with parabens and phthalates can cause significant respiratory and reproductive issues in both animals and humans, says CDC.
This is where sustainable conditioners differ from their regular counterparts. You can call a conditioner eco-friendly and truly sustainable when it meets the following standards-
Avoid THESE Chemicals
You don't need to be a biochemistry whiz to know what's wrong with your conditioner. Choose products that avoid known culprits such as Parabens, Phthalates, SLES and SLS and fragrances that are labelled as 'Parfum'.
While we desire instant results that leave our locks smelling great, synthetic fragrances can cause cancer, asthma and permanent hair loss. Other ingredients that you should watch out for are-
Triclosan– This anti-bacterial chemical agent might make your conditioners more durable, but beware of this villain as it can interfere with your endocrine system.
Dyes derived from coal tar- We sure love those bright colors, but well, the dyes and colorants are derived from coal tar which can cause serious eye injuries, even blindness. Yikes!
Resorcinol- More common in hair dyes than conditioners, resorcinol can permanently damage your nervous system and cause significant respiratory issues.
Quaternium-15- This one is a known skin toxicant and allergen and can elicit more skin and eye allergies.
Toluene- If you feel dizzy after a hair wash routine, maybe its toluene working its dark magic on you. This chemical can result in cracked skin, reproductive ailments and respiratory disruptions.
Butylate hydroxytoluene (BHT)- This culprit is commonly found in a range of beauty products- even lipcare! BHT is an endocrine disruptor and can induce severe skin allergies.
These chemicals and agents are commonly used ingredients in haircare products such as shampoos, dyes and colorants, beside conditioners. Watch out for another update from us where we break down the harmful effects of each of these on skin, health and the nature.
What you need to know is that all these agents are either chemically synthesized or derived from petroleum and coal. This makes regular conditioners a proven villain- both ethically and environmentally. Watch this video by hair stylist and reviewer Mike DeCanter to know more about these hair antagonists that are present in your conditioner-
Say No to Plastic and Yes to Zero-Waste
A sustainable hair conditioner should not use plastic or non-biodegradable packaging. Zero waste conditioners can be a lifeline and here's how. Using conditioners that are packaged in reusable containers is an excellent option to curb plastic waste.
In case you are skeptical of ditching plastic all of a sudden despite all the hoo haa, make sure that your bottle should be made of post-consumer recycled plastic. However, we would still say that ditching plastic is going to work just as well, in fact, it will be just better.
Sustainable hair care begins with going zero waste. Several companies, such as the ones listed below offer greener options like conditioning bars instead of liquid formulae. Plastic-free bars are a great option to begin with because they last longer if kept well.
Brands also offer storage containers to keep your conditioner bars dry and make them last long.
Some bars also last up to a minimum of 50 washes if you follow proper storage instructions. Moreover, they usually come packaged in biodegradable paper cases or boxes- so, ejecting more plastic should be the least of your worries.
Go for Refills
If you can't ditch liquid conditioners, you can still opt for a more sustainable way to cater to your locks. Simple- go for brands that offer refill packages. Ditch buying a new bottle for once and switch to refillables. You won't go back to buying a new bottle again, because why would you if the old one is working with a new lease?
All you are changing or refilling is the product inside, which is quite pocket-friendly rather than buying a new bottle again.
Choose Cruelty-Free and Vegan
While cruelty-free and vegan is different from sustainable, hear us out on this one. Choosing conditioners that are vegan and cruelty-free stems out of a personal preference for going the ethical way.
People have extended veganism to other aspects of their lives beyond their diets, such as makeup and haircare.
One of the biggest reasons you should embrace vegan and cruelty-free conditioners is less concentration of nasty ingredients. They are safer for your scalp and hair as compared to standard conditioners that might damage your hair for the worse.
Such conditioners are more likely to embrace the no plastic cause more seriously.
Top 8 Sustainable Conditioners of 2023 to Combat Frizz
Beauty and the Bees
Want to tame that unruly hair bee-have? Try this Honey Silk conditioning bar from Beauty and the Bees. It checks off most of the boxes on this list, save for a few. The most outstanding part of this product is that it lasts up to 130 washes!
What it is– Cruelty-free, plastic-free, handmade and SLS-free.
What it isn't– Vegan (because it contains Tasmanian honey)
What puts this bar at the top of our list is the brands commitment to be genuinely eco-friendly while also being a top budget-buy. If you want to enjoy unscented, luxury goodness that leaves your hair soft and clean, try this ASAP!
Shop Beauty and the Bees
---
Peach Not Plastic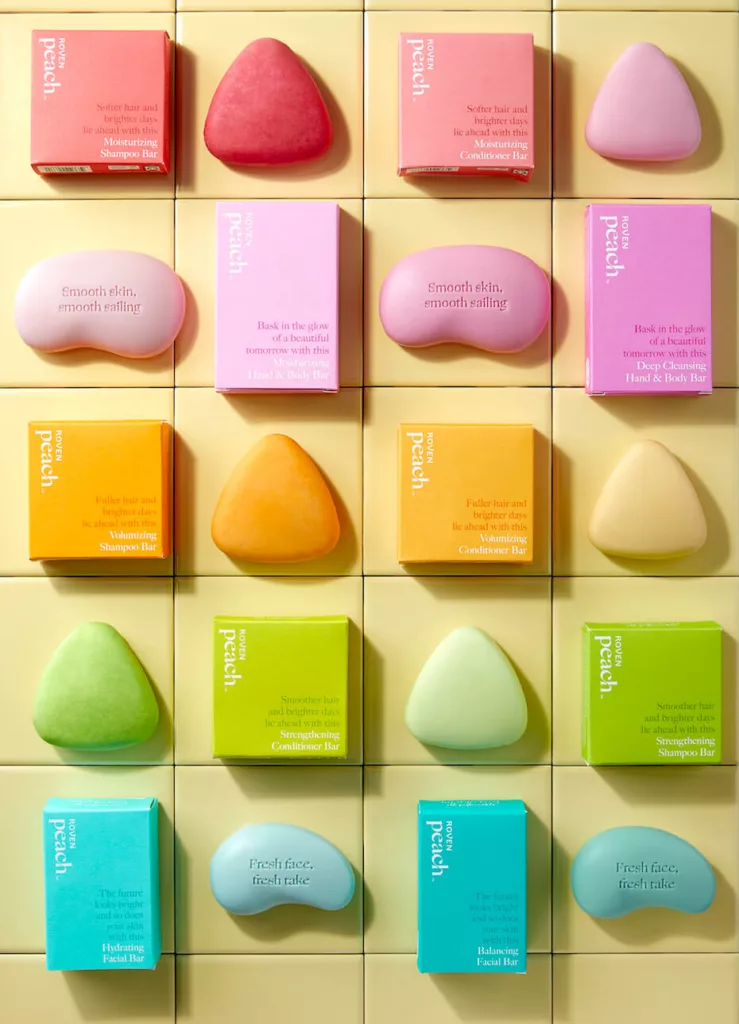 Giving some volume to your flat tresses should be easy with Peach not Plastic conditioner bars. This no-compromise, eco-friendly conditioners is another hot favorite that suits all types of hair.
What it is– vegan, Leaping Bunny certified, Climate Pledge-friendly, sulphate-free, plastic-free
What it isn't- Not sure if it contains palm oil which can create an ethical issue as a lot of palm oil comes at a risk of endangering key biodiversity habitats like rainforests
Peach not Plastic bars have an overwhelmingly good reputation. However, some users have suspected it of containing ingredients like paraffin wax, dyes and palm oil.
Shop Peach not Plastic
---
Ethique
Ethique's range of conditioner bars are made of high-quality ingredients and can be your one-stop solution for all your tress troubles!
What it is– vegan, suitable for curly hair, plastic-free, uses ethically sourced ingredients
What it isn't– It does its job for the most part, but ultra silkiness is not what it delivers (maybe it is the lack of silicone)
Ethique is one of the most cost-effective options in this list and fairly positively reviewed. Despite its limitations, we encourage you to try it!
Shop Ethique
---
Humankind
Conditioners tend to rip your hair out most of the time. Humankind's conditioners, however, are gentle on your strands and give them the much-required moisture. Liquid conditioner fans would go gaga over this one! The brand offers conditioner bars too.
What it is– single-use plastic free, carbon neutral, has all-natural ingredients
What it isn't– No separate formula for curly hair, conditioner bars are not long-lasting
While Humankind makes a decent attempt at introducing conditioners that are plastic-free and use gentle ingredients, there is a fair share of criticism about the packaging and formulation that might not suit all hair.
Shop Humankind
---
Meow Meow Tweet!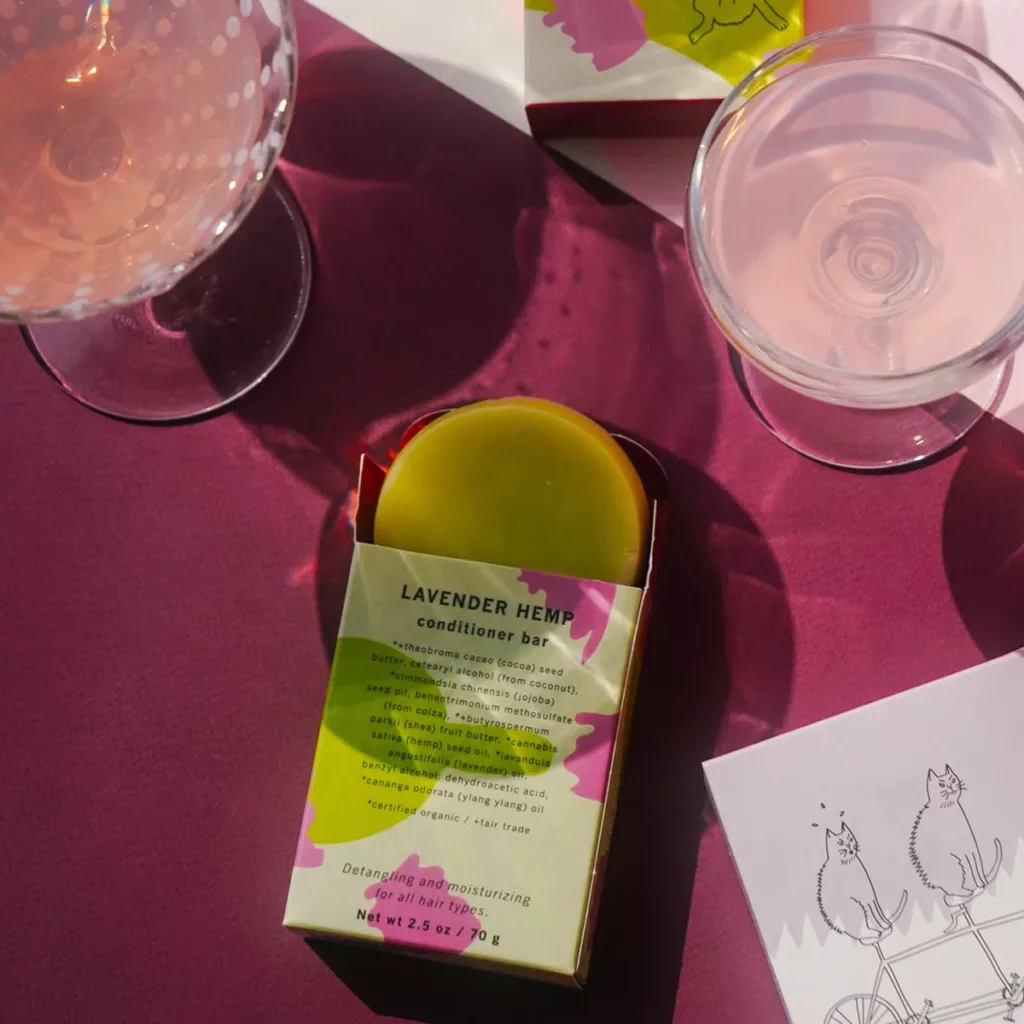 If you want to show your hair some loving, choose Meow Meow Tweet's eco-friendly and sustainable conditioner bars. The brand also offers conditioner powders, which means that you can try something unique while maintaining an easy peace with nature.
What it is: Certified organic and fair trade, plastic-negative, vegan, Certified B Corp, contains shea butter and ylang ylang oil
What it isn't: Not cost-effective, might not last long and can leave a slight film on your hair. Watch Eco-ish's Nicole and Azkaland's Abby elaborate on this aspect in their vlogs.
Except the filmy residue, Meow Meow Tweet bars score well on our sustainability parameters.
Shop Meow Meow Tweet
---
HiBAR
Favoured by most sustainable conditioner enthusiasts, HiBAR is setting quite the standard when it comes to eco-friendly hair care with its high-quality formulation.
What it is– Plastic-free, free of SLS, Silicone, Parabens, Leaping Bunny certified, biodegradable, waterless
What it isn't– The shape might make it difficult to use. As for the scent, some customers have reported a flare up in allergies which makes us think if putting it in was a good idea or not.
HiBAR has overwhelmingly positive reviews everywhere with regards to its quality and commitment to sustainability. Try giving it a shot and let us know how did it go for you?
Shop HiBAR
---
Good Juju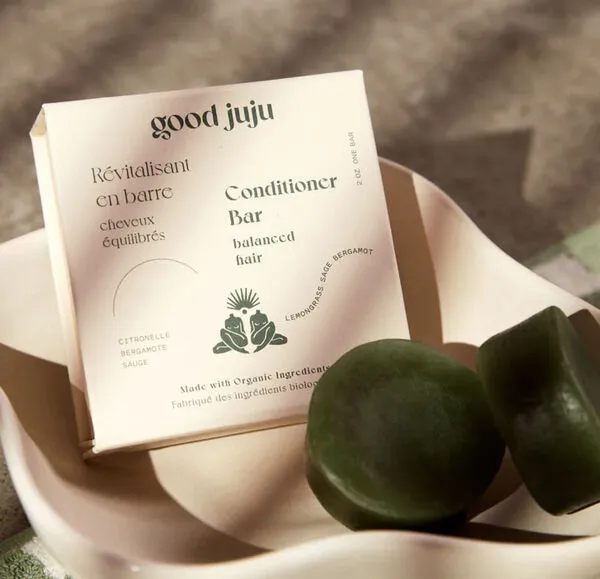 Most curly-haired users are at a loss when the market is full of products that cater to straight hair. Good Juju will solve all your frizzy troubles and nourish your hair with the care it deserves.
What it is: Suitable for dry and curly hair, plastic-free, made with certified organic ingredients, vegan and cruelty-free
What it isn't: The patchouli scent is powerfully overwhelming and you might need to use a lot of water to activate the bar.
The best part is that you can even choose not to opt for the zero-waste box and get only the bars. Good Juju has a slew of positive reviews from several customers- and we approve!
Shop Good Juju
---
The Unscented Company
You can still make your haircare routine sustainable, even with liquid conditioners. The Unscented Company offers you a conditioner which will give you salon-style perfection minus the harms of harsh formulations.
What it is: Made from plant-based ingredients, Leaping Bunny certified, recycled plastic packaging, refillable pouches available
What it isn't: If you want your hair to smell like strawberry shortcake or something like that, it won't click. But hey, saying goodbye to Parfum isn't that bad!
---
The Eco Wiser Take on Sustainable Conditioners
Haircare can be fuss-free in more ways than one. With these sustainable conditioners, ascribing to planet-positive shower routine will be easy.
Another distinguishing point about these products is that they suit curly hair types, which means ample room for diversity.
It has been long since beauty products, skincare and haircare followed only one formulation which was utterly disrespectful of the planet and individual customer needs.
Switching to conditioner bars and liquids that are free of harsh chemicals and plastic packaging is a great step towards embracing sustainability. Think of all the obnoxious effects you can eliminate by making a simple transition.
Most importantly, don't forget to check the credentials- transparency is a make or break, after all it's 2023! Let us know if you have tried these products- we would love to hear your take on them.
For more recommendations like these, visit our blog and subscribe to our Chrome extension for the greenest steal deals. To being a better and more sensitive consumer, y'all!