Eco-friendly backpacks don't strike us as the most sustainable products out there. They are usually not. So to buy the best sustainable bags check this list out. These unassuming products made of different fibers, polymers, and materials hide behind the more notorious products such as straws, plastic bags, sunscreens, detergents, and their alternatives.
Therefore, it is important to note that backpacks are not inherently sustainable. After all, they are made from synthetic fibers which are not recycled and the bags themselves are rarely reused.
As the style of the season changes, we usually throw the old bag out to buy a new one. This tendency is quite common among consumers today. But it should go for a toss with durable, eco-friendly backpacks that are made to last. You can also go for recycled backpacks made from materials that are promptly recycled so as not to eject more waste into the environment.
Warning. Before reading an article about buying a new eco-friendly backpack, reconsider the old bags that are lying around your house. Are they reusable? Are they repairable? Are they customizable? Or can they be donated? If not, then read on freely.
The brands are chosen on their labor practices, materials used, social responsibility taken up, sturdiness, styles, and of course prices. So these bags are functionally superior, elegantly designed, well crafted, and overall just neat! They have got your back for treks, college, the gym, and even dates. Discover the 15 of the best eco-friendly backpacks to take with you on your next hike.
What are Eco-Friendly Backpacks Made Of?
This section will likely seem counterintuitive. We usually assume that sustainable products are made from biodegradable materials and natural raw materials as opposed to synthetic ones. In the context of backpacks, bags made from (recycled) nylon, and (recycled) polyester blended with hemp or cotton canvas fiber is probably the best option out there. Bags should be, as a rule, long-lasting and sturdy. So they can be reused for a long time. After their lifecycle ends, they can be made into upcycled totes or purses.
Therefore, materials that are used in genuinely sustainable and eco-friendly backpacks are
Recycled Nylon
Recycled Polyester
Organic Hemp
Cotton Canvas Fiber
Cork Fabric
The Best Eco-Friendly Backpacks
These bags are made by companies based around the world. Who hold themselves to the most rigorous standards for being a truly eco-friendly company. What brings these companies apart is their commitment to the highest ethical standards and a laser focus on socially responsible and environmentally sound decisions.
They abhor greenwashing just as we do. How do we know, you ask? We have checked each of these companies for their ESG and CSR practices. Most of them are clean and others are working towards the goal transparently. The brands are ordered alphabetically.
One of the most creative companies on the list, Allegorie stands apart by making eco-friendly backpacks made from fruit and vegetable waste. These plant-based backpacks are a style statement unto themselves. The product is surprisingly durable and beautiful. It is a women-owned business that ensures that the products are fairtrade, ethical, truly vegan, and free from any toxicity (human or otherwise)
Products: They have three collections: Gala, Mango, and Cactus. Yes, they are made from those fruits! They are fancy yet utilitarian. The color range is minimal, but the designs go well with anything. All the bags have enough space, pockets, and paddings to be comfortable. These products are good enough for trains or treks.
Materials: Besides apples, bananas, and cactus, the company uses a variety of other bio-based materials that are non-harmful to the environment. All of the materials used in the bags are non-toxic, vegan leather (aka PVC) free Their products are cruelty-free and use over trillions of wasted fruits. 
Commitments: Green to the core, Allegorie makes products that are highly durable yet flexible. All their products are sourced from juicing factories, supermarkets, and even waste facilities. This is done with the utmost respect for the workers and the process itself is sustainable. The company is certified by USDA & ISO for the materials used for production. They use green energy sources and have achieved net-zero water wastage.
---
Another famous Swedish clothing brand. Loved by utilitarians, uni students, and fashion-forward dads, Fjallraven has been making well-loved outdoor backpacks for more than 50 years. This arctic fox has combined Nordic simplicity with sustainable and eco-friendly backpacks. This brand, created by Ake Nordin in 1960 has turned into an iconic representation of the great outdoors with its trademark kanken bags and the red fox logo.
Products: These bags are sustainably sourced, designed, and produced. The product range is vast, the classic kanken has over 55 colors to choose from. These designs blend well with the nordic landscapes and give you an outdoorsy feel too. Try out the Vartag or Bergtagen or Abisko, the company has great options for any kind of trip.
Materials: The Arctic Fox predominantly uses materials like organic cotton, recycled polyester, Tencel, hemp, and other specialized fabrics like Corylon, Hydratic, and Bergshell. They have also experimented with ethically sourced wool which is transparently audited every three years.
Commitments: Fjällräven has focussed on climate contributions by using recycled and recyclable packaging for all of their products. Plus they support renewable energy products to compensate for products that are not wholly eco-conscious. Their range of gears is made for longevity and sturdy durability with great designs. Fjallraven is working to go carbon neutral by 2025 under an oath with the UN.
---

A mother and sons trio started this company to provide minimalistic, functional, and sustainable backpacks for people who travel often. Helen Lo designed the bags for maximum comfort and durability, after experiencing back pain while traveling. These are very well-crafted backpacks that integrate seamlessly with other products of the same brand.
Products: Their elegant products are only matched with their ethical business practices. They have chic totes and duffle bags in a variety of muted blues, browns, and grays. Their Westholme and Catalina range has a very premium feel. While Hanover is good for daily commuting. With removable sleeves, multiple pockets, and key leases, the collection is highly practical yet sleek.
Materials: 67% of their total products are made from eco-friendly materials. They have incorporated vegan leather and recycled poly fabric made from PET bottles in their range of recycled backpacks. In the process, they diverted 3.7 million plastic bottles from the dump. They also use recycled nylon, 100% organic cotton, and gold-rated leather certified by the Leather Working Group to be sustainably extracted and transported.
Commitment: All of their factories are fair trade and laborers are compensated well. All of their sustainable backpacks (and other products too) are delivered only with eco-friendly packaging. Their other green business activities are as follows. Repairing and reselling pre-loved bags, incorporating solar energy in the production process, and converting wastewater into potable water, fit for daily use.
---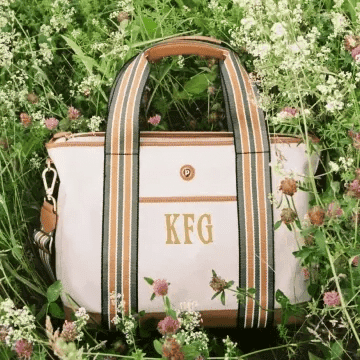 This stylish brand sells everything from wheeled luggage to packing cubes to make your travel super organized. A stylish backpack comes with a "twist of magic" in that it folds flat and fits into a small pouch. You can even keep it in your carry-on in case you need extra storage. If you are going on a hiking trip and need to pack a lightweight option, this is it.
Products: Their collection is light, well-designed, and stackable with their other products. You can personalize their bags and accessories with your initials at a small premium fee. Their collection is suitable for daily commutes and elaborate cross-country trips too. This product is a great eco-friendly laptop bag and works well as a school backpack.
Materials: Their star material is Negative Nylon which is made from recycled pet bottles, their designs are functionally superior and practically durable. They use aircraft-grade aluminum for their handles and attachments. Besides they also have a whole range of ethically derived materials such as jute, eco craft canvas, and even recycled vegan leather for suave vegan backpacks and purses.
Commitments: It is a certified Carbon Neutral company since 2020. Paravel takes its task related to sustainability and fair trade practices very seriously, they work with NGOs that provide solutions to issues such as climate justice, renewable energy, and reforestation.
The company is vetted by reputed third-party organizations that check their transparency of the supply chain, sustainability of materials, and accountability of business practices. They also uphold a very stringent Code of Conduct that maintains the highest work conditions and labor laws to create honest, ethical, and transparent employees.
---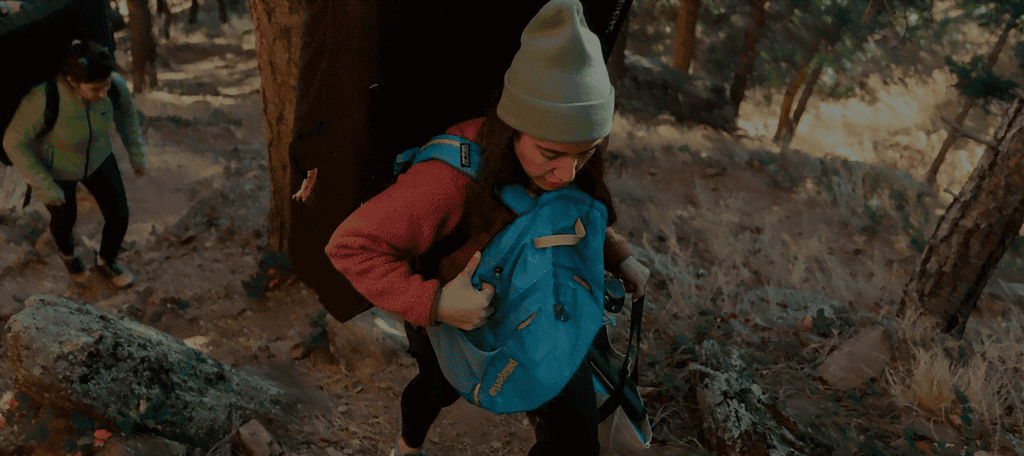 It is nigh impossible to speak about sustainability in fashion without once mentioning Patagonia. This brand is a certified B Corp and founder of 1% For The Planet, a platform for environmental altruism.
Products: The range of products at Patagonia is stunning. From highly technical packs to daily-use bags. They have it all. At the core of Patagonia's philosophy is creating durable, high-quality products that don't scar the planet. They are doing a fine job at it. You can check out their extensive collection of Blackhole® and other packs.
Materials: They go big for sustainable materials, all of their cotton used is organic and 94% of fabrics and materials-at-large are made from recycled materials. Another material used extensively by them is hemp. A plant that grows as fast as bamboo, and makes for a sustainable fiber.
Commitments: The company takes its activism very seriously, they pay above average daily wages at all of their factories under their Fair Trade Programme. Patagonia is working on its Regenerative Cotton Programme to improve soil health and reduce carbon emissions while producing organic cotton. They also have their WornWear Programme, where they sell pre-loved clothing and gear, these old products are recycled, repaired, and restored to minimize resource utilization.
---
Tentree is a well-beloved Canadian fashion brand whose focus is on ethical clothing and accessories. Their ethical backpack collection of just two products, five if you include the totes. But the point is; that they are very good. Plus the brand is a certified B Corp and also Climate Neutral Certified.
Products: The Mobius range has the 35L sustainable backpack that looks and works well anywhere. Their totes are of clean design and of sturdy organic cotton canvas. The Daily Backpack of 19L is a good option for students and teachers alike with its neat black design.
Materials: The products are made from organic cotton and recycled polyester. They also include corks, Tencel, hemp, and Repreve poly fabric made from recycled plastic bottles. Another innovative material used is Bloom, a foam padding made from excessive algal blooms.
Commitments: They are a fair trade business, which means they ensure the highest compliance with ethical and environmental standards. Safe working conditions, higher wages, no gender disparity, and continuous transparency about everything; this is how the company rolls. The name also alludes to the fact that the company plants 10 trees for every single product brought from them. Their goal is to plant 1 billion trees by 2030.
---
Terra Thread is another certified B Corp due to its parent company Gallant. Therefore they are global leaders who use their business as a force for good. They are driven to achieve various ESG initiatives while following absolute transparency and a radical focus on the good of the environment.
Their flagship The Earth Backpack is an ethically produced pack that is loved by many consumers. Terra Thread's collection is great for schools, treks, and even work. It is spacious, durable, and very comfortable.
Products: The Earth Backpack is made with sturdy and organic cotton canvas and comes in 14 vibrant colors. They have two sizes: Regular for adults & Mini for kids. All their products are ergonomic and sensibly designed. You can also check their duffle and tote bags, laptop sleeves, and make-up bags. Terra Thread's affordable eco-friendly canvas backpacks are perfect for just about any travel or work situation.
Materials: All the products are made from organic cotton and nontoxic dyes. The company is committed to providing GOTS-certified cotton from their south Asian cotton farms. All the packaging and making process is fair trade and eco-friendly. The company is also 100% Carbon Neutral.
Commitments: Besides being carbon neutral, fair trade, and eco-friendly; Terra Thread also supports Feeding America: a hunger relief organization based in the US. They have a network of 200 food banks that provide food for the have-nots. Terra Thread's Fairtrade partnership secures higher than normal living wages, and better life quality, and also addresses issues like child labor, gender disparity, and of course climate change.
---
A certified B Corp is always the best place to start without doubting much about the quality of the products and the commitment of the company. United By Blue is a company dedicated to making a cleaner and better world; one bag at a time.
Products: Their range of sustainable bags is truly wide. You can buy well-designed totes, vegan duffle bags, eco-friendly knapsacks, and of course backpacks. The color palette is poppy and the designs are not over the top. The bags give a camping vibe but are good for schools, work, or even regular travel.
Materials: They use sustainable materials such as organic cotton, hemp, recycled polyester, and Tencel for their bags and apparel range. They even use corozo or vegetable ivory for their buttons. All of their bags are water-repellant and highly durable. The company also has exclusive materials that are quite exciting.
Commitments: For every product purchased, one pound of trash is removed from oceans and waterways. They also have regular cleanups that you can join in the states, here. All of their factories are Fair Trade, and GOTS certified and they are trying to stop using plastic in every facet of their business! Now, this is some wholesome news.
---
Vaude like its other Canadian counterparts takes good design and environmental thought very seriously. This company has been making eco-friendly backpacks for the last 40 years. Their collections include anything that you need in the bag categories. Be it for extensive trekking or simple trails, they have it all. Vaude is a certified Climate Neutral brand. So extra points for that.
Products: Their product range is curated according to Outdoor, Biking, and Urban. It streamlines the buying process by a large margin. They have a special collection for women which is worth checking out. You can buy products that deal with skiing, regular travel, professional biking, and hiking too!
Materials: Vaude uses materials like hemp, recycled polyesters, bioplastics, and sustainable leathers trademarked as Terracare®. Even their waterproofed products don't use environmentally harmful materials such as PFCs and PVCs. The company proudly wears the bluesign® which ensures tough environmental sanctions since 2001.
Commitments: Across their supply chain, the company ensures ethically produced and delivered backpacks. Every single worker is granted fair working conditions and this is transparently reviewed regularly. Under their Green Shape Label; the complete product is evaluated from its origin to its sale and even packaging. Another awesome thing about Vaude- it is a solar energy-based climate-neutral company.
---
Bagmaya is a British brand of sustainable backpacks and slow fashion. Its collection is from hemp. It is said to be the most sustainable natural fabric out there. The backpack designs are understated but beautiful. The colors on the bag are organically derived and applied. These bags are not just indie but pretty sturdy too. The bags are naturally rainproof because hemp hates water. Though the company is based out of the UK, the production is in Nepal.
They also have a good range of fanny packs and yoga mat bags. All of their bags are fair trade and ethically made. Their products are packed in boxes that are made from 60% recycled materials. The company also gives back 10% of its profits to the YUWA Foundation for Youth Empowerment.
---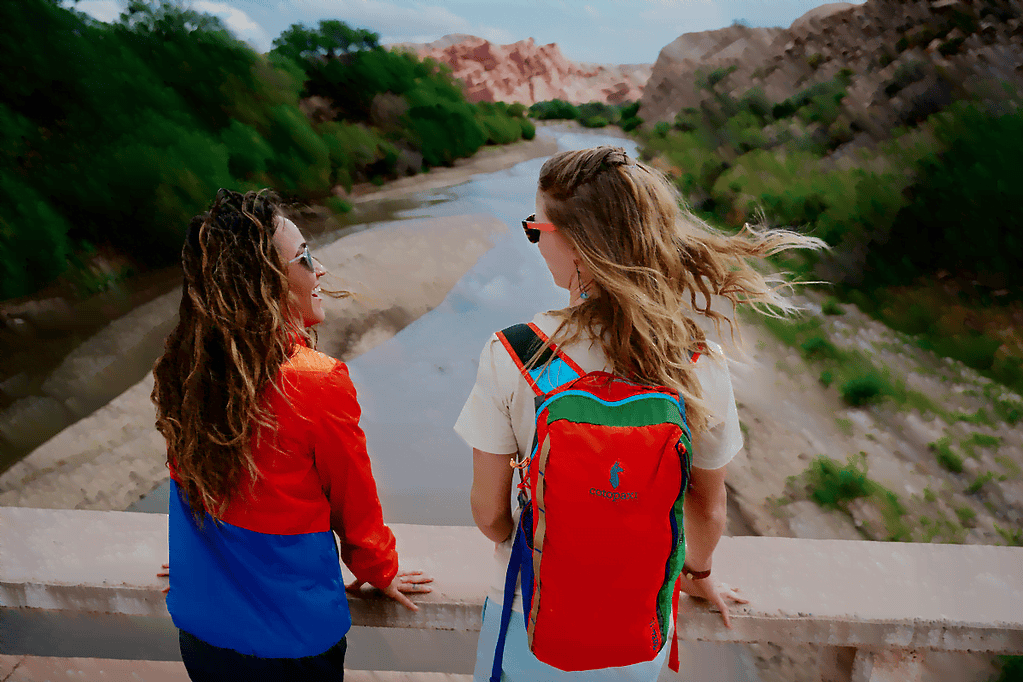 Founded by Davis Smith, the brand is named after the famous active volcano in the Andes range. Cotopaxi is an outdoor gear brand that is on a mission to do good. Their backpacks are made ethically and built to last. The (Re)purposed™ Collection is made from remnant materials of other products. They only use alternative fabrics or recycled polymers to make their backpacks and travel packs. The Allama Collection is a unique travel range that has a lifetime guarantee.
The Del Dia is a vegan backpack range under the (Re)purposed™ Collection. Cotopaxi is a Certified B Corp that takes care of its supply chain. It adheres to the highest labor standards and is part of the Sustainable Apparel Coalition. So no worries.
---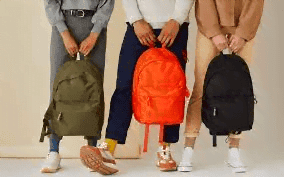 A daring company that envisions backpacks differently. Their backpack range is anti-microbial and minimalistic yet functional. Their backpack range is pretty affordable and well separated. Prodigy, Mini, Maven & Packable. All their backpacks are made from 100% recycled materials and it has EPA-certified Silverplus Tech that makes the bags antimicrobial.
Like its peers, it is also a Certified B Corp, whose supply chain is ethical, fair trade, and transparent. Their factories are regularly audited. The company uses 100% recyclable and biodegradable shipping materials. Founded by the Singer-Songwriter Ciara, Dare to Roam works actively to support child education & food security.
---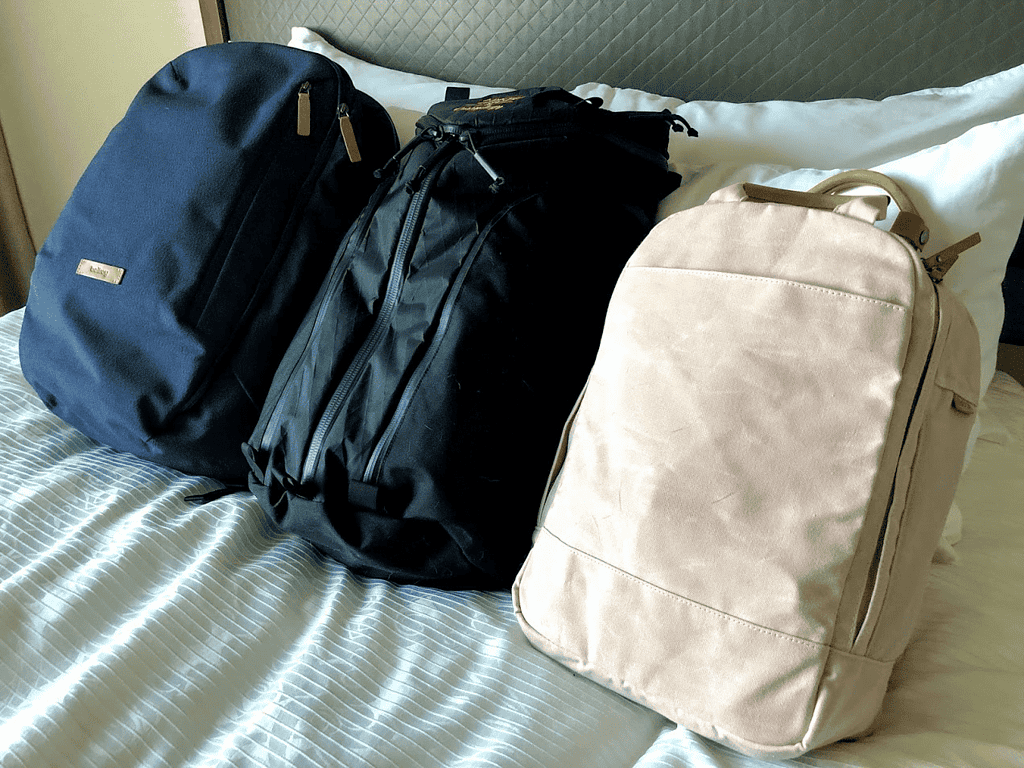 A product loved by critics and regular folks alike. Day Owl has created the perfect minimalist bags– The Backpack & The Slim Backpack, these laptop bags are just right for your daily commute or weekend trips too. Their collection has 12 soft colors to choose from. These bags are deceptively spacious, spill-resistant, and well pocketed. All their products are made from 100% recycled plastic. They incorporate algae, re-polyester, and metal zips in their ethical backpacks.
Day Owl is a Certified B Corp and sources their plastic from First Mile, a sustainable material provider. Day Owl's pilot programme for circularity is truly visionary, they recycle backpacks of any brand without exceptions.
---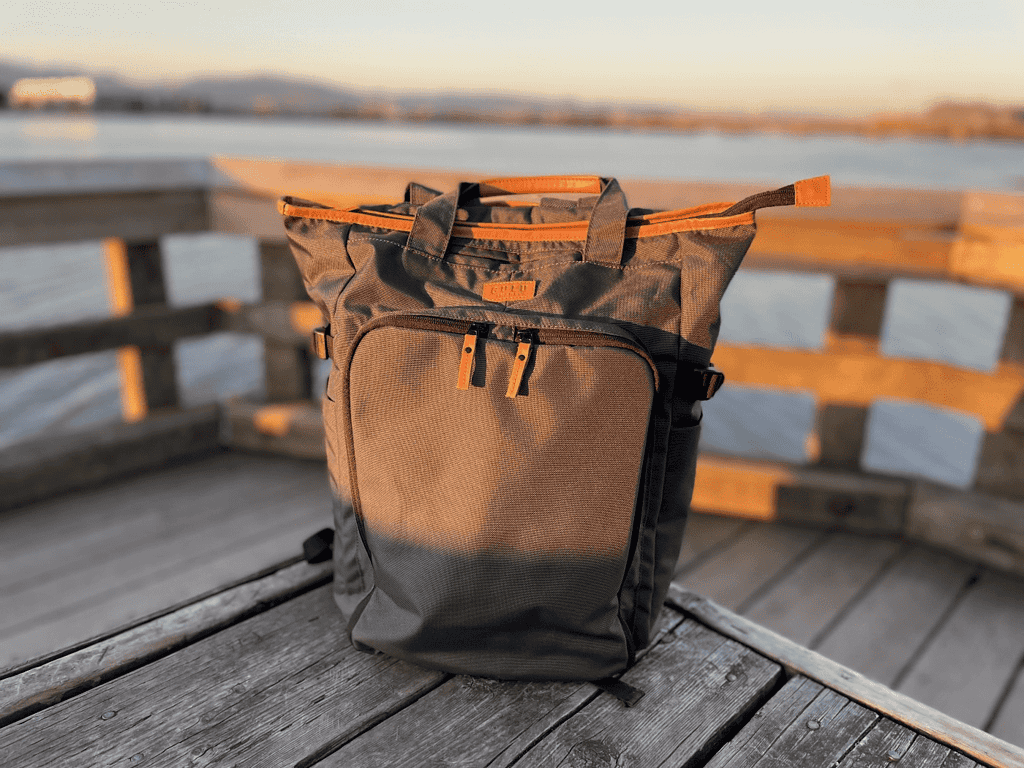 Made in Gulu, Uganda, this brand has a great collection of ethically made backpacks along with totes, duffles, slings, and organizers. All the products are well designed and comfortable. The backpacks are especially puffy so you don't get shoulder pain from wearing them for too long. Their laptop bags also have false bottoms (extra paddings) to ensure the safety of the device. They use virgin nylon, probably the only company on the list to do so.
They guarantee that the product will last for a lifetime. The company employs Ugandan native women who are very skilled in the craft. Thus empowering the people of a historically war-torn country in the process.
---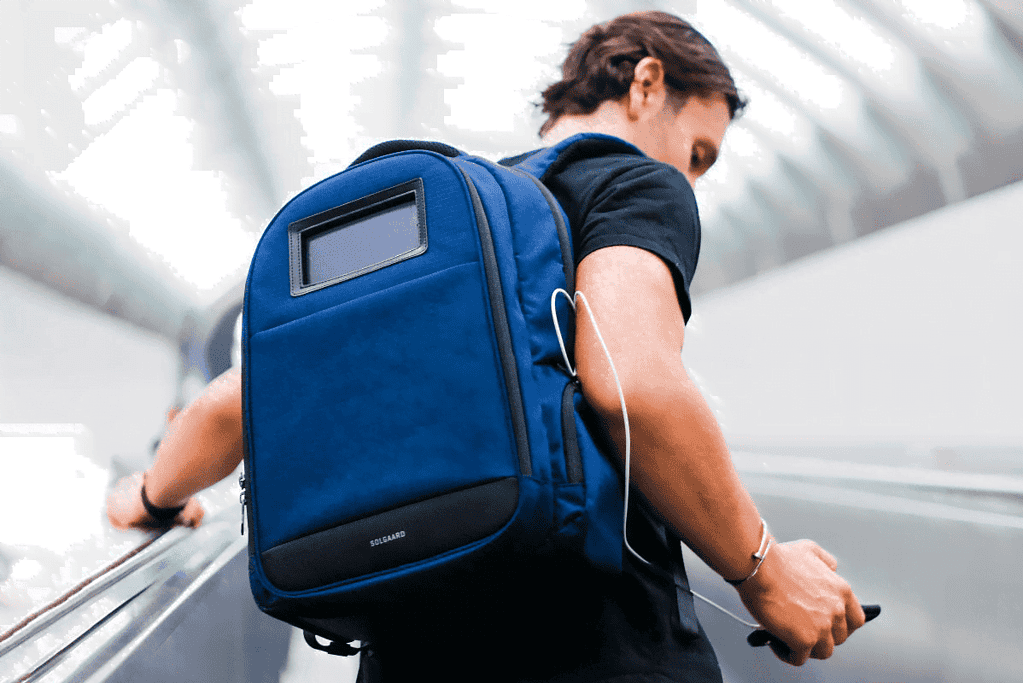 This company offers a wide range of sustainable backpacks for everyone. Their award-winning duo- Lifepack and Carry-on Closet are super innovative. The lifepack has a built-in solar panel, an anti-theft lock, and a power bank! It is very sturdy and its design is on point. Their backpacks also have integrated USB ports and waterproof bottoms.  Their proprietary material– Shore-Tex is made from recycled ocean plastic. 
The company also removes over 229 pounds of plastic for every product brought. They have also removed single-use plastic from their supply chain. Solgaard is branded as the most innovative backpack by TIME, FastCompany, Forbes, and Esquire.
---
The Be Zen Take on Eco-Friendly Backpacks
This was a not-so-small list of eco-friendly bags. Of course, we missed out on many other companies that are doing a great job. But the list can only be so long. So before going, remember: the backpack you are currently using is the most sustainable one, only if you make it last.
Consider getting a new bag after your old one has completely given way- but make sure that it is sustainable and ethically made. This is to ensure that you are genuinely contributing to a positive production process that compensates workers fairly and does not harm the environment in any way.
For more such informative and specially curated listicles to find the best sustainable alternatives to standard goods, hit the Be Zen blog and do not forget to subscribe our Chrome extension– which is your ultimate green shopping assistant.