Why Ditch Plastic Bottles?

It's about time to ditch plastic bottles and replace them with reusable water bottles that are sustainable and eco-friendly. Because at this point everyone knows that plastic bottles are a huge problem. We don't want that kind of toxicity in our lives anymore. The following three problems that we face are due to plastic bottles.
Human Problems: The infamous BPA or Bisphenol A is capable of causing neurological difficulties, premature labor, fertility issues in men and women, defects in newborn babies, and much more. A significant source of BPA enters the human body when it is exposed to plastic bottles and cleaning product containers. Some studies show plastic bottles can cause microbial contamination, leaching of phthalates, and even the presence of carcinogenic compounds. This may prove fatal because of the excessive concentration of plastics found in human habitats.
Animal Problems: All of you have seen the dire images of pelicans and turtles who get choked or tangled in plastic caps and have a gut full of plastic. This is a huge problem because around 1 million marine creatures die due to oceanic plastic debris. Research suggests that the great pacific garbage patch is growing, effectively affecting millions of sea creatures and even aerial life. Water bodies have turned into dumping grounds for plastic waste. By 2050, the total mass of plastic will weigh more than all fish.
Climate Problems: Overuse of plastic and the slow speed of degradation has made plastic the worst enemy of the environment. Microplastic rising in the food chain to humans is not a new story anymore. Around 6.3 billion tons of plastic have been wasted since the 1950s until the present. That combined weight is greater than the total biomass of all marine and terrestrial animals.
Warning. Before reading an article about buying a new eco-friendly reusable water bottle, reconsider the bottles you already own. Are they reusable? Are they good enough? Are they safe? Can they be donated or recycled? If not, then read on freely.
The Best Reusable Water Bottles Ever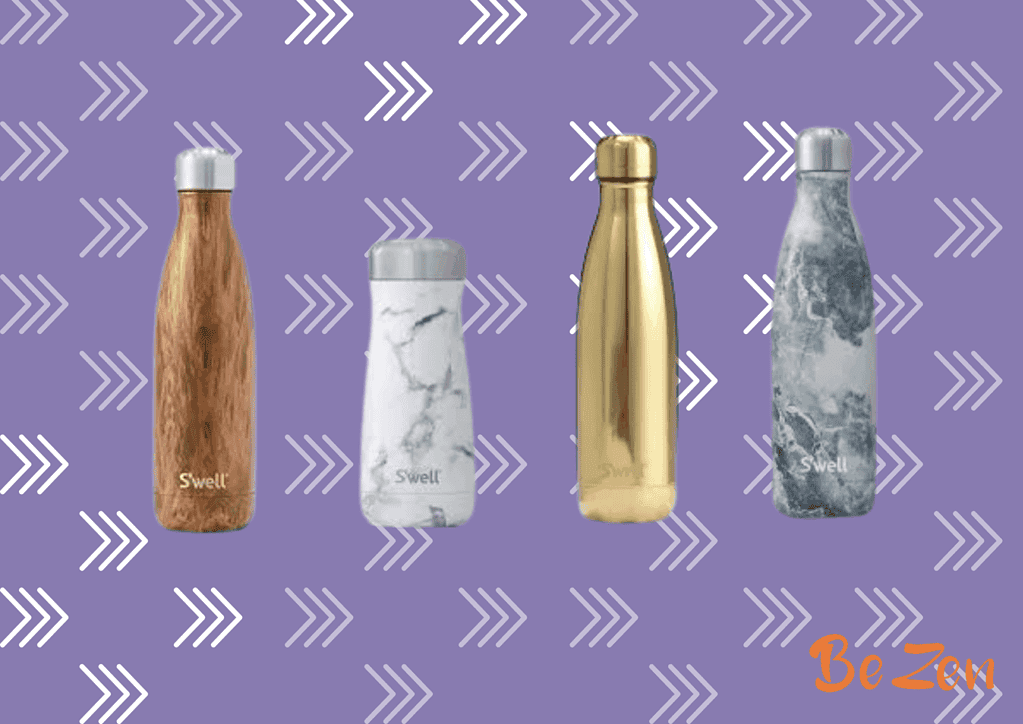 Origin and Introduction: Founded by Sarah Kauss, the company was the first to sell reusable water bottles as a hip product. Before Sarah invested 30k to found the company in 2010. Very few people preferred reusable water bottles as they looked like camping accessories. The Original Bottle keeps things hot and cold for 24 and 48 hours respectively. The company as of 2022 has sold more than 22 million water bottles.
Products and Materials: Their range of Drinkware is huge. It includes Travelers, Roamers, and the S'ip collection, especially for kids. They also sell coffee mugs, straws, ice trays, and even bottle brushes. All the products are vacuum insulated, triple-layered, and made from high-grade stainless steel. Their eco-friendly water bottles are classy and sturdy. Great for parties to glamping. You can find their collection at Starbucks, Nordstrom, and Target among others.
Commitments and Practices: Ethically designed, produced, and sold. The founder makes her sustainability point clear as the company is a Certified B Corp. These stainless steel bottles use compostable packaging and minimal use of paper. S'well also funds clean water initiatives in developing nations, currently, the focus being Madagascar. The company has also partnered with UNICEF to provide water bottles to schools and kids in need.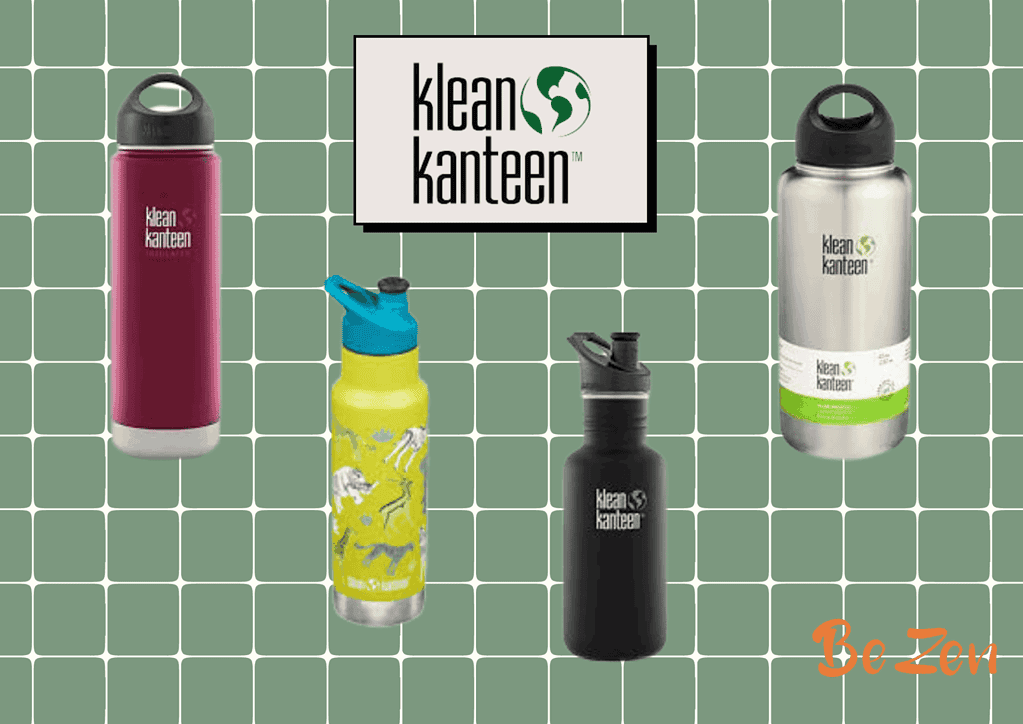 Origin and Introduction: Klean Kanteen changed the water bottle game in the year 2002. This family and employee-owned business, designed and sold the first BPA-free water bottle. The Creswell family made stainless steel bottles a go-to for the climate-conscious. Klean Kanteen exemplifies that notion with some of the best eco-friendly water bottles available.
Products and Materials: Very lightweight with multiple colors, sizes, and upgrades. The brand has expanded into lunch boxes, tumblers, cans, and mugs. The products use a double-wall vacuum to maintain temperature. The best design is definitely the Insulated Classic, It can last for 20 hours and 50 hours for hot and cold drinks respectively. The KK range is coated with the Klean Coat which is chip-resistant, and safe for people and the planet.
Commitments and Practices: Klean Kanteen is a family and employee-owned company. It is a Certified B Corporation since 2012. The company adheres to the global standards of ILO for safety, fair wages, ethical business practices, and environmental responsibility. The company also meets ISO standards ISO 9001 and ISO/TS 16949. High standards are a benchmark for the company, as it is Certified Carbon Neutral and also part of the 1% For The Planet initiative.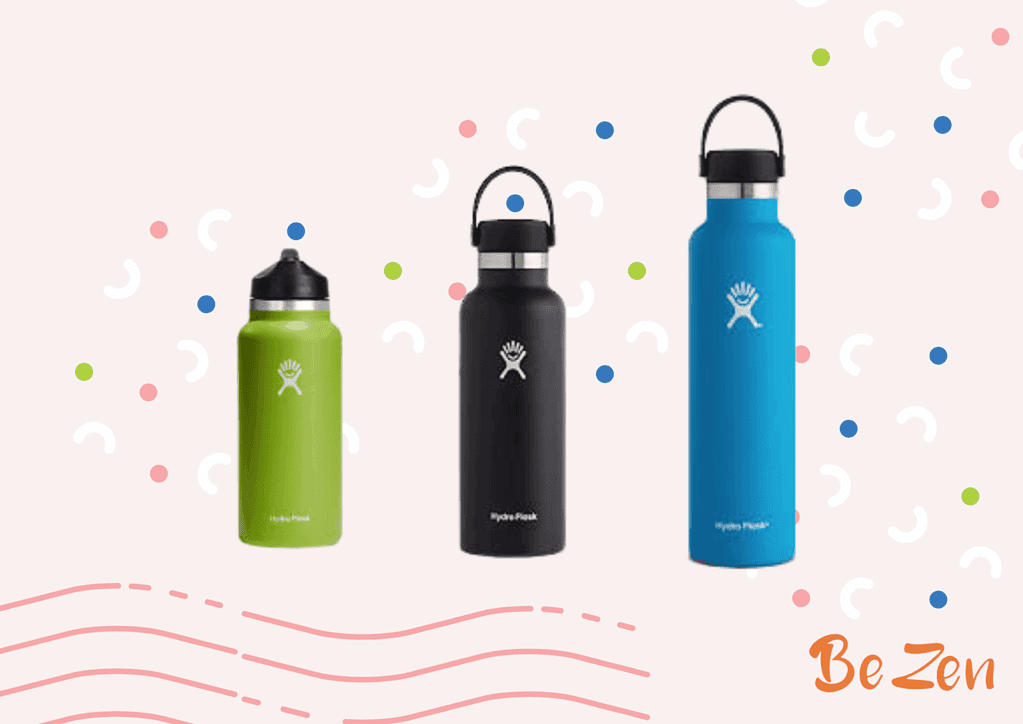 Origin and Introduction: This fun brand does everything sustainably. It is an Oregon-based firm that believes in taking inspiration from nature. The bottles are simple in design and noble in mission. The company HQ is situated in Bend, where they have access to beautiful mountains, forests, and rivers. They have options for kids and for adults so no one is left out.
Products and Materials: These reusable water bottles are made from pro-grade stainless steel. powder coated for durability and an easy no-slip grip. Highly insulated and free from any BPA or phthalates. The company has options for everything, be it colors, age, designs, or even lid styles. These eco-friendly water bottles are here to stay because they come with a lifetime warranty.
Commitments and Practices: Hydro Flask follows many of the best practices in the industry for sustainability. Their products are backed with a lifetime guarantee because as we know they are practically indestructible. The company is most proud of the Parks For All initiative to support green spaces and promote them. The company has also donated upwards of 2.5 million dollars and thousands of water bottles to 151 different NGOs around the world. They are a force for well-powered eco-friendly water bottles.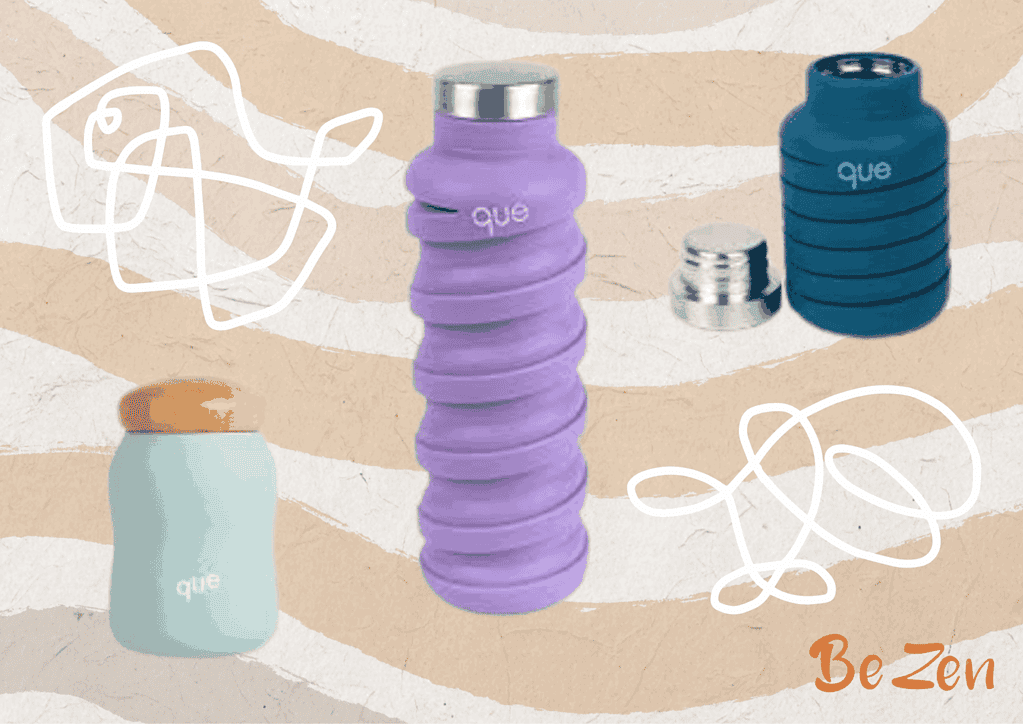 Origin and Introduction: The brand was initially launched on Kickstarter in 2016. Designed to save space in a stylish way, Que has now reached global fandom. Its quirky and unique design has been featured in the books of MoMA and the Smithsonian. It is perfect for trips and outings. The company takes design, sustainability, and functionality very seriously. Designed in California and responsibly made in China.
Products and Materials: The bottles are made from food-grade silicone which is non-toxic and BPA-free. Food-grade stainless steel is used for the caps. Both of the materials can be recycled at special facilities. Making it a truly sustainable water bottle brand. The Collapsible Bottle is priced at 17.95 for 20oz, while the Insulated Bottle costs 22.95 for a 12oz size.
Commitments and Practices: Que has partnered with the Coral Reef Alliance and the Rainforest Trust to raise awareness for environmental issues. 10% of the sales proceeds go to the Rainforest Trust to help acquire and protect land in the Peruvian Amazon Rainforest. So doing good while looking good at it. Que in a nutshell.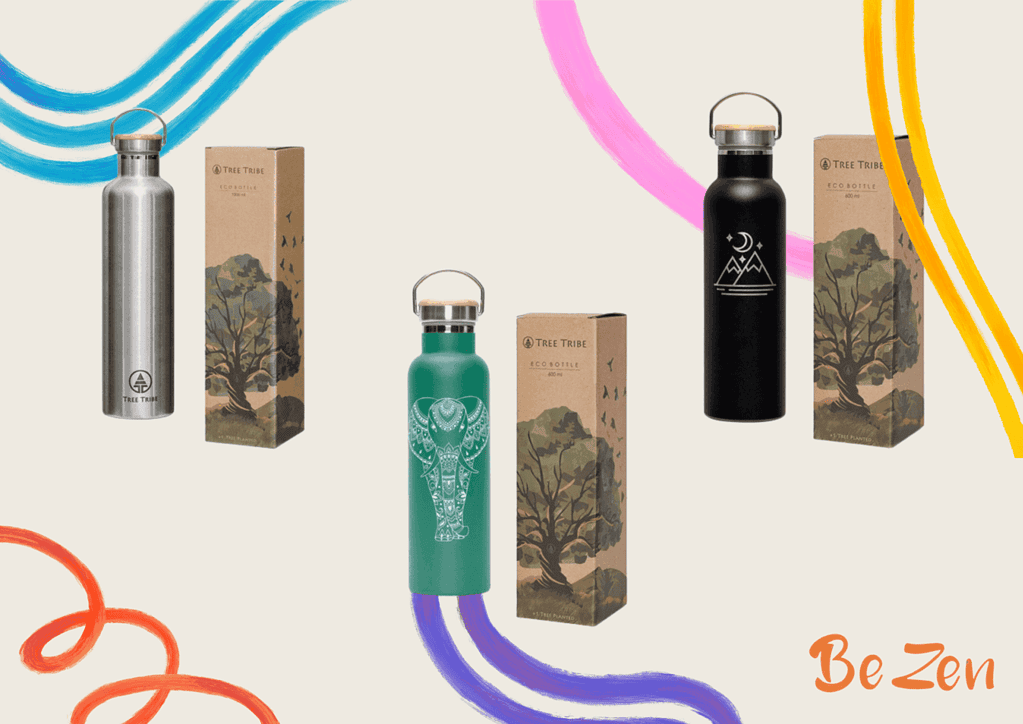 Origin and Introduction: Tree Tribe is an American company driven by core values of adventure, travel, nature, and community, Their goal is to give back to our planet earth by producing nature-inspired lifestyle goods. The EcoBottle is one of their flagship products. It comes in 17-ounce, 20-ounce, and 34-ounce sizes.
Products and Materials: The bottle has a lifetime guarantee and is pretty much indestructible. It is made from food-grade stainless steel. The lids are made from metal and bamboo so already better than any other plastic bottles. The hot stuff stays hot for 10+ hours while the cold stuff stays cold for 24 hours.
Commitments and Practices: The company is focused on doing good. The packing for the product is sustainable, it is made from a Kraft paper box. Tree Tribe also plants a tree for every purchase, they have till now planted more than 460,000 trees across 12 nations. They are truly making a positive impact on our planet.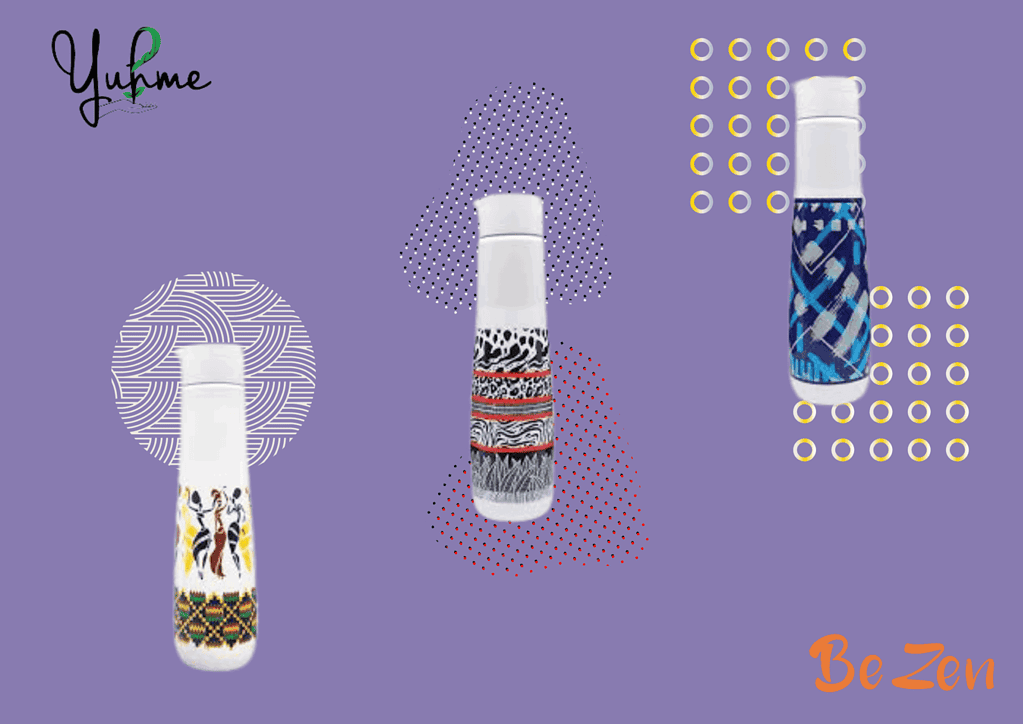 Origin and Introduction: Yumhe is a brilliant brand started by power couple Alexandra and Alexander. Based out of Sweden, the company is working to produce one of the most unique water bottles that are powered with ambition and high hopes. This ex-pro athlete duo left their high-brass tech jobs to do something that will have a lasting positive impact.
Products and Materials: These lightweight but sturdy water bottles are made from sugarcane, yes sugarcane. It is unbelievable. They come in 6 beautiful designs inspired by central African arts. The bottles are 100% BPA-free and 100% recyclable. Because of the playful designs and handy shape, they are great as back-to-school bottles.
Commitments and Practices: With each purchase, Yuhme provides 3 months of clean drinking water for an individual in the Central African Republic. This has been made possible due to the Yuhme's team-up with Water for Good; a non-denominational Christian organization founded by Jim Hocking to provide clean water in CAR.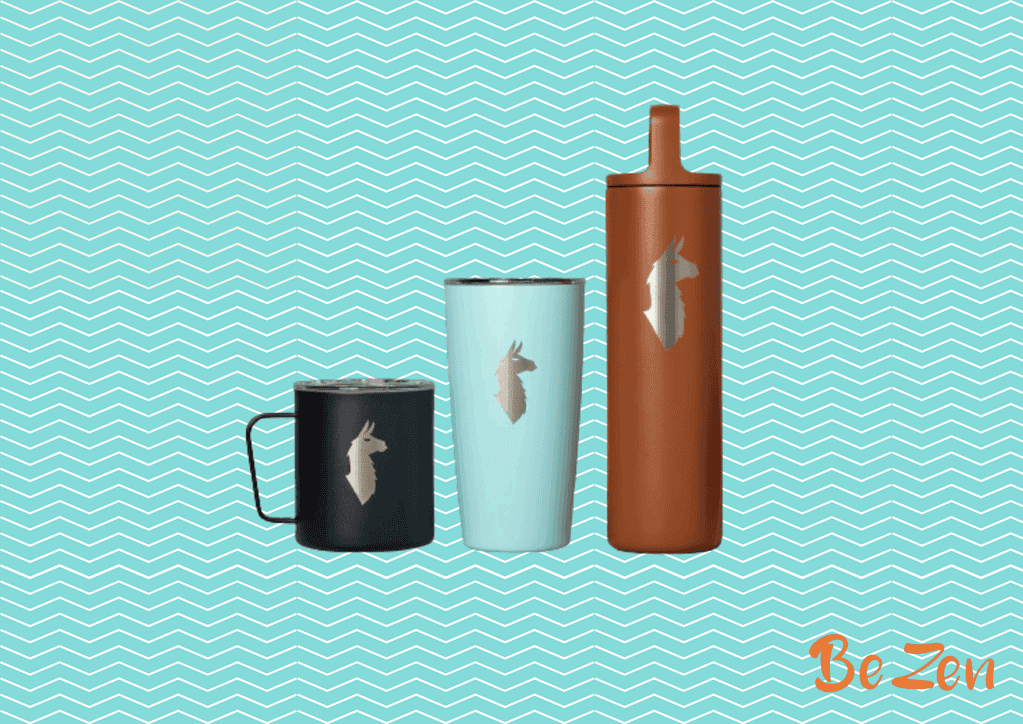 Origin and Introduction: The bottle is the lovechild of Cotopaxi and Miir. The two brands are dedicated to adventure wear and travel accessories. Cotopaxi specializes in backpacks and apparel while Miir has a great range of hydration, coffee, and camping accessories related to food and drinks.
Products and Materials: For this range, they have three products the Tumbler, the Bottle, and the Mug. These funky designs are a cross between the elegant designs of Miir and the fun designs of Cotopaxi with their iconic llama. The bottles are 100% BPA-free and 100% made from recyclable stainless steel.
Commitments and Practices: With each purchase, the portion of sales funds the project of Water1st; a non-profit that provides water access in Honduras. Read about the details here. This collaboration is very cool because both brands are Certified B Corps and part of the 1% For The Planet initiative.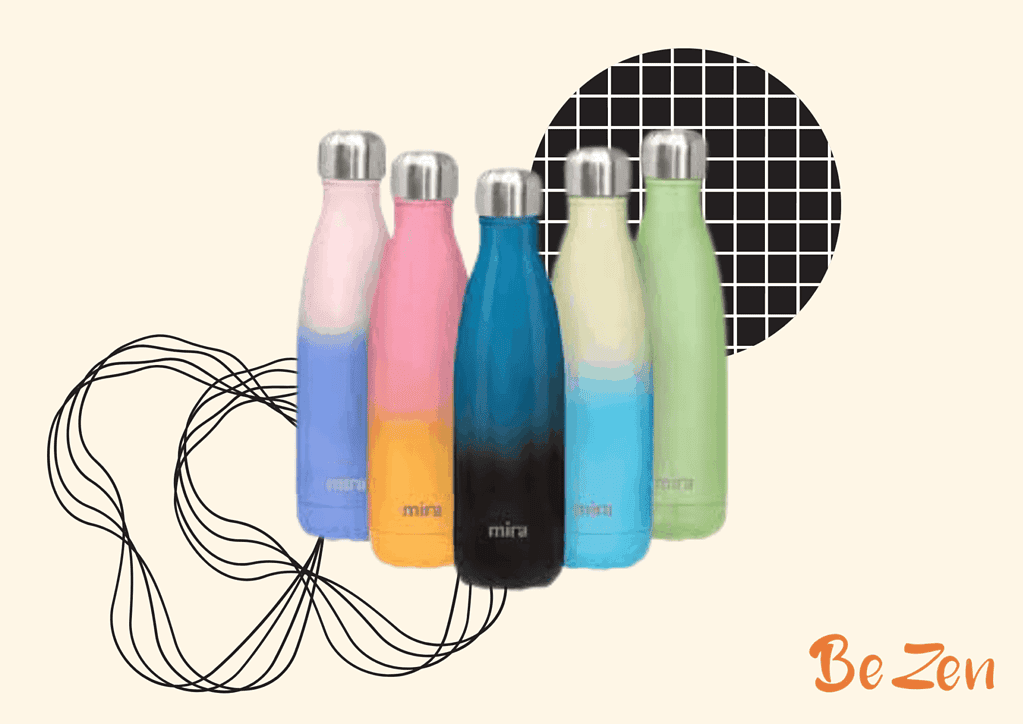 Origin and Introduction: Mira is a brand that is praised by the New York Mag and Buzzfeed for its rather elegant and inexpensive stainless steel bottles. Mira has great options, that are good for trekking and schooling. The designs are simple yet lovely. The brand also sells stainless steel mugs, food jars, and flasks for a snug and comfortable trip.
Products and Materials: These bottles are lightweight but sturdy. Made from 18/8 stainless-steel therefore the product does not corrode. The paint used by the company is non-toxic and environmentally safe. Mira uses its propriety MiraGuard technology for safe and right-temperature consumption of any hot/cold liquids.
Commitments and Practices: These reusable water bottles are eco-friendly and ethically produced. We don't have much data on Mira's philanthropic activities but one thing is sure, the product is not harmful to the planet and the color range is too pretty to deny: rose gold, floral work & matte black. Plus they are BPA-free and non-toxic.
---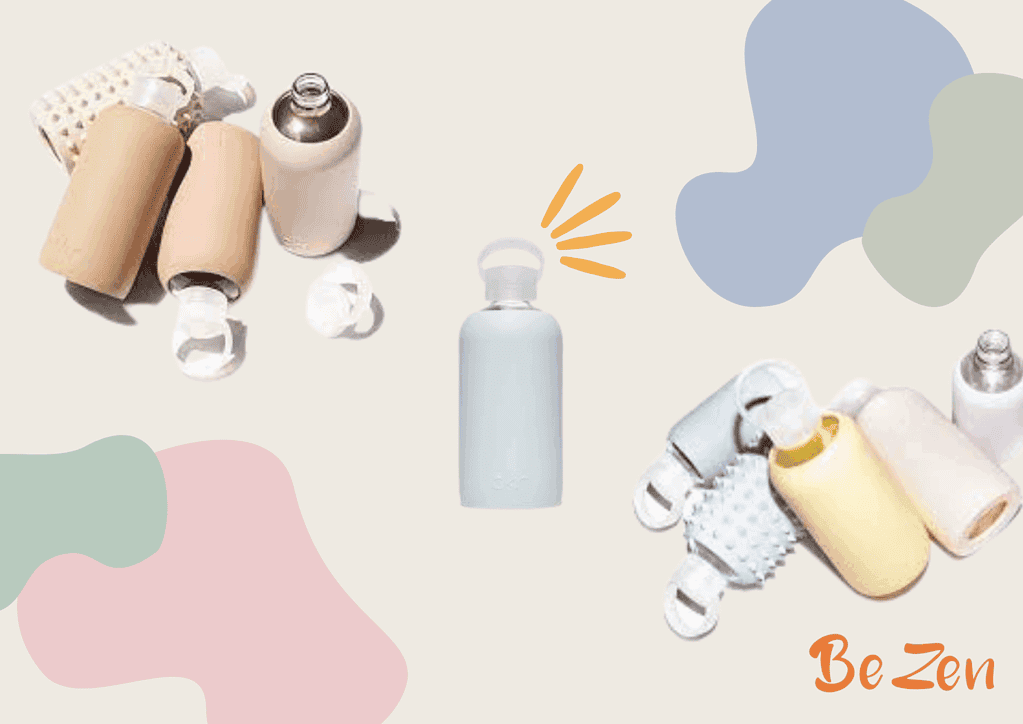 Origin and Introduction: bkr is the trendiest bottle in town. Listed on the fancy store goop and seen in the hands-on many influencers and celebrities. This product captured the imagination of many since 2019. thanks to its colors and unabashedly cutesy look. The color palette of pastels, nudes, and soft colors made it a favorite of tens of thousands of hydrohomies and Instagram creatives.
Products and Materials: These bottles are BPA-free, phthalates-free, and dishwasher friendly. (P.S. because they are glass bottles) The bottle is wrapped in a very pretty silicone shell that makes it spill-proof and slip-proof. The bottles come with contraptions such as keep kits, sip kits, lip balms (yes, we know), and spiked sleeves. The color range seems to come straight out of the movie Marie Antoinette or from a chic IG account.
Commitments and Practices: This much-coveted brand of hydrationware is recyclable and ecologically better than most steel or plastic bottles. But the company has no known CSR initiatives or direct sustainability programs. It still bags a good rank on this list due to its commitment to a healthy and plastic-free philosophy.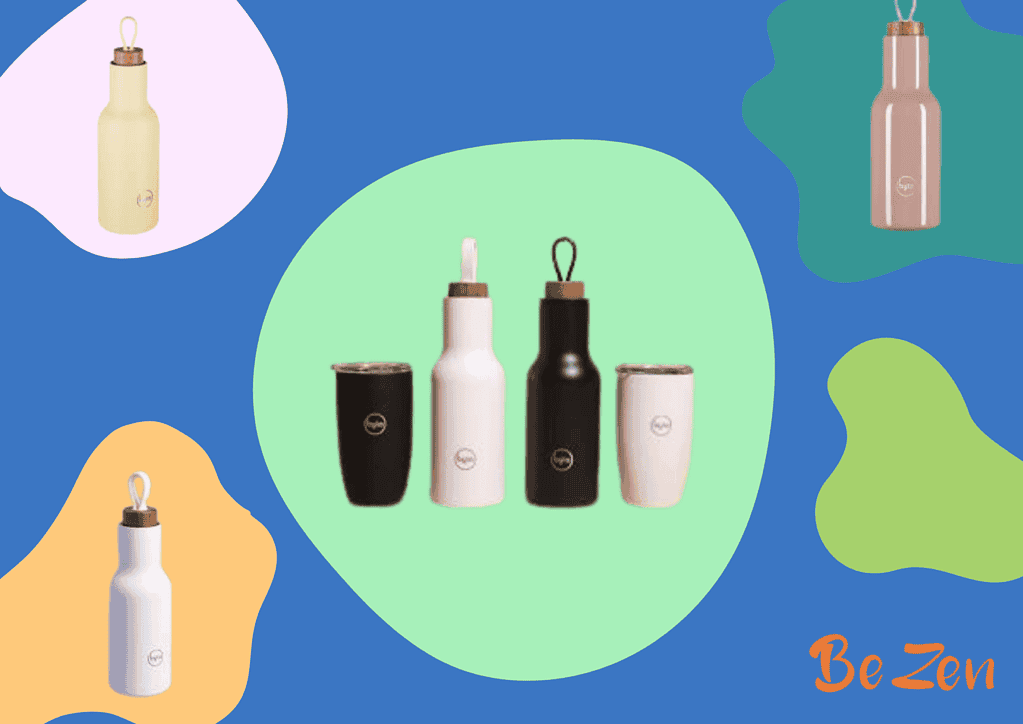 Origin and Introduction: Byta is arguably more famous for its reusable coffee mugs but the bottle collection is good too. These deceptively simple bottles are doing a heroic job of removing disposable cups from the coffee situation. The company is determined to kick them from the face of the planet. and we are here to support them 🙂
Products and Materials: Made from a double wall, vacuum-sealed stainless steel. Each byta bottle also includes a screw-on wooden cap with a silicone ring for carrying the bottle. Therefore it is 100% BPA-free and recyclable. Its range begins at 31 dollars. The bottles are splash-proof and come in 15 different colors, 10 for the 20oz and 5 for the 30oz.
Commitments and Practices: The company has saved more than 14.5 million (yes, million) cups and bottles from being thrown into oceans and water bodies. Byta also supports initiatives that involve reusable eco-friendly water bottles that are ethically water bottles. Therefore the grand aim of getting rid of 500 billion disposable cups yearly. Brilliant.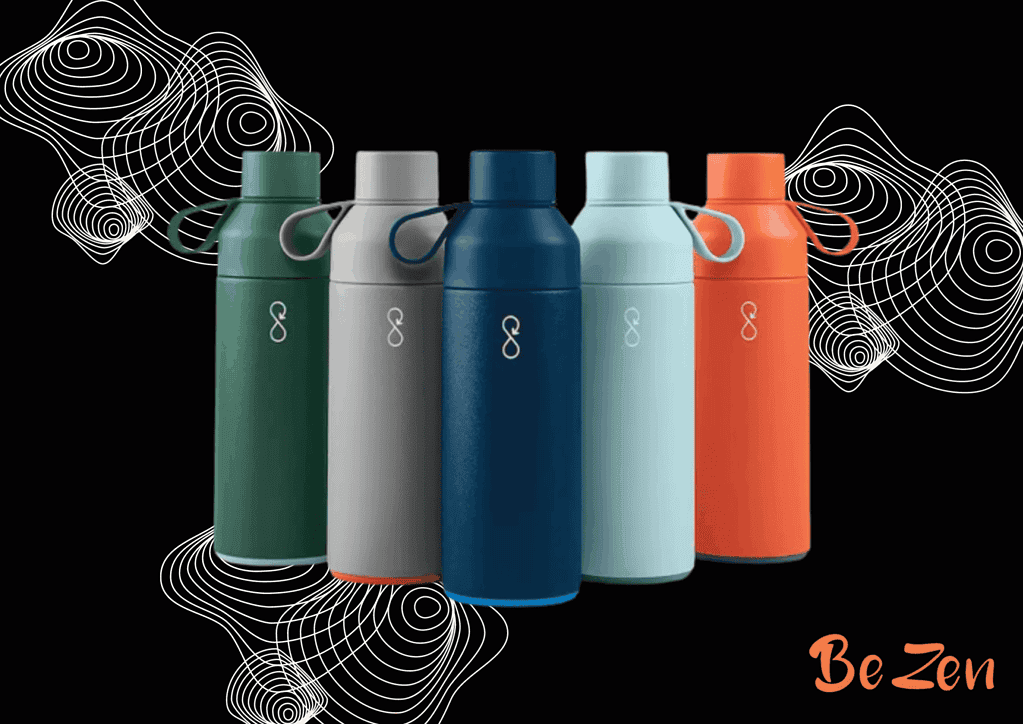 Origin and Introduction: Our award-winning 500ml Ocean Bottle in Forest Green is designed to come along with you at home and beyond. It keeps your cold drinks cold and your hot drinks hot. Ice, soup, coffee, and smoothies are all good, thanks to its double lid that lets you sip, fill, pour and clean with joy.
Products and Materials: The bottles are made from double-wall vacuum-insulated stainless steel and recycled materials. They are leak-proof and sweat-proof so no watermarks in your tote bag. The bottles are also 100% dishwasher-safe and non-toxic. This product is probably the priciest among the cohort at 55$ for 17oz.
Commitments and Practices: Ocean Bottle is the best sustainable water bottle brand on the list by far. Their ocean clean-up initiative is underway in seven countries across all continents. It directly benefits 372 communities from a formalized waste management system. Plastic collectors collect plastic in rivers, waterways, and their local communities. They exchange this plastic for money and access necessary social resources. As of August 2022, around 7.6 million kgs of plastic waste has been collected.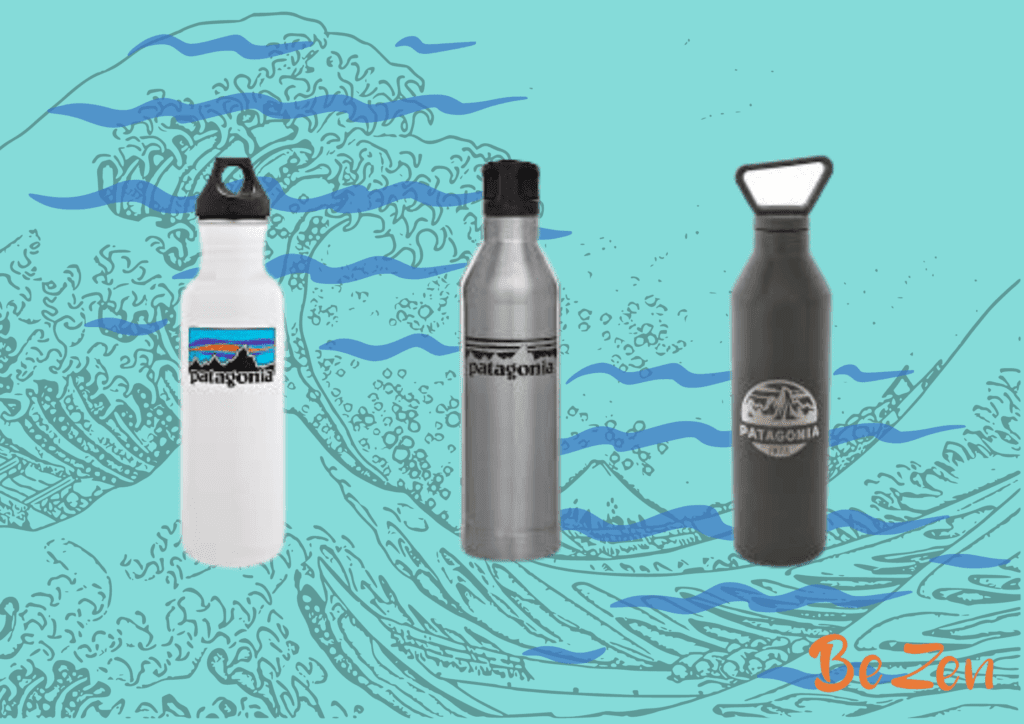 Origin and Introduction: The greatest sustainable brand there is. Patagonia started the environmentally conscious movement in consumerism. Therefore the company is of course on the list. Their reusable water bottle range keeps changing and restocking. Their focus is predominantly on ancillary products that is vital for camping and trekking.
Products and Materials: Metal-capped coffee mugs, reusable sipper bottles, steel canisters, and many other products can be found on the Patagonia website. Currently, they seem a little low on stock but their collection won't disappoint you. It's made for the trekkers and trailers at heart. Keeping coffee piping hot and chilled drinks refreshingly cold.
Commitments and Practices: Patagonia's commitments to the environment cannot be questioned. the company cofounded the 1% for the planet organization and it invested and supported and innovated for a better earth. Be it their WornWear program or Patagonia Action Works, the company has done a lot and keeps on doing.
FRANK GREEN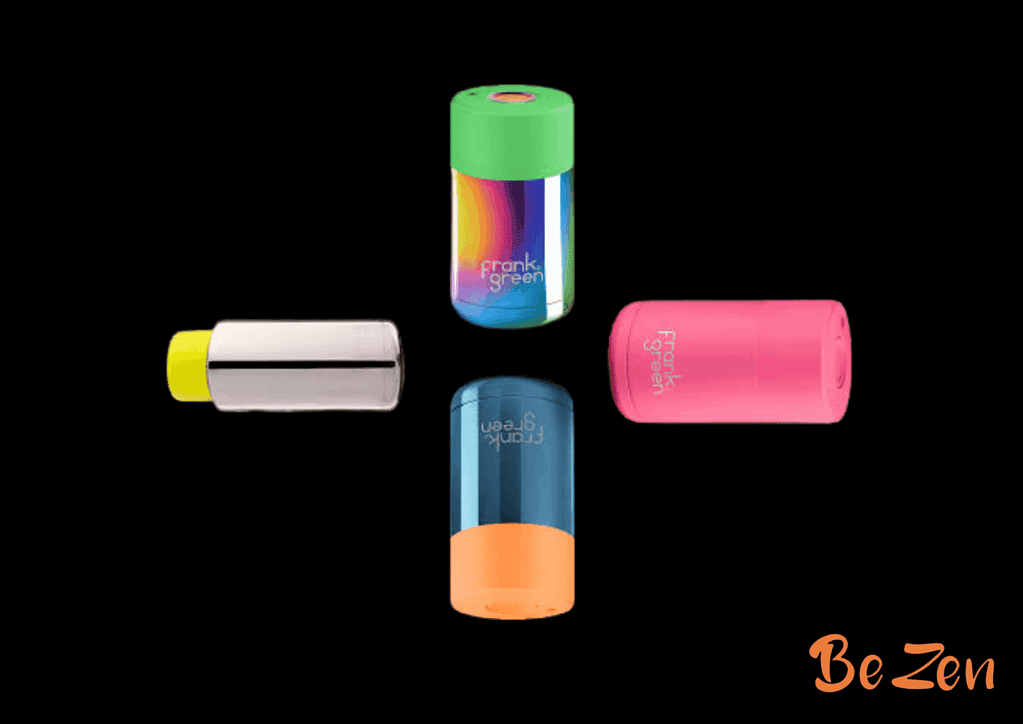 Origin and Introduction: Frank Green is an Australian-origin but globally sold designer sustainable water bottle brand. Very bougie but with a green heart. All the products are made with the highest quality EU-certified materials. Frank Green produces enviably stunning bottles in the most vivid shades. All are reusable water bottles made from ceramic and high-grade steel.
Products and Materials: The company is frank about living green or so they declare on their about page. The brand takes sustainability and design very seriously, their website makes it evident. All the products: stay hot/cold for more than 24 hours + are spill-proof + are ceramic lined for pure taste + with an unbreakable base. The bottles come in three beautiful collections: ceramic + chrome + neon. Check them out asap.
Commitments and Practices: The company has co-branded with Samsung, Disney, Australian Open, and Vogue. Yes, that is a flex. Not much data is available on their website but the company follows the strictest norms and standards of production and sustainability. Trust us, we have researched. (PS: the pricing starts from 34.95$ to 69.95$ for single bottles)
LARQ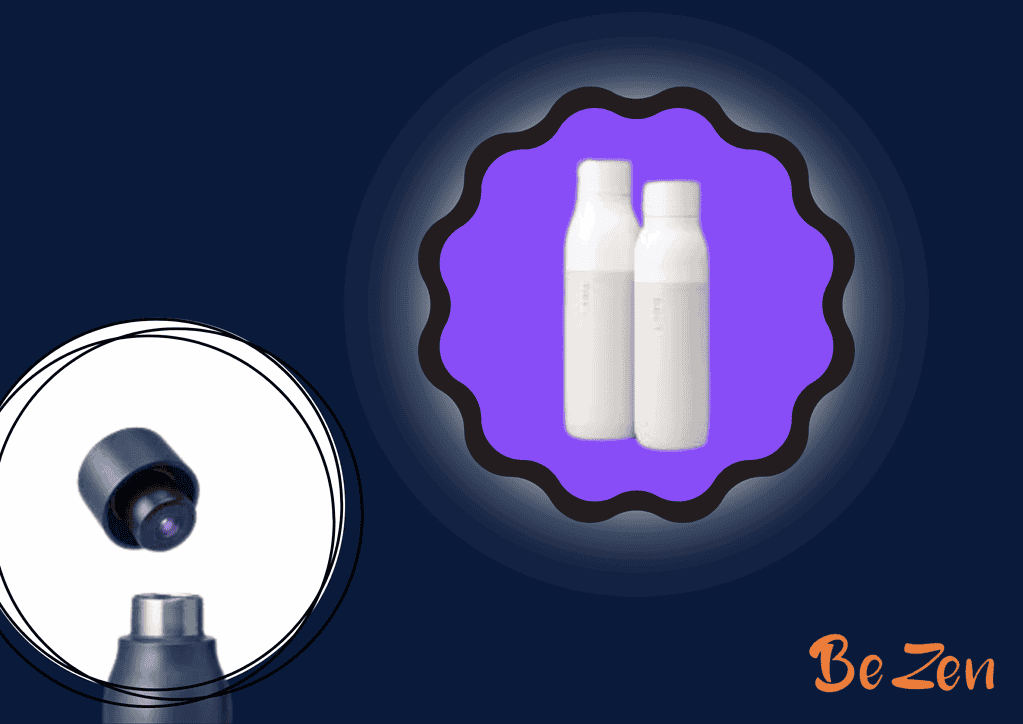 Origin and Introduction: Larq is the trendiest bottle around. It is the most hi-tech as well. LarQ bottles have inbuilt filtration and UV technology to kill 99.99% of bacteria such as E. Coli. It is quite advanced as the bottle can last for more than 100,000 filtration cycles. It is the safer and sexier alternative to plastic bottles. The Larq collection is ideal for the great outdoors.
Products and Materials: Larq Bottle PureVis™ (84.2$) their flagship bottle has double-wall insulation that keeps water cold for up to 24 hours. The UV light treatment from the proprietary tech makes it a self-cleaning miracle of a water bottle. While the Larq Bottle Filtered (46.4$) is commended by TIME as part of their best inventions on the 2022 list. Talk about overachieving siblings.
Commitments and Practices: The company is part of the 1% for the planet initiative. It means that a portion of purchases is dedicated to funding environmental nonprofits around the world as well as bringing safe drinking water to billions of people worldwide.
Origin and Introduction: Buoy Bottle is as American as the bald eagle and as eco-friendly as Patagonia. The company is determined to kick them from the face of the planet. and we are here to support them. These are as eco-friendly bottles can get.
Products and Materials: The only bottle made from plastic on this list. But it earned its spot. The buoy Bottle is made from 100% recycled ocean-bound plastic. It is collected from rivers, lakes, and streams before they get into the ocean. It's lightweight, dishwasher-safe, and simple to carry. Understand their material philosophy here in greater depth.
Commitments and Practices: The company's mission is to replace single-use products with products made from 100% recycled ocean-bound plastic in a circular economy. This is a noble goal that each one of us can agree with. The company strongly opposes bioplastics and disposable plastics because anything that can be disposed of is trash and non-circular. Yes, of course, the company is part of the 1% Group.
Origin and Introduction: From the land of Ikea and H&M, agood company is famous for its pretty phone covers and notebooks. Their reusable bottle is aptly named Bottle. Minimalistic but functional, their products have adopted the concept of lagom perfectly. Agood Company's products are made from sustainable materials and produced with minimal wastage.
Products and Materials: This stainless bottle is made from premium double-wall, vacuum-sealed recycled stainless steel. The product is durable yet lightweight and perfect for a smoothie or for a cup of cappuccino. The colors are inspired by the Swedish countryside: snow white, lemon yellow, stone grey, and more. The bottle is priced at 29.99 dollars and comes with a recycled cotton bag.
Commitments and Practices: A carbon-negative company with carbon-neutral shipping products made from recycled materials. Agood is good at its core. It is a certified B Corp and highly transparent in its process. AGC has tied up with charity: water to provide 500 liters of clean water for the needy with every recycled bottle.
Origin and Introduction: A Modern Day Bottle is their showstopper. This wonder tracks your daily water intake and helps you to reach your #hydrationgoals. Bink Made also has the Mama Bottle that ensures the right intake of water for pregnancy and nursing stages. It is priced at 28.5$ for 27oz.
Products and Materials: Free from any chemical nasties, the Bink eco-friendly bottles are 100% BPA, Lead, Phthalates, and PVC free. These are glass bottles with soft silicone shells for grip and comfort. They come in 8 aesthetic autumn colors.
Commitments and Practices: Bink Made supports sustainability goals and ensures that they will only use glass and silicone for their 100% recyclable and reusable water bottles. If you have some doubts check their FAQ section.
---
How We Choose The Companies
Brands are chosen on their labor practices, materials used, social responsibility taken up, sturdiness, designs, and of course prices. These brands have great CSR initiatives and high-quality eco-friendly water bottles. The companies are well aware of the impact and influence they can have as an FMCG brand. The products are duly vetted and checked by our team. The bottles are chosen on the following basis:
Reusability: the title of the article should suffice as the reason + high durability.
Material Used: should be non-toxic, BPA-free, and uses only food-grade stainless steel and glass, for durability and recyclability. silicon for sleeves was optional.
Ethical Production: workers are fairly compensated and the production process is carbon neutral, following ILO laws.
Supply Chain: traceability is difficult in bottle brands unlike for fashion, but some companies are trying.
Design & Aesthetics: the designs should not be generic, can be funky, attractive, and chic.
Social Responsibility: the brand provides bottles/water/funding/awareness to the community and society at large.
Overall Sustainability Goals: planting trees, offsetting carbon, or using renewable energy for production.
---
Conclusion
These companies take their ethical and environmental responsibilities very seriously. They are proud to make high-quality water bottles that are eco-friendly and they try to take care of all the stakeholders involved. Using these brands or any reusable water bottle is a great way to reduce individual carbon footprint. Such small steps will lead to reduced use of single-use plastic. Americans alone consume 1500 such bottles, 80% of which never get recycled, Therefore it is imperative to limit our consumption.
So, what are you waiting for? Grab your sustainable backpack, and your eco-friendly water bottle, to enjoy the adventure ahead! You know how bad single-use water bottles are for our planet, so let's support the brands who are offering us a sustainable solution. That said, the most eco-friendly water bottle is the one you already own, so only buy new if you need to, and remember to ask, "is it necessary?"
SOME FACTS TO REMEMBER BEFORE LEAVING
A single-use PET bottle takes 700 years to decompose.
Only 27% of PET bottles are recycled others end up in landfills.
1.5 million barrels of oil is used to produce the bottles, only for Americans.
Each bottled-water bottle takes two gallons of water to purify one gallon of water.
Decomposed bottles bring microplastics to the sidewalks, topsoil, landfills, yards, and rivers.
The average American uses around 315 plastic bottles every. single. year.