Gone are the days of shunning vegans for choosing ethical alternatives. Vegan steak is all the rage currently, and we love to see it! A common rhetoric used against vegans is the fact that we still crave plant-based alternatives and vegan recipes that replicate the flavor of meat. That this craving proves that a diet with meat in it is surely superior. Except, people often forget veganism is not just a diet but a lifestyle.
One does not choose to be vegan just because they necessarily prefer vegan food but because they actively want to protect the environment and fight against animal cruelty. There is absolutely no shame in admitting that you miss the way meat tastes.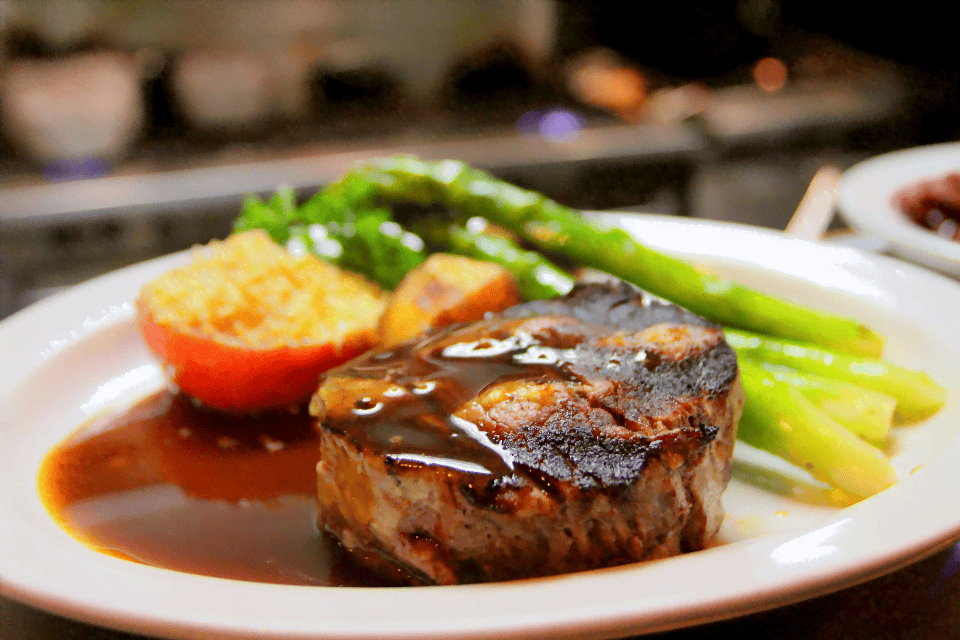 For all this still skeptical about the concept of vegan meat, we will be doing a deep dive into the concept of plant-based meat, covering several aspects, including what it is, what it is made of, whether it is healthy, and exactly how to incorporate it in fun recipes.
What Is Plant-Based Meat?
Plant-based meat is basically a substitute. It is produced using meat substitutes that mimic the flavor and texture of meat without harming animals. It encompasses all products that resemble the texture, flavor, or appearance of meat made from animals. It is also referred to as faux meat, fake meat, mock meat, meat analogs, vegetable meat or plant proteins.
These meat substitutes for vegans are made to offer all the nutrients found in non-vegetarian diets. Vegetable meat is hard to tell apart because of how much it resembles real meat. Pea protein, plant-based proteins, wheat gluten, soy, potato protein, mung bean protein, and rice protein are only a few of the ingredients used in the production process.
Interestingly, meat alternatives date back to 206 BC in China when the most common one was "Tofu." It gained popularity in Europe during the Middle Ages when eating meat from warm-blooded animals was forbidden during the Christian holiday of Lent. As the popularity grew over time, several different businesses have now developed a wide range of meat alternatives. The market for plant-based meats increased by 37% in some parts of the world. Nearly 11% of the worldwide market for meat and alternatives was made up of meat alternatives in 2020.
So now that we get a general idea of what people mean by vegan or plant-based meat, let's look into why introducing such an alternative is crucial.
---
Environmental Impact Of Beef
The meat industry exploits animals in the cruelest ways possible. They are forced to breed and only bred to be killed, cramped in horrific spaces, butchered in factories, and mistreated. The image of an animal not even being given the freedom to live is harsh, which is why most people convert to veganism. Looking into it more, the meat industry is also extremely damaging to the environment. In fact, a lot of vegans also care deeply about sustainability which is something they incorporate into their vegan lifestyle.
The immense plains of North America, the Brazilian Amazon, the savannahs of Southern Africa, and the Great Barrier Reef watershed of Australia are just a few of the delicate and significant ecosystems in the globe where beef is farmed.
The demand for beef is growing and will continue to expand as the world's population is projected to reach 9 billion people by 2050, and income levels are forecast to rise. However, raising cattle for food uses a lot of land, water, and energy and produces a lot of waste. Therefore, it is crucial to increase its sustainability on a worldwide scale. Beef production is responsible for 25% of all land usage, land-use change, and forestry emissions in the world, including the conversion of Amazonian forests in Brazil.
The environmental effects of beef production are numerous, varied, and significant. Cattle production takes up more area than all other domesticated animals and crops combined. Additionally, cattle are a substantial contributor to land erosion, water pollution, and greenhouse gas emissions. They also consume an increasing amount of grain generated by agriculture. In many nations, processing cattle into meat, meat byproducts, and leather is a significant source of pollution.
Water Contamination
Water resources are contaminated when manure from livestock raising is disposed of improperly. Poor grazing management causes sediment that contaminates both surface water and groundwater. A substantial quantity of water is needed for the production of beef, most of which is used to cultivate cow feed.
---
Soil Degradation
One of the major causes of soil erosion worldwide is livestock raising. Overgrazing, converting forests to pasture, and exploiting marginal areas for feed production can severely deplete topsoil and organic matter, which may take decades or centuries to replenish.
---
Global Warming
Due to greenhouse gas emissions from the production of beef, including carbon dioxide, nitrous oxide, and methane, it has a significant impact on climate change. According to research, between 7% and 18% of the methane emissions from human-related activities worldwide come from ruminant cattle.
---
Industrial Pollution
The beef processing and leather sectors have seen rapid growth along with the expansion of the global cattle business. Waste from tanneries and slaughterhouses, which is high in organic matter, heavy metals, and caustic solutions, is highly harmful when it is not handled appropriately.
---
So, traditional meat is most certainly not doing our planet any favors, but the question is, can vegetable meat truly replace traditional meat when it comes to health benefits? In fact, is vegetable meat healthy in the first place?
---
Is Vegetable Meat Healthy?
When consumed in moderation and as part of a balanced diet, vegetable meats are unquestionably thought to be healthier. Vegetable meat is higher in protein, lower in saturated fat, and lower in cholesterol when compared to conventional meat. However, vegetable meats also contain more sodium, which is utilized to improve their shelf life and make them more appealing. Vegetarian or plant-based meats should only be consumed occasionally for this reason. Since having too much sodium in your body might make you more susceptible to stroke and high blood pressure.
---
What is Vegan Steak Made Of?
Vegetable meat is so remarkably similar to real meat that it is difficult to distinguish between the two. But how precisely can they recreate it in vegan form? Well, a variety of components are utilized in the process, including soy, plant-based proteins, rice protein, potato protein, pea protein, and mung bean protein. These components work in harmony with other ingredients to give vegetarian meat the ideal chewy texture and juiciness.
Soy has a texture that is extremely close to chicken, but how can the flavor be replicated? Yeast extract is frequently used to provide the precise flavor of the chicken. Because it has a savory flavor, yeast extract is a good addition to vegetarian chicken recipes. While sugar aids in giving the meat a black color, flavors like onion, garlic, salt, and pepper are utilized to enhance the flavor.
Beet extract is also used by several types of vegetarian meat to give the meat its ideal color. Canola, sunflower, and coconut oils serve as a supply of fat for meat replacements.
---
Vegan Steak Brands
Meat substitutes for vegans have become increasingly accessible and popular. In fact, numerous vegan steak companies exist now, but we have filtered through the lists to recommend you some of the best!
Before The Butcher
---
Dr. Praeger's
---
Beyond Meat
---
BOCA
---
Sweet Earth
---
Best Vegan Steak Recipes You Should Try
A succulent, delicious, and tender vegan steak can make or break a meal! These vegan steaks are incredibly high in protein, exquisitely seasoned, and shockingly resemblant to the "real thing." They're also a lot of fun to create. We have shared with you some of our personal favorite recipes from the net. Try them out and let us know if they were better than you expected!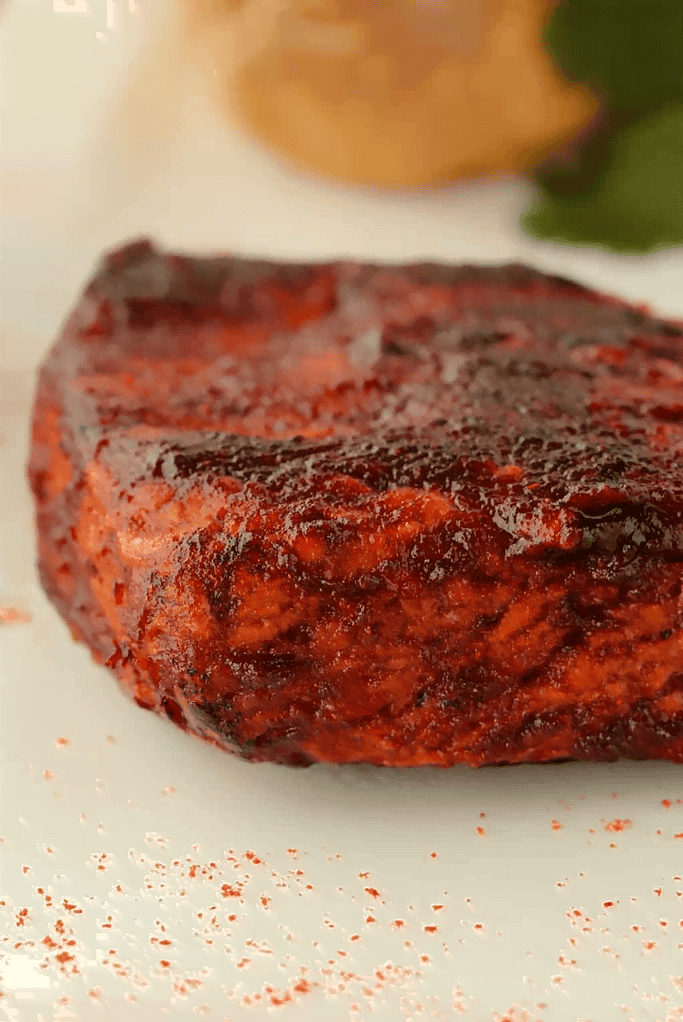 Prep Time: 15 minutes
Cook Time: 30 minutes
Servings: 4
Calories: 402 kcal
Ingredients
For Vegan Steak:
¾ cup Canned Chickpeas (Drained) (123g)
¼ cup Nutritional Yeast (15g)
1 tsp Garlic Powder
1 tsp Onion Powder
¼ tsp Cumin
¼ tsp Ground Coriander
½ tsp Oregano
2 Tbsp Soy Sauce
½ cup Tomato Paste (130g)
1 tsp Paprika
¼ tsp Black Pepper
1 Tbsp Dijon Mustard
¼ tsp Liquid Smoke
½ cup Vegetable Stock (120ml)
1 ¾ cups Vital Wheat Gluten (263g)
For the Marinade:
¼ cup Soy Sauce (60ml)
1 tsp Paprika
2 Tbsp Light Brown Sugar
2 Tbsp Tomato Paste
⅛ tsp Liquid Smoke
For Frying:
1 Tbsp Olive Oil or other oil
For Serving (Optional):
Instructions
To the food processor, add the chickpeas, nutritional yeast, garlic, onion, cumin, coriander, oregano powders, soy sauce, tomato paste, paprika, black pepper, dijon mustard, liquid smoke, and vegetable stock. Process until thoroughly combined.
Add the essential wheat gluten after transferring it to a mixing dish. Quickly stir it in with a spoon, then work it into a dough with your hands. The dough has to transition from being sticky and soft to firm and flexible in order to snap back into place when pulled. Knead the dough for about 2 minutes. Don't overwork the dough since doing so will make your steaks exceedingly tough.
When it reaches a firm, elastic consistency, smooth it out and cut it into four steaks of approximately similar size. Use a potato masher to slightly flatten the steaks; however, be careful not to use it excessively as this counts as excessive kneading.
Steaks should be individually wrapped in tin foil and steamed for 20 minutes. Given that they will expand during steaming don't wrap them too tightly. They may be steamed in whatever steamer you have or in a steamer basket set over a saucepan of boiling water.
Prepare your marinating sauce by placing all of the ingredients in a bowl and mixing them together while the steaks are steaming. Wait a while before whisking it once more. For the brown sugar to dissolve completely, which might take a few minutes, you want it to be lovely and smooth.
Unwrap the steaks from their tinfoil and place them into a square dish after steaming for 20 minutes. Use a brush to coat the steaks well with the marinated sauce before pouring it over them. In the sauce, give them a couple of quick turns.
The steaks should be fried in a skillet that has been heated with a little olive oil (or another oil, 1 Tbsp is sufficient), turning them over frequently, brushing more marinade sauce on them each time, and cooking them until they are properly browned and caramelized.
Serve with baked potatoes with vegan sour cream, a side salad, and, if you prefer sauces with your steaks, a creamy mushroom sauce.
---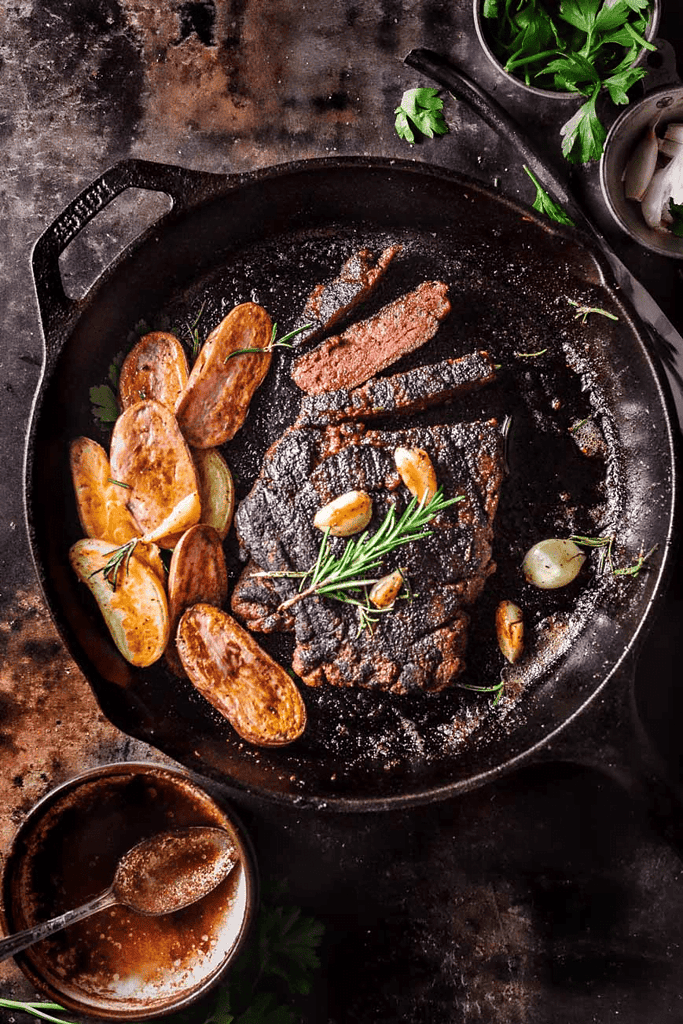 Prep Time: 15 minutes
Cook Time: 35 minutes
Servings: 4
Ingredients
Wet:
1/2 cup raw red beets, peeled and diced 60g (see notes for substitutions)
2 tbsp soy sauce
2 tsp yellow mustard
2 tsp liquid smoke
1 tbsp olive oil
1 tbsp vegan Worcestershire sauce, like Annie's
¼ cup red wine
1/2 cup onion, chopped 90g
Dry:
1 1/2 cup vital wheat gluten, 200g (plus extra for kneading the dough)
1 1/2 tbsp garlic powder
1 tbsp smoked paprika
Marinade:
1 tbsp red wine, or sub veggie stock
1 tsp liquid smoke
1 tbsp soy sauce
1 tbsp olive oil
1 tsp smoked paprika
1 tsp garlic powder
1/2 tbsp brown sugar, optional
Garlic Butter:
6 tbsp salted vegan butter, Country Crock Plant Butter
7-8 garlic cloves, peeled & crushed
Instructions
Set the oven to 425F for preheating.
1-2 tbsp of olive oil should be drizzled over the bottom of a 9 x 13″ baking dish to prepare it. Add all of the wet ingredients—aside from the onion—to a food processor. To ensure that there are no noticeable bits of beet, pulse the mixture many times. When the onion is added, pulse several times to mince it finely.
Add the smoked paprika, garlic powder, and essential wheat gluten to the food processor's wet ingredients. Before pulsing, combine the dry ingredients using a fork.
Until a dough ball forms, pulse the wet and dry ingredients together. The dough should join together and begin to whirl around the food processor's side.
Use two to three tablespoons of vital wheat gluten to flour the surface lightly. Transfer the dough to the surface and knead it for approximately a minute or until the texture of the ball becomes a little smoother. The dough ought to be soft but malleable. Kneading shouldn't be challenging. If so, the gluten may have been overused, making the steak overcooked and bread-like.
The dough should be rolled into a ball and then gently flattened into a rectangular shape. Divide the dough by cutting it into 2-4 pieces of similar size using a sharp knife. 2 very huge steaks or 4 smaller/normal-sized steaks can be made using this method.
Form the dough into a circular, triangular shape like a fillet using your hands. The steaks have to be around 1/2″ thick.
Place the steaks onto the baking pan that has been prepared to bake them. Apply the olive oil you poured into the skillet on both sides of the steaks.
Brush the marinade on the steak's two sides after combining the marinade's components. Use around half of the marinade. The remainder will be used halfway through baking.
Bake the steaks at 425°F until they are cooked to your preference. An ideal baking time for beginners is around 28 minutes. Although the inside should still be soft, the outside should be slightly browned. Midway through the baking period, turn the steaks over, and reapply the remaining marinade. Apply 1-2 tbsp of olive oil if the outside even appears to be dry.
Set a cast-iron skillet or grill pan to medium heat.
Melt the plant-based butter. Add the steaks and entire garlic cloves to the pan. To obtain nice grill marks and char, sear the tops for three minutes on each side while flipping them over. The vegan steaks should be brushed with the vegan butter that is in the pan.
Serve with roasted asparagus, green beans, or fingerling potatoes.
---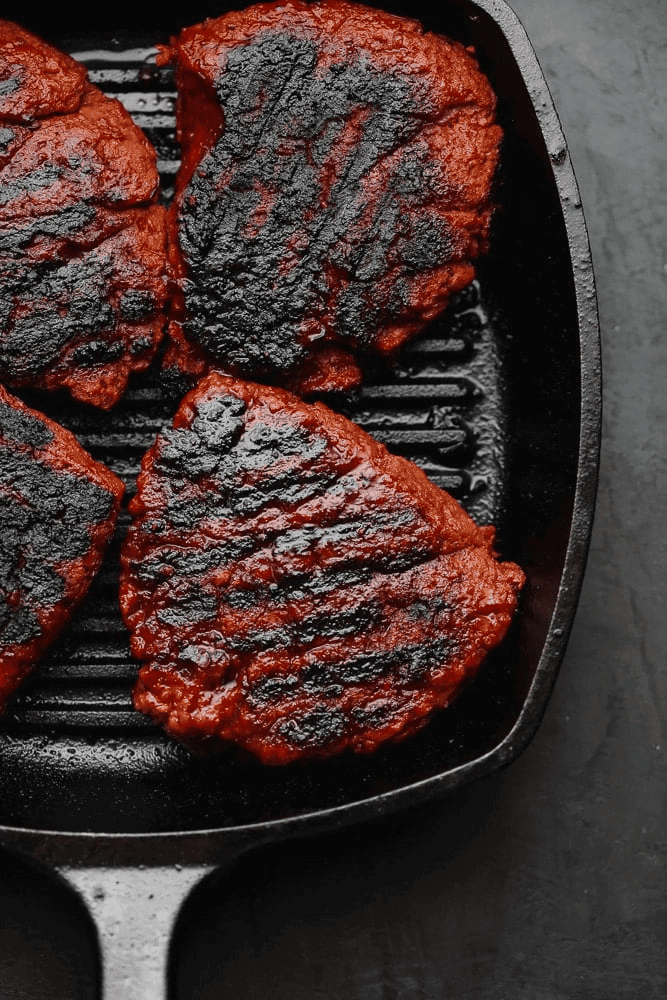 Prep Time: 20 minutes
Cook Time: 40 minutes
Servings: 4
Ingredients
Seitan Steak:
3/4 cup cooked lentils
1 3/4 cups vital wheat gluten
1/2 cup tomato paste
2 tablespoons low-sodium soy sauce
1 teaspoon garlic powder
1/4 teaspoon ground cumin
1 teaspoon paprika
1/4 teaspoon ground black pepper
1/2 teaspoon liquid smoke
1/2 cup vegetable broth, or water
Marinade:
1/4 cup low-sodium soy sauce
2 tablespoons olive oil
2 tablespoons pure maple syrup
1 tablespoon tomato paste
Instructions
All the components for the seitan steak should be added to a food processor and pulse until mixed, scraping down the sides as necessary.
Put the seitan on a clean surface and, if necessary, sprinkle it with some essential wheat gluten to keep it from sticking. The mixture should no longer be crumbly after a few minutes of kneading.
Cut the ball into four parts after a slight flattening. To flatten the steaks even further, use a potato masher or even just your hands. They are at their finest when they are fairly thin—about an inch or somewhat less.
Steaks should be steamed for 30 minutes in a steamer basket with water at the bottom. If wanted, you may optionally wrap each one in foil, although they really taste great uncovered. Ensure that none of the water evaporates, and add more as necessary.
Stir the marinade ingredients in a shallow dish (8×8 is ideal) as the steaks steam.
Put the steaks in the marinade when they have finished steaming. To coat them, turn them over a few times.
Several teaspoons of oil in a big skillet, preferably a cast iron grill pan, should be heated. The steaks should be a little browned after a few minutes on each side after being added. They might be prepared on an outside barbecue as well.
Just before removing the steaks from the pan, brush them with a little more marinade for more flavor and moisture.
Serve right away with your choice of side dishes, such as baked potatoes and vegan sour cream.
---
Our Take on Vegan Steak
Well, we sure do hope that was comprehensive enough for all our dear readers and effectively entices you to try out vegan steak! Be sure also to try these fun and easy recipes. For more sustainable and ethical food brand recommendations, don't forget to download the Be Zen chrome extension now! It will make finding the right sustainable ingredients, vegan products, and healthy snacks all the more easier while browsing online.