Are you aware of the environmental destruction that your favorite detergent causes? Chances are, you haven't considered it. Yet, relax and embrace a solution: Welcome Non-Toxic Laundry Detergents to bid farewell to your concerns.
As the laundry detergent market experiences an impressive annual growth rate of up to 4.8%, the spotlight is increasingly turning towards sustainability. Embracing eco-friendly laundry detergents has become a pivotal stride in advancing this cause. The surge in demand for sustainable laundry alternatives not only signals a positive shift but also underscores the market's receptiveness to the imperative for change. Let's explore the 10 best non-toxic laundry detergents and go green!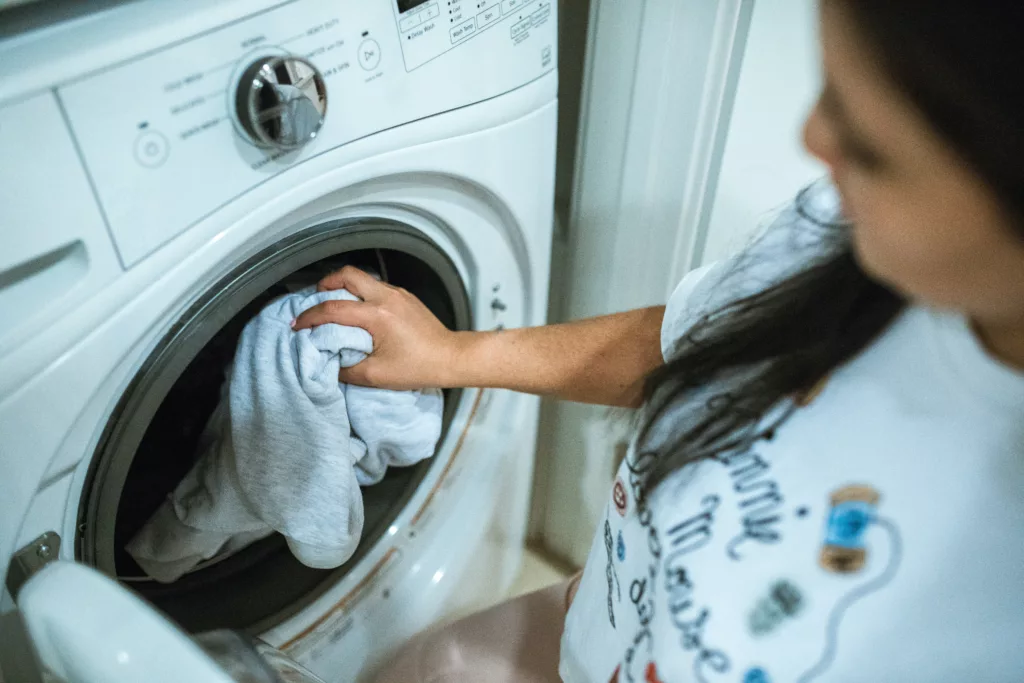 10 Best Non-toxic Laundry Detergents
With various ethical brands available at your disposal, it is only normal to get confused. If you are trying to find top brands to buy non-toxic laundry detergents, we have got you. Here is your comprehensive list of the top 10 non-toxic laundry detergents:
1. Branch Basics Laundry Kit
Price:
$69 

Form:
Liquid, Powder

Main Ingredients:
Purified Water, Organic Chamomile Flower Extract

Certificates:
MADE SAFE, EWG Verified (Environmental Working Group), Leaping Bunny

Product features:
Reusable and recyclable bottle made from BPA-free plastic, human-safe, plant and mineral based, no harmful preservatives, biodegradable. 

Pros: 
Gentle for the skin.
Plant and mineral based without any harmful ingredients.

Cons: 
Complex usage instructions
Buy Now
Branch Basics is a popular choice for eco-friendly and vegan cleaning solutions. Their concentrated formula, crafted from plant-based ingredients, is a versatile base for creating various cleaning products like all-purpose sprays, bathroom cleaners, and more. Despite its slightly higher cost, the concentrate's longevity justifies the investment. With biodegradable and cruelty-free products, Branch Basics prioritizes sustainability and animal welfare.
2. Attitude Laundry Detergent
Price:
$19.95

Form:
Liquid

Main Ingredients:
Aqua / Water / Eau (solvent), Citric Acid

Certificates:
ECOLOGO, PETA

Product features:
Natural ingredients that reduce the impact on your health and the environment, Aluminum bottle refillable to reduce plastic waste; each product sold results in the planting of one tree

Pros: 
Protection of dark colors. 
Keep the colors vibrant.

Cons: 
The smell after washing is mild. 
Buy Now
ATTITUDE shines in the zero-waste laundry sector, presenting various organic products with delightful scents like Wildflowers, Citrus Zest, and Summer Berries. Their hypoallergenic detergents, plant-based soaps, and chemical-free solutions are pillared on the values of ec-consciousness. As a vegan, cruelty-free, and biodegradable brand, ATTITUDE leads in offering its customers a variety of products – liquid detergents, fabric softeners, dryer sheets, and baby-specific options – for effortless sustainable laundry care.
3. Grab Green's 3 in 1 Laundry Detergent Powder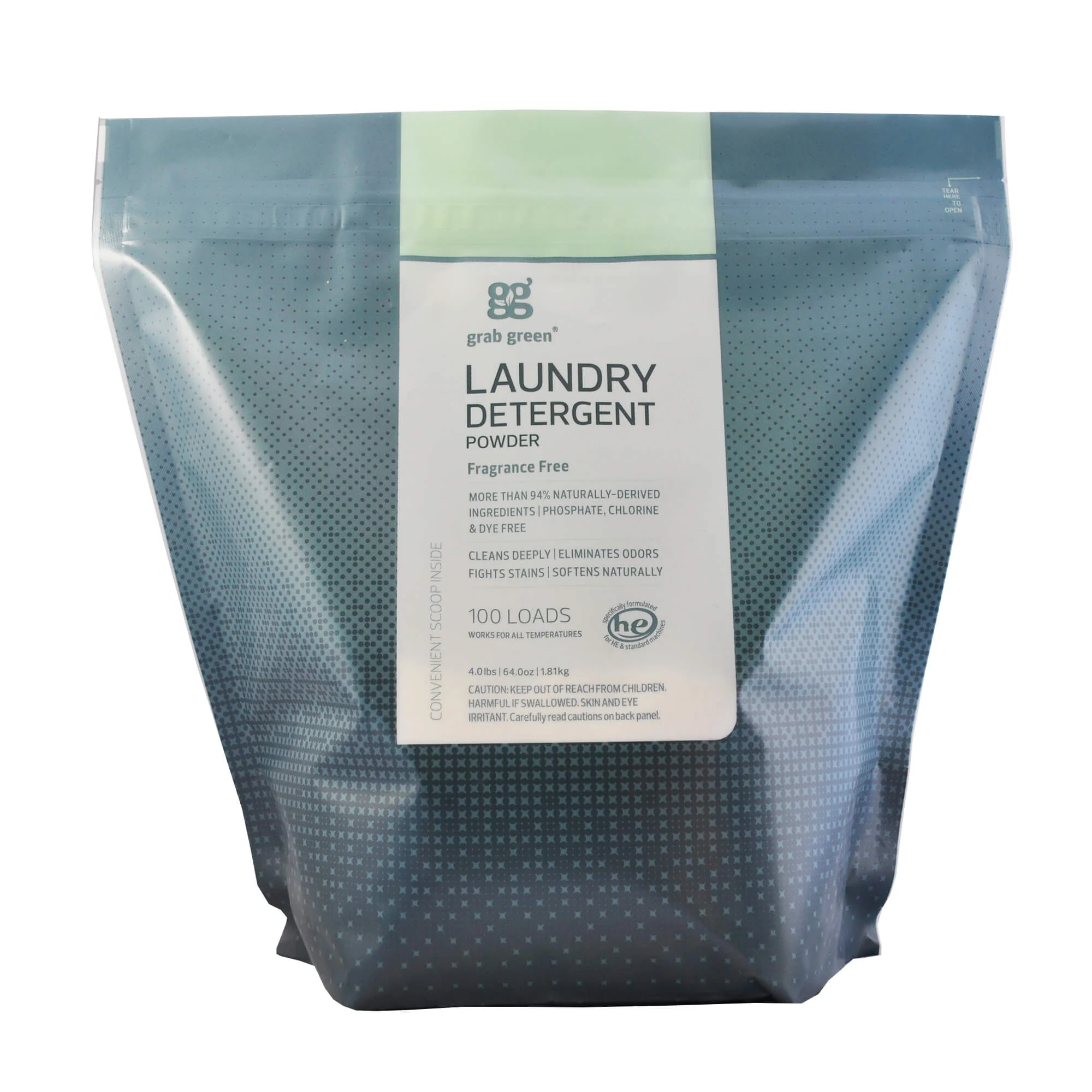 Price:
$16.99

Form:
Powder

Main Ingredients:
Citric Acid

Product features:
Naturally-Derived, Cruelty-Free

Pros: 
It cleans clothes deeply and removes stains. 
It also brightens clothes. 

Cons: 
It is a very concentrated powder.
Buy Now
Grab Green is a vegan and eco-friendly brand dedicated to crafting safe and effective cleaning products. With a commitment to cruelty-free practices, they offer a range of innovative items, including their fragrance-free best-selling original laundry detergent. Notably, their 3-in-1 laundry detergent pods and powder excel in stain and soil removal, surpassing Tide in third-party tests. Grab Green's focus on sustainability and performance makes them a standout choice for conscientious consumers.
Unlock Your Savings with Exclusive Offer Coupons
Save big while shopping for sustainable products! Grab your exclusive coupons today!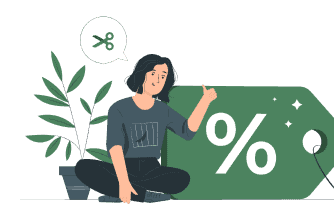 4. Seventh Generation Concentrated Laundry Detergent Liquid
Price:
$12-15

Form:
Liquid

Main Ingredients:
Plant-based ingredients.

Certificates:
USDA Certified, Leaping Bunny Certified, EPA Safer Choice Certified.

Product features:
Recyclable Packaging, the bottle is made up of 80% recyclable plastic. 

Pros: 
Hypoallergenic laundry detergent for sensitive skin.
Triple-enzyme formula fights tough stains. 

Cons: 
Lacks 100% recyclable packaging.
Buy Now
Seventh Generation's Free & Clear Concentrated Laundry Detergent offers a potent triple-enzyme formula, effectively combating stubborn stains. Designed with sensitivity in mind, this hypoallergenic detergent is fragrance-free and gentle on the skin, making it an ideal choice for those with sensitive skin. Experience a powerful clean that's both tough on stains and kind to your skin with this remarkable laundry detergent.
5. Tru Earth Laundry Strips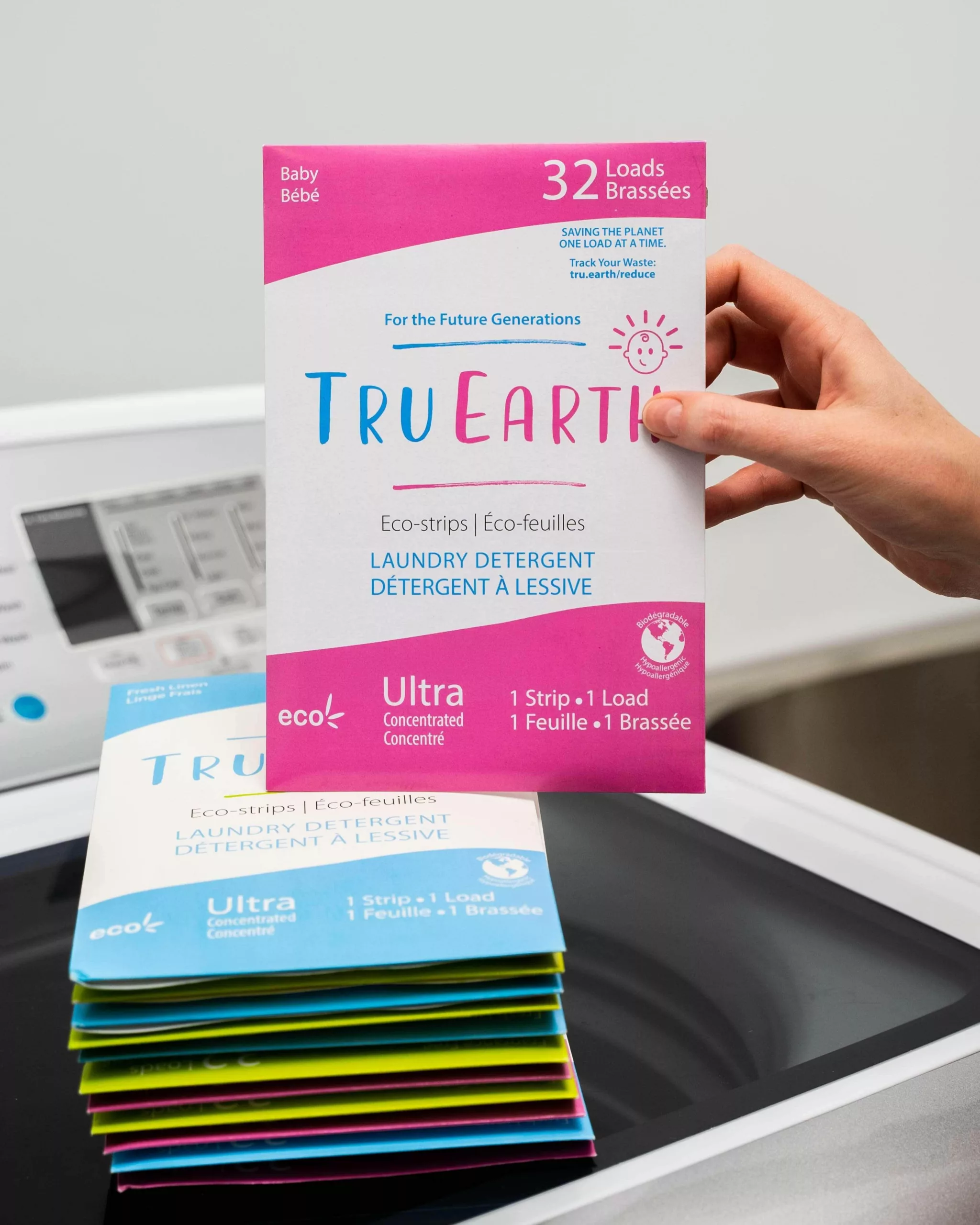 Price:
$19.95

Form:
Strips

Main Ingredients:
Natural ingredients (No animal-based ingredients)

Product features:
Plastic-free jug, recyclable packaging.

Pros: 
Gentle for the skin. 
No problem measuring since it is in the form of strips.

Cons: 
Less effective in removing oil from clothes.
Buy Now
Tru Earth laundry strips offer a revolutionary cleaning solution. These compact, hypoallergenic, and vegan strips deliver potent cleaning power in a pre-measured, liquidless format. Simply toss a strip into the wash to experience ultra-concentrated effectiveness. With Tru Earth, laundry becomes effortless and eco-friendly, transforming your cleaning routine with a convenient and innovative approach to washing clothes.
6. BioKleen Laundry Liquid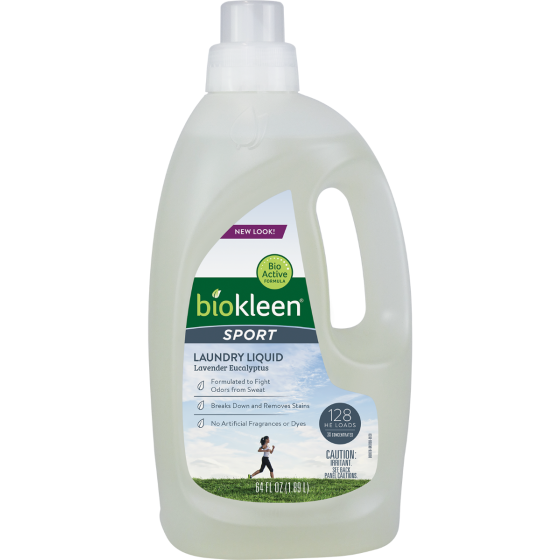 Price:
$21.99

Form:
Liquid

Main Ingredients:
Plant-derived cleaning agents

Certificates:
GMO

Product features:
3X concentrated on reducing packaging

Pros: 
Contains no Artificial Colors and Artificial Fragrances. 
Cleans activewear deeply. 

Cons: 
Expensive
Buy Now
Biokleen Natural Cold Water Laundry Detergent offers a family-friendly solution with its gentle yet effective formula. Featuring plant-derived ingredients, natural essential oils, and GMO-free enzymes, it prioritizes sustainability and biodegradability. Free from harsh chemicals like optical brighteners, petrochemicals, and chlorine, this detergent is safe for even sensitive skin. Its whitening capabilities without toxins make it ideal for baby clothing and cloth diapers, ensuring a clean and eco-conscious laundry routine.
7. Meliora Laundry Powder Detergent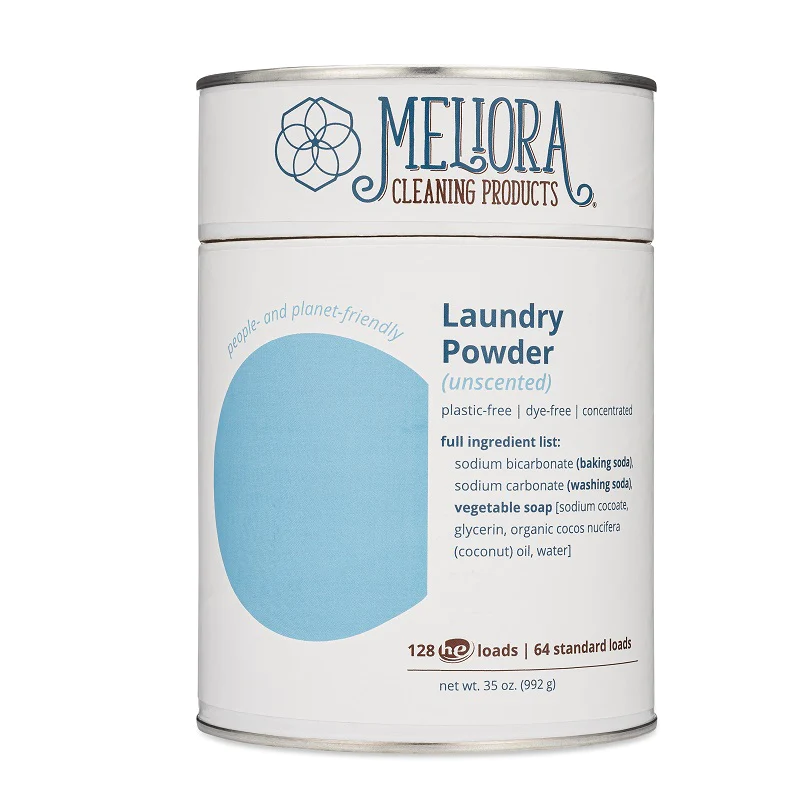 Price:
$18.99

Form:
Powder

Main Ingredients:
Organic coconut oil

Certificates:
MADE SAFE, B Corp, Leaping Bunny

Product features:
Eco-friendly and plastic-free packaging

Pros: 
Preservative-free. 
Ultra-concentrated. 

Cons: 
Less effective in removing oil from clothes.
Buy Now
Meliora is a supremely safe laundry detergent brand featuring plastic-free, low-waste options such as scented and unscented laundry detergent powder, oxygen brightener, and stain removal sticks. Crafted and packaged in Chicago, Illinois, Meliora's commitment extends to social responsibility – donating a minimum of 2% of sales to nonprofits like Women's Voices for the Earth, actively striving to eliminate harmful chemicals from products.
8. Ecoroots Laundry Detergent Bundle Duo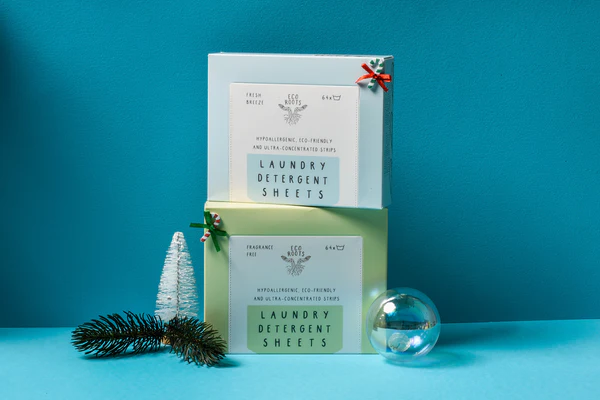 Price:
$32.90

Form:
Strips

Main Ingredients:
Essential oils and plant extracts.

Product features:
Recyclable/Compostable Packaging, Biodegradable Strips

Pros: 
Gentle for sensitive skin, including babies. 
Lightweight and super easy to use. 

Cons: 
Laundry strips may not be as effective as powder. 
Buy Now
EcoRoots presents a reliable solution in laundry detergent sheets, catering to eco-conscious consumers seeking a plastic-free alternative. Their ultra-concentrated, lightweight sheets, available in Fresh Breeze or Fragrance-Free options, offer easy use while aligning with sustainability. With a focus on being biodegradable, vegan, cruelty-free, and hypoallergenic, EcoRoots ensures a safe and effective cleaning experience. Embrace a zero-waste, organic, and chemical-free approach to laundry with EcoRoots.
9. Molly's Suds Laundry Detergent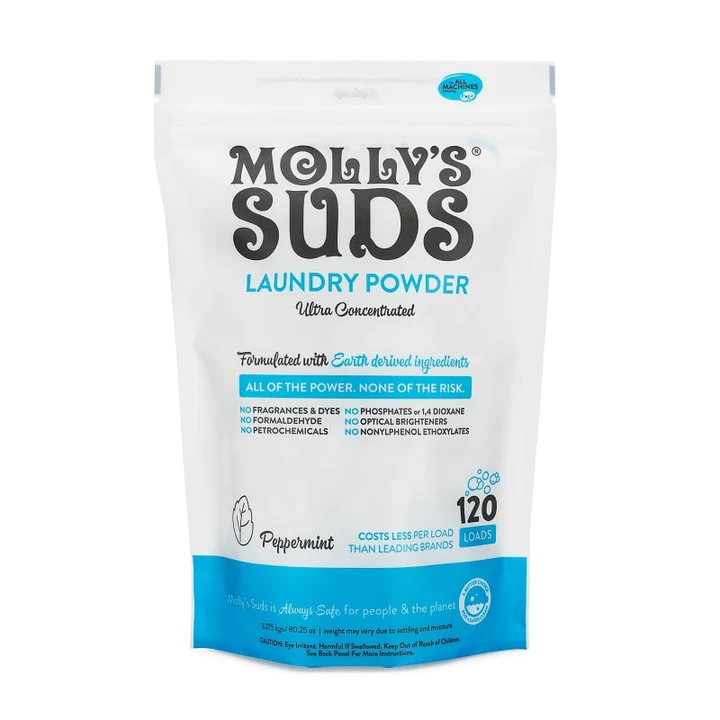 Price:
$22.99

Form:
Powder

Main Ingredients:
Essential oils and sea salt.

Product features:
High concentration reduces packaging. 

Pros: 
Great for sensitive skin. 
Used in standard, commercial, and High-efficiency (HE) washers.

Cons: 
Plastic packaging. 
Buy Now
Molly's Suds offers a versatile laundry line with special formulations for activewear, swimwear, and delicate items. Notably, their laundry detergent stands out for its safety and non-toxic nature. Certified vegan and cruelty-free, Molly's Suds prides itself on simplicity, using just five ingredients in its laundry powder. The refreshing peppermint scent adds an extra freshness, ensuring clean, vibrant clothes with a conscience.
10. Rebel Green USDA Organic HE Liquid Fresh Laundry Detergent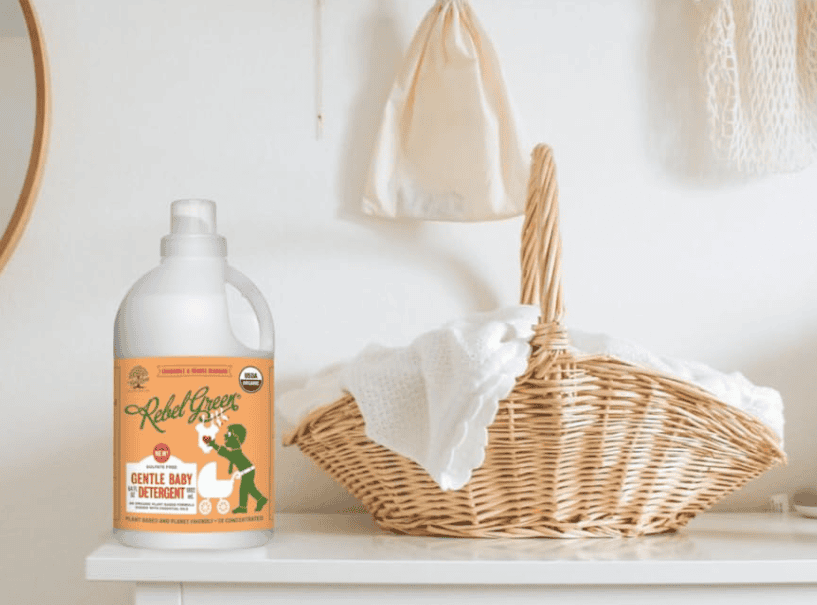 Price:
$25-26

Form:
Liquid

Main Ingredients:
Pure, natural essential oils.

Certificates:
USDA

Product features:
100% made in the USA from responsibly sustainable materials.

Pros: 
Works in High-efficiency washers. 
Free from phthalates and parabens.

Cons: 
Relatively low availability for international buyers.  
Buy Now
Rebel Green's USDA Organic HE Liquid Fresh Laundry Detergent is optimal, boasting a harmonious blend of natural ingredients. It ensures clothes are clean, soft, and free from harsh chemicals. The integrated fabric conditioner imparts a lasting freshness, while its advanced biodegradable formula suits High-Efficiency washing machines. Rebel Green prioritizes effectiveness, eco-friendliness, and a delightful, long-lasting fragrance for your laundry experience.
Why Non-toxic Laundry Detergents?
Non-toxic laundry detergents not only nourish the clothes but also possess the ability to offer environmentally safe cleaning methods. Conventional laundry detergents, constituting synthetic dyes, parabens, and phthalates, threaten the aquatic life in the water bodies where these detergents are dumped/used. In contrast, non-toxic laundry detergents are also known as ocean-safe detergents to safeguard and promote aquatic life from laundry toxins.
Further, the clean ingredients in non-toxic detergents are mostly plant-derived (vegan), ensuring no animal harm. Including these ingredients is an attempt to maintain the ecosystem and adopt a green lifestyle.
Non-toxic laundry detergents also offer significant benefits for sensitive skin and personal health. Residues left on fabrics post-wash can irritate the skin upon contact, especially for those with conditions like eczema. Synthetic dyes, fragrances, and optical brighteners in traditional detergents may trigger reactions. Opting for non-toxic choices with natural ingredients helps prevent itching, rashes, and irritations, ensuring a more comfortable and skin-friendly experience when wearing laundered clothes or using laundered bedding.
Criteria for Choosing Non-toxic Laundry Detergents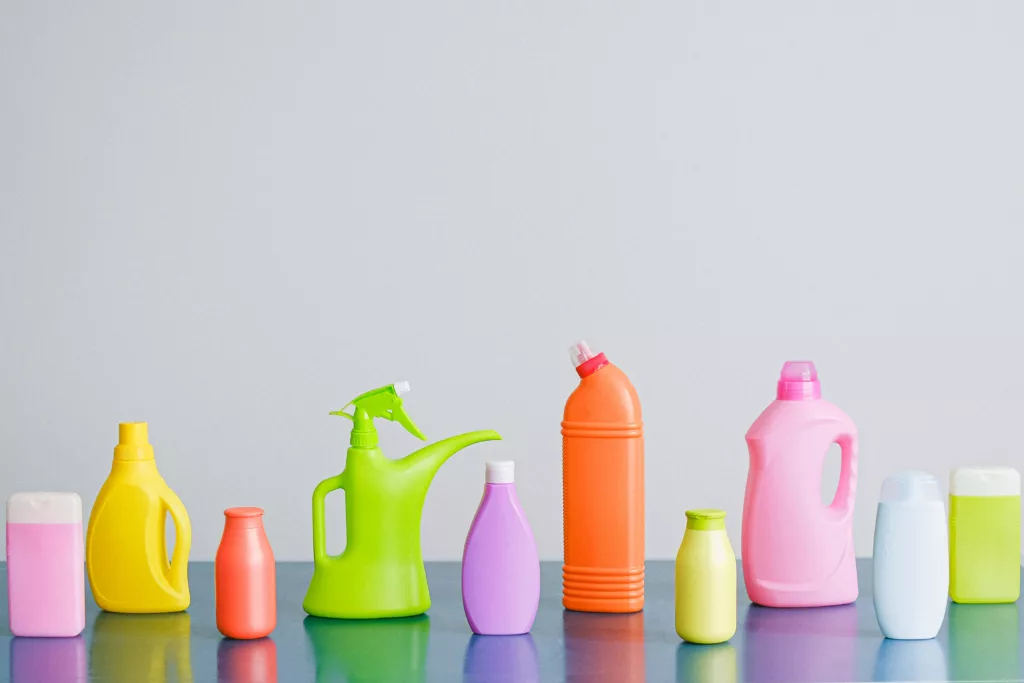 Non-toxic laundry detergents must be clear of harmful ingredients for safety and health. Avoid bleach and brighteners like sodium hypochlorite, known for its toxicity and skin hazards, and optical brighteners, which can cause skin irritation. Fragrances, often undisclosed, can contain carcinogens, hormone disruptors, and respiratory irritants. Phthalates, linked to hormone disruption, can also hide in fragranced products. Sodium Laureth Sulfate (SLES) poses risks such as skin irritation and carcinogenic by-products.
In addition to the composition of these detergents, it is also important that you go through the biodegradability criteria and sustainable packaging options. Zero-waste laundry allows you to wash your clothes while leaving no residue behind. Make sure to choose those brands with refillable laundry stations to reduce packaging efforts. Compostable packaging ensures that the material breaks down naturally without harming the environment. Research and customer reviews to judge the cleaning efficacy of these detergents.
Tips for Maximizing the Efficacy of Non-toxic Laundry Detergents
Firstly, proper dosage is crucial. While non-toxic laundry detergents are often concentrated for efficiency, too much detergent can lead to over-tearing and residue buildup on clothes. Follow the manufacturer's guidelines for the recommended dosage based on the load size to balance effectiveness and conservation.
Secondly, consider water temperature. Non-toxic detergents can work effectively across various temperatures, but adjusting your water setting based on the type of load can make a difference. For lightly soiled items, cold water works well, conserving energy while providing adequate cleaning. Warmer water temperatures can enhance the detergent's performance for heavily soiled clothes or items that require sanitization.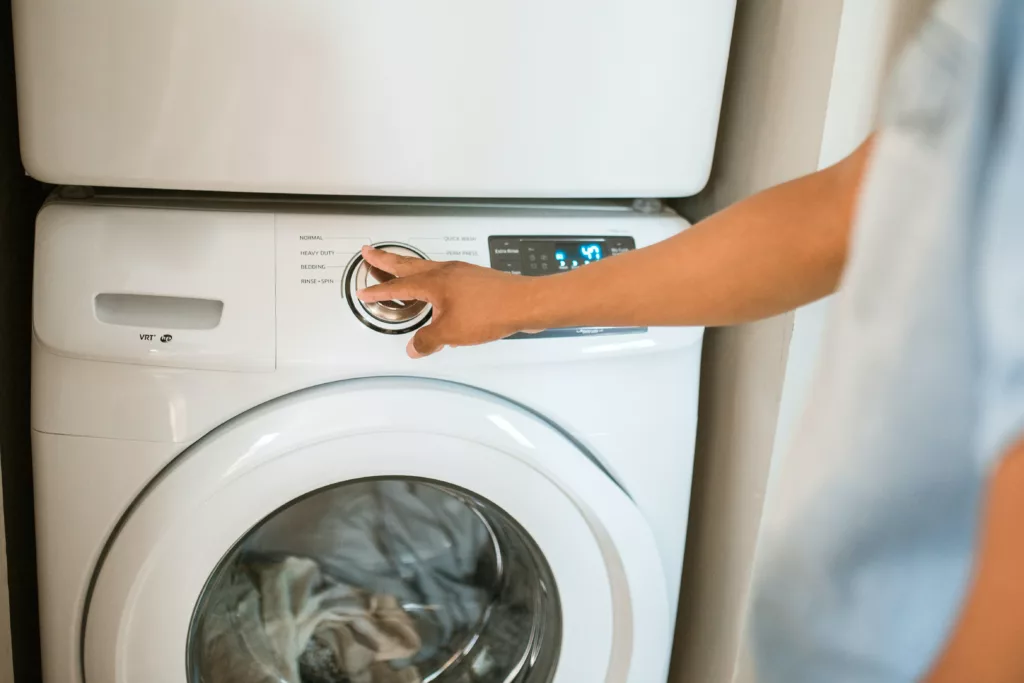 Additionally, consider enhancing your non-toxic laundry routine by pairing the detergent with eco-friendly fabric softeners or boosters. While non-toxic detergents are designed to be gentle on fabrics, fabric softeners can further enhance the softness and freshness of clothes without compromising their safety. Eco-friendly boosters, like oxygen brighteners, can tackle tough stains and keep whites looking vibrant.
Conclusion
Making the switch to non-toxic laundry detergents is not only beneficial for our skin and clothes but also contributes to the preservation of our environment. By avoiding harmful ingredients, embracing sustainable packaging, and practicing proper dosing and water temperature considerations, we can maximize the efficacy of these detergents while minimizing our ecological footprint. Let's take a step towards a healthier lifestyle and a greener planet.
Discover the ultimate green solutions! Explore Our Products Page for a handpicked selection of Expert-Approved Eco-Friendly gems. Embrace sustainability Today!
Want to read more like this?
Get similar stories and a free sustainability checklist delivered to your inbox.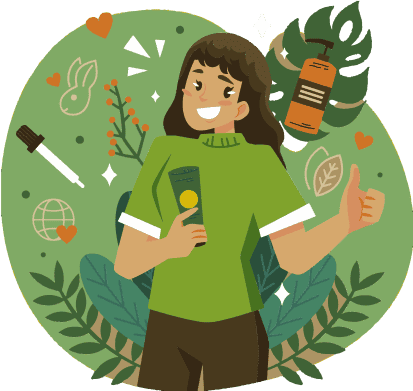 Get similar stories and a free sustainability checklist delivered to your inbox.