Did you know that every year 92 million tonnes of clothes end up in landfills or are incinerated, and only 1% of these clothes are recycled into new garments!!!
We all have clothes in our closets that we no longer need, that do not fit properly, are outdated, or are just lying around with their tags still on. Shockingly, the average person only wears 20% of the clothes in their closet; the rest is history as you know. So when you sort these clothes out, either because you are doing some spring cleaning or as part of your New Year's resolution, they will most likely end up in the landfill or, even worse, in the incinerator.
Sorting them out or cleaning them is half the dilemma, but you also have to consider the moral and environmental implications of what you choose to do with those excess garments. Well, in this case, we have a solution for you! You should DONATE your clothes.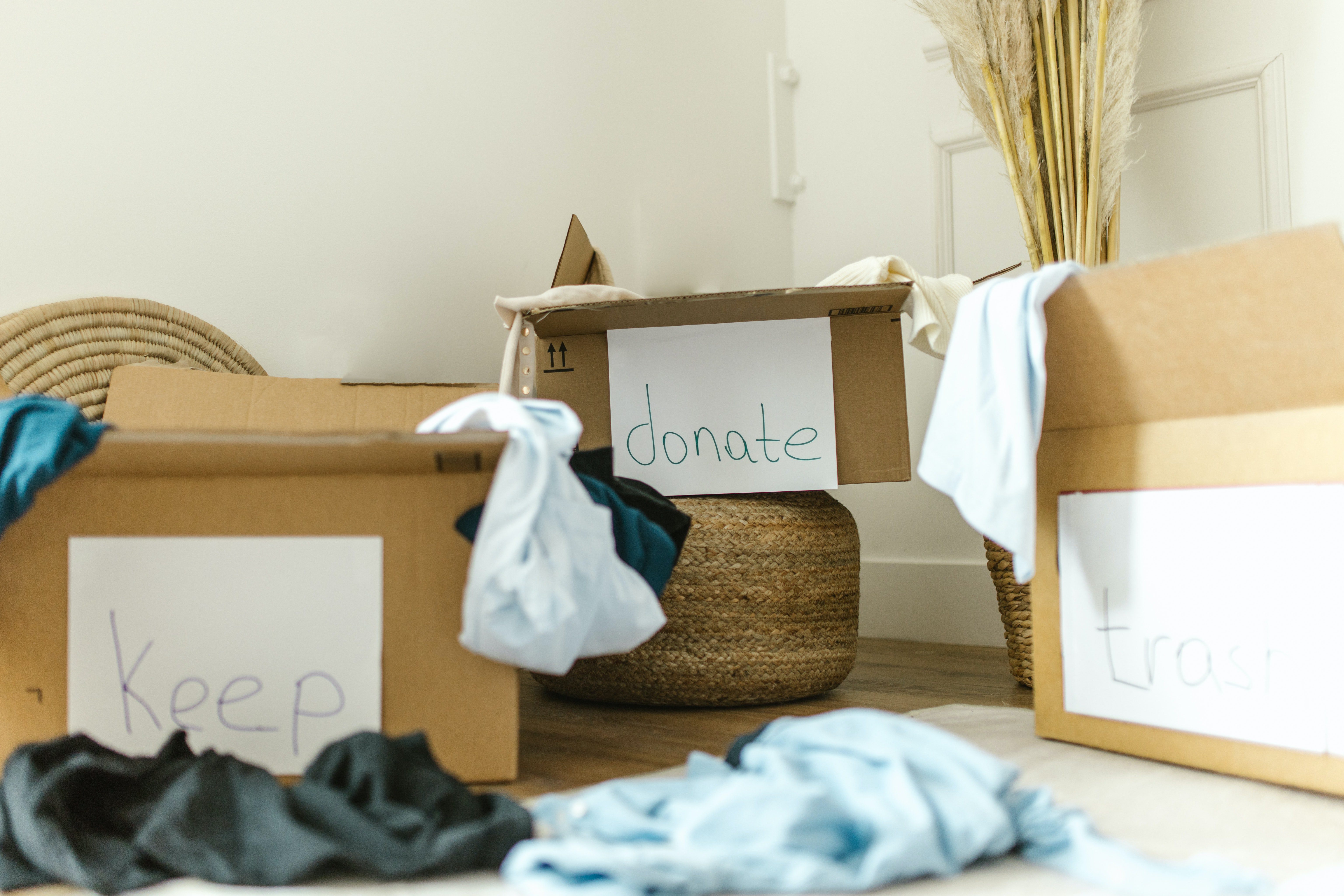 Why Donate Your Clothes?
Free two birds with one key, or double the impact with just one donation! By donating your unwanted clothing, you are helping your community, improving the environment, and promoting sustainability at the same time. So let's take a look at the impact donating clothes has on the community and the environment.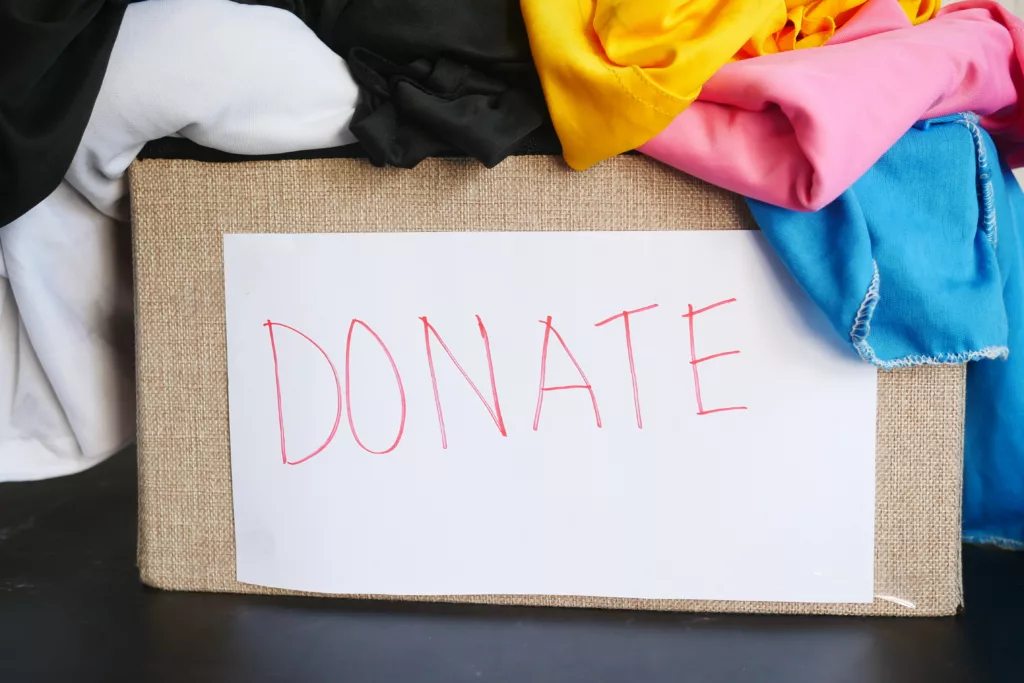 Want to read more like this?
Get similar stories and a free sustainability checklist delivered to your inbox.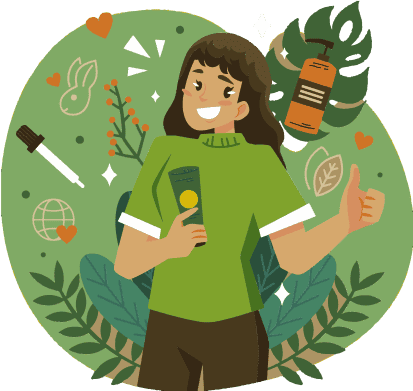 Get similar stories and a free sustainability checklist delivered to your inbox.
Impact on Communities
Donating clothes plays an important role in meeting the needs of families and individuals who, for many reasons, cannot afford adequate clothing. Your donated clothing helps local communities, charities, and shelters provide needy populations with adequate clothing for seasons such as harsh winters or a professional outfit for job hunting. The resale of some of these donated clothes at lower prices in thrift stores helps generate revenue for these charities and nonprofits to continue their work.
Impact on Environment
As we all know, the fashion industry has one of the largest environmental footprints. It is one of the top five contributors to climate destruction and pollution. The culture of fast fashion has caused an environmental disaster. The mass production of clothing uses synthetic, petroleum-based raw materials such as polyester, most of which end up in landfills or are incinerated.
Each year, a staggering 21 billion pounds of textile waste ends up in landfills in the United States. The industry also consumes enormous amounts of water, electricity, and raw materials.
Organizations Where You Can Donate Your Clothes
Do you feel that your closet is exceeding its capacity, and every time you open the closet door, your clothes come crashing at your feet? Regardless of how you came to own so many clothes, an occasional decluttering is good for your closet and your soul while helping those in need. If you are planning on decluttering, we've compiled a list of some organizations you can donate your excess clothing to.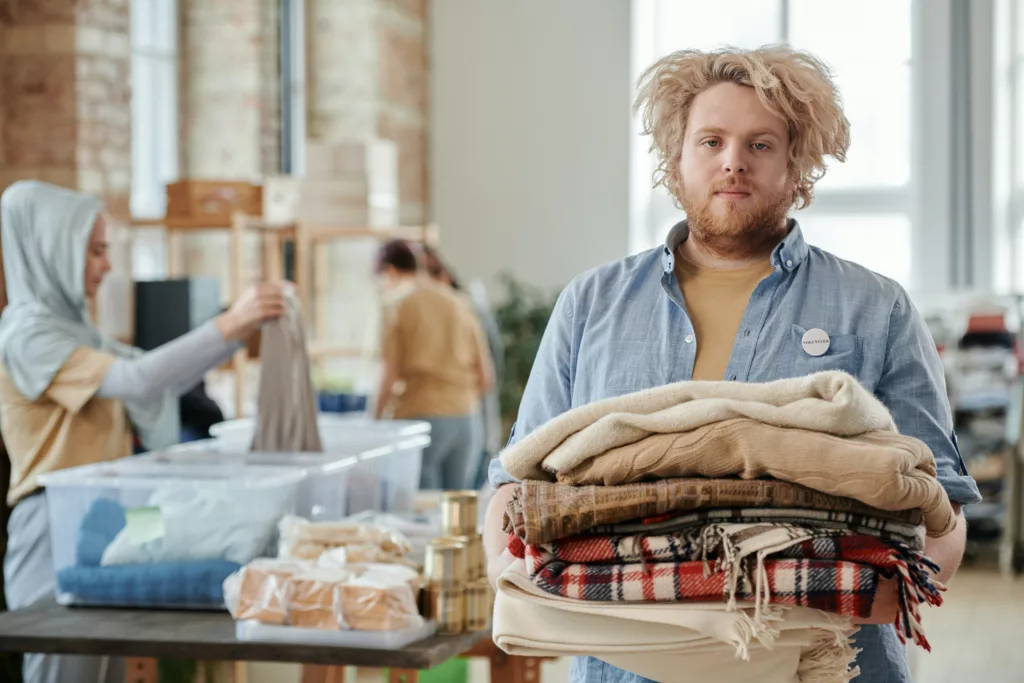 These charities will gladly accept your clothes, shoes, and accessories, resell some at thrift stores, recycle some, and donate others to those in need.
The Salvation Army is among the oldest and most renowned charitable organizations. It has a presence in over 130 countries in the world. Their mission is to 'meet human needs in the name of Jesus Christ without discrimination. The organization is guided by strong Christian principles and values, striving to help individuals and communities facing various challenges.
You can donate several things apart from your clothes, like furniture, kids' toys, and household things. Check out the Donation Value Guide to calculate the tax-deductible value of frequently donated items.
Goodwill Industries International Inc. was founded in 1902 by Reverend Edgar J. Helms in Boston and was created on the philosophy of 'not charity, but a chance.' This nonprofit is funded by a widespread network of thrift stores nationwide. It works to enhance people's dignity by providing them with training and employment opportunities to reach their full potential. Whatever is not sold is sent for recycling.
Oxfam is a global charity founded in 1942 in the UK, fighting inequality to end poverty and injustice. It has several independent organizations actively working towards and supporting people living in poverty throughout the world to bring about the change that lasts.
You can donate various items like clothing, accessories, toys, games, and books. Here are some donation guidelines that can help you.
Besides clothes, we often have a habit of collecting different styles of footwear for different occasions. However, not every pair of footwear is used regularly. So, rather than throwing out what's old and outdated, donate it to Soles4souls.They collect and sell gently used or new unwanted shoes and clothes and distribute them to those in need in the US and worldwide. The organization works towards fighting poverty by helping people start their small businesses by selling or donating shoes and clothing.
If you've hoarded a lot of workwear over the years and want to let some of that go, consider donating to Dress for Success. It is a nonprofit that has expanded to 143 cities in 23 countries since its inception in 1997. It has helped 1.3 million women become independent.
Dress for Success supports women in achieving economic independence by offering a network of support, professional attire, and tools for personal and professional development, empowering them to thrive in work and life.
Unlock Your Savings with Exclusive Offer Coupons
Save big while shopping for sustainable products! Grab your exclusive coupons today!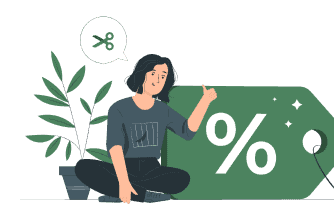 Dos and Don'ts of Donating Clothes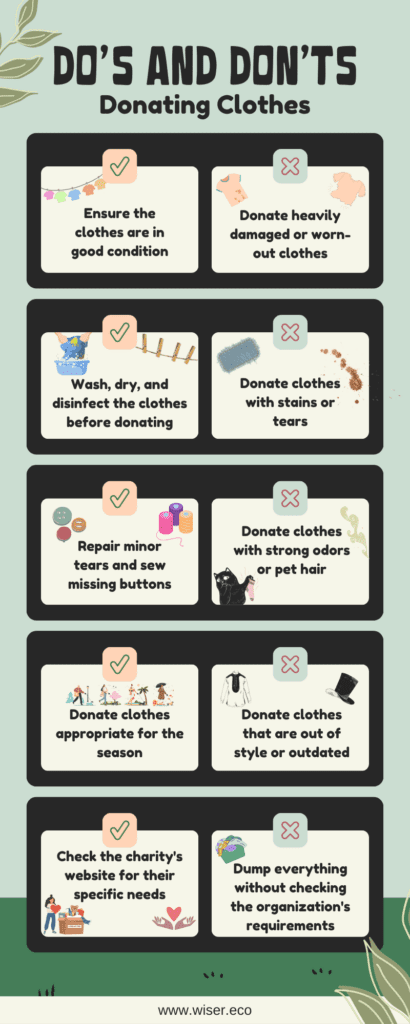 Experts say that it is crucial to consider several things before you donate. We hope some of these pointers will help you.
Dos
Ensure the clothes are in the best possible condition, appropriately washed, dried, disinfected, and free from stains and tears.
Consider repairing minor tears and sewing the missing buttons.
Donate seasons-appropriate clothing or stuff, like coats, jackets, and blankets, in the winter.
Don'ts
Don't use the opportunity as a space to mindlessly dump out your closet.
Don't leave anything outside closed doors, ensure it has reached the right hands.
Conclusion
Donating your clothes is a powerful act that can positively impact society and the environment. It can transform lives and promote social equality and sustainability.
With donations, we address the basic needs of individuals who do not have access to adequate clothing, promote circular fashion and conserve valuable resources. Organizations and charities often fund projects and initiatives to help address various social, economic, and environmental issues.
Let's open our closets and spread generosity by donating our clothes. This act not only improves the lives of others but also demonstrates our compassion, empathy, and social responsibility. It's time to adopt a minimalist approach to your wardrobe and declutter your closet for GOOD!
For more insights on sustainable living, visit Ecowiser and discover how you can make a positive impact on the environment today!