We do not want to begin this one with startling, shocking (and disappointing) data that will make you tut-tut at where the world is going. We know that it is disappointing out there and that we can always make it a little better.
In fact, the tut-tutting is good- a lot of people want to decrease their carbon footprint and plastic use to save our oceans from becoming a landfill. And this trickles down to the surge in using biodegradable garbage bags recently.
To say that green and compostable garbage bags are a rage today might be an understatement.
But, can we really count on them for the quality and the purpose they promise? Are they really better than the single-use black plastic bags that have been there for so long? Are they quite a genuine prospect or are they a passing faux-conscious trend like greenwashing?
These new, biodegradable trash bags, unfortunately, have not been able to pass the test of sustainability with flying colors.
Green garbage bags lag a little behind in consumer experience too. At this point, they might look like a farce gift wrapped in green- but that is not the complete truth about what they are.
In addition, there are clear problems with how we use the term 'biodegradable' ourselves. This is because we lack a basic understanding of the differences involved, the other options available, or how to properly interpret the labels.
We are going to delve into all these aspects and tell you everything- from pros and cons, how biodegradable bags are made, and the best garbage bags that might change the way you throw your trash.
What Are Biodegradable Trash Bags Made Of?
The word 'biodegradable' usually conjures up images of all things that are green, organic, and fresh. Most of us know what biodegradable is– it is everything that is disintegrated by bacterial or microbial action and is totally assimilated into nature when the process ends.
It is here that people confuse 'biodegradable' and compostable– for the whole explanation of why these two are different, scroll down below.
Trash bags that are marketed as biodegradable are mainly made with the following substances –
Biodegradable Plastics
This might be something of a shock since we are always told that anything related to plastics and plastic itself goes into the blue bin designated for non-biodegradable waste.
But, the truth is that biodegradable plastics DO EXIST (and they go into making biodegradable garbage bags)! It is still plastic though, but it is made from natural by-products like bamboo and sugarcane rather than fossil fuels.
Bioplastics are usually designed to disintegrate when they come in contact with specific substances like sunlight or air. If you want to check what exactly will help your bioplastic trash bag disintegrate, look for labels that say 'photodegradable' or 'oxo-degradable'.
Bags made out of biodegradable plastics have some downsides as well. For one, they are pretty expensive to manufacture, and secondly, they might not fully decay as compostable bags do.
Bioplastic garbage bags can reduce greenhouse gas emissions by a large margin, almost by 25%.
If disposed of in the right environment, these bags can actually decompose about 1,000 times faster than your regular plastic trash bag- which apparently never decomposes and releases unwarranted toxins into the soil.
Bioplastics usually follow the European Standard EN 13432. For more information on what exactly classifies this starch-based and wood-based component biodegradable- look up this definition of bioplastics.
Are Biodegradable Trash Bags Compostable?
Here is where the differentiation kicks in.
Not all biodegradable bags are compostable.
We know you have your own doubts, given how we are taught that everything that is biodegradable is compostable too.
But, let us reiterate- compostable goods are not the same as biodegradable goods.
It is because biodegradable trash bags can also contain harmful chemicals, whilst compostable bags travel the extra mile and do not harm plant growth.
Compostable bags follow the provisions of the ASTM D6400 standard-
The bags should disintegrate to the point that it is not distinguishable from real decayed material
Actual microbial action should take place on compostable goods at a similar rate to composting
A compostable bag should reach at least a 90% threshold of carbon conversion within 180 days
Still confused? Here are more points of difference between the two.
Biodegradable bags might have added microbes whereas compostable bags decay with natural microbial action.
Biodegradable plastics, unfortunately, still contain little pieces of plastic.
Compostable bags, on the contrary, are entirely made of natural materials that break down into non-toxic material and can even enrich your backyard.
So, if there was a tug-of-war between the two, compostable bags would clearly win.
You should be a little cautious here- just because a garbage bag is eco-friendly- it doesn't mean that its disposal will be entirely unproblematic.
Be mindful that such trash bags decompose well only when they are not disposed of in your regular landfill.
Eco-friendly trash bags decompose only in the presence of:-
Microbes
Heat
Time
Moisture
Oxygen
This is why it is also necessary if we are going towards greener recycling methods for disposing of our trash. Making way for a dedicated and separate waste stream for the disposal of such bags.
Want to read more like this?
Get similar stories and a free sustainability checklist delivered to your inbox.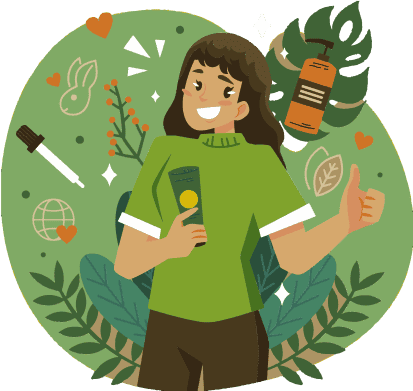 Get similar stories and a free sustainability checklist delivered to your inbox.
Are they Eco-Friendly Trash Bags Indeed?
This might be debatable if we take into view how manufacturers have found their own safe haven in greenwashing.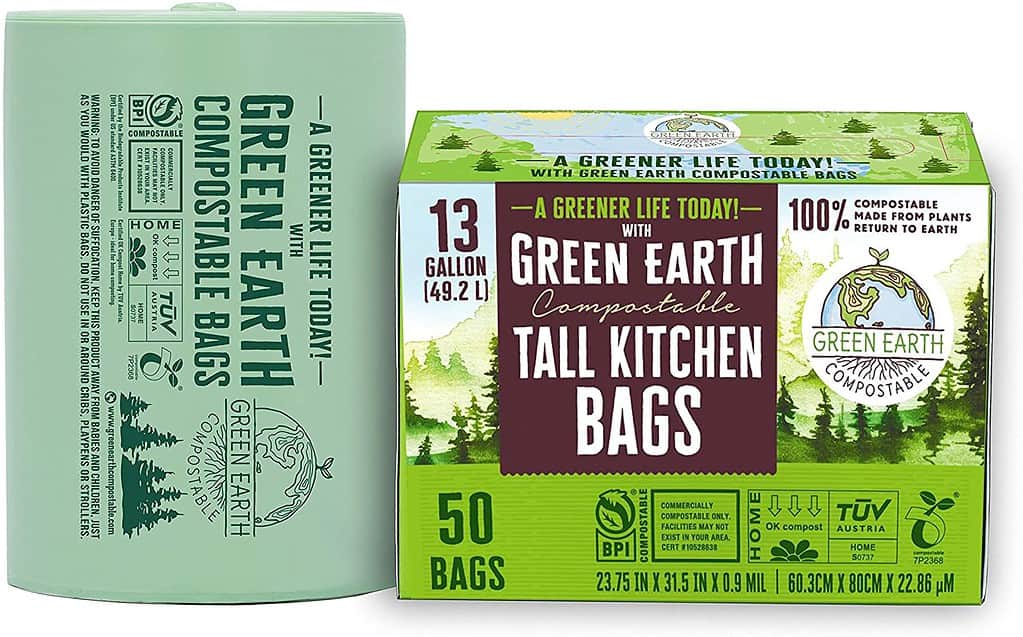 However, we recommend that compostable AND biodegradable trash bags are the way to go- they are eco-friendly indeed. You just need to look out if they have a-
BPI certification– The Biodegradable Products Institute verifies the decomposability of products such as garbage bags. A BPI certification indicates that the product meets ASTM D6400 and/or ASTM D6868 (for packaging) criteria.
European Bioplastics Standard– This is something we have already talked about in the bioplastics section, the EBS tells us that a product can fully biodegrade after six months.
TUV AUSTRIA– Provides three different certifications- OK COMPOST HOME S0014 (for home composting systems); SOIL S0014 (that certifies a product as biodegradable); and OK COMPOST INDUSTRIAL S0014 (perfect for industrial composting systems).
Why Should I Go for Biodegradable and Compostable Trash Bags?
Actually, the question should be why you shouldn't.
As you must be aware, single-use plastic bags that are liberally pumped and dumped in our ecosystem are simply bad for everyone.
First of all, they are non-biodegradable (and hence, ungrateful little monstrosities) that take more than 1,000 years to degrade fully.
Secondly, single-use plastic bags (so what if they are vanilla-scented and have floral prints all over them?!) that are floating around in our oceans and clogging drains are simply dangerous to plant and animal life.
According to the International Union for Conservation of Nature, single-use plastics in oceans are ingested by animals and some are even entangled in them.
Thirdly, increasing plastic use is a direct cause of climate change too. If that will not beckon you to seek better alternatives out there, we don't know what will. Climate change isn't just cribbing and throwing coins in the Fountain of Trevi.
It is because plastics are a product generated from fossil fuels.
Imagine how much carbon have we been releasing in all these years and how much more will we be as we continue to generate and incinerate plastic waste incessantly.
So, where do biodegradable and compostable trash bags figure? Isn't bioplastics a problem too?
Let's get something straight- when we are talking about biodegradable and compostable garbage bags- we are not adhering to either of the two, we are emphasizing on the best of both.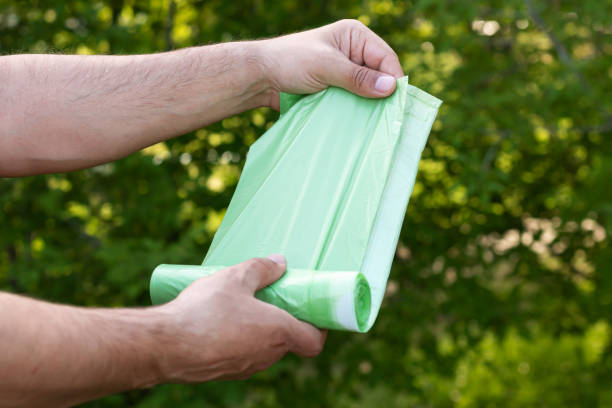 We know that microplastic release into the soil is an issue, but this is exactly why we say that a bag that is both compostable and biodegradable is a good way to transition to a healthier way of disposal.
Feel free to dispose of your yard waste, food scraps, and stationary debris like paper and pencil shavings in these bags, and off they go to assimilate and nourish your yard.
Some options can be on the costlier end and you might be looking at the fact that these bags are not as strong or leakproof compared to plastic bags. But believe in good science, innovation, and intent- things are getting better.
You can go ahead and line up your bins with these green trash bags and incorporate some maxims of sustainable living into your life!
The 9 Best Biodegradable and Compostable Garbage Bags You Should Try!
And here we are at the good part after what seemed like eons of lecturing about the DOs and DON'Ts of biodegradable and compostable disposal options.
We want to tell you that this list doesn't only feature bags and liners you can use to dispose of your kitchen waste, but bags you can use to clean up after your little critter has done their poo-poo.
All these options are BPI-certified, so go right ahead and get your pick!
Reli. Compostable Trash Bags
These 13-Gallon packets of goodness are trouble-free to handle apart from being green and clean. Reli. bags use EPI additives that facilitate easy breakdown in 24 – 36 months, which is about 100-1000 times faster than other trash bags.
Moreover, these bags are high-density, which means you can engage in conscious recycling without worrying about a ripped seam or leakage.
Shop Reli. Compostable
---
Boba and Vespa Planet Digestible Dog Poop Bags
Boba and Vespa are package-free and compostable goodies. Ideal for picking up dog poop and cat litter, these bags are made from a formulation of maize flour and vegetable oil.
In case you want to check out how you can dispose off dog poop in a better way, you should give this article a quick read to know how.
According to their website, Boba and Vespa's products are 100 percent compostable- right from packaging to manufacture. This is why we encourage you to give this one brand a shot!
Shop Boba and Vespa
---
UNNI ASTM D6400 100% Compostable Trash Bags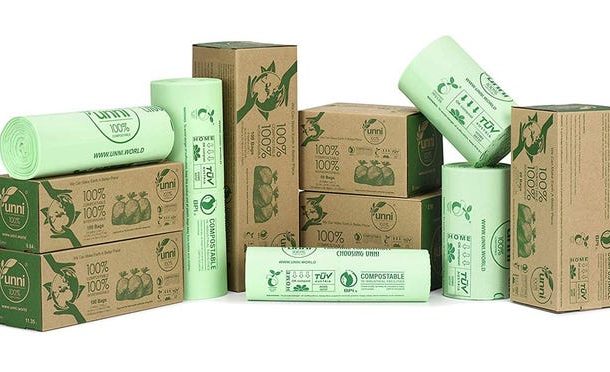 UNNI's plant-based starch bags are pretty impressive, and swear by ethical credentials along with offering an arsenal of disposal products right from 13 Gallon trash bags to drawstring bags, pet poop disposal bags, and replacement bags!
Unni is a 100 percent compostable brand that bears BPI and TUV AUSTRIA certifications and contains no polyethylene along with being BPA free. You can find these green bags on Amazon as well as on their official website, here.
Shop UNNI
---
BioBag Compostable Countertop Food Scrap Bags
BioBag is kind of the OG of green garbage bags and has 20 years under its belt as far as the brand's advents toward sustainability are concerned.
With their expansive range of liners that can fit every bin- at home or otherwise, BioBag is really shaking things up out there
These bags come with a load of convincing certifications like ISO14001, ISO9001, GMO-free, TUV AUSTRIA (HOME, SOIL, AND INDUSTRIAL), and BPI (ASTM D6400), and AS 4736. With BioBag, you can join them in their resolve to be an Earth hero!
Shop BioBag
---
Hippo Sak Plant-Based Tall Kitchen Bags
Hippo Sak's tall kitchen trash bags claim to be stronger and ten times better than your regular plastic bags. The brand is committed to generating a low carbon footprint and ranks high on the quality scale.
We also love their Ocean Plastic range which is made from plastics that are accumulated on the beaches of developing nations. Not only this through their advent, the brand is also giving jobs to impoverished families who can afford a meal by collecting a Super Sack of plastic.
Shop Hippo Sak
---
Lowe's Garbax 5-Pack 30-Gallon Brown Outdoor Paper Leaf Trash Bag
While paper bags have limited utility because they aren't moisture-proof, the reason we feature this brand on our list is that they are entirely biodegradable without plastics.
What's a better alternative than paper to store your leaves from the garden and then let them go back to the same nature that birthed them? Lowe's bags come with a sturdy double-wall and flat bottom along with a good capacity to store the trash.
Shop Lowe's Garbax
---
Stout
Stout bags are high-quality, durable, and reliable garbage bags designed to handle tough and heavy loads of waste. These bags are known for their strength and ability to resist punctures, tears, and leaks.
These biodegradable garbage bags also come imbibed with the efforts of visually impaired people who make them. Also, they are more durable and cheaper than other popular garbage bag brands!
Shop Stout
---
UniDomum
UniDomum affirms its commitment to sustainability through its heavy-duty compostable range of trash bags.
These products are not only 100% biodegradable and compostable, but they are also BPI (Biodegradable Products Institute), under US ASTM D6400 and by TUV Austria under European EN 13432 Standard (OK Compost) certified. Super-leak proof and value for money, UniDomum trash bags are the right direction to take.
Shop UniDomum
---
Doggy Do Good Biodegradable Dog and Cat Poop Bags
Another addition in the range of choices for disposing of dog and cat poop- Doggy Do Good really does you good as it is hassle-free and combines premium pet care with compostability. All Doggy Do Good bags are certified HOME Compostable (EN 13432) by OK Compost & TÜV AUSTRIA, ASTM D6400.
These products are also 38% vegetable-based- they are made from cornstarch and are 20 microns thick. Through Doggy Do Good, you can also contribute a part of what you spent to environmental welfare and pet care organizations, as the brand donates 1% of its proceeds to them.
Shop Doggy Do Good
---
The Ecowiser Take on Biodegradable Garbage Bags
Now that we have told you pretty much the A-Z of what is the truth, science, and ethics of biodegradable and compostable garbage bags, we believe that you are totally equipped to take a call on how you want to throw your trash.
In our opinion, while the current options, especially bioplastics aren't exactly redeeming, they are a part of the larger change we wish to bring into our lives and for the betterment of the planet.
If you are using single-use plastic bags right now, it isn't too late to transition to better options like biodegradable garbage bags, just do your investigation into brands before going for them and you will be peachy to begin yet another journey to achieve a sustainable lifestyle and be a conscious consumer.
Discover plastic-free and sustainable living at Ecowiser! Visit our website today for eco-friendly solutions that make a positive impact on the environment. Start your journey towards a greener future now!
Want to read more like this?
Get similar stories and a free sustainability checklist delivered to your inbox.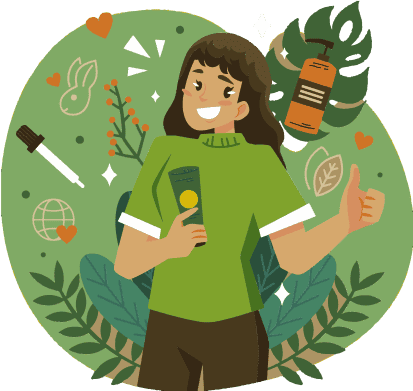 Get similar stories and a free sustainability checklist delivered to your inbox.