If you belong in the category of big, bold, and beautiful bodies, you already know how hard it is to find clothing that not only fits you but makes you look and feel good. Add to that the matter of finding options that are also sustainable, and dressing up well and consciously becomes harder.
While there are several options out there, thanks to increasing awareness of body-type inclusivity, some of the best plus size clothing brands aren't really sustainable.
It's awesome that most of us are becoming more aware of the consequences of our clothing choices and are trying to do our part in aiding the rise of sustainable fashion. But finding sustainable clothing options for plus size bodies can be a tad bit difficult.
But all that ends here. In this article, we're telling you about 8 of the best plus size clothing brands which not only cater to all your body-type requirements but also the planet.
However, before we begin, let's look at what sustainable clothing is, exactly, and how your dressing choices can help make a positive difference.
What Is Sustainable Clothing?
Sustainability is defined as: 'Avoidance of the depletion of natural resources in order to maintain an ecological balance.', by Collins dictionary.
It means not producing using resources that cannot be naturally replaced and not producing anything which won't be naturally reabsorbed by the earth.
Sustainable fashion is, in a similar vein: the production of clothing which does not cause irreversible harm to the planet and its resources, and does not leave imperishable waste behind.
But the fast fashion industry is operating on a scale wholly contradictory to this principle.
Fashion is one of the most pollutive industries in the world and contributes to four major unsustainability problems:
Climate change, water contamination & depletion, waste generation, and ecological degradation.
Sustainable fashion is fashion that takes a stand against these practices, working toward a future where dressing well would not equal causing irreparable damage to the planet and people.
What Makes Clothing Sustainable?
Here are three key elements which make fashion sustainable:
Materials used
One of the most obvious components of creating sustainable clothing is the usage of sustainable materials.
The fabrics should ideally be vegan, organically grown and 100% made of the same material. Harmful and unnatural chemicals should not be used in the production process and synthetic fabrics are a big no-no.
Sustainable clothing uses creative and well, sustainable materials to create clothes that are just as fashionable without all the harm and damage caused. You can find tops made with recycled plastic, faux leather pants made with pineapple leaves, sweaters made with recycled wool, and much more.
Ethical Labor
Sustainable clothing is created with fair labor practices which do not exploit the workers and pay them fair wages for their contribution.
Fair labor also includes safe working conditions, reasonable working hours, and of course, a ban on child labor. Protecting the people is as important as protecting the environment, and ethical labor practices are at the core of sustainable fashion.
Production activities and waste generation
Another major aspect of making clothing sustainable is practicing production activities that do not harm the environment by depleting resources, carbon emissions, usage of harmful chemicals, etc.
Sustainable practices also include ensuring that the production activities aren't generating waste that is not only large but also non-decomposable.
Why choose sustainable clothing brands?
Do your bit in helping the planet
Sustainable clothing helps in reducing carbon footprint and solves many problematic practices like waste generation, contamination and depletion of natural resources, environmental pollution caused by chemical processes used in dyeing, and much more.
By choosing sustainable clothing, you are saying no to all those practices which are harming the earth and actively doing your part in protecting the planet by reducing your environmental footprint.
Helping other people
Fast fashion is not only causing problems for the planet but also the people living on it.
There are several malpractices involved in producing fast fashion, such as exploitation of factory workers, unfair wage practices, compromised safety and hygiene of the workers, etc.
By choosing to use ethical fashion, you are creating a change in the demand-side of things, which will eventually aid in changing the supply of unsustainable clothing. You can help your fellow humans in getting fair treatment and their deserved wage.
Long-lasting clothing [unfollow the trend]
Fast fashion is so much about trends and being told what to wear and when to wear it. So much so that we've lost touch with our unique style and values when it comes to dressing up.
Sustainable clothing is all about slow fashion and producing clothes that are of superior quality, long-lasting, and which help you reflect your style.
You can choose to not get carried away by changing trends, by investing in clothes that are aligned with your values and actually make you feel good.
Simplify your space, mind, and life
By choosing to wear sustainable clothing, you can declutter all the space that heaps of fast fashion clothing take up. This can aid you in practicing a lifestyle that is minimalistic yet satisfying and more aligned with yourself. Aka more peace of mind and simplified living for you.
You get to wear stunning pieces plus do right by the planet. How amazing is that?!
You know how it feels amazing to wear something that is flattering to your body and makes you feel good about yourself? Imagine knowing that you are also making a difference to the planet and people by wearing those clothes. If there's a good reason to choose sustainable clothing, this is it.
Here are the best plus size clothing brands which don't add to the damage created by the fashion industry:
Best Sustainable Size Inclusive Brands
Eileen Fisher
Established in 1984 by the brand's namesake Eileen Fisher, the clothing brand's motto is 'a system of shapes that work together and make getting dressed easy.'
They are working toward closed-loop manufacturing through their clothing line Renew and the Waste No More program and have managed to take back 41,100,000 pieces of clothing to be recycled since 2009 through these two endeavors.
With sizes up to 3x, their vegan and recycled plus size clothing options are pretty great, with flattering and elegant pieces that look good and feel great on curvy body types.
Eileen Fisher uses materials like organic cotton, organic linen, recycled polyester, and nylon, and their supply chain and labor practices are highly transparent.
Check out their store here.
Girlfriend Collective
If you're looking for stylish and affordable activewear, which is also sustainably produced, then Girlfriend Collective is your go-to store.
With sizes up to 6XL, their casual, comfy, and long-lasting clothing is pretty popular amongst the socially aware fashion buyers.
Girlfriend Collective extensively makes clothes from recycled materials and they also have 100% recyclable packaging. Their supply chain and labour practices are also one of the most transparent ones out there. Look at their about page for detailed information.
If you're looking for plus size activewear and swimwear which look beautiful and flattering but also don't want to compromise on your sustainable practices, then Girlfriend Collective is your best friend ;).
Big Bud Press
Big Bud Press is best known for its bright and chic, 100% cotton-twill jumpsuits which are unisex and available in a variety of prints and sizes. They also sell tops, pants, and accessories for sizes up to 6XL.
Their clothing is made from 98% domestically grown fabric and is NAFTA certified (each part of their manufacturing process is based in North America). They also only use 100% cotton fabrics and non-toxic and low-impact dyes.
If you want to add some quirky unisex pieces to your wardrobe which are ethically made and hand-dyed, then Big Bud Press is one of the best plus size clothing brands for you.
Sotela
Sotela is a self-proclaimed gender, age, and size-inclusive fashion brand which produces ethically made clothes with sustainable fabrics.
They have a unique approach to sizing, where they ditch the ordinary 'small, medium, large' in favor of inclusivity and comfort. They use low-impact fabrics like modal, linen, and Tencel, and hand-make each of their pieces in their studio in California.
With flowy skirts, stylish tops, and dresses in eco-friendly fabrics and inclusive sizes, Sotela is one of the best plus size clothing brands out there.
Mata Traders
Founded in 2007, Mata Traders' core focus is on ensuring fair trade practices and creating clothes that are ethically made yet flattering and comfy. They're also one of the most affordable plus size clothing brands.
Mata Traders manufactures its clothing through partner artisans in rural villages and communities in India and Nepal. They ensure fair wages well above the minimum rates and let artisans decide the rates for themselves for each piece. Check out detailed information on their practices here.
If fun prints and bright colors at affordable prices are your thing then Marta Traders is your go-to sustainable clothing brand. Their 1X – 2X sizes encompass US sizes 0 – 24.
Warp + Weft
While a single pair of jeans takes nearly 1,500 gallons of water to be made, Warp + Weft's production uses less than 10 gallons for a pair. A.k.a, you can wear their jeans guilt-free.
Not only are their production practices ethical and sustainable, but their collection of jeans also comes in a wide range of cuts and finishes for sizes 0-24. There's something for everyone. Many of their customers profess their love for jeans that fit them and move with them even when their bodies change.
Check out their amazing collection here.
Loud Bodies
Founded in 2018 by Patricia, Loud Bodies is one of the best plus size clothing brands, which notes respect and empowerment as its core values.
Loud Bodies uses fully recycled paper from its packaging and all the scrap fabric from its manufacturing process is used to make pillows for puppy shelters. Since 2020, they've started using only sustainable fabric to make all their clothes. Read more about their sustainable endeavours here.
Loud Bodies has some of the most pretty, statement dresses we've seen, specifically made for beautiful bigger bodies. And the best part is that if you have an atypical body type that doesn't fall in their size ranges, you can get a fully customized piece made for yourself, free of charge! It's definitely one of the best brands for plus size sustainable clothing.
Reformation
The last on the list, but not the least.
Reformation is one of the most popular ethical fashion brands known for its wide variety of stunning clothing pieces.
Some of their sustainable clothing options are jeans made of organic cotton and Tencel Lyocell, sweaters made from recycled and virgin cashmere, and dresses of Tencel Modal and Tencel Lyocell fabrics.
Reformation strives for transparency in its supply chain and is known for its eco-friendly and climate-neutral practices. They also take part in community and charitable giving.
Check out their wide range of size-inclusive Extended Size collection here.
BONUS
Best Plus Size Summer Clothes
Here are there pieces that caught our eye and are sure to make your wardrobe summer-ready:
1. This white linen dress by Reformation is perfect for a day out in the sun. It's light and airy and looks fabulous on bigger bodies.
Photo by Reformation
2. This purple top by Sotela is made of 100% organic cotton and will make for a pretty cool look when paired with shorts or pants.
Photo by Sotela
3. The Flora skirt by Loud Bodies with these cloud patterns looks perfect to add a breezy look to your summer wardrobe.
Photo by Loud Bodies
Creating a positive impact while also wearing clothes that represent you and flatter you can be hard, but these 8 best plus size clothing brands make it easy for you with their wide clothing ranges and ethical and sustainable practices.
With our chrome extension, you can seamlessly make sustainable shopping decisions with only some clicks. While you're shopping from sites like Amazon, Walmart, Target, and Best Buy, we'll help you redirect to our ethical partner's site and make a more sustainable decision.
We hope this article helps you and that you keep up your sustainable lifestyle choice by choice.
Want to read more like this?
Get similar stories and a free sustainability checklist delivered to your inbox.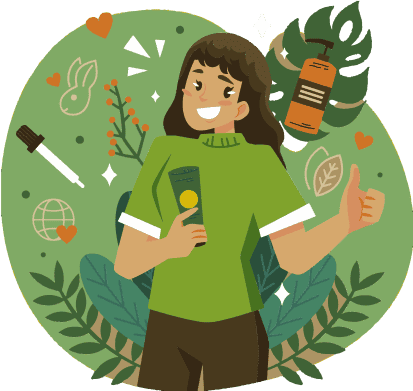 Get similar stories and a free sustainability checklist delivered to your inbox.