A garment so intimate and close to us deserves to be of the finest quality. Lingerie is arguably that one piece of clothing we wear for the most amount of time in a day. They need to be extra comfortable and soft, make us feel confident and sensual while also preferably be sustainable and ethical. Finding sustainable lingerie is a task for us conscious consumers, but honestly, it's a task we must prioritize.
Wearing sustainable clothes means nothing if our lingerie continues to be polluting. I am sure we all want to be eco-friendly both from the outside and inside! Shrug your worries away because we are here with sustainable lingerie 101 with the best brands to choose from and exactly why your underwear needs to be sustainable.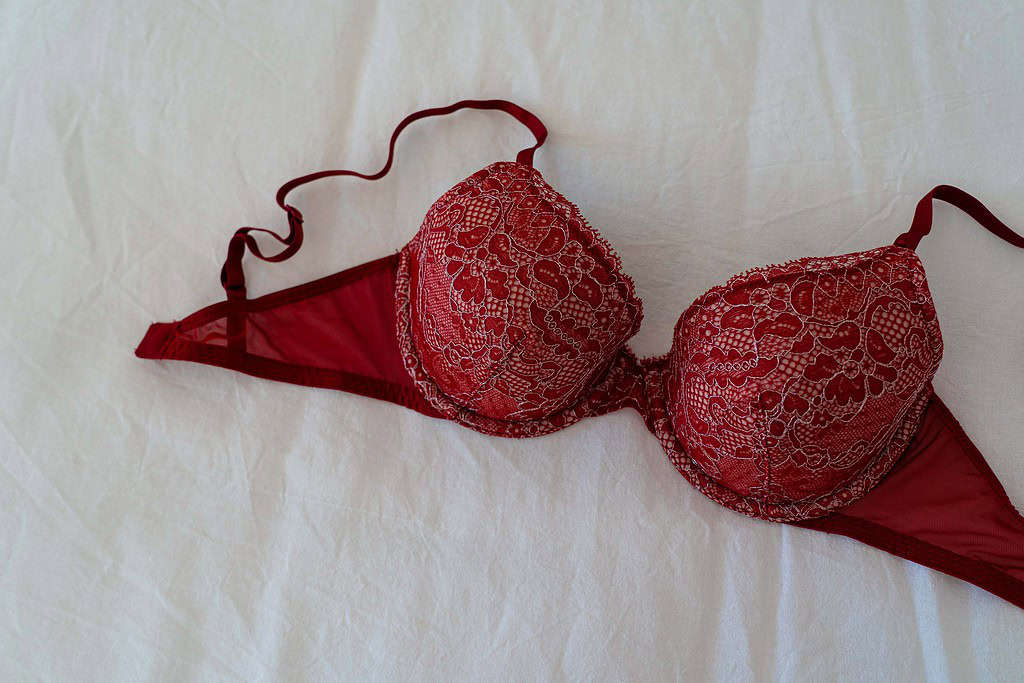 Why Choose Sustainable Lingerie?
It is easy to forget the environmental cost of something as seemingly insignificant as lingerie but trust me, switching to sustainable options can make a huge difference. Lingerie has transformed from simply being a basic utility to a male fantasy (unfortunately) and finally metamorphosed into a symbol of empowerment. No more do we need to keep our lingerie hidden under layers of clothing but flaunt it as a sign of confidence in embracing our femininity.
Honestly, feminism and sustainability go hand in hand. Social justice moments are intertwined, and celebrating femininity cannot be done at the cost of the environment. There are multiple tangible reasons as to why we should switch to sustainable lingerie.
Healthier For Your Body
Sustainability is definitely one of our priorities but looking after our bodies is the most important so ensuring that the materials in contact with your private parts are non-toxic and healthy is extremely crucial. The problem with synthetic materials is that they trap moisture and lead to fungal and bacterial infections. They can also lead to rashes and burns, which is something we all surely want to avoid.
Another issue is the sheer number of chemicals used in the production of synthetic and non-organic fibers. Pesticides and fertilizers are used during farming, carcinogens in clothing dyes, and multiple chemicals to process synthetic fibers are used. None of this should ideally be in contact with our body.
Another important point to mention is that most sustainable lingerie brands also tend to be inclusive. They tend to be guided by strict values and understand the need for good quality, comfortable lingerie for all body types. You will most definitely not find uncomfortable and unhealthy lingerie like shapewear on these sites.
Better For The Environment
The pollution caused by the textile and clothing industry hardly needs elaboration. Synthetic fibers take up to 200 years to decompose. Add to this the impact of harmful chemicals, petroleum, and excessive use of resources like water and electricity. Even natural textiles like cotton can damage the planet. 24% of the world's insecticides and11% of the world's pesticides are used on cotton crops, even though they only take up 2.4% of the world's farming land.
Sustainable lingerie brands help in reducing the manufacture of textiles. They stand firmly for the concept of slow fashion and do not use any harmful chemicals in their production process. Of course, this also depends on just how sustainable the lingerie brand is. Ideally, they should be organic, vegan, cruelty-free, natural and use only recycled fibers to be qualified as 100% sustainable.
Ethical Production Process
Using sustainable fabrics eliminates the need to produce manmade fabrics. To create manmade fabrics, a lot of harmful chemicals and wastage is involved. Switching to ethical lingerie ensures the reduction of greenhouse gases. Moreover, truly sustainable brands will also ensure that no exploitation of labor occurs in their factories. Knowing that the products you use are sourced ethically makes all the difference to a conscious consumer.
8 Best Sustainable Lingerie Brands
Araks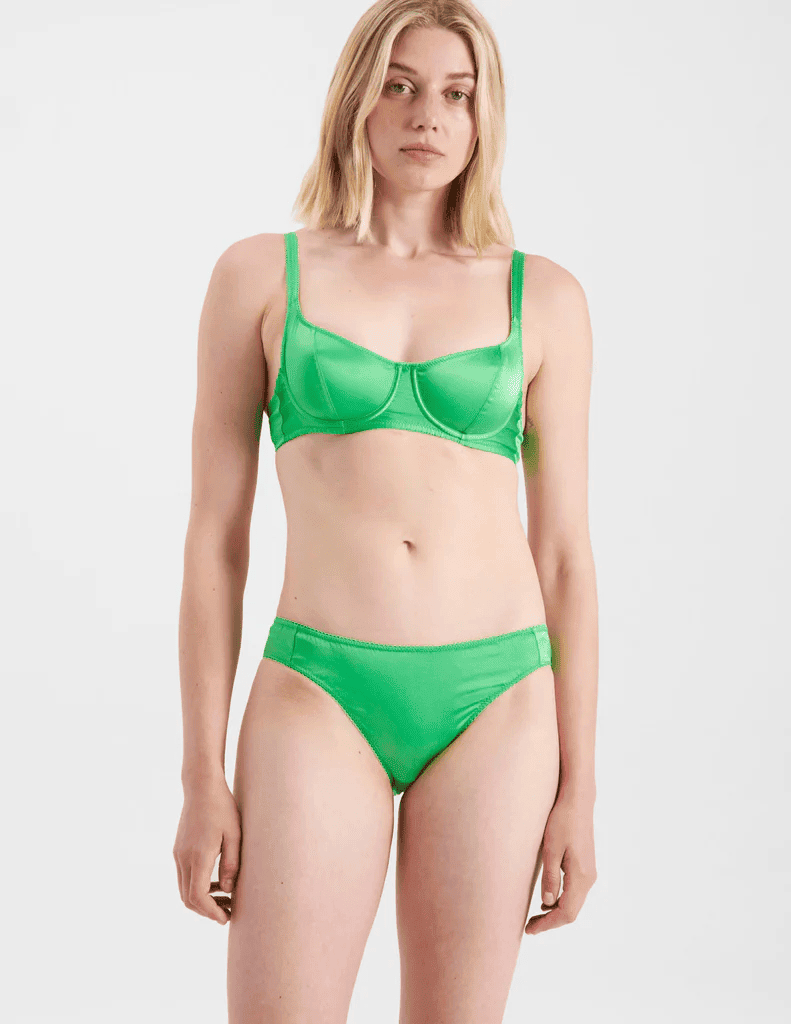 Certifications: Working with suppliers that have EPD Environmental Certification, EPD Climate Certification, ISO 14001 Certification, OEKO-TEX Certification, and comply with the EU Reach Regulations.
Available Products: Lingerie, bras, panties, slips, bodysuits, loungewear, pajamas, robes, swimwear
Price Range: 5o-750 USD (Approx)
Size Range: 30A-40C, hip: 30-49 inches
"At Araks, we aspire to create a sustainable foundation for beauty within every facet of our organization." Araks approach to sustainability is to focus on four key areas in order to set objective realistic goals and make a difference. These four key areas are: Culture of Mindfulness & Economy, Product Design, Partnerships and Social Sustainability.
Arak advocates for reducing, reusing, and recycling. Since the foundation of each of their designs is an evergreen fabric, any extra components may be used in the next collections rather than being thrown away.
In order to reduce waste, they keep every scrap and accumulate hundreds of hues in binders and jars. By doing so, they also create a unique and valuable color library that reflects the years of hard work they have put in.
They pay it forward by giving supplies they don't use to charities and institutions. They invest in providing the most environmentally friendly ways to care for clothing so that their customers leave as little of a carbon footprint as possible after making a purchase. They also encourage their customers to mix and match pieces between seasons.
Check out their website here!
---
Boody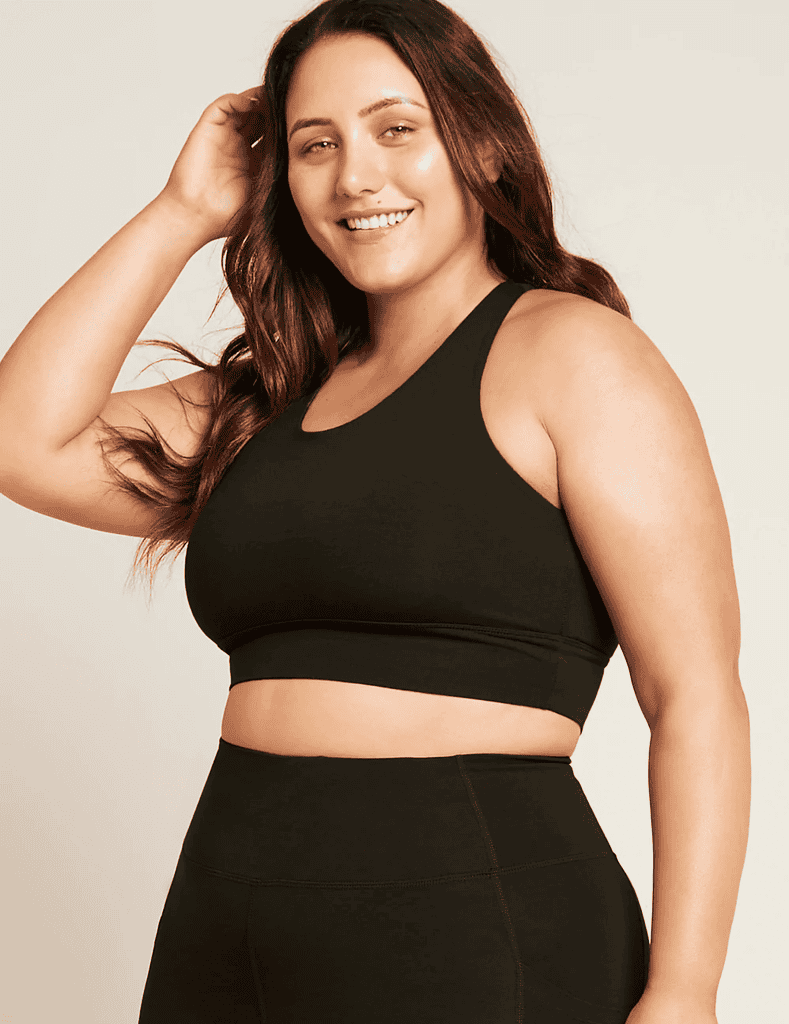 Certifications: Ecocert, FSC, Peta Vegan Approved, OEKO-TEX, ISO 14001, ISO 9001, Certified B corp
Available Products: underwear, bras, socks, bodysuits, leggings, loungewear, sleepwear, activewear, men's and baby products
Price Range: 13.95-98.95 USD (Approx)
Size Range: 30A-50G, hip: 33-53 inches
"It doesn't need to be that way – your clothes can be made better – with sustainable, mindful processes that don't harm our environment. We want to encourage conscious basics and a lean, green wardrobe."
Boody has some of the best sustainable underwear alternatives. Everything from their designing to the manufacturing and selling process is extremely ethical. They mitigate waste at every opportunity. Their garments are knitted in tubes which helps in reducing waste as compared to
Our manufacturing process is designed to mitigate waste at every opportunity. Boody garments are knitted in tubes, resulting in very little wastage compared to traditional cut-and-sew manufacturing.
All of their products are made from bamboo viscose which is not only sustainable but extremely comfortable and breathable. Bamboo viscose is thermoregulating, odor resistant, and super soft. No pesticides are used while growing bamboo, and all the water used for irrigation is rainwater which is reused and recycled.
They have collaborated with several organizations like Goodbye Malaria, Circle of Love Center, and Bridge of Hope San Diego to give back to society. Boody believes in complete transparency and is ready to answer any queries about their entire process. Just skimming through their website shows their dedication to sustainability.
Check out their website here!
---
Base Range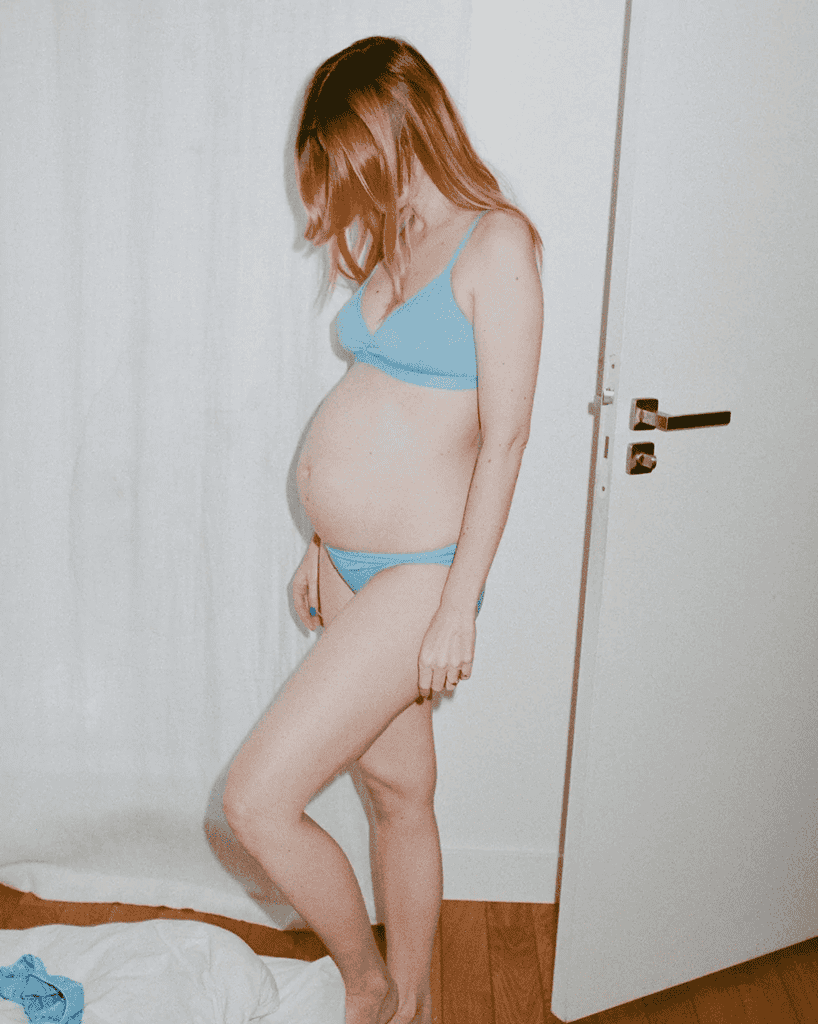 Certifications: long-term cooperation with certified suppliers, never used polyester or any artificial fabrics
Available Products: underwear, jumpsuits, swimwear, sweaters, tops, dresses, socks
Price Range: 30-110 Euros (Approx)
Size Range: bust: 30-37 inches hip: 34-42 inches
Baserange, a contemporary, minimalist apparel brand founded in 2012, focuses on elegant and simple silhouettes. The patterns, natural materials, and recycled materials are time-tested. Since its start, Baserange has made a commitment to finding and putting into practice cutting-edge methods to lessen environmental damage at every stage—from energy usage to water use to colors to packaging. The company partners closely and cooperatively with its manufacturers to find and create high-quality fabrics using both recycled and natural fibers.
With the aim of achieving ecological and humanitarian sustainability, Baserange is continually looking for better solutions within the sector and challenging its own methods. Utilizing natural, organic, or recycled materials is a priority for the company, and its production partners are often small, local family enterprises.
Check out their website here!
---
Summersalt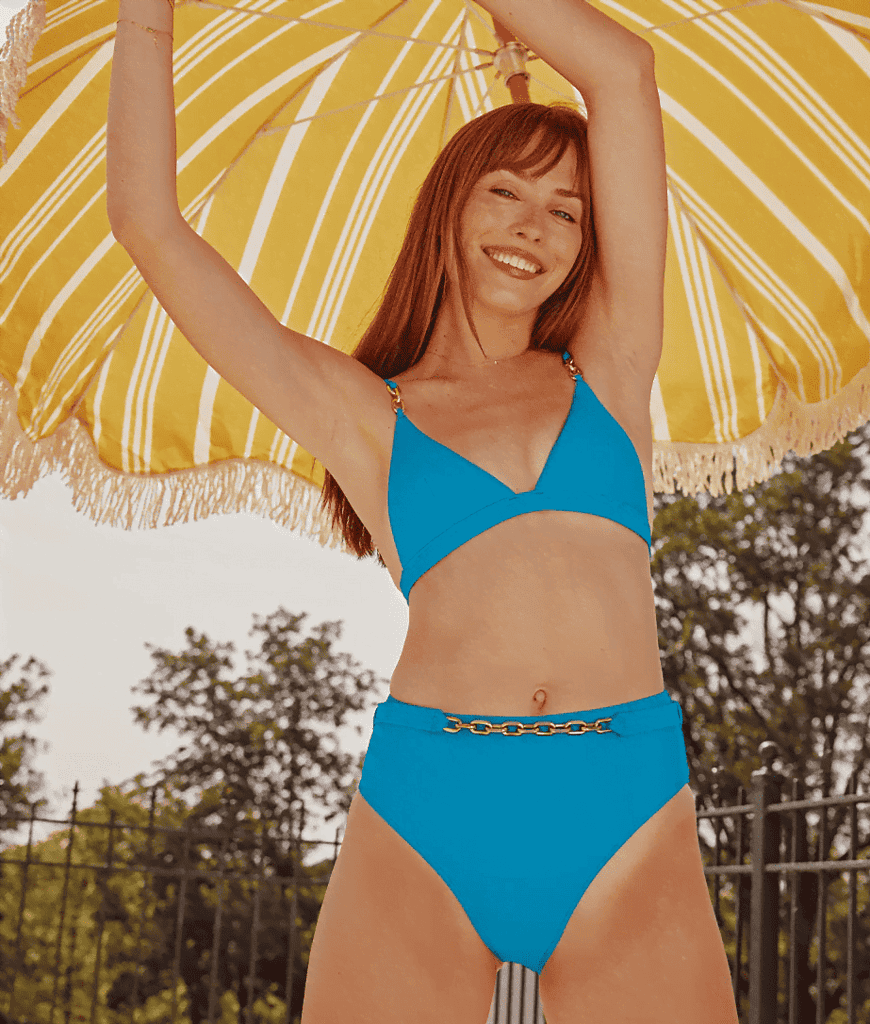 Certifications: factories have over a dozen international certifications acknowledging their sustainability measures across categories like biodiversity, recycling and water neutrality, factories have the WRAP certification or its equivalent, GOTS, BSCI, and GRS.
Available Products: swimwear, dresses, tops, bottoms, pajamas, bralettes, thongs, bikinis, briefs, bra camisoles
Price Range: 50-163 USD (Approx)
Size Range: bust: 30-52 inches hip: 32-50.5 inches
"We believe fashion and function should always play well together, packing for a trip should be stress-free, and that comfortable doesn't have to mean underdressed."
Summersalt is not like other brands. They are truly committed to size inclusivity. So much so that they took the measurements of 10,000 women to ensure it has the best sizing range.
They only use recycled materials to create fabrics and product packaging. For shipping, they use poly bags made from recycled materials. The only reason their swimsuits are packed individually is that it is required by regulation. They overwrite this by choosing sustainable alternatives. Their shipping mailer is also double adhesive for multi-use and waste reduction on returns. Finally, their postcards are made from recycled or FSC-certified paper.
Their swimwear is made of a compressive, luxurious fabric crafted from 78% Recycled Polyamide. These fabrics are crafted from post-consumer materials and nylon waste like old fishing nets that help reduce ocean waste.
Check out their website here!
---
Kotn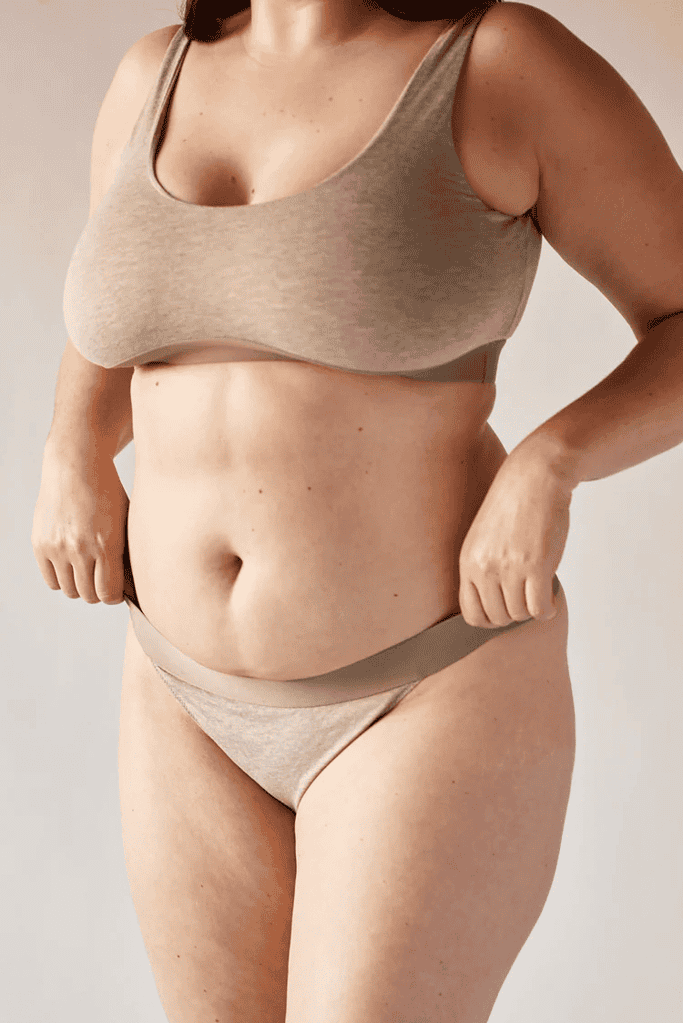 Certifications: Certified B Corp, BCI certified organic cotton, safe & fair labor standards, plastic-free packaging, OEKO-TEX certified
Available Products: T-shirts, tanks, dresses, bottoms, loungewear, underwear, socks, accessories, menswear
Price Range: 25-40 Canadian Dollars (Approx)
Size Range: bust: 28A-35FF, hip: 33-48 inches
"With each order, we invest in the creation of jobs, infrastructure, systems, and education to alleviate poverty and create shared, sustainable growth for the communities we are part of."
Kotn made the early decision that in order to create a long-lasting company, they would have to make investments in creating long-lasting communities for individuals who were a part of their supply chain. So they began at the root. They now collaborate with 2,390 smallholder farmers in Egypt's Faiyum and Nile Delta areas. Through these connections, they have developed a deep awareness of the needs and desires of these communities, collaborating with them to serve, uphold, and invest in their futures.
Kotn is a proponent of buying less and enjoying longer. A sustainable process that begins with them designing thoughtful, elegant items that are made to last and concludes with the consumers taking care of them for many years.
Kotn concentrates on the finest natural fibers, which have the ability to biodegrade at the end of their life cycle, to limit the number of micro-plastics leached from synthetic materials. In order to comply with international sustainability standards, their preferred fibers and materials are ecologically and socially progressive, and each is acquired through a transparent chain of custody that begins at the source: the farms.
Kotn is one of the best sustainable underwear choices as its pieces are affordable, dyed with non-toxic pigments, and extremely comfy.
Check out their website here!
Tentree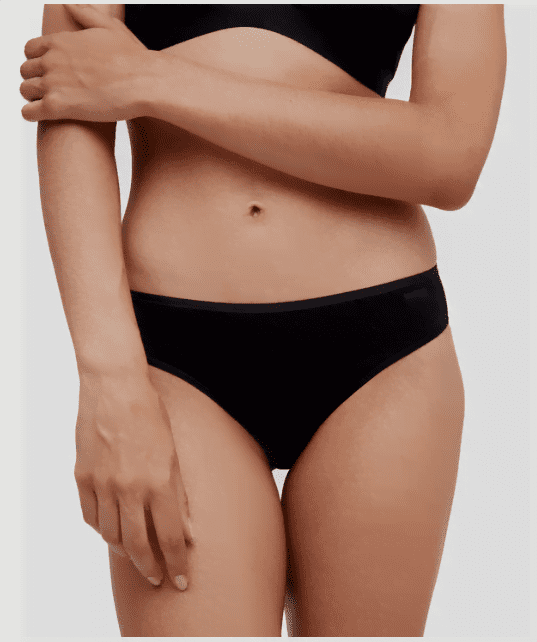 Certifications: Certified B Corp, Climate Neutral Certified, WRAP, BSCI, SA8000, or Fair Trade certified ethical manufacturing
Available Products: T-shirts, tanks, dresses, bottoms, loungewear, underwear, socks, accessories, menswear, kidswear
Price Range: 18-40 Canadian Dollars (Approx)
Size Range: bust: 31-44.5 inches, hip: 33.5-47 inches
"When it comes to that first layer, comfort is key. We set out to create underwear that feels like you're not wearing underwear at all — and we did it."
This sustainable lingerie brand plants 10 trees for each piece purchased in an effort to restore ecosystems, sequester carbon and create jobs for tree-planting in local communities all around the world. All of their goods are produced following an Earth-First philosophy, which calls for fair labor practices, a secure workplace, and the use of exclusively recycled and sustainably sourced materials in their construction.
They exclusively purchase the softest, most environmentally friendly materials available. All of Tentree's goods are produced with the environment in mind, whether it's a jacket made of 99% biodegradable materials or sportswear that helps divert trash from landfills. Utilizing materials that are ethically sourced, such as TENCEL lyocell, organic cotton, or REPREVE® recycled polyester, they are able to reduce the wastewater and emissions produced by conventional textile production. And although 98% of all of their goods are environmentally friendly, they are continually searching for new ways to innovate with things like recycled nylon, cotton, and textiles that are naturally colored or undyed.
This sustainable lingerie brand truly believes in transparency as they have described all the steps they've taken to be eco-friendly in detail.
Check out their website here!
---
Girlfriend Collective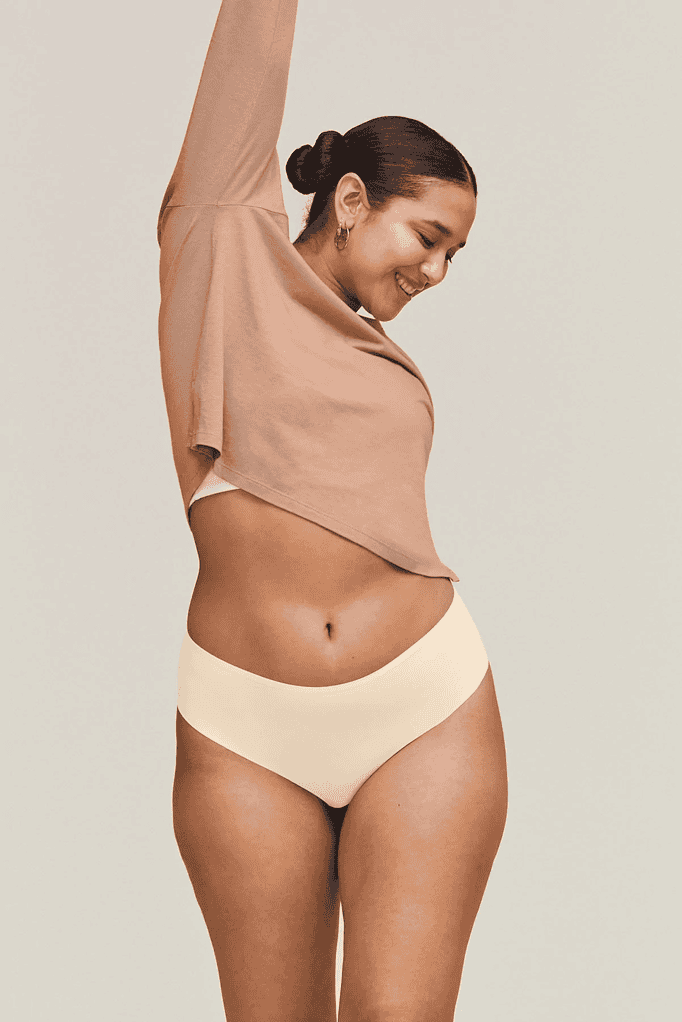 Certifications: SA8000 certified ethical production, recycled & sustainable materials, circular & take-back initiatives
Available Products: swimwear, matching sets, tops, bottoms, bras, undies, sleepwear, socks, accessories, dresses, jumpsuits
Price Range: 18-28 USD (Approx)
Size Range: bust: 30-60 inches, hip: 32-63 inches
"We believe good things come to those who don't waste."
Girlfriend Collective is one of the best sustainable underwear brands out there. Their packaging is 100% recyclable and reusable. Their clothes are made from recycled materials like post-consumer water bottles, fishing nets retrieved from the seas, fabric scraps, and other waste. Also, as you can see from their size range, they are very inclusive.
They ensure the safety of the workers in their factories. There is no forced or child labor, safe working conditions, and workers have the right to unionize.
Girlfriend Collective is sustainable in every way and one of our personal favorites!
Check out their website here!
---
Juliemay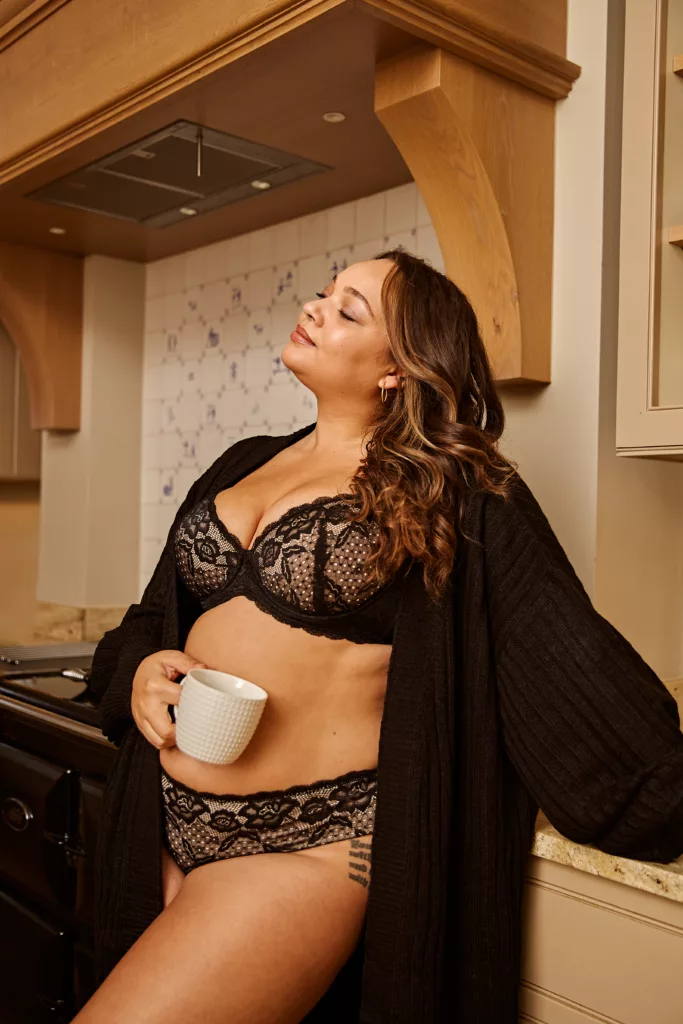 Certifications: ISO 140001 for achieving water and energy efficiency during production process, OHSAS 18001 for ethical and safe workplace conditions, GOTS certified Organic PIMA cotton, AllergyUK
Available Products: Comfort Bras, high waisted briefs, pure silk briefs, non wired bras, bralettes
Price Range: 29-85 USD (Approx)
Size Range: bust: 31-47inches, hip: 31.9-45.7 inches
"The basis of beauty is to get your body in the best comfort."
One of the high end sustainable lingerie brands on this list, Julie May does not compromise its ethical credentials in any way while providing customers with high-end comfort. All Juliemay products are made from GOTS certified organic Pima cotton and pure silk. Besides providing ready-made sizes, Juliemay also specializes in custom-made lingerie that are environmentally friendly, silky soft and antibacterial.
Juliemay has a host of authentic credentials that certify the brand's commitment to sustainability and workplace ethics. The brand also partners with initiatives that involve planting trees, recycling plastic bottles and helping people in Malawi transition to energy efficient stoves.
While it has glowing recommendations and testimonials from customers and noted media portals, Juliemay might be a little pricey- but remember that you will be investing in some genuinely great lingerie that will last and provide your seamless, supportive comfort all day long.
Check out their website here!
---
The Be Zen Take on Sustainable Lingerie
Sustainable lingerie that is eco-friendly and does not make your most gentle parts itch is the requirement of all. With these lingerie brands that are getting it right in terms of fabric, comfort and ethics, shopping for comfort made just for you should not be a problem at all. However, remember to check and re-check all the listed certifications and do your research. And if you are running short on time but want to source some really hot and happening, and genuinely eco-friendly brands, remember to download the Be Zen Chrome Extension and subscribe to our newsletter!
What we wear inside is perhaps as important, if not more than what we wear outside. To protect your softest and most proximate parts, it is highly important that you wear the safest, softest and loose underwear that allows you to breath. After all, the age of corsets has gone for good- and it's time for you to pamper yourself with what feels the best for you!