Presenting your reports and big ideas at work can be a source of great anxiety for you. For one, you'll need to prepare presentation materials as well as a winning spiel. But you'll also have to do other things to appear professional and create a strong impact on your audience. This is where the art of powerdressing comes in.
That said, it's important to understand that powerdressing isn't just about putting on a collared top or suit and calling it a day. If you truly want to dress to impress, you need to pay attention to your grooming and attitude as much as your outfit. You'll also want to dress to bring out your character, as this will help people remember you.
Got a career-defining meeting, pitch, or presentation coming up? Here's how you can set up a powerful look that will speak volumes about you and leave a lasting impression.
Prioritize Comfort and Fit
Powerdressing may entail veering away from casualwear, but that doesn't mean you have to wear uncomfortable clothing. People can tell if you're ill at ease with what you're wearing, which can affect how they perceive you.
As such, it's best to have an idea of the styles, fabrics, and silhouettes that you gravitate towards and that flatter you. For example, if you feel your best in tights and leggings instead of slacks, don't hesitate to experiment with these pieces for your corporate look. Consider investing in high-quality leggings for women that you can wear with an oversized blazer or under a fitted dress, either of which would make for a cute yet professional ensemble.
Apart from comfort, fit also plays a big role in powerdressing. Your clothes need to strike that balance between highlighting your figure and letting your body breathe. Essentially, your clothes should not look as though they're swallowing your body, nor should they be too tight so that your whole outfit looks unflattering. While you'd do well to veer away from clothes that overly restrict your movements, it's also best to avoid extremely loose clothing that makes you look as though the clothes are wearing you.
Invest in Go-To Businesswear
Even though big meetings like pitches and presentations don't happen every day, you still need to invest in businesswear essentials for when they're on your calendar. This will relieve you of the hassle of worrying about the next time you have to powerdress.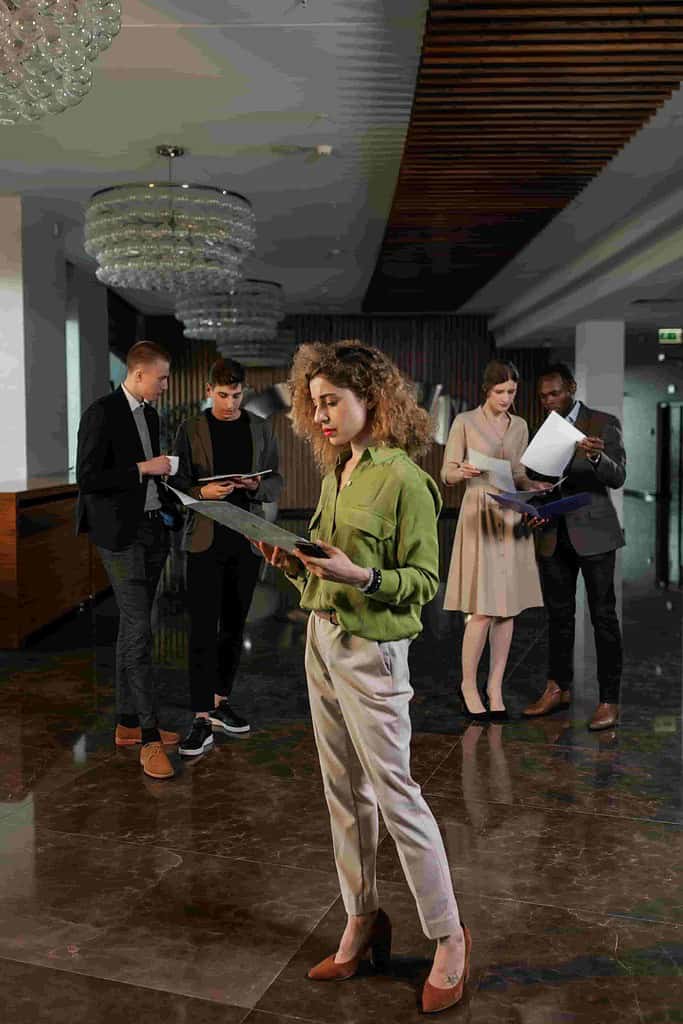 It would help to put together a capsule wardrobe containing timeless pieces that are easy to mix and match. These items include:
Blazers
Putting on a suit jacket or blazer over a plain top will transform your whole look and give you an air of authority. Blazers are highly versatile, which is why they always come in handy for both onsite and online meetings. If you're feeling bold and stylish, consider wearing bright-colored blazers to deviate from the usual monochromes and neutrals and to give your outfits some more pop on special occasions.
Button-Downs
Button-downs or boyfriend shirts are quintessential pieces that can make you look professional, but also laid-back and at ease with yourself. A classic white button-down can be paired with almost anything and still produce a polished outfit. Try investing in a loose button-down with elongated cuffs to add a trendy, yet edgy touch to your look.
Dress Pants or Slacks
Dress pants are another businesswear staple that can make you feel comfortable while retaining that sense of formality. They are also easy to pair with blouses, blazers, and button-downs along with a wide range of accessories. When opting for slacks, it's best to pair them with heels rather than flats or doll shoes.
Sheath Dress
The great thing about sheath dresses is that they highlight your body's most flattering areas but look formal enough for typical corporate dress. They will also look good with blazers if you want to layer up. To evoke that classic executive aesthetic, try wearing your sheath dress with a pair of pumps.
Pencil Skirt
A pencil skirt complements your figure and can be mixed and matched with simple tops, blouses, and button-downs. If pencil skirts are your thing, consider going for the timeless midi silhouette that can elevate your look without being too distracting.
Be Neat, Clean, and Well-Groomed
Aside from your outfit, one of the first things that people will notice about you is your grooming. No matter how well put together your ensemble may be, bad grooming can instantly downgrade your look and leave a bad impression on your audience. Worse yet, disregard for hygiene can detract the focus away from your bright ideas and interesting concepts.
When powerdressing, you'll need to pay attention to your makeup, hair, nails, teeth, and scent, among others. Make sure that your nails are clean and that your hair is neat and washed properly. In addition, it would be ideal to spritz on a subtle fragrance instead of wearing a perfume with an overpowering scent.
Mind Your Accessories
Accessories are necessary to complete any outfit. If you want to add some artistry to your look, consider wearing statement necklaces, earrings, bracelets, or watches. Aside from jewelry, hair accessories such as clips and headbands can help you tame your mane while serving as great complements to your overall ensemble. However, some people have a preference for minimal accessories. If this sounds like you, try wearing pieces such as a dainty necklace, an elegant bracelet, or a classic pair of studs.
Regardless of whether you choose statement pieces or more low-key jewelry, your accessories must harmonize with your outfit and not shift the focus away from your presentation. In addition, your accessories must not get in the way of your movements, especially since hand gestures are often a key part of public speaking. How you put your accessories together largely depends on your personal style, but as a rule of thumb, it's best to go for accessories that accentuate your face and body without making you look overdressed.
Carry Your Outfit with Confidence
At the end of the day, the most important element you need to wear is confidence. You can't exude the air of a confident professional if you seem too conscious and uncomfortable in your clothes. A well-designed ensemble is nothing if the wearer lacks the self-assurance to make it work.
All in all, the key to powerdressing is wearing outfits that make you feel like the best version of your professional self. Whether your big day will take place online or in the boardroom, your goal should be to put together a look that perfectly fits the boss that you already are.