Have you ever dreamt of traveling the mountains on your bike? It feels fascinating to defy gravity and experience the thrill of flying past trees at the speed of light. We know what you're thinking: "But I'm just a beginner!" Fear not, as we present the definitive guide to electric mountain bikes for beginners.
It has been found that sales of electric mountain bikes have increased by 145% in the last three years. People are no longer interested in their simple and boring bikes!
So, have you ever wondered how these two-wheeled magical creatures operate? Or perhaps you are interested in the most beginner-friendly models? Read along as we take you through this beginner's guide to nature-friendly bikes.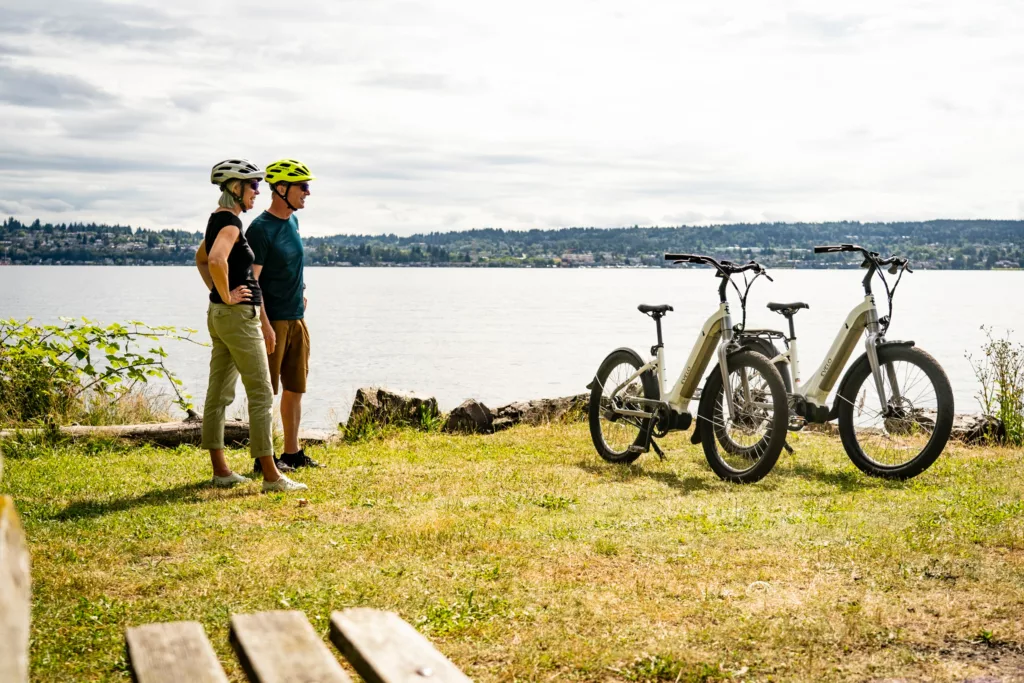 Why Choose Electric Mountain Bikes for Beginners?
Having discussed the important components of E-MBTs, the question arises – why should a rider seeking thrill buy it in the first place? What about the purchases of electric mountain bikes for beginners? An electric mountain bike serves many benefits apart from its eco-friendly nature. Let's get into this.
More Power
First is the power. With advanced technology and motors so strong, electric mountain bikes offer rides that are as smooth as butter (even on the bumpy ground!). Electric mountain cycles for beginners have received attention worldwide, with everyone switching to these bikes for their treacherous journeys.
Better safety
Nevertheless, this power is only the tip of the iceberg. Safety is what matters the most! Electric mountain bikes provide a sense of security and command, allowing you to navigate difficult trails confidently. You can navigate difficult corners without breaking a sweat (well, maybe a little). Statistics show that e-MTB riders sustain substantially fewer injuries than their non-electric counterparts. Whoever said adrenaline junkies can't be shrewd in their escapades is incorrect.
Better adaptability
Now, let's discuss adaptability. Electric mountain bikes for beginners or experts are not limited to difficult and jumpy paths. They are also used for recreation. Imagine choosing the right e-bike for an eco-friendly ride for your holiday camping while your coworkers travel in a car. That's boring! Riding an EMBT is like having a loyal companion who adapts to your every desire.
How to Choose Electric Mountain Bikes for Beginners?
Mountain biking for beginners sounds thrilling indeed. In a market full of choices and variations, it often gets difficult to navigate your way. Therefore, it is equally important to choose the right e-bike before using electric bicycles for off-road trails.
Now, how to make a decision? Every single one of them looks more or less the same. Is there any way to differentiate between these e-bikes? Well, worry not, as this guide is here to help you determine the factors that must be considered before deciding on a purchase.
Skill Level
Evaluate your competence level. Ideally, an electric mountain bike for beginners should provide stability and control. Consider models designed particularly for beginner mountain biking, with features such as wider tires for enhanced traction and a comfortable, upright riding position.
Power
Now, let's speak power! Class 1, Class 2, and Class 3 are the typical classifications for the pedal-assist levels of electric mountain cycles. Class 1 assistance is available up to 20 mph, while Class 3 assistance is available up to 28 mph. Remember that specific off-road trails may have maximum speed restrictions, and choose accordingly.
Battery Life
Battery life is an additional essential factor. Consider E-MTBs with batteries that can manage your desired trail distance. On average, modern E-MTBs offer pedal-assist ranges between 20 and 60 miles. Consider the terrain and your intended riding manner when choosing an appropriate battery capacity.
Suspension
Suspension is a game-changer, indeed. Most E-MTBs have either front suspension (hardtail) or front and rear suspension (full suspension). Full-suspension bicycles offer superior control and comfort on rugged terrain but are typically more expensive.
How to Maintain an Electric Mountain Bike?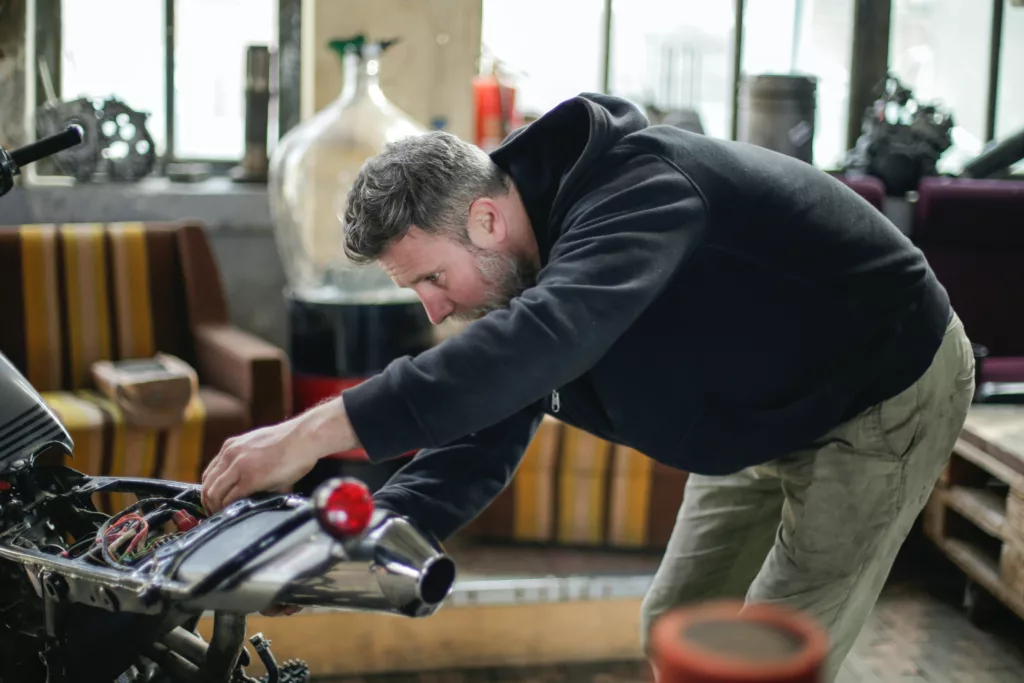 We know that electric mountain bikes (E-MTBs) are revolutionizing our ability to navigate off-road trails with simplicity and elegance. However, did you know that regular maintenance can significantly extend the life of your dependable motorcycle? Let's delve into the specifics of maintaining your e-bike in good condition!
Clean your E-bike
Cleanliness is next to godliness. Muddy adventures are thrilling but can wreak havoc on your bicycle's parts. Remember to thoroughly wash your bicycle after every muddy journey, paying special attention to the chain, gears, and brakes. A clean bicycle is a cheerful bicycle.
Watch your Tires
Here's a fact to blow your mind: did you know that the average e-bike owner travels approximately 25 miles per week on their steadfast mount? That's a lot of exploits! Keep an eye on your tire pressure to assure long-distance, comfortable rides. Not only do properly inflated tires improve your bicycle's performance, but they also reduce the risk of punctures.
Look After the Battery
The battery is the heart and essence of your e-MTB. The magic juice fuels your journeys and allows you to climb those inclines effortlessly. The battery should be stored in a cold and dry location when it is not in use. And remember to charge it frequently, preferably after every journey. You wouldn't want your battery to have a sudden outburst halfway up a mountain, would you?
In a nutshell, maintaining and caring for your e-MTB is not merely a chore but a method to ensure a future filled with countless exciting adventures. Remember to keep your bicycle clean, maintain proper tire pressure, and treat your battery as if it were your closest friend.
Popular Electric Mountain Bikes for Beginners
Many brands have come up with their own electrifying models of e-bikes. Manufacturing, as well as the usage of e-bikes, are built on the same principle – their eco-friendly nature. Due to rising consumer demand and awareness of environmentally friendly production methods, brands are developing new ways to produce excellent e-bikes. Some of these popular brand models are provided below: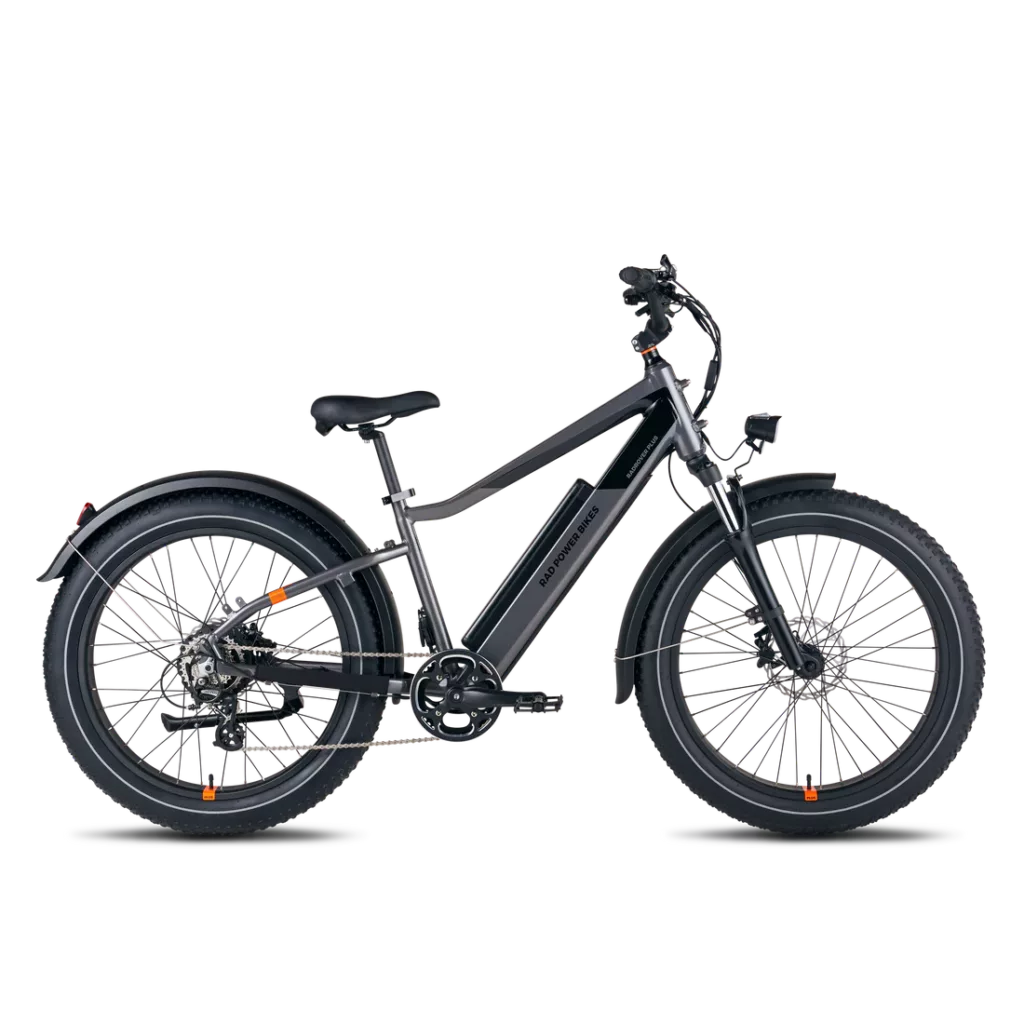 This electric wide-tire bike from RadRover features a 750W motor for impressive off-road performance. It offers superior traction and stability on various terrains due to its large, 4-inch-wide tires. In addition, it has a durable battery, an integrated headlight, and a robust frame.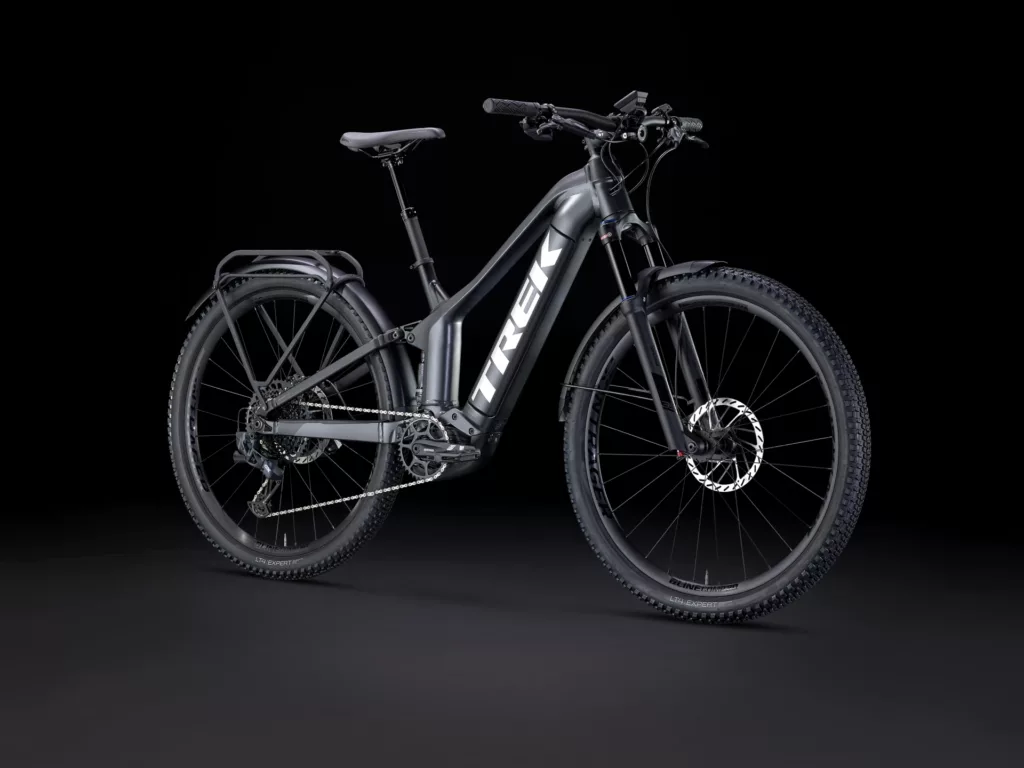 The Powerfly is a versatile electric mountain bike with a responsive Bosch Performance Line CX motor that provides robust assistance on steep ascents. It has a sturdy aluminum frame, reliable Shimano components, and a removable battery for straightforward recharge. For enhanced control, the bicycle also features an adjustable suspension and hydraulic disc brakes.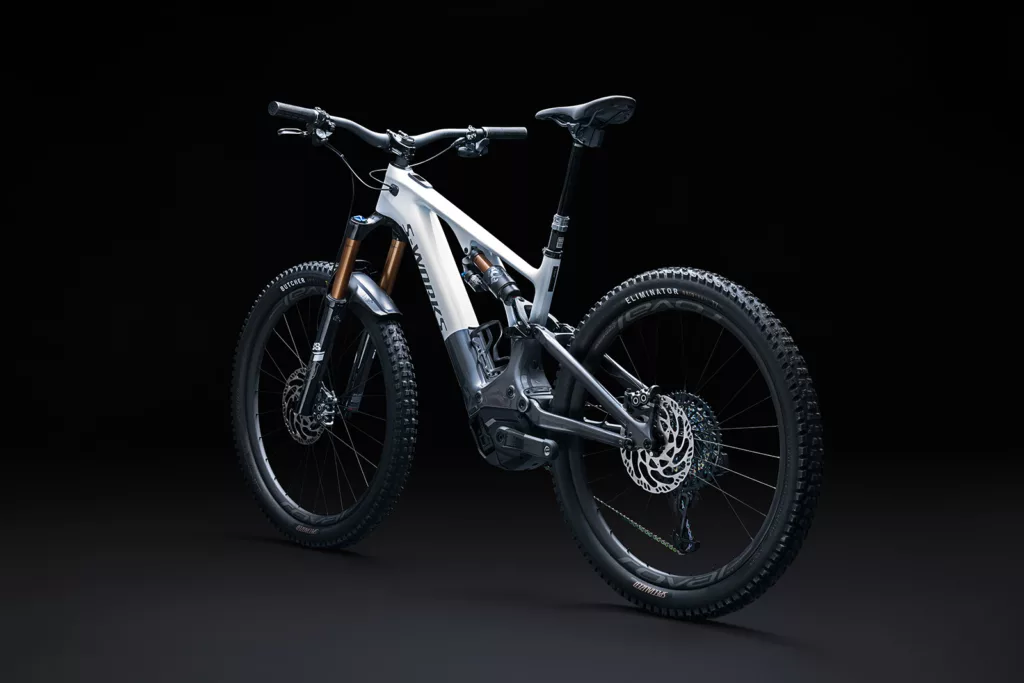 The Specialized Turbo Levo is a high-end electric mountain bike with a streamlined design and innovative features. Its robust Brose motor provides smooth and silent assistance, while its M5 alloy frame guarantees durability and skill. The bicycle features a user-friendly display, motor settings that can be customized, and a long-range battery for extended journeys.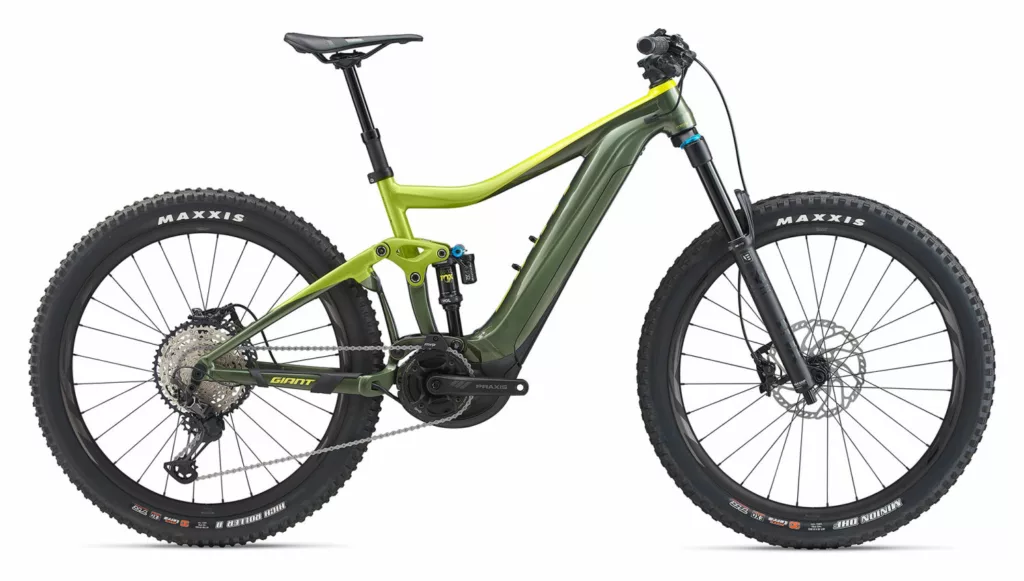 The Trance E+ is an electric mountain bike with full suspension specializing in trail riding. It features a SyncDrive Pro motor that provides intuitive and robust support. The ALUXX SL aluminum frame is durable and lightweight, while the Maestro suspension system provides superior traction and control. The bicycle also has a dependable Shimano transmission and effective hydraulic disc brakes.
Tips for Electric Mountain Bikes for Beginners
Electric mountain biking (eMTB) is the ideal method to experience the excitement of off-road adventures while receiving a boost from your reliable e-bike. Whether you're an experienced cyclist or a complete beginner, the following tips will help you kickstart your biking journey:
Safety
Safety should be your utmost priority. Wear your helmets, knee and elbow pads, and gloves to avoid serious harm in case of potential accidents. A recent study revealed that wearing a helmet significantly reduces the risk of head injuries by sixty percent. Therefore, attire yourself and travel safely!
Essential accessories
Investing in proper equipment is essential. Ensure that your e-bike has an appropriate motor and battery capacity for off-road trips. Choose strong tires with excellent traction to travel a variety of terrains. Remember to carry a hydration pack, a repair kit, and a first-aid kit for emergencies.
Get comfortable
Practice using the various power modes and become familiar with the brakes. Understanding the capabilities of your bicycle will increase your self-assurance and make your rides more delightful.
Gradually increase difficulty
Choose easy trails when beginning to develop your skills and confidence. Concentrate on maintaining balance, navigating turns, and avoiding obstacles. As your skill develops, gradually increase the level of difficulty of the trails. Keep in mind that practice makes perfect!
How to Find Beginner-Friendly Trails?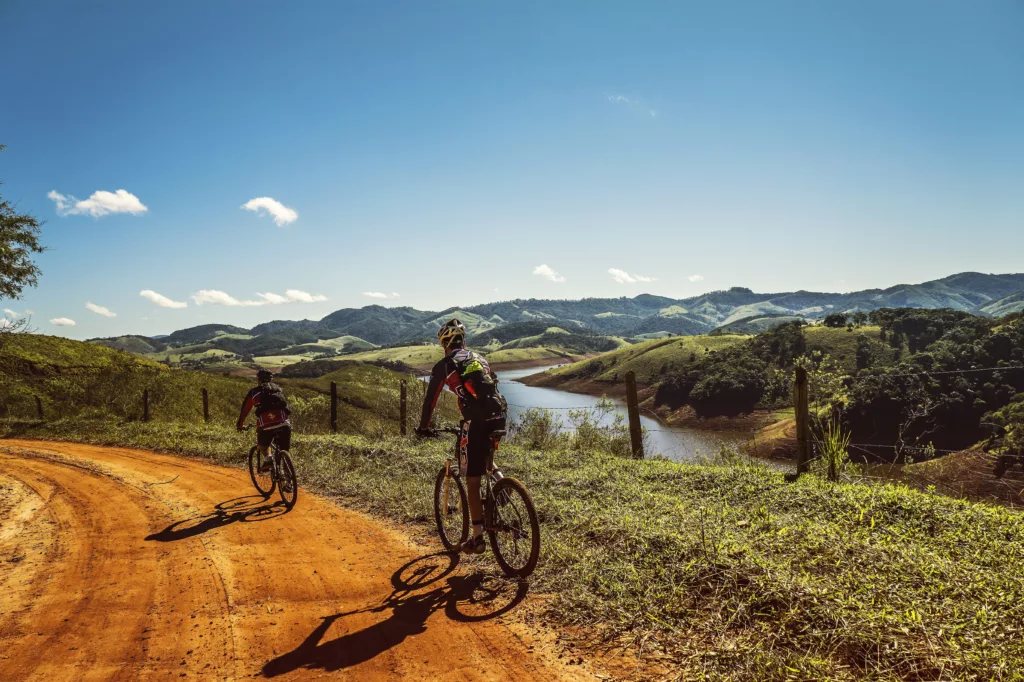 Before you experiment with your newfound abilities on the trails, it is important to determine the locations. Deciding on a location for a beginner can be tough and therefore requires awareness, connections, and familiarity with riding. If you have bought your e-bike and are ready to explore new locations, just read the tips below:
Local Bike Shops
Visit your neighborhood bike store and inquire about beginner-friendly trails in the region. They often have firsthand knowledge of local trails and can advise you on routes suitable for eMTBs and beginner riders.
Online Trail Databases
Investigate online resources such as Trailforks, MTB Project, and AllTrails, which offer exhaustive databases of mountain bike trails. These platforms enable trail searches based on difficulty level, user ratings, and other criteria.
Local MTB Associations and Clubs
Make contact with local mountain bicycling associations and clubs. They frequently provide trail maps, group rides, and events for cyclists of all skill levels.
State and National Parks
Numerous state and national parks have designated mountain biking trails that are suitable for riders of varying skill levels. Check their websites or contact park officials to inquire about beginner-friendly trails.
Electric Mountain Bikes for Beginners: The Future Ahead
The coming future of electric mountain bikes (EMTBs) is nothing short of electrifying! Riders and beginners, hold on tight and fasten your helmets as we explore the thrilling possibilities that lay ahead. According to a report published by Fior Markets, the global market for electric bikes is expected to reach $27.26 billion by 2025.
EMTBs are also carving their own space in this huge market. As more beginners discover the thrills of off-roading, manufacturers are investing in cutting-edge technology and design to meet the rising demand. EMTBs are becoming more versatile and competent than ever before due to advancements in battery life, motor power, and suspension systems.
Final Word!
Electric mountain bikes for beginners offer a marvelous introduction to the world of off-road adventures. With their strong engines and beginner-friendly features, these bicycles open up an entirely new area of exploration and enjoyment. Electric mountain bikes are your ticket to an electrifying journey, whether pursuing an adrenaline rush or a pleasant ride. So, put on your helmet, feet on the pedal, and seek the thrill!
Want to dive deeper into the world of electric mountain bikes for beginners? Head over to Ecowiser for a wealth of valuable insights, expert reviews, and comprehensive guides.