Veganism has seen a rapid rise in popularity over the last decade, and with it, the demand for plant-based alternatives to dairy products has skyrocketed. Another reason for the surge of fans in the vegan wagon is the several ethical concerns that surround the Big Dairy and its draconian treatment of cattle.
Cheese is a fan favourite of several people around the world. This dairy by-product can add an elevated dimension to your dishes, especially if you are talking about some good ol' mac and cheese or some garlic bread. It is also one of the most challenging foods for newbie vegans to give up.
After all, it isn't easy to imagine life without the sharp-tasting, gooey delight when we mention it so often, even while clicking a picture or throwing corny pick-up lines.
But fortunately, there are now plenty of vegan cheese brands on the market that offer delicious and satisfying alternatives to traditional dairy-based cheeses.
Vegan cheeses are making their foray into shopping carts and vegans do not have to miss out on the fun of it. In this article, we'll take a closer look at some of the best vegan cheese brands in the US.
We will also address some questions you may have about vegan cheese- from production, to manufacture, to distinguishing the best from the rest- this is certainly not a cheese in the trap situation!
Our 10 Best Vegan Cheese Recommendations for Great Recipes and Standalone Snacks
Daiya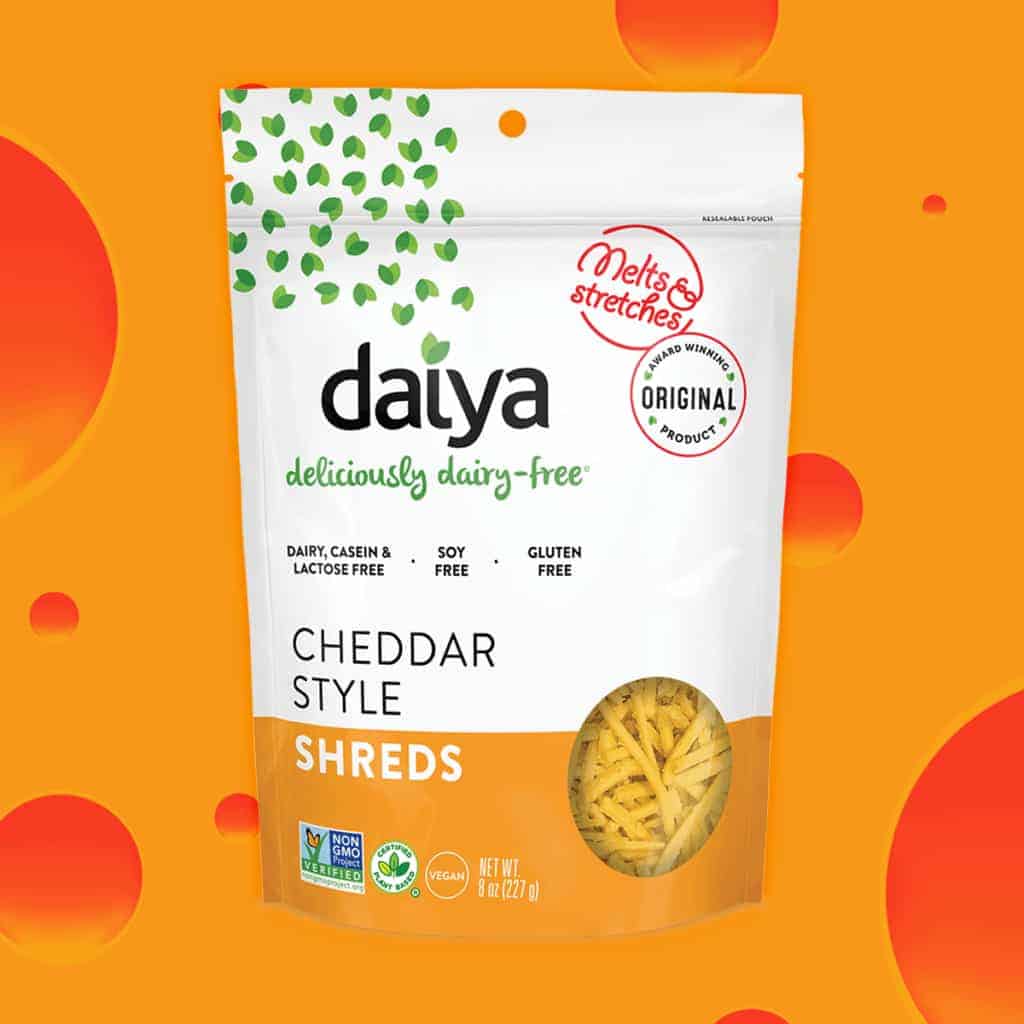 Daiya is one of the most credible vegan cheese brands in the US market currently. Their products are primarily made from cassava root and potato starch. Those with product allergies can freely relish this plant-based cheese brand as it is soy, gluten, and nut-free. Daiya's cheese shreds, slices, and blocks are quite versatile and can be used in a range of recipes. The brand also offers vegan mac and cheese, cheese sauce, and cream cheese variants, making it an excellent all-around option. The brand also carries seals like certified vegan, certified plant-based, and Non-GMO verified.
---
Violife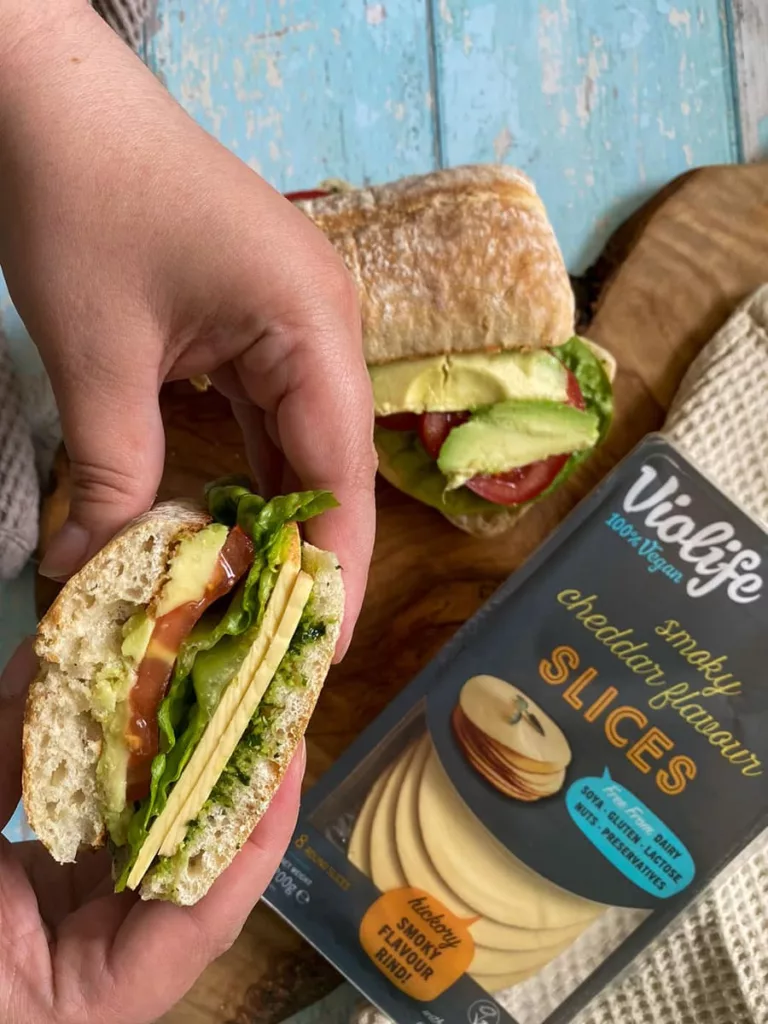 Violife is a Greek company catering to the demand for vegan cheese in several markets. The products are made with a coconut oil base, and are available in a range of flavors and textures, from creamy feta to sharp cheddar. Violife's products are also free from soy, gluten, nuts, and GMOs, making them a great option for those with allergies or dietary restrictions. The cheeses are also fortified with Vitamin B12, which should assure you about their nutritional value.
---
Follow Your Heart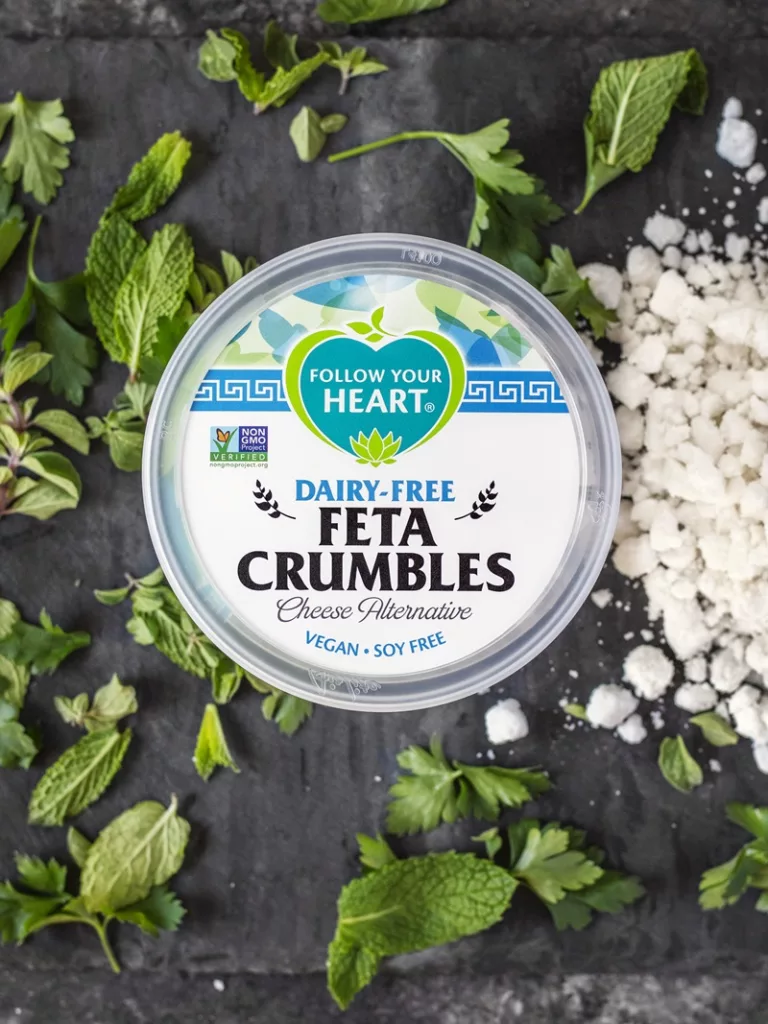 Follow Your Heart is another well-established vegan cheese brand that has been around since the 1970s. Their products are made with a base of soy or pea protein. All Follow Your Heart cheeses are free of dairy, gluten, and nuts, and will suit everyone, even those with a severe aversion to the mentioned ingredients. Follow Your Heart's cheese shreds, slices, and blocks are great for melting, and they also offer vegan cream cheese, sour cream, and mayo. The company is highly driven and committed to sustainability and uses non-GMO ingredients and eco-friendly packaging. We have previously featured the brand on our list of gourmet vegan mayo brands previously!
---
Miyoko's Creamery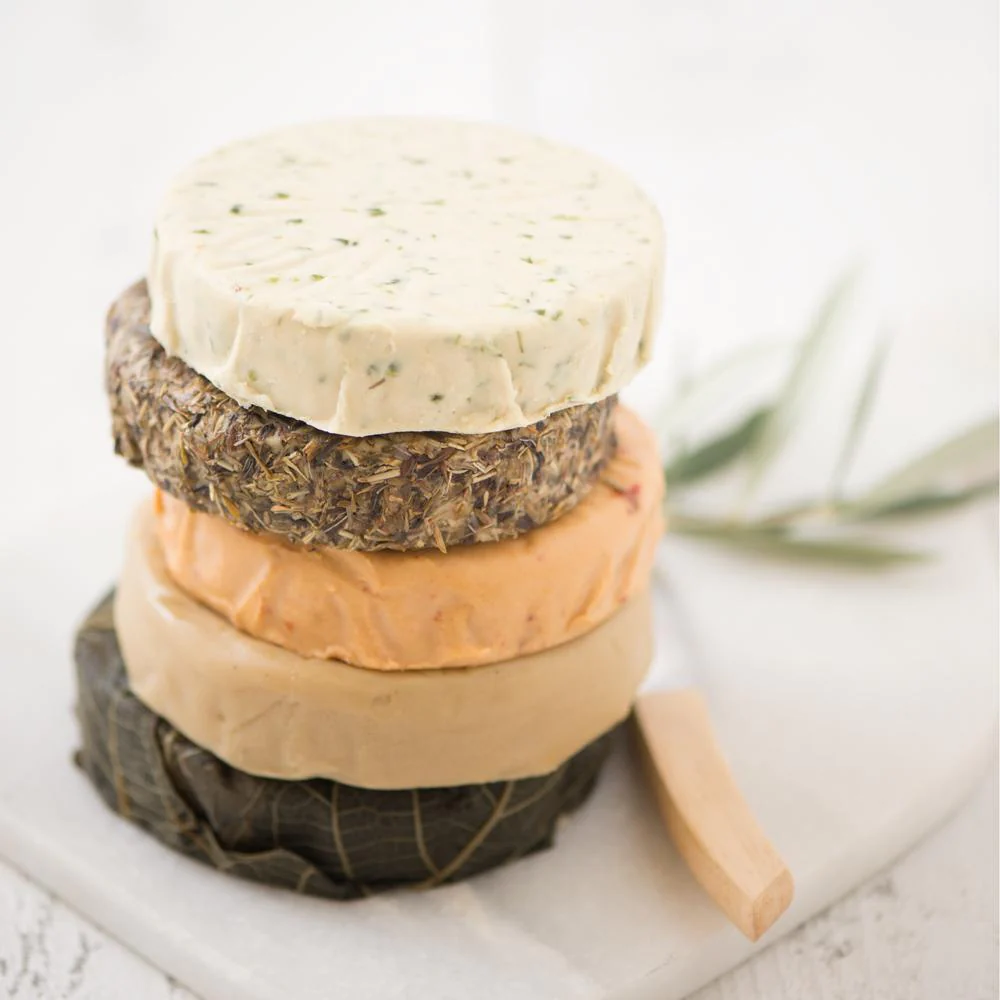 Miyoko's Creamery is a newer brand that has quickly gained a loyal following among vegans and non-vegans alike. Their products are made with a base of cashews or oats. The flavor profile and creamy texture make this brand one of the most famous artisanal vegan cheese picks. Miyoko's Creamery offers a wide range of flavors and textures, from smoky mozzarella to creamy chive, making it a versatile option for cooking and snacking. Miyoko's Creamery is also committed to sustainability and sources its ingredients from organic and non-GMO farms. The brand also found a place on PETA's list of best artisanal dairy-free cheeses, which is all the reason to try it at least once!
---
Kite Hill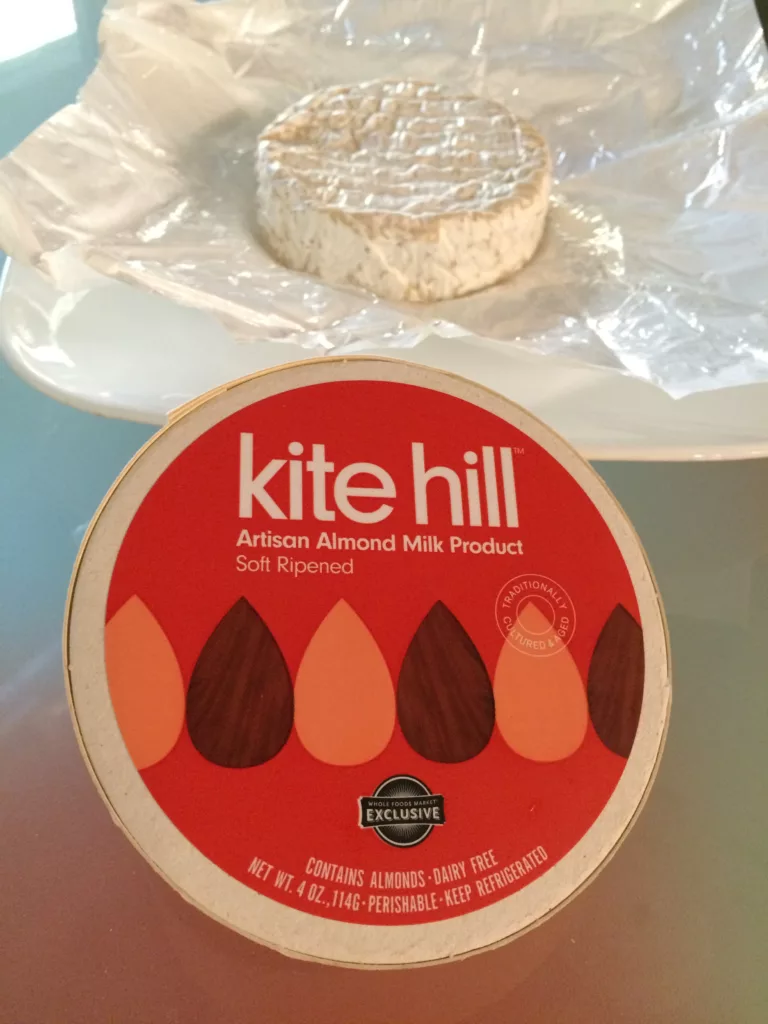 Kite Hill specializes in almond-based cheeses and has been around since 2013. Their products are free of any dairy, gluten, and soy. All Kite Hill cheeses are made from high-quality ingredients that are organic. The only downside is that the brand might not appeal to those who are allergic to nuts, as it uses organic almonds as a primary ingredient. Kite Hill offers a wide range of flavors, from garlic and herb to truffle, and their products are great for spreading on crackers or topping salads. Kite Hill is also committed to sustainability and sources its almonds from farms in California.
---
Field Roast's Chao Range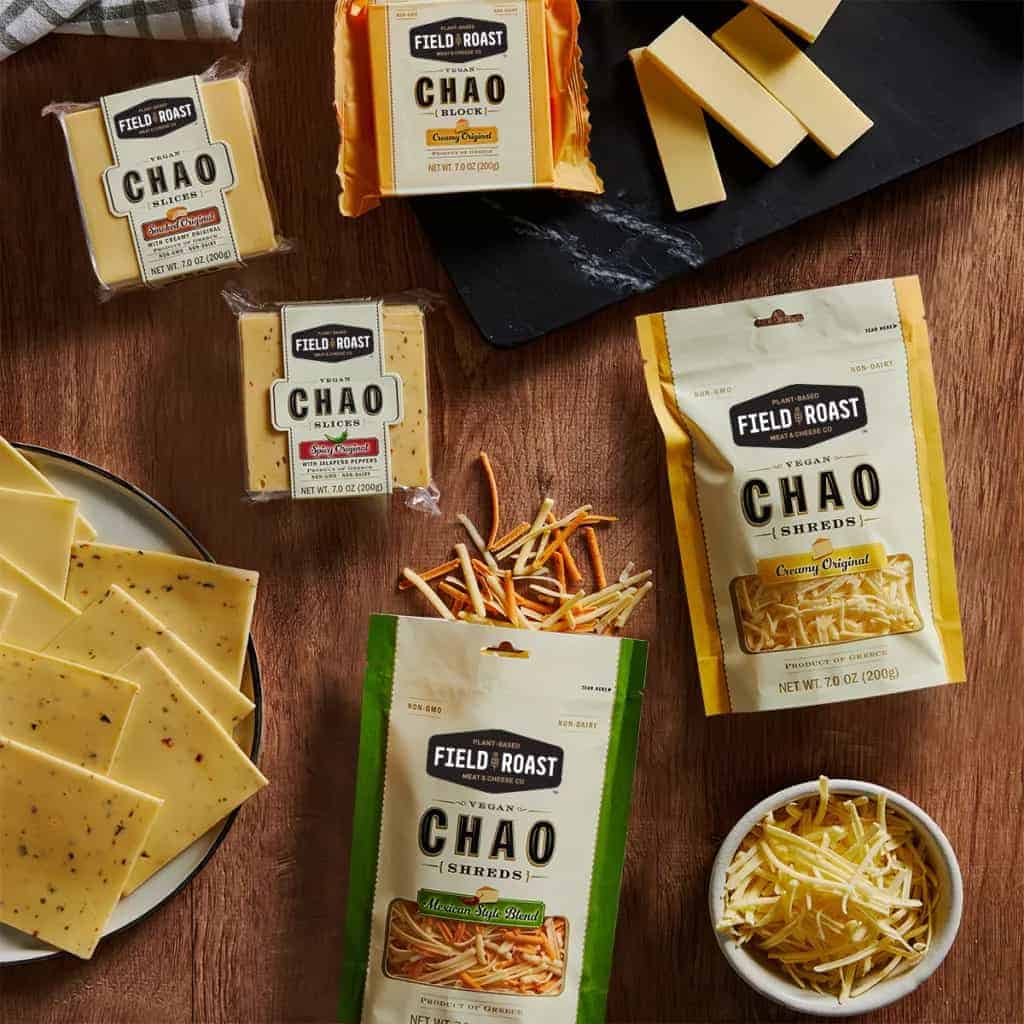 Field Roast is a plant-based food company that brands its vegan cheese range under the 'Chao' banner. The products are made with a base of tofu and coconut oil and are free from dairy, gluten, and nuts. It offers a range of flavors, including creamy original and spicy tomato cayenne, and its products are great for sandwiches and burgers. Field Roast uses only certified Non-GMO ingredients in its products. The brand also dabbles in making plant meat and has been awarded by PETA for its constant commitment to upholding carbon-neutral practices and being one of the top-performing vegan brands.
---
Treeline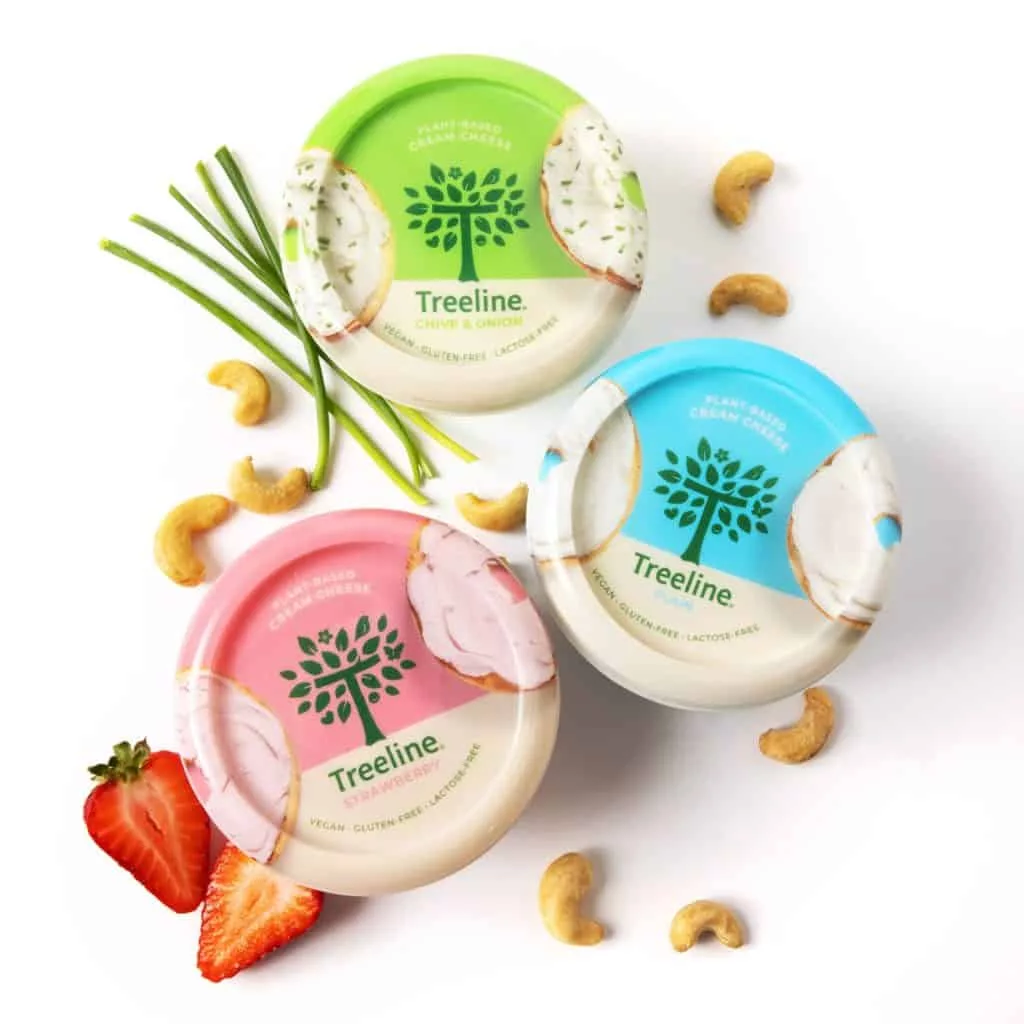 Treeline is a brand that specializes in vegan cheese and has been around since 2010. It uses a rich and creamy cashew base which is noted for its close to the original dairy texture by several culinary experts and customers. Their products are free from dairy, soy, and gluten and are made with organic cashews. Treeline offers a range of flavors, including herb garlic and chipotle serrano, and their products are great for snacking or adding to salads. The cheese spreads are an excellent accompaniment to oat flour bagels.
---
Vtopian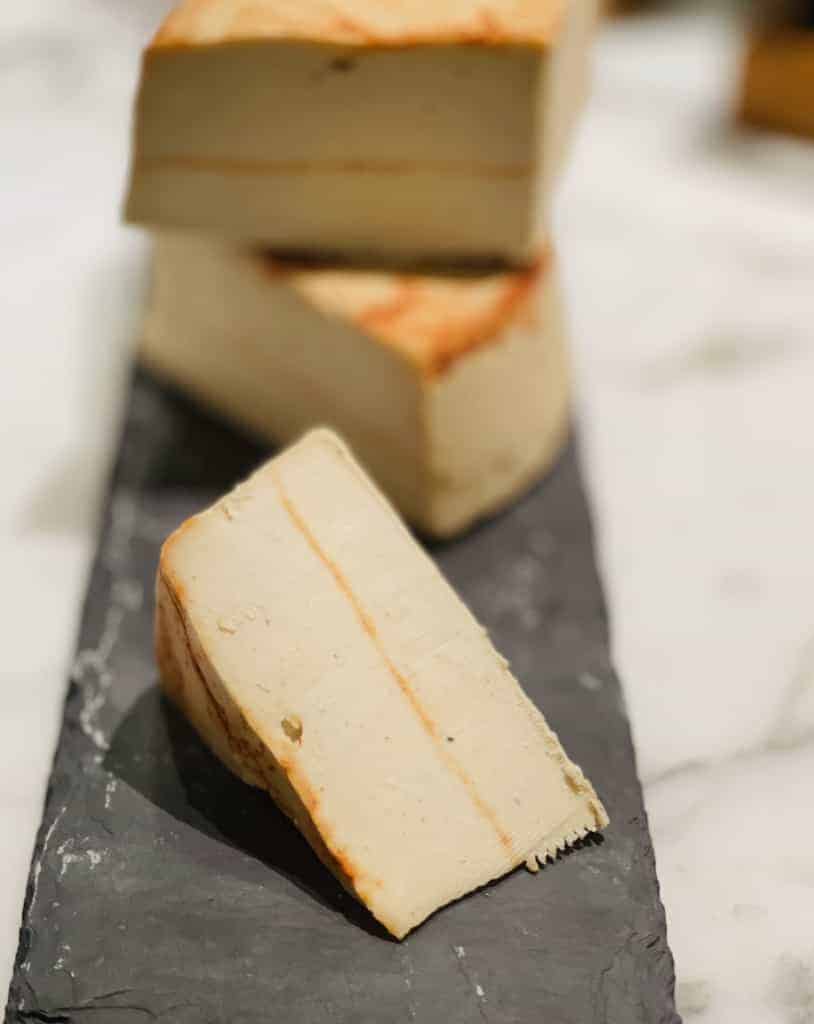 Vtopian is another vegan cheese brand that offers a variety of plant-based artisanal cheese alternatives made from cultured cashew cheese. Their products are known for their complex flavor profiles and creamy texture. Vtopian cheeses come in a variety of flavors, including camembert, feta, and smoked gouda which is extremely close to the real dairy-based stuff. This Portland-based company is a far cry from the standard cheese brands as it does not use artificial colors or flavorings.
---
Tofutti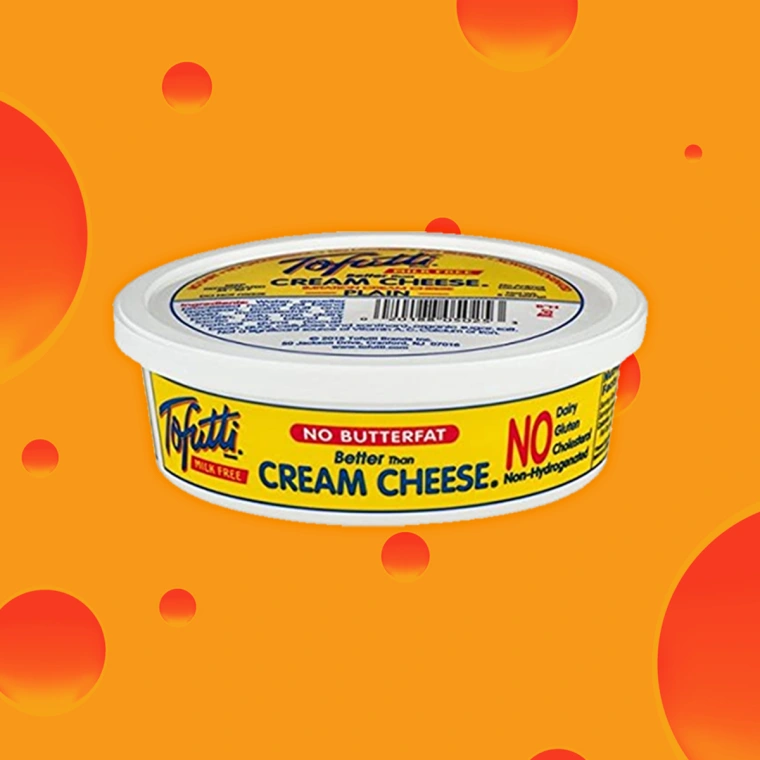 Snacking becomes better with Tofutti's vegan cheese range. The brand is one of the oldest features on our list and has an impressive report card of happy customers to show. Tofutti initially began as a Kosher-friendly brand and does not feature dairy in any measure. However, those with soy allergies should look for another brand as Tofutti products are soy and gluten-based. What we really liked though is the company's transparent ingredient list which mentions all that goes into it.
---
Wildbrine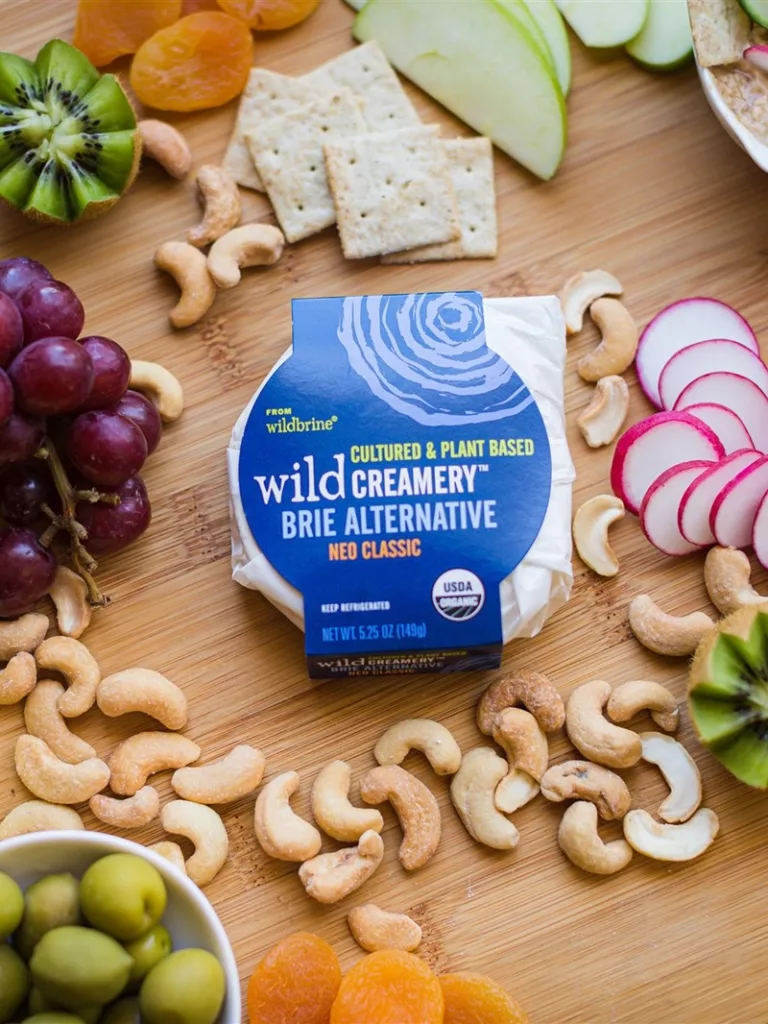 Last, but not least, we have Wildbrine's range of ultra-creamy and completely plant-based cheeses. What makes the brand special is its promotion of the wild fermentation process. Wildbrine's methods and practices not only give their cheeses a flavor different from the rest, they are also highly planet positive and sustainable. Although the brand uses the lactobacillus culture found in dairy cheeses, the genus is derived from a vegan substrate. Wildbrine uses USDA Organic-certified ingredients.
---
What Makes Vegan Cheese Different and Better From Normal Dairy Cheese?
Vegan cheese is definitely better than normal cheese from an ethical perspective. Given how the dairy industry treats milch cattle and calves, choosing a product and a brand that does not support cruel practices is highly important.

However, cruelty-free is not the sole merit in the kitty of plant-based cheeses. Several people are allergic to dairy, which makes it difficult for them to consume cheese. In this case, plant-based cheeses accommodate them and do not deprive them of the same gourmet experience dairy lovers adore.
Another expert-endorsed opinion about vegan cheese is the lack of cholesterol. Dairy-based cheese is rich in saturated animal fats and high on cholesterol. While we love cheese for being ultra-rich, the high cholesterol content can lead to heart ailments.
Since vegan cheeses contain less saturated fat, they are a good option health-wise and certainly better than dairy cheese. You can also skip dangerous trans-fats while going vegan and still be on the right path to complete nutrition.
The most fun part is that you don't even have to sacrifice your cravings or knack for taste just to go vegan.
But Does Vegan Cheese Taste Better?
This is quite a debatable question and depends on consumer preferences. Several people who have tried vegan cheeses have found it to be extremely dry and grainy instead of creamy.
On the opposite end are vegan cheese fanatics who swear by the richer texture and taste of vegan cheeses, especially the ones made from cashew. If we are to give a coherent verdict on taste, we would say that it actually differs because vegan cheeses can be made from several ingredients.

The most preferred ingredients for making them are cashews, soy, almonds and oats. Oats have a relatively plain taste profile and are the ideal blank canvas if you do not like the nutty taste of cashew or almond cheeses. Soy cheeses are also popular, but they do have a distinct flavour to them.
Which Vegan Cheese Should I Prefer?
Since we have already suggested several brands to you, we will deal with the quality and certification aspects here. You should be careful about choosing your products.
The vegan tag can also be highly misleading as it can be attractive. The reason for this is that several companies dabble in making vegan products but also have a thriving meat-producing or dairy business. Choosing completely plant-based brands is preferable to go for those with dubious integrity.
The second aspect you should consider is whether those cheeses are artisanal or not. While we aren't completely discrediting machine production, we think that sustainability is also about supporting communities that engage in manual production.
Artisanal cheeses are handmade goods that are made with traditional methods. Although these cheeses can be a little pricey, but they are also support systems for vulnerable and small communities. Moreover, they are way more complex as far as their flavor profile is concerned.
The third aspect of it all is certifications and the right ones. Choose brands that feature authentic seals like USDA certifications and the Non-GMO certification. Certifications and professing fair credentials form a huge part of corporate climate action and ethics. Double-check with your brand in case of any doubt to ensure that you are endorsing a genuinely good enterprise.
What Do We Have to Say on Vegan Cheese?
We think that vegan cheeses are a great way to make your plate more cruelty-free without compromising on your tastebuds. The best part about it is that it is about exploring a whole new world out there without harming innocent lives.

Moreover, vegan cheeses can be a great option for those who are averse to dairy. If fortified and made from the right ingredients without much use of emulsifiers and artificial flavors, vegan cheeses can be as nutritive as dairy cheese.
So, if you wish to relish the sharp-tasting delights while being cruelty-free, do give vegan cheeses a try! For more recommendations like these and recipe guides where you can use plant-based cheese, check back on our blog for new updates!