Online shopping and social media have given rise to the unique phenomenon of online second-hand shops. There is a rising demand for apps to sell clothing as it is not only an easy to make some extra cash but is also eco-friendly. Consumers now have a far better avenue to get rid of clothing instead of dumping it and polluting the environment.
With this in mind, we are here to give you a 101 on resale shopping and tell you about some of the best clothing resale apps.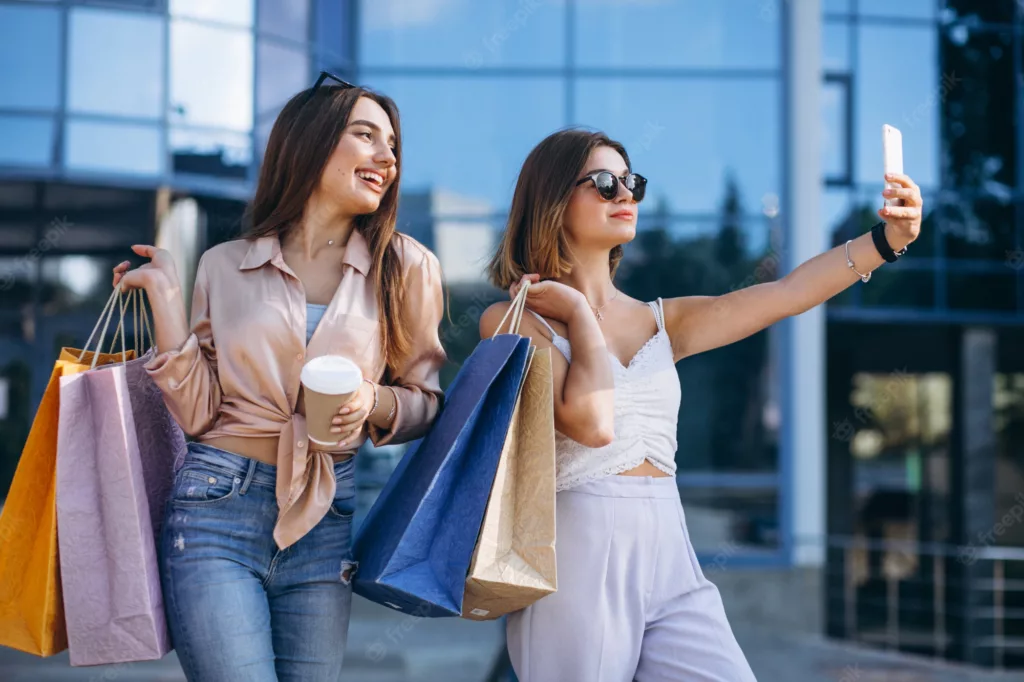 ---
What is Resale Shopping?
The retail of secondhand goods is called resale. While earlier used goods were mostly exchanged in flea markets and thrift stores, currently, most of the trading takes place on online marketplaces. Resale models were invented by the fashion industry, but non-fashion firms are already adopting them.
As an illustration, the furniture manufacturer IKEA recently introduced a take-back program and a trial second-hand pop-up store. So, essentially, shopping for second-hand goods is called resale shopping.
---
How Does Consigning Work?
A retailer, also known as a consignee, agrees to pay a seller or consignor for goods when the item sells under a consignment business model. Consignment shops are often retail establishments with a focus on a certain category of consumer goods. But during the past several years, the number of e-commerce-based consignment stores has increased.
The consignment business model works well because it generates profit from goods that would otherwise be undesired or unneeded. Although consignment agreements don't always provide sellers with top prices for their goods, they do allow them the chance to get paid for products that might otherwise be discarded or donated.
---
Benefits of Consigning and Thrifting?
Pocket Friendly
There are a number of benefits of consigning. One advantage of purchasing used goods is that they are sometimes more reasonably priced than brand-new goods. Consignment shops do not often sell aisles full of fashionable stuff as most stores or malls do. In addition, designer consignment shops provide significant discounts on luxury products like bags and jewelry. You'll probably discover a terrific wardrobe item that won't break the budget because the majority of consignment shops test the quality of pre-owned things before putting them on sale.
---
Shop Online Comfortably
There are internet businesses for consignment shops. If you don't have the opportunity to physically visit a brick-and-mortar store or if there are none nearby, this can be a quick and handy option for you to benefit from their most recent promotions. You may also peruse your alternatives in the comfort of your own home rather than spending hours looking through numerous things and roaming the store.
There can, however, be drawbacks to internet buying. You won't try on fancy clothes or accessories to see how they look on you, to start with. Additionally, it's typical to have to wait a few days for internet items to be delivered. As a result, before adding an item to a cart, you must note the size and item specs. In order to receive your things on or before the day you need them, you'll also need to take the delivery time into account before making your purchase. Also, care must be taken to ensure that the shop uses eco-friendly logistics, packaging, and delivery options.
---
Encourage Sustainability
Consigning encourages environmentally friendly, responsible consumption. This is so that consumers may lessen the need for producing new things that ultimately deplete the earth's natural resources and increase carbon emissions by purchasing used clothing and other fashion accessories. Consignment buying enables you to do just that by lowering the global carbon impact.
Consignment store thrifting also lessens the quantity of garbage dumped in landfills. Even though they are still in fine shape, many individuals discard old clothes items because they are no longer fashionable. However, this exacerbates the garbage issue and stresses the ecosystem. Making a more environmentally friendly wardrobe might be a good long-term answer to this issue.
---
Finding Unique Products
Consignment shops provide a random assortment of unique products, vintage and contemporary apparel, and unusual brands. The consignment shop is a refuge for exceptional findings that would provide thrift shoppers and bargain hunters with a distinctive and fascinating shopping experience, in contrast to stores at malls that often provide mass-produced things created based on a certain season or collection.
Consignment stores frequently add new goods to their inventory each week in addition to providing diversity. On your subsequent visit, it is very probable that you may discover something new. However, certain things could only be available in certain quantities or sizes.
---
What is the Difference Between Resale Shops, Consignment Shops, and Thrift Shops?
Thrift shops typically stock their shelves with donated secondhand items, whereas consignment shops sell secondhand items on behalf of the original owner, who then receives a portion of the sale price when a customer later purchases the item. This is the main distinction between the two types of stores.
Consignment shops, in other words, serve as a middleman, taking unwanted clothing and other belongings from the owner and putting them up for sale. The consignment business retains a portion of the profit if the items are ultimately acquired by a client and gives the remaining profit to the original owner. The main objective of this strategy is for both sides to profit from selling used items together, making it financially advantageous for both the seller and the consignment business. The original owner can typically come back to the consignment shop and pick up the item again for free if it doesn't sell.
While clothing and other goods can be donated to thrift shops by people who just wish to give them away. To put it another way, thrift shops take contributions but don't compensate the original owner for the items they acquire. The donated things are subsequently sold at the thrift store, and the proceeds are usually donated to a specific charity or other non-profit organization.
Resale shops are simply an umbrella term subsuming these two types of shops.
---
5 Best Apps To Sell Clothing
Depop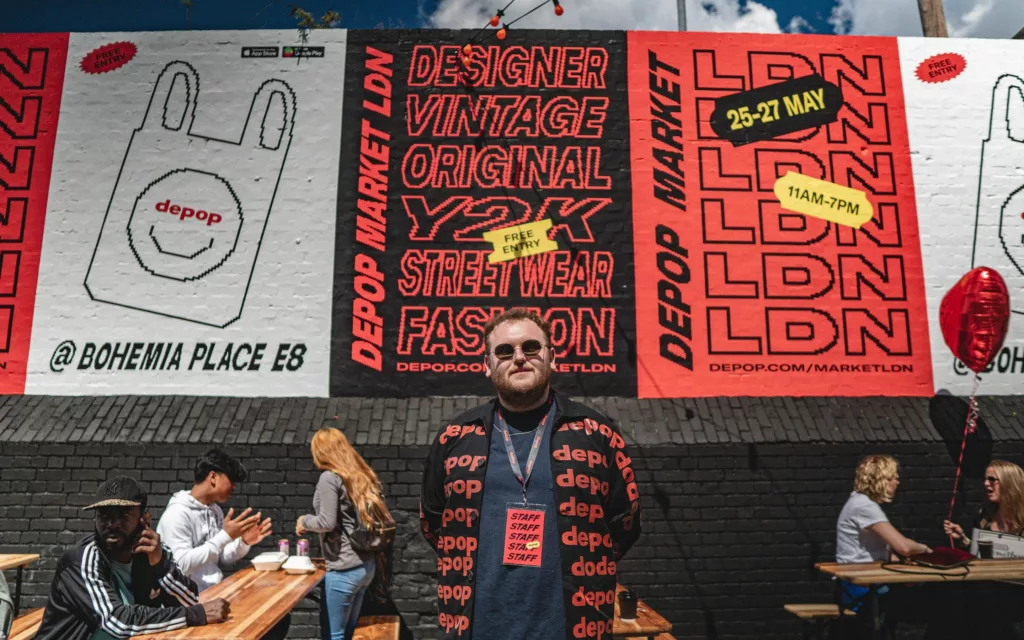 If you love following fashion bloggers on TikTok and Instagram, you most definitely must have come across Depop. More than 15 million people utilize the network, and the bulk of them are representative of the unusual, eccentric, and occasionally completely outlandish possibilities.
Depop is among the top websites to sell clothing online for a number of reasons. You only have to pay Depop 10% when an item sells, and you post it for free. It's a great opportunity to experiment with your personal brand and style while still making money. Depop is a low-risk/high-reward starting point for anyone who wishes to sell clothes online while also producing original content.
---
Tradesy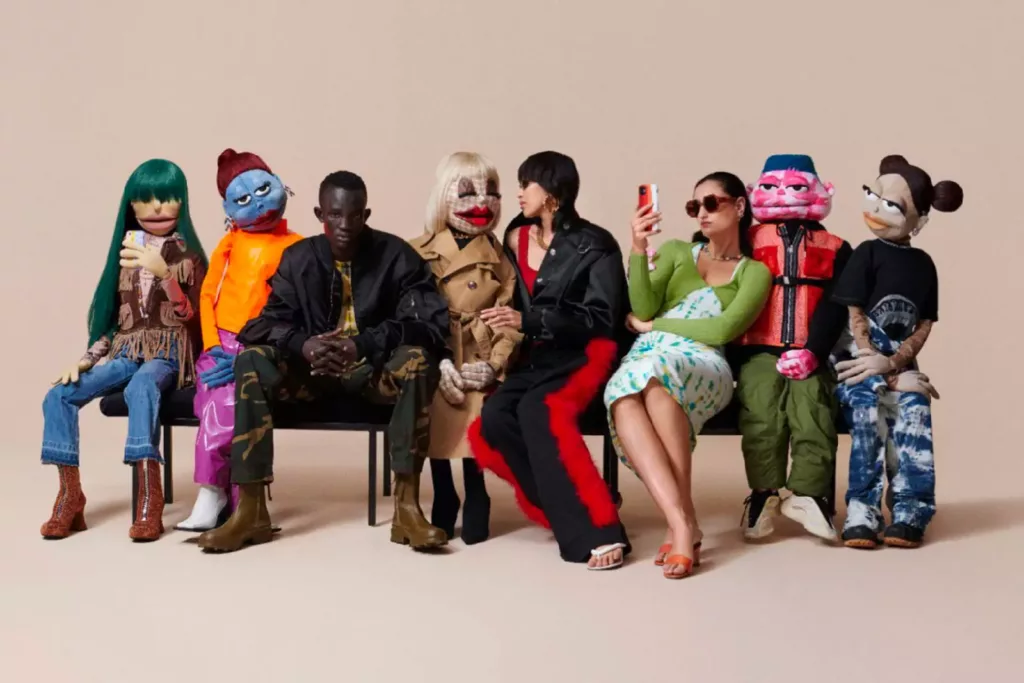 The average woman has $1,000 worth of stuff in her closet, and Tradesy, one of the best apps to sell clothes, can help you turn that value into cash. Tracy DiNunzio, the company's creator, founded Tradesy using money she earned from renting out her bedroom and selling artwork from her car so women could access high-quality clothing without spending a fortune or costing the environment.
They do accept some mid-range brands like Zara, but their specialty is designer Louis Vuitton, Gucci, Burberry, and Prada bags, shoes, clothing, and accessories. To draw attention, Tradesy improves the visuals of your products. The price will then be decided by you or by them using smart data.
Tradesy delivers a pre-paid shipping package when you complete a transaction, and the majority of the money is yours (via a debit card, Paypal, or an ACH transfer). For purchases under $50 and over $50, a charge of $7.50 and 19.8%, respectively, will be subtracted.
---
ThredUp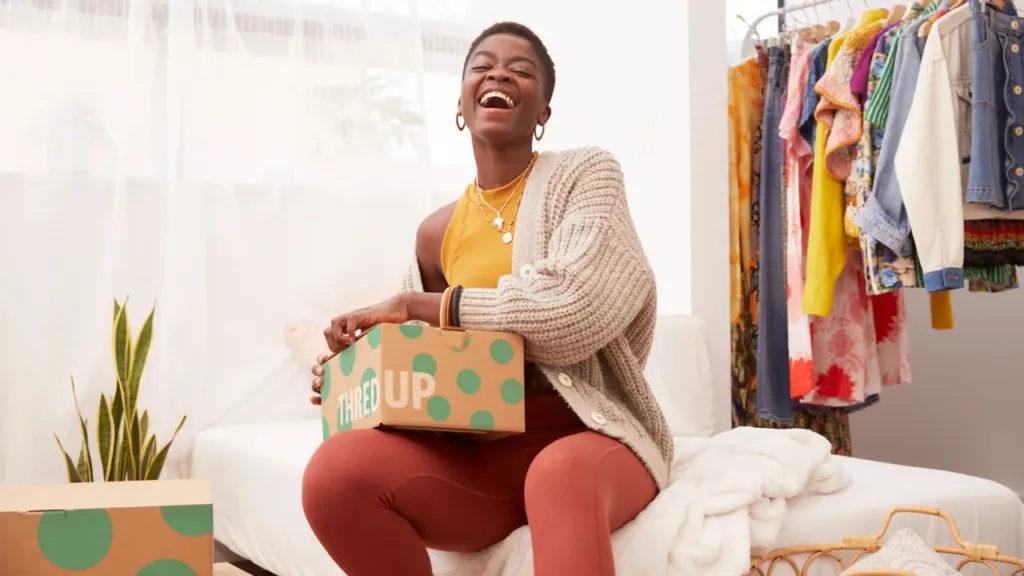 ThredUp is among the earliest apps to sell used clothes, in addition to being one of the best. With over two million pieces from 35,000 brands, what began as a men's shirt swap has evolved into an exclusive platform for selling used goods to women and children. Purchase a Clean Out Kit which is free unless you want them to return unaccepted clothes. You'll receive a sizable bag along with a mailing label and a list of what is permitted. Fill this out and return it.
ThredUp will then determine how used clothing should be recycled and which items should be sold. Each item is expertly photographed before being listed for sale. A payout percentage determines whether you earn cash or shop credit. As an alternative, you can get a Donation Kit, too, in which case the same procedure will be followed, but $5 will be donated to a charity in your name rather than going into your pockets.
---
Mercari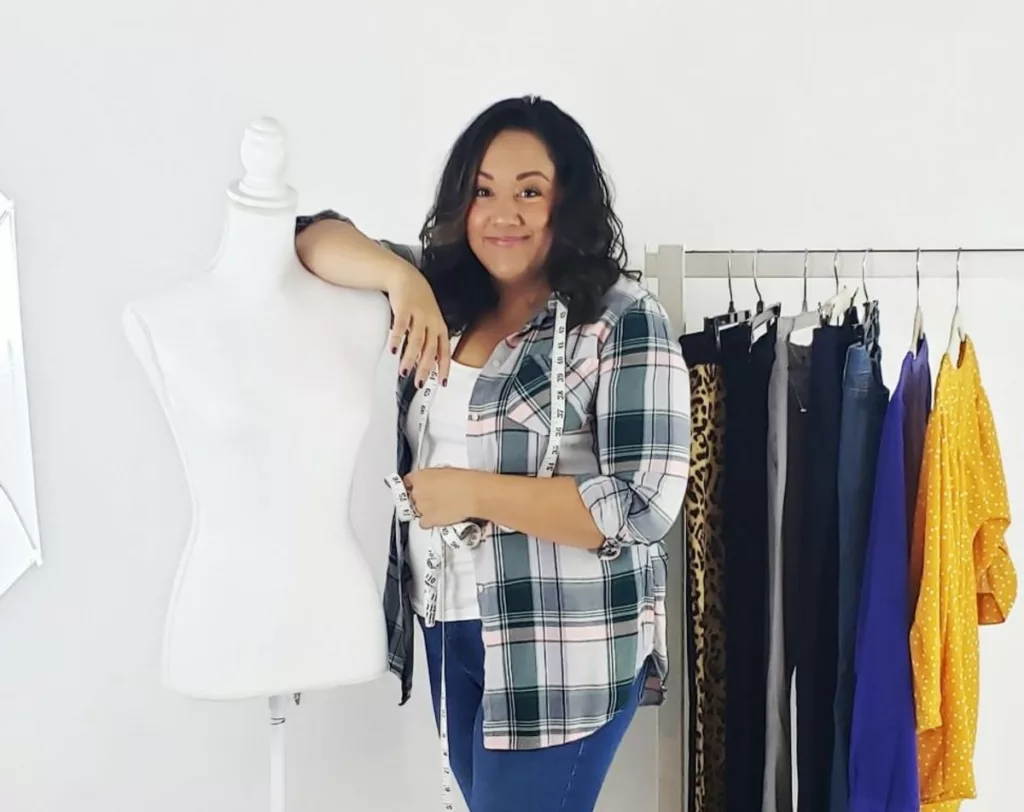 Mercari, one of the most well-known clothing resale apps in the USA, has more than 50 million app downloads and 350K+ new product listings per day. To sell clothes online here, simply take a few photos, describe the item (some may autofill based on algorithmic patterns of comparable previous things), pick your price, and publish. You may select from any of the three major delivery companies to keep prices down based on the size and weight of your item, boosting the likelihood that it will sell.
By linking you with local vendors, Mercari Local reduces wasteful shipping emissions. However, transactions are contact-free, and both sides are safeguarded by exchanging payment via the app first, unlike other local trading sites.
---
Refashioner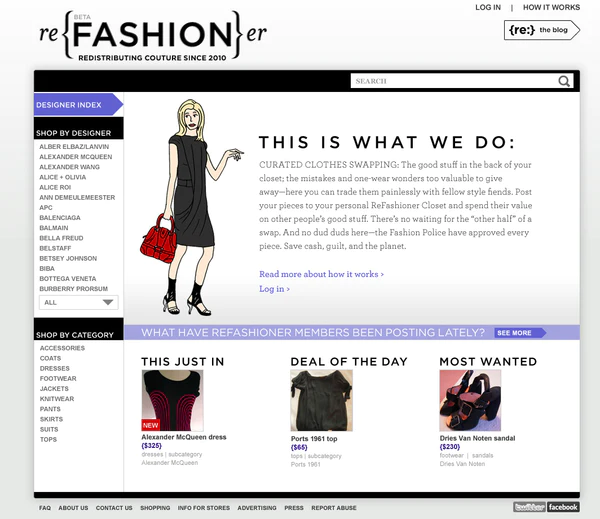 Refashioner is an expert in high-end antique clothes and one of the best apps to sell used clothes. They don't require fancy clothing. The only criterion your clothes need to meet is that they should not be mass-produced. They not only make sure each item is authentically vintage but also provide a history of each one, such as who wore it or what happened to it. Customers can perform searches by item, seller, seller type, or decade beginning with the pre-1940s.
Refashioner has a greater entrance hurdle than the other online consignment firms on this list, but there are rewards for success. Excellent standards and a distinct emphasis translate into high sales ratios and paydays. It is simple to sell specialist products, such as a garment by an avant-garde designer you discovered in your grandmother's attic, by focusing on an audience interested in the past.
---
What Do We Think of Apps to Sell Clothing?
We'd say that we totally approve of the concept and the heart that goes into it. Thrifting is not just for the past, it is the future that can save the fashion industry from its own excesses against the environment. The most interesting part of thrifting is that you get some unique pieces that you may not find in all the hauls from popular fast-fashion platforms. There is a reason behind saying that old is gold.
Apps that help give clothing a new lease of life instead of chucking the articles in the dumpster are a major save- be it for the planet or for your pocket. As for realizing your Pinterest dreams to adopt cottage core, vintage or Dark Academia aesthetics, purchasing apparel from these apps can be your next fashion pit-stop. And if you are looking towards making some extra moolah out of what you didn't use much- take a few snaps and upload them on these platforms!
If you are looking for something new but still ethical and eco-friendly, we recommend downloading the Be Zen chrome extension!