Throughout the ages, fashion has metamorphosed to allow us to express ourselves in a way that best reflects societal standards. But, that's the problem. This self-expression has always been restricted by set norms. Fashion at its core is art and art is to be explored. What better way to explore this form of art than to break down the boundaries between the masculine and feminine, combine the best of both and do away with the concept of the gender binary? The idea of androgynous clothes is not new but has been popularised by queer culture.
Thanks to countless LGBTQIA+ activists and non-binary influencers, we have now reached a point where androgyny is accepted and even celebrated in the fashion industry. Let us take a deep dive into the world of non-binary fashion and understand what it means, how it's styled and how to incorporate sustainability in our quest to embrace fluid fashion.
What are Androgynous Clothes?
Style doesn't discriminate. Fashion has always been an avenue for self-expression and experimentation. However, due to existing gender norms, clothing and accessories seem very restrictive. Androgynous clothes on the other hand do not fall into the typical female and male category. They do away with the gender binary and embrace inclusivity. Clothes should not be defined by anything. Androgynous clothes are the best way to express your non-binary identity and diversify your wardrobe to look your best.
The origin of the term "androgynous" lies in Latin, and it refers to the quality of possessing both masculine and feminine traits. In essence, androgynous fashion thus refers to neutral, inclusive and gender-fluid clothing.
What Is the Difference Between Unisex Clothing and Androgynous Clothing?
Didn't realize they are two entirely different concepts? Don't worry, neither did I but it's easy to differentiate once you really delve into it. Unisex clothing has always been acceptable and normalized to a great extent.
In fact, many popular brands already incorporate unisex lines. Unisex clothes are designed in such a way as to be considered socially acceptable when worn by either men or women. We see this with T-shirts, jeans, coats, sweaters, hoodies and more. Essentially they fit into both the "male" and "female" categories as defined by society. You're really not breaking any gender norms by wearing unisex outfits. Moreover, unisex clothing is preferred when one wants to keep their gender ambiguous.
Androgynous clothes on the other hand incorporate both the feminine and masculine. It is an active resistance to the set gender binary and is a way of fashion that rejects what's considered socially acceptable. That is definitely the biggest difference. If unisex clothing tells you "Hey this is an outfit you can wear regardless of whether you identify as a man or a woman!", then androgynous fashion tells you "This is an outfit you can wear regardless of your identity, whether you are gender fluid, non-binary or cis." This clothing has no labels. It is experimental, fun and fresh!
How do you dress androgynously? 5 Non-Binary Influencers You Need To Follow!
As mentioned earlier, the whole point of dressing androgynously is to not have to choose between the traditional feminine or masculine. Try to overturn stereotypical gender norms and mix skirts with tuxedos or formal pants with crop tops or incorporate traditionally feminine accessories and makeup with masculine clothing.
It is important to note that your gender expression through non-binary fashion may not necessarily align with what's considered stylish in society. This is because designers still aim their content at the masses who want to fit into the restrictive binary fashion. But this shouldn't stop you from wearing what you want to! As long as YOU feel good wearing something, it doesn't matter what other people believe.
Honestly, the best thing about being androgynous is that there are no rules! Think out of the box and remove all your mental blocks set by societal standards. Find a piece of clothing that you like? Go ahead and try it on! Of course, even then, I won't leave you high and dry. Instead, I will provide you with some of the best androgynous fashion influencers to spice up your outfits and inspire you to experiment to the fullest.
Want to read more like this?
Get similar stories and a free sustainability checklist delivered to your inbox.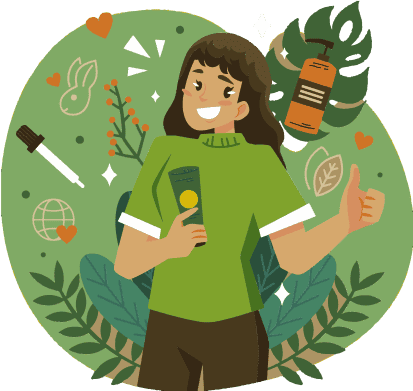 Get similar stories and a free sustainability checklist delivered to your inbox.
Alok V Menon is certainly one of the most influential individuals on social media. With their unique sense of aesthetics, groundbreaking writeups and inspiring public speaking, Menon is a must-follow.
Menon identifies as gender nonconforming and transfeminine which allows them to dabble in unique forms of expression, especially through fashion. They love bright colours, and bold makeup and include both feminine and masculine aesthetics.
Jayjay Kings describes themselves as a self-taught makeup artist turned drag entertainer celebrating diversity and equality.
They go by he/she/they pronouns and no one exemplifies the true potential of nonbinary fashion better than them. They love fishnets and shimmer, bold patterns and their makeup is nothing short of a work of art.
Jamie Windust is not only a brilliant writer, public speaker and model who has been named London's most influential person but they are also an impeccable fashion influencer.
They embrace mixed prints, colours and larger-than-life cutouts and have created a uniquely personal brand of fashion. They strongly advocate for the inclusion of the LGBTQIA community into the fashion industry.
Another personal favourite influencer of mine better known by their Instagram handle 'Poetic Drugs' adds what the beauty industry has been lacking for so long. Good male representation.
Not only is his makeup looks an absolute serve, but he also delves into gender-fluid fashion like nobody else. So, if you want some brilliant out-of-the-box inspiration, he is a must-follow.
Jason's provocative brand of fashion is authentic, stylish and unique. They incorporate current fashion trends into their outfits and style denim, boots and mini skirts better than anyone else.
Their fun makeup along with their y2k aesthetic makes them stand out as a true beauty and fashion guru.
Best Ethical Non-Binary Fashion Brands
Now that we have the gist of it and are ready to embrace genderless androgynous clothing, let us look at some sustainable and ethical non-binary fashion brands to spice up our wardrobe. It is not only important for brands to provide gender-fluid and gender-neutral clothing in order to break gender norms and stereotypes but also for them to be ethical during their production process. They need to be cruelty-free, eco-friendly, zero waste, use natural fabrics, protect the rights of their workers and promote sustainability.
KINdom
One of the best clothing brands out there, KINdom believes that human beings and nature are intrinsically connected to each other and hence we must be responsible stewards of the universe. It is because of this core belief that KINdom is dedicated to using sustainable, natural, recycled, reclaimed, and indigenous materials while also providing consumers with gender-inclusive clothing.
They use natural cotton labels printed with water base ink and unbleached hand tags connected by jute twine to reduce pollution. They have replaced plastic packaging with vegetable-based bioplastic to pack and store each product. In fact, KINdom's goals align with those of the UN's sustainable development goals.
Not only is KINdom sustainable, but it is also very inclusive with sizes ranging from XS to XXL. They have tees with catchy slogans, wardrobe essentials for everyone and convertible clothes! They truly are the very pinnacle of sustainability providing solutions to overconsumption by creating clothing items that can convert into two different outfits!
RILEY STUDIO
Riley Studios partners with a number of innovative mills and manufacturers from across the globe to provide consumers with gender-neutral and gender-inclusive clothing essentials made from organic and waste materials. They use everything from recycled nylon died with onion skins to shirt buttons made from milk waste all in order to rectify the mistakes of the unethical fashion industry.
Moreover, their recycled fabrics divert waste from landfill they try to ensure a circular lifespan for their materials. They ensure that none of their clothes ends up disposed of of as waste by providing consumers with a lifetime repair guarantee on all products. They have done away with tactics like sales and seasonal releases which promote overconsumption. They have a wide variety of basics in attractive earthy tones and inclusive sizing ranging from XS to XXL.
BIG BUD PRESS
Big Bud Press specialises in genderless clothing, is a sweatshop free and independently audits all its manufacturing partners. They almost exclusively use natural fabrics: 100% cotton fabrics and any non-cotton fabric is made out of recycled yarns. They use non-toxic dyes and water-based screen printing for their garments.
They also use 100% recycled poly bags for everything from storage to packaging while sending it through mail etc. They are always actively looking for new methods to be more sustainable. They are very VERY size-inclusive with sizes ranging from P to 7XL. They have models with diverse body shapes for maximum representation. This brand is an absolute must if you are bored with your basics and want to experiment with fashion. Their clothes can be worn by anyone.
OFFICIAL REBRAND
The designer for Official Rebrand, MI Legget is a nonbinary artist and former food justice advocate with a background in sustainable agriculture. They have challenged the boundaries between art and fashion by transforming waste materials into unique pieces of clothing and have showcased their work at New York and Berlin Fashion Week.
As mentioned on Official Rebrand's site, they "celebrate the fluidity of identity, dissociating garments from OR?!'s transformative process celebrates the fluidity of identity, dissociating garments from gendered categories, reintroducing them without arbitrary social constraints."
Each piece of clothing is unique, one of a kind and utilises pre-worn garments.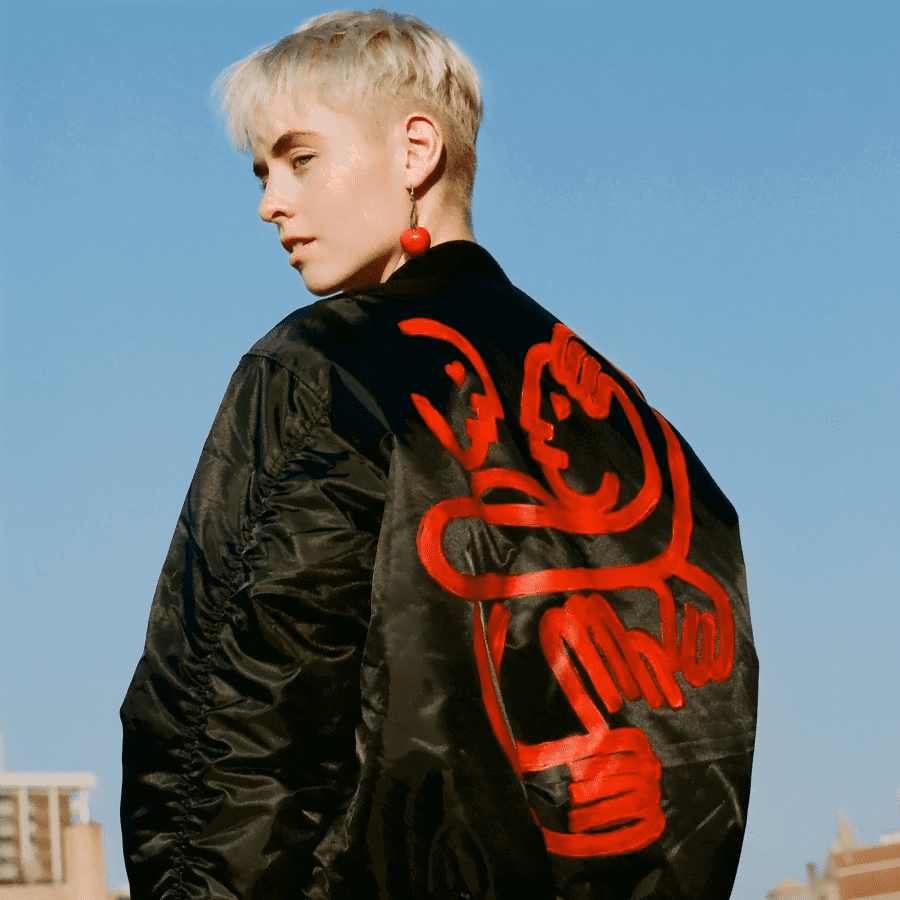 ORIGAMI CUSTOMS
If you are trying to a genderless clothing brand for all shapes and sizes, Origami Customs prides itself in being a brand for any size, shape, age, ability and gender expression. They use sustainable fabrics which are either deadstock, locally milled, recycled polyester or regenerative bamboo and modal. All their products are handmade and can even be altered and cut for free!
They provide consumers with transmasculine, transfeminine & trans femme products, as well as binders, packing bottoms, and gaffs. They even provide consumers with various helpful resources to help them choose binders, tucking, FAQs on gender diversity and more.
Check out the website.
OLDER BROTHER
Older Brother is a conscious apparel company best for androgynous basics and gender-neutral clothing. The brand's primary focus is to create clothes that can be worn comfortably by everyone and makes it a point to be sustainable in every step of production.
They use unique dyes made of hibiscus, turmeric or sustainable wood bark and only use eco-conscious materials like organic materials from Japanese farms, unique blends of wool and woven rice paper, and linen from the flax fields in Japan. So if you are a fan of pleats, muted colours, and anti-fit button-down shirts then Older Brother is the way to go!
Androgynous and Gender Fluid Outfits ideas
The point of androgynous clothes and fashion is to not fit into the gender binary. Based on the style of some of the influencers we talked about and the tips given on how to dress androgenously, here are a few outfits you can try out!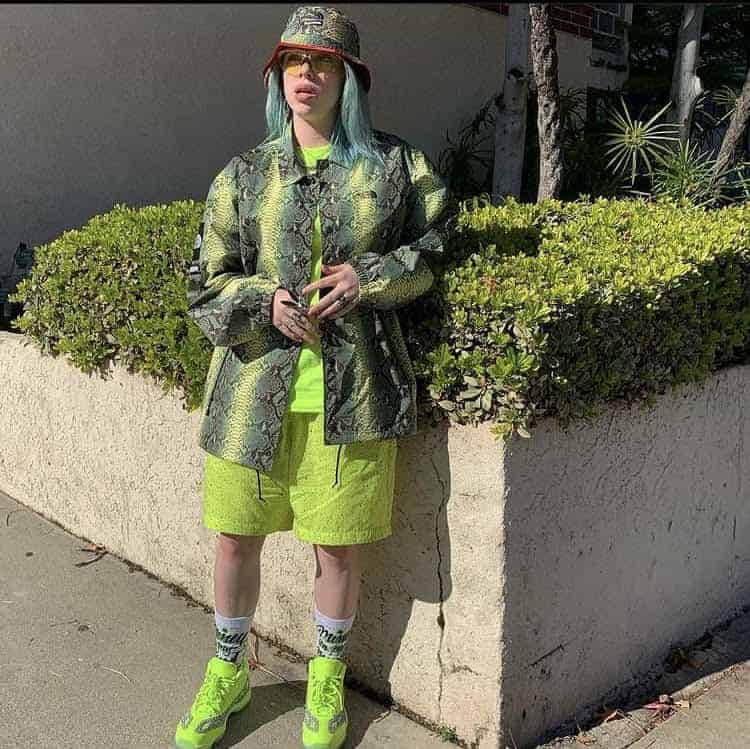 Billie Eilish's older style exemplified androgynous fashion. She wore loose-fitted clothes to draw attention away from her body and expressed herself in a gender-neutral and gender-free manner. Her often boxy, oversized outfits styled with sneakers and multiple accessories make for the perfect style-inspo. She incorporated unique patterns, bright often gaudy colours (like neon green) and long knee-length shorts and skirts into her outfits. While Billie herself does not identify as non-binary, it's important to note that this style is a form of expression! Hence, we can find inspiration anywhere and everywhere.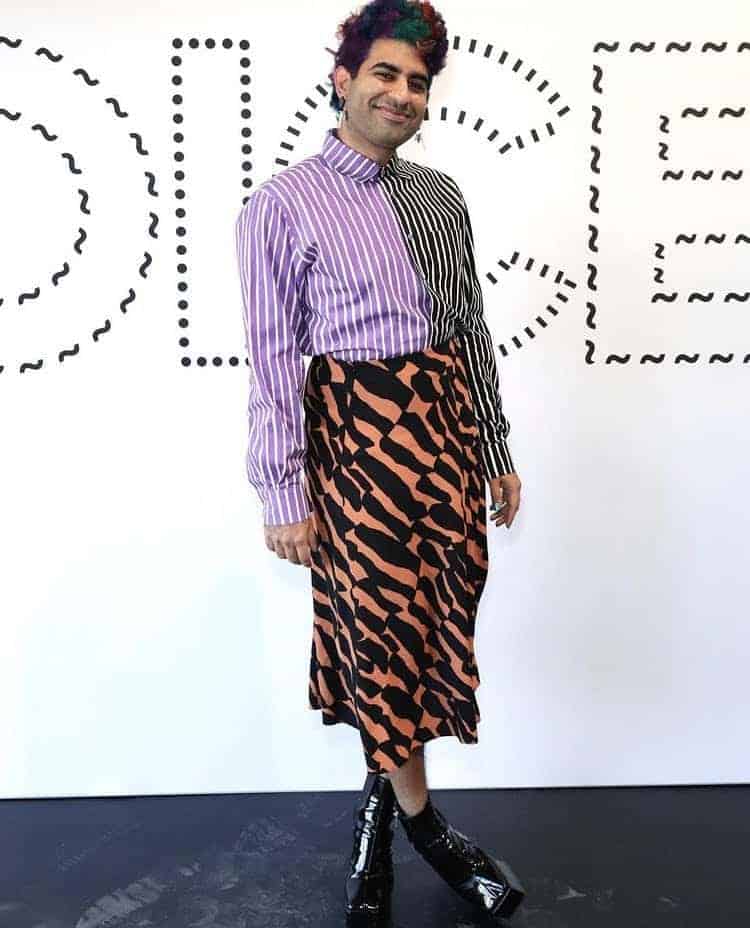 Alok V Menon effortlessly blends feminine elements like heeled shoes and accessories with more masculine clothing like buttoned shirts. Plus the clash of patterns makes his style unique and refreshing. Try his fun and creative outfits out and merge different patterns and come up with your own stylish outfits!!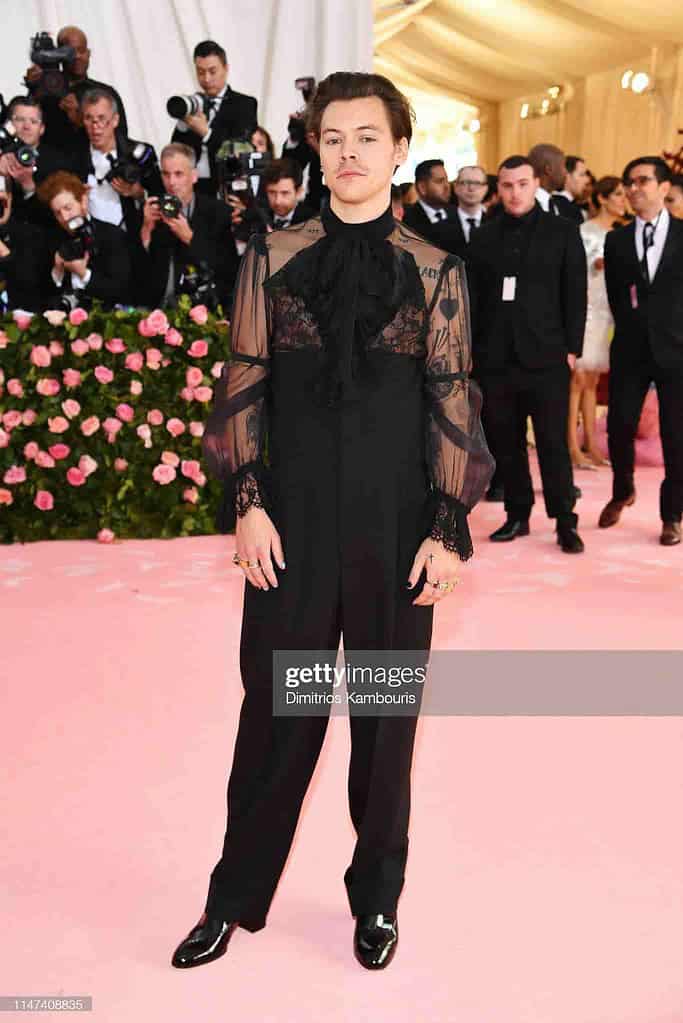 Sheer fabrics are all the vogue in the realm of non-binary fashion and Harry Styles' Met Gala 2019 look is a must-have for all of us. Monochrome outfits are the best way to delve into gender-fluid clothing. Couple that with lace and sheer fabric and you are good to go!
One of the best depictions of gender-fluid clothing in media is in the popular anime series called Jojo's Bizarre Adventure. The creator, Hirohiko Araki has a keen passion for art and fashion and made it a point to incorporate crop tops, cutouts, bright patterns and layering in the clothes of his characters. In fact, their personality traits are exemplified by the outfits they wear. His work is even respected in the high fashion world. Gucci, one of the pinnacles of high fashion approached Araki for a collaboration. Araki's work can serve as some brilliant inspiration as he puts in a lot of research and skims through countless fashion magazines to style his characters this well!
Androgynous Formalwear
As I mentioned before, there is a fine line between unisex and androgynous clothing so while it's easy to only classify pantsuits as "androgynous formal wear", one can do so much more in events such as weddings and business dinners.
Include both feminine and masculine elements!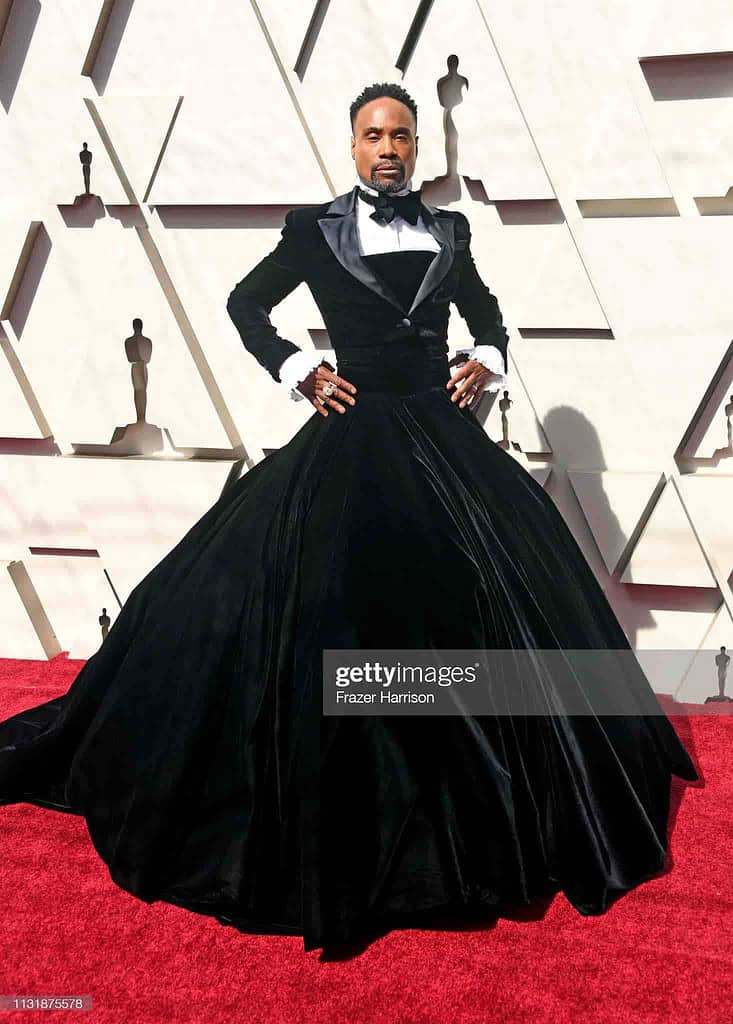 Experiment, experiment and experiment!!! You are breaking free of gendered norms so your androgynous clothes need to scream uniqueness and self-expression. Billie Porter merging the masculine elements of a tuxedo into his gown makes for the most perfect and elegant formal attire.
BTS has done wonders for the fashion industry with their gender-fluid clothing. This look featuring Jimin and J-hope wearing fishnets and a skirt adding flavour to their monochrome formal outfit is another perfect inspiration for formal wear.
Accessorise!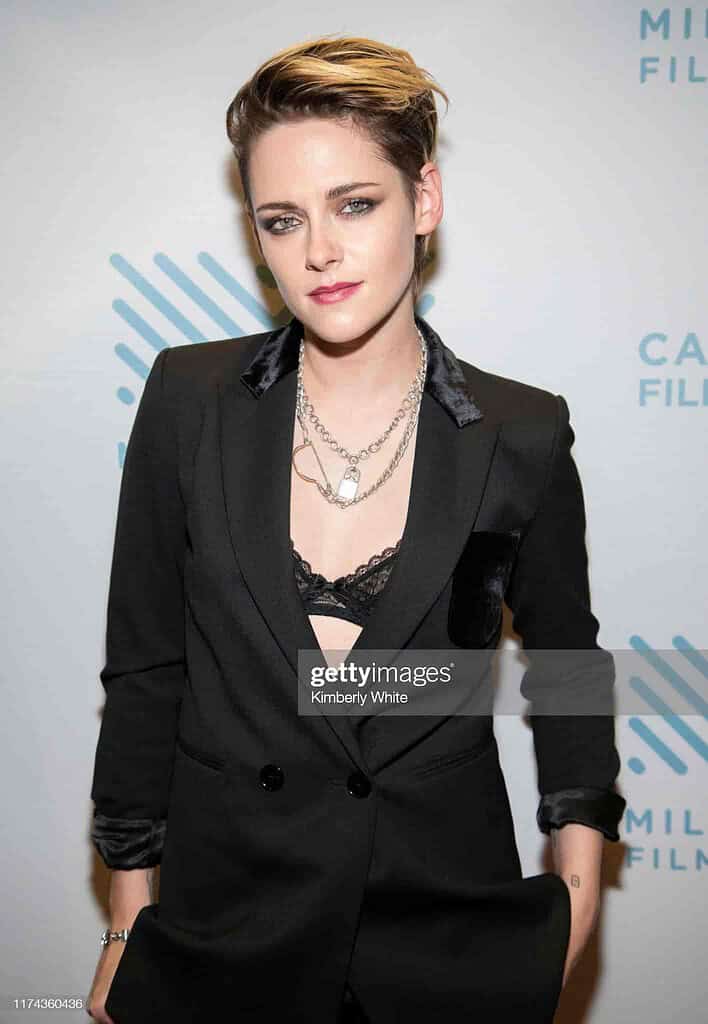 Another way to express yourself is to add accessories to your pantsuit. Kristen Stewart often wears multiple chains with her outfits which exemplify her androgynous style perfectly.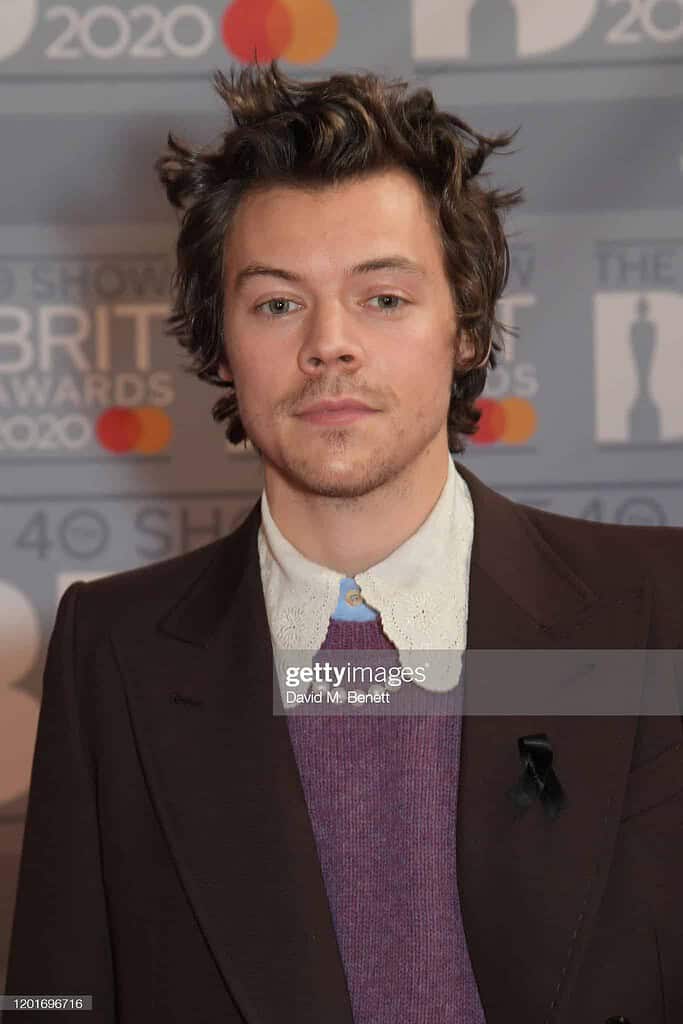 Harry Styles spruced up his suit with a simple pearl necklace to make all the difference!
Experiment with colours, fabrics and patterns!
Doesn't it get boring when people wear the same old colour palette of blue, grey, white and black and block-patterned suits? Non-binary fashion embraces diversity and hence allows one to break out of these restrictions and try on the brightest, most fun colours and clashing patterns.
We see Harry Styles incorporate bright colours like pink, purple and yellow in his formal suits.
BTS wowed us all with their monochrome pink suits while they also experiment with different textures and fabrics such as satin and wool.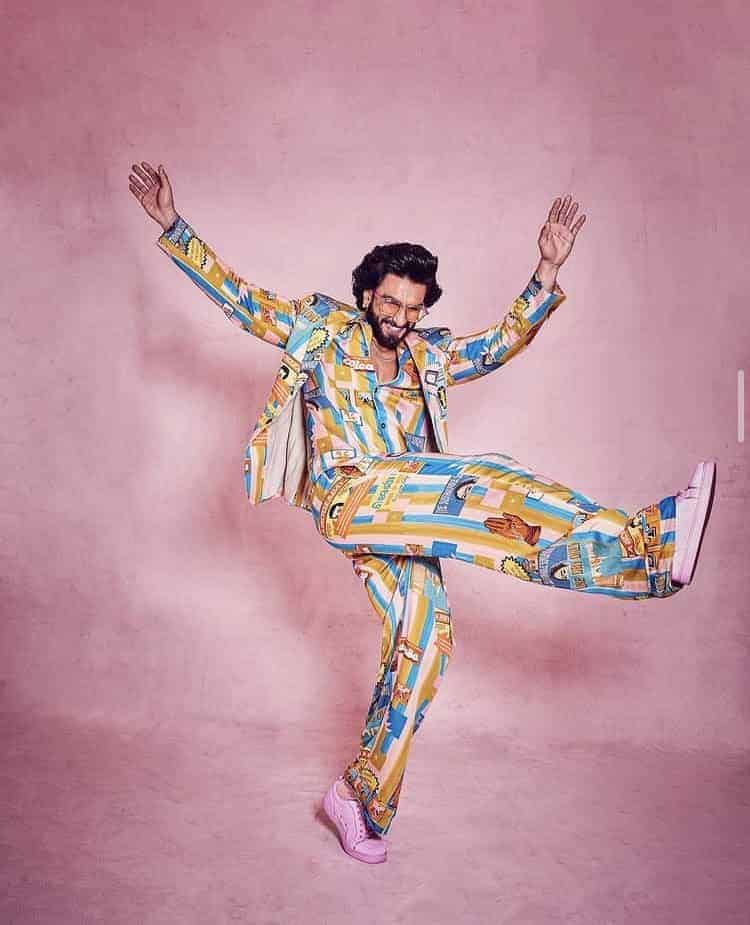 Ranveer Singh is a perfect inspiration when it comes to styling clashing patterns in formal wear!
As well as colourful clothing, colourful custom enamel pins are a great way to express non-binary fashion. Groups and clothing brands that support non-binary fashion often turn their logo or name into colourful pins as a group logo or clothing accessory to give to like-minded people. GS-JJ offers a free online design system which can help people easily finish their design and offers no limited quantity. Colourful accessories or clothing are never exclusive to one gender. Order Now and make your
own pin to express your attitude.
All of these styles are purely supposed to serve as an inspiration and definitely should not restrict your form of expression. Non-binary fashion is supposed to be bold, freeing and experimental. Normalising gender-fluid clothing helps break down oppressive norms and stigmas. The LGBTQIA community have been the pioneers of this form of fashion and it is thanks to their relentless effort that we get to see more variety in the fashion industry. The fashion influencers included in this article are just some of the myriad of individuals who helped revolutionise non-binary fashion.
Ways to make your wardrobe Androgynous
Tailored silhouettes: Choose clothing with clean, structured lines that flatter your body shape without emphasizing traditional gender stereotypes. Tailored blazers, button-up shirts, and straight-leg pants are good options.
Denim: Denim is a versatile fabric that can be styled in various ways. Consider adding denim shirts, jackets, or jeans to your wardrobe, as they are often seen as gender-neutral pieces.
Play with textures: Incorporate a mix of textures in your outfits to add visual interest. Experiment with leather, denim, silk, linen, or wool to create a diverse and androgynous wardrobe.
Confidence and personal expression: Remember that fashion is a form of self-expression, so wear what makes you feel comfortable and confident. Be true to your personal style and don't be afraid to experiment and break traditional gender norms.
While you are free to express yourself however you want, it is also equally important to be eco-friendly and make sustainable choices. I hope you check out the ethical brand recommendations in this article and step into the realm of gender-fluid clothing guilt free!
Want to read more like this?
Get similar stories and a free sustainability checklist delivered to your inbox.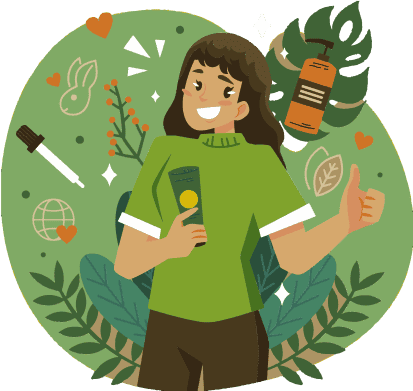 Get similar stories and a free sustainability checklist delivered to your inbox.