Do babies even need toys? Yes! Toys are the building blocks that help with a baby's development. Babies play with them, mouth them, fidget with them, and are pretty much in constant contact with their toys. Unfortunately with the rise in technological prowess, a lot of physical toys have been replaced with games on gadgets and gizmos. But fret not! We have some recommendations for adorable wooden toys for babies that they're sure to love.
Games on devices will most certainly hamper your toddler's development. It is crucial for parents to provide babies with the right toys and nothing beats wooden toys!
We've noticed that wooden toys have recently made a comeback, especially in environmentally conscious households. Nothing beats cradling a well crafted wooden toy. Wooden toys are ageless and beautiful works of art. That's why we totally recommend getting a wooden toy for your baby!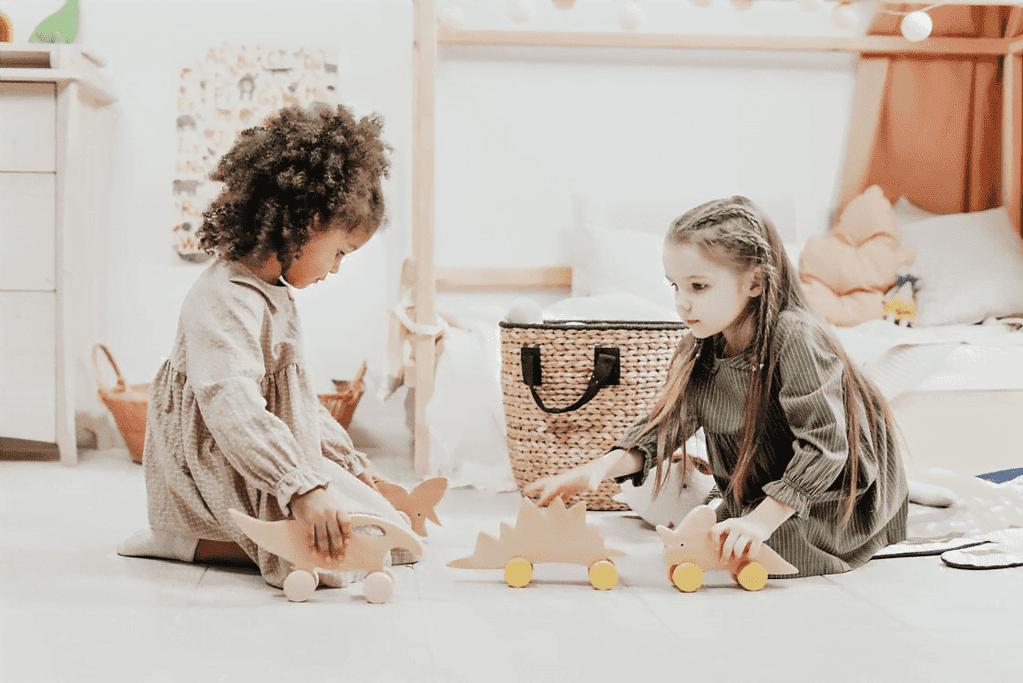 Materials to Avoid in Baby Toys
There are chemicals that can cause short term as well as long term health complications in your child if present in their toys. Babies often mouth their toys and spend their entire day with them so it's important to ensure they don't contain any hazardous chemicals. Here are some chemicals to avoid.
Bisphenols BPA + BPS
BPA can damage an infant's health by adversely affecting their developing nervous system, thyroid function, and brain growth, leading to changes in behavioral development like hyperactivity, and changes in development of the prostate gland and more. According to a study conducted in 2013, BPS disrupts a cell's normal functioning and can potentially lead to metabolic disorders such as obesity, asthma, diabetes, cancer, and more.
Formaldehyde
According to the generalized estimating equation model, formaldehyde exposure with levels of ≥60 µg·m−3 can potentially lead to an increased risk of asthma in children. Also, formaldehyde is known to trigger acute health effects on our skin, eye, and nose, even causing throat irritation.
Pesticides
According to research, pesticides are more harmful to babies and children as compared to adults as their bodies are still developing. Exposure to pesticides may lead to childhood cancer, developmental problems, and behavioral problems.
Lead & Heavy Metals
Exposure to lead and other heavy metals at a young age can lead to severe health complications. These complications include mental retardation, neurocognitive disorders, behavioral disorders, respiratory problems, cancer, and cardiovascular diseases.
PVC
PVC contains a high amount of chemicals like phthalates, lead, cadmium and more which are dangerous and toxic to a baby's health. PVC exposure can lead to asthma and can cause learning and developmental disabilities.
VOCs
Long term exposure to VOCs like benzene has been known to cause cancer. Some other harmful effects of VOCs on our health include damage to the nervous system, the kidney as well as the liver.
Other elements to watch out for:
Remember to avoid cheap, single-use plastic toys. They're bad for the environment, and bad for your babies too.
Avoid toys made of polyurethane foam as they're very flammable.
Don't fall for the 'BPA free' label. Toys can sometimes still contain BPS and other similar chemicals.
Also avoid toys that smell. The ones that smell like plastic definitely contain PVC or vinyl while the ones that smell fruity probably contain phthalates which are a known endocrine disruptor.
Why Choose Wooden Toys for Babies
Seeing how most toys can carry harmful chemicals, it's safe to say that wooden toys for babies are the best! Wooden toys are good for the environment and for your baby's safety. Plus, we believe beautifully crafted wooden toys can help improve a child's development.
Safety
Plastic toys and those made of other similar materials tend to have sharp edges and can easily break. It is common knowledge that toddlers love to put absolutely everything and anything in their mouth as that is how they investigate things placed in their hands.
So plastic toys are most definitely a safety hazard what with their brittle nature and the harmful materials they contain.
Our babies can gain from wooden toys in a variety of ways. Kids are considerably safer playing with well made wooden toys. Also, being in touch with nature and using natural materials like wood helps children's mental, emotional and physical health. When kids play with wooden toys, they can focus easily and learn quickly!
Wood is most definitely not a problem if mouthed by your baby!
Sustainability
Plastic toys are very polluting. Their manufacturing process is bad for the environment. Plus, they're also polluting the environment when thrown away.
It is important for us to make conscious decisions and choose toys that are made from responsibly sourced and certified wood. Since the materials are organic and renewable, they will be environmentally beneficial. Also, ensure that chemical-free paints are used to decorate these wooden toys for babies.
Imagination
We believe in the power of simplicity. Toys today come with so many added features like whistles, bells, noises, and more. Games on devices are highly stimulating too but sometimes simplicity is just what you need.
Wooden toys enhance the imagination of youngsters. When you offer your kids a straightforward wooden toy, they may explore, get imaginative, and make the item exciting for them to play with. A wide variety of items, including wooden blocks, games, and puzzles, are now sold in stores.
Commercial toys with too many features may not foster a child's imagination as much as simple wooden toys. Remember, the developmental stage is extremely crucial in babies and we have to do our best to assist them in holistic growth.
Better Quality Education
Wooden toys encourage specific educational attributes that improve a child's capacity for learning. Different wooden toys assist kids in understanding forms, sizes, textures, colors, and other concepts. When kids play with wooden toys, they also develop greater situational understanding, problem-solving abilities, and decision-making abilities.
Durable
Wooden toys can be handed down through generations. Toys are usually tossed and thrown around, treated pretty roughly by children. Toys made of plastic are quickly broken, while wood is an indisputable robust material that can withstand abuse. Wooden toys for babies can remain undamaged and stunning despite a few scuffs and scrapes.
Kids will always be safe with well made wooden toys. You won't have to be concerned about them breaking their toys. However, plastic toys have to keep being replaced as they always fall apart. So here's to wooden toys – the entertaining and comforting alternative!
The Best Wooden Toys for Babies
Convinced to get your baby some wooden toys? Here are our top eco-friendly recommendations!
Organic Wood Montessori Styled Baby Rattles Natural Wooden Teethers for Toddlers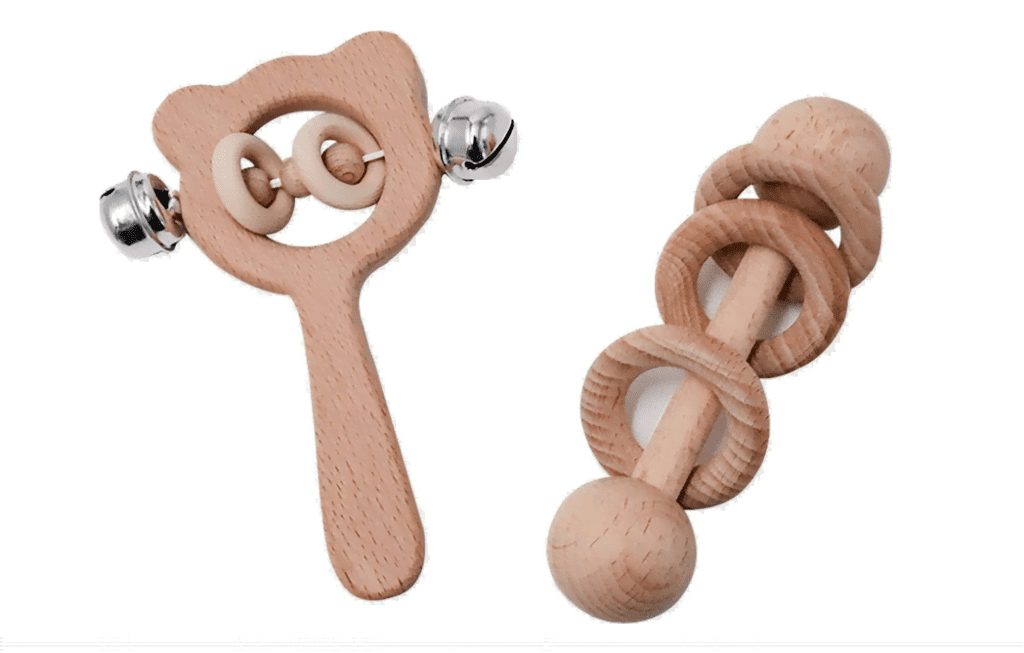 These toys are pretty versatile! There's a rattle teether and also a bear teether. They're made from safe natural beech wood, are non toxic and sealed with organic coconut oil and beeswax, and handmade using production-qualified wood. They're also phthalate free, latex free, lead free and BPA free. These are some of the best organic baby toys out there and will definitely keep your toddler engaged!
Image: Amazon
Aspen & Maple Activity Gym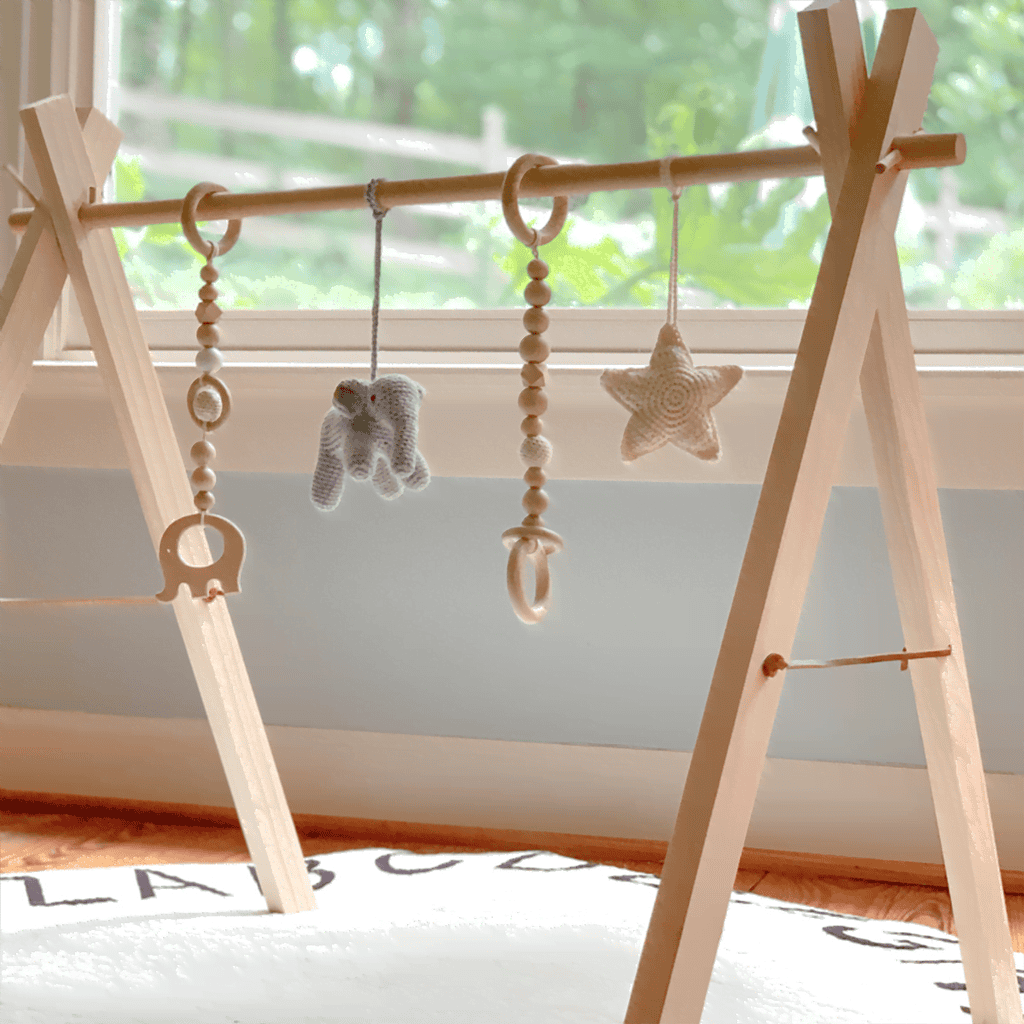 Activity gyms can help your baby learn to develop their eyesight, reach, attempt to grip, and eventually, learn to play. The adorable toys with this set are hand knitted and crocheted from 100% cotton while the frame is crafted by hand from solid, untreated, FSC-certified wood.
This classic play gym folds for simple storage and transportation, has a secure and robust A-frame construction, and assembles quickly. Everything including the frames, balls, and rings is handmade. The beads are painted with non-toxic paint. The elephant and star are hand knitted and crocheted from 100% cotton and have 100% polyester stuffing. It is eco-friendly and the crochet items can even be reused on strollers. This is most definitely one of the best non-toxic toys for baby out there!
Image: The Tot
Compact Wooden Workbench by Small Foot –Tool Bench Set in Nordic Theme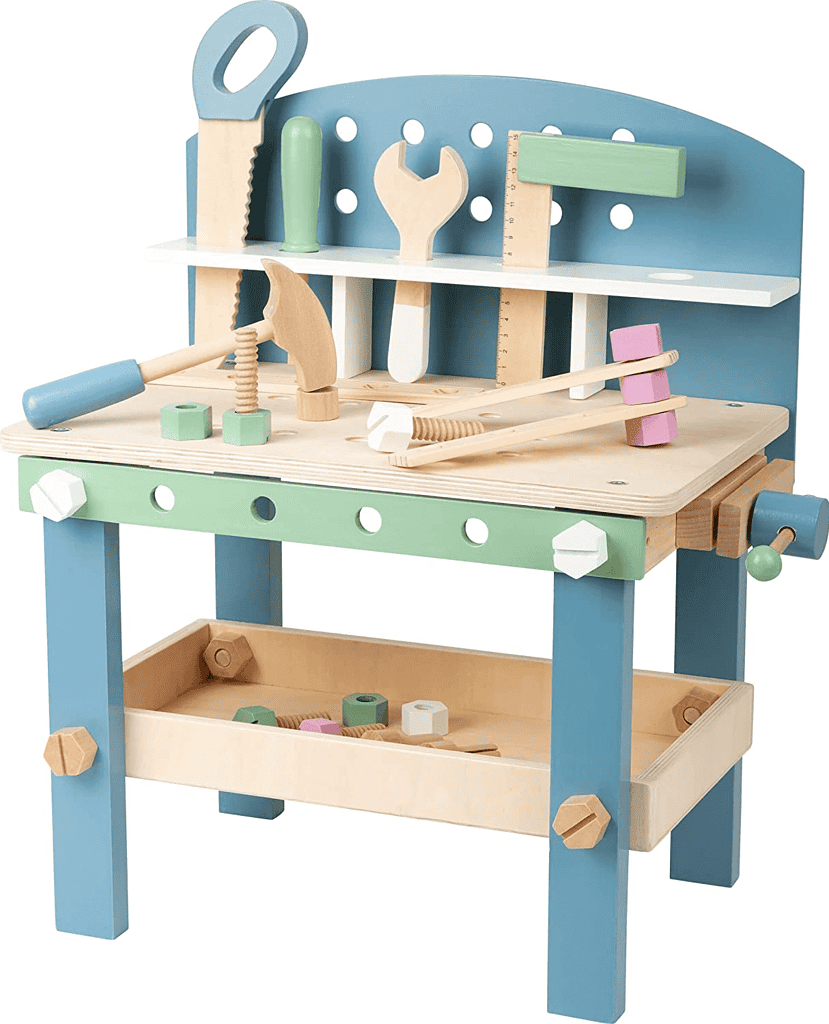 This toy will inspire creativity through hands-on play! Future handymen will have everything they require right at their fingertips! This sturdy workbench is remarkable and comes with lots of extras like tools and a practical storage area. Its small design saves space, making it compact and functional. The toy is advertised as gender-neutral which is definitely an added bonus and is painted with soft colors and a simple Nordic design.
Plus, this toy is made with renewable natural raw materials. There are 21 pieces in the kit, including a hammer, saw, screwdriver, screws, nuts, and bolts, as well as more inventive building components. For safety, they have rounded edges, and they're also bright with kid-safe water-based paint. Did we mention the wood is splinter-free?
Source: Amazon
Elite Montessori Object Permanence Box with Tray and Ball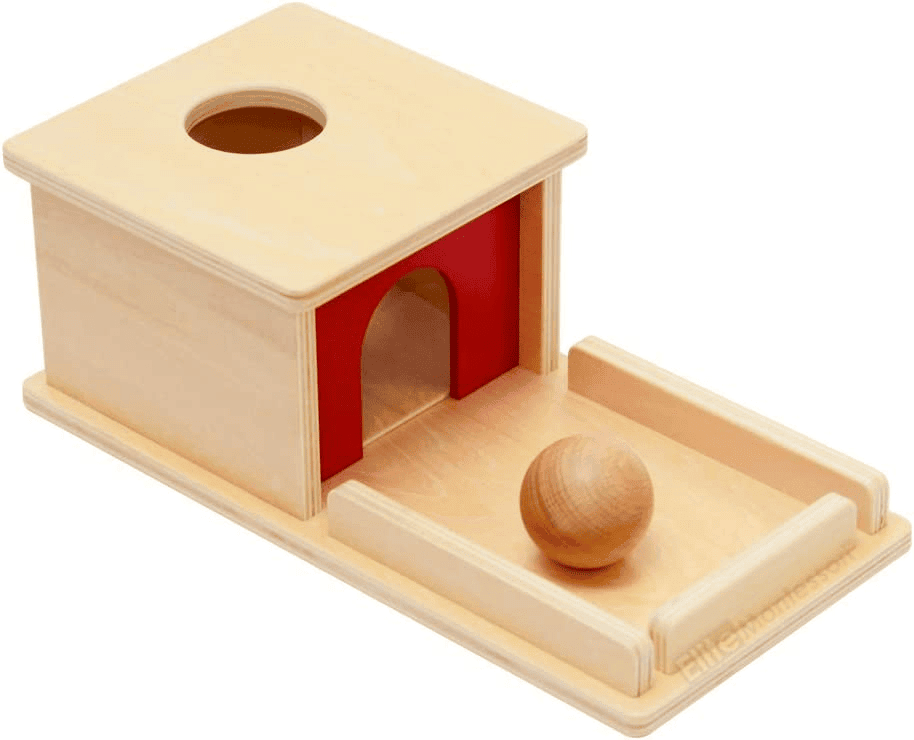 The idea that objects persist and continue to exist even when they cannot be seen is known as object permanence (seen, heard, touched, smelled, or sensed in any way). The scientist Jean Piaget's theory of cognitive development heavily incorporates the idea of object persistence. According to Piaget, children in the sensorimotor stage of development, which lasts from birth until around age two, comprehend the environment through their motor skills.
This is one of the most practical wooden toys for babies out there. This is how it works – the little ball must be inserted by your baby into the box's hole. Your baby will be able to experience object permanence by witnessing that the ball did not just vanish when it rolls out of the box and instead falls into the connecting tray.
It trains the hand, wrist, and finger control, commonly referred to as "refined hand motions," while also communicating information to the brain. Babies learn how it feels to succeed when they have accomplished a goal on their own via regular usage of this.
Get this object permanence box now!
Image: Amazon
Three Pears Bobbin Triple Play Center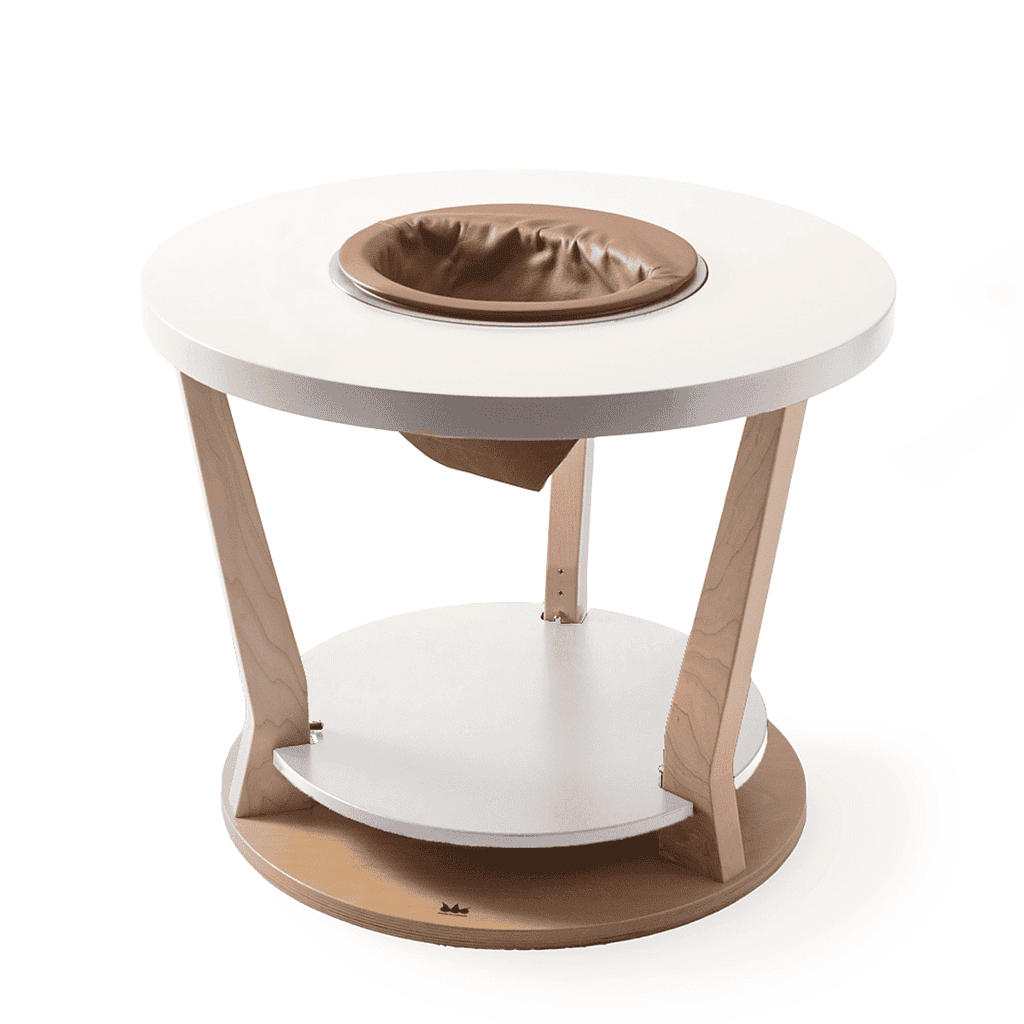 The Three Pears Bobbin Triple Play Center transforms into a toddler activity table, a kid's table, and a baby play center. While promoting mobility and connection with the environment, 360-degree rotation provides your child complete access to the toys, and five adjustable height settings guarantee the perfect fit as your child develops. The tight leather seat and solid floor positioning of the Bobbin provide babies just learning to sit up more comfort and support. It also includes a chalkboard insert.
As far as wooden toys for babies go, this is one of my favorites. It is made of Forest Stewardship Council (FSC) timber, meets the rigorous chemical emissions standards of UL, a global independent safety science company, and has a non-toxic finish.
Image: The Tot
Hape Scoot Around Ride On Wood Bike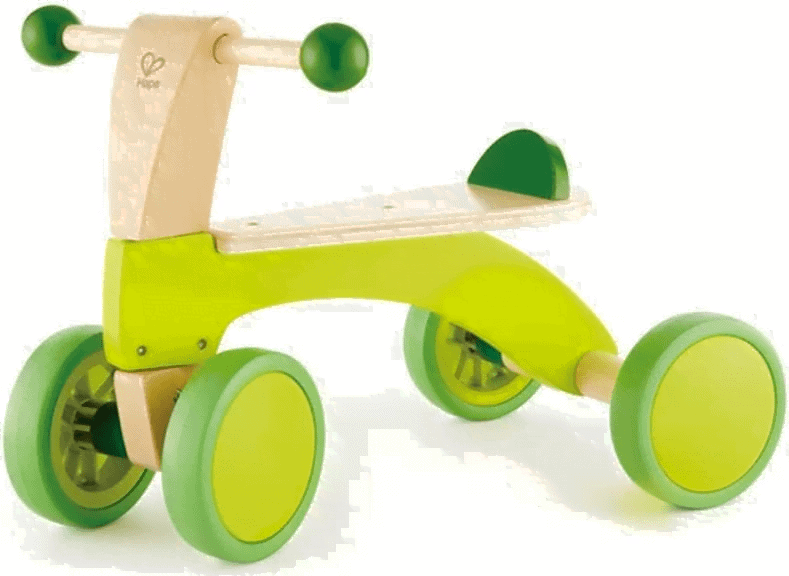 The Hape Scoot Around is the ideal toddler scooter for use as a first push bike. This four-wheel, foot-powered, wooden rider is suitable for toddlers 12 months and up. It helps develop balance and muscle strength. While your kids go on their swift adventures across any surface, the rubber wheels will ensure that the scoot about does not harm flooring and is quite durable.
Your kid will be able to test their movement, build their muscles, and improve active motor skills with the Hape Scoot Around. Your children will gain confidence as they experience the freedom of scooting around.
The Hape Scoot Around Ride On Wooden Bike secured the 2013 Parent's Choice Recommended Award and the 2013 Oppenheim Toy Portfolio Gold Seal Award!
It is made using wood that came from sustainable forestry practices. This toy is made of solid wood and has a long-lasting, kid-safe brilliant green paint finish that your child will appreciate for years to come. Hape toys encourage kids at every stage of development and support the growth of their innate talents. All Hape products offered for sale in North America comply with or surpass the mandated safety requirements.
Through ethical business methods, this company hopes to leave the world in a better state than what it is now. Their toys are made to encourage play, learning, and exploration of the world we live in.
Image: Amazon
Montessori Size Sorting & Counting Puzzle Game Carrots Harvest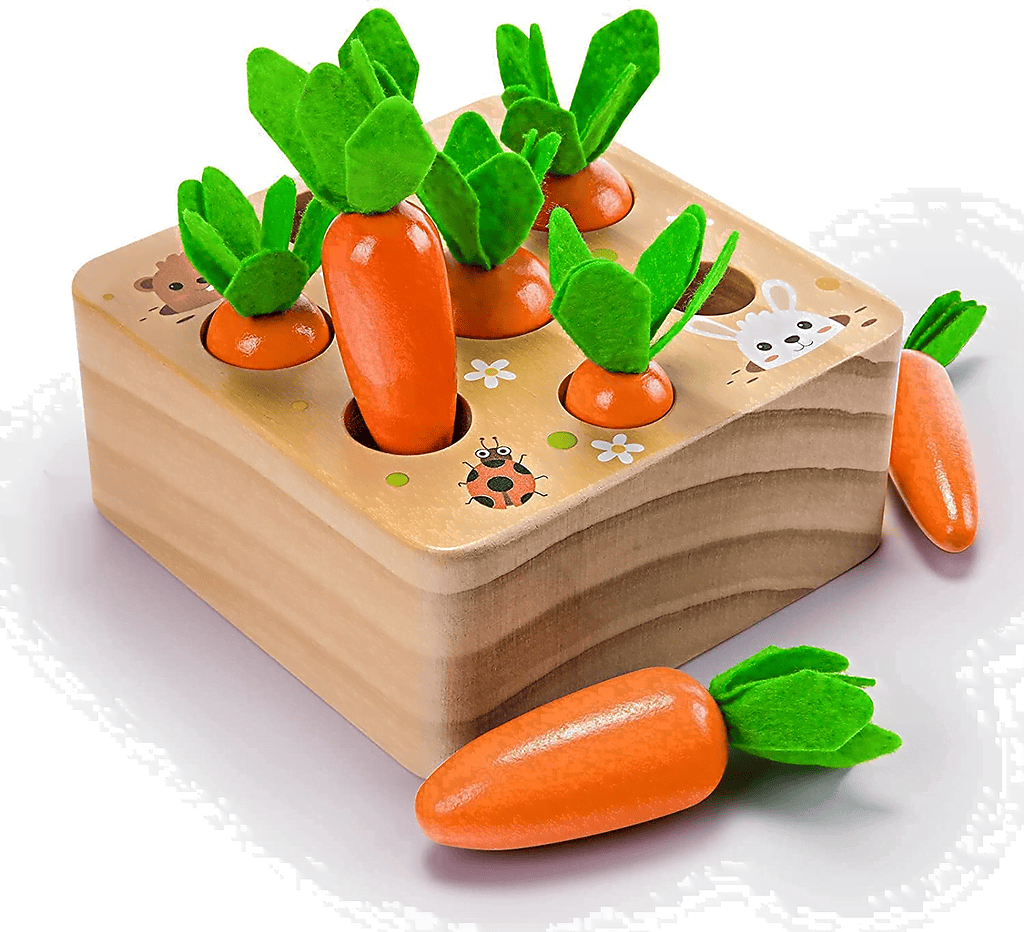 This instructive wooden toy is made to inspire young children to be resourceful, independent, and pragmatic explorers of their surroundings. The Carrot Harvest toy will teach your infant one specific ability – the color, shape, and feel of the classic carrot in different sizes. Your children can concentrate on their carrots without any distractions.
Another great addition to this list of wooden toys for babies, this set is made of New Zealand natural pine wood with water-based paint and is non-toxic.
Get this carrot harvest game now!
Image: Amazon
Janod Toys Pure Tap Tap Xylophone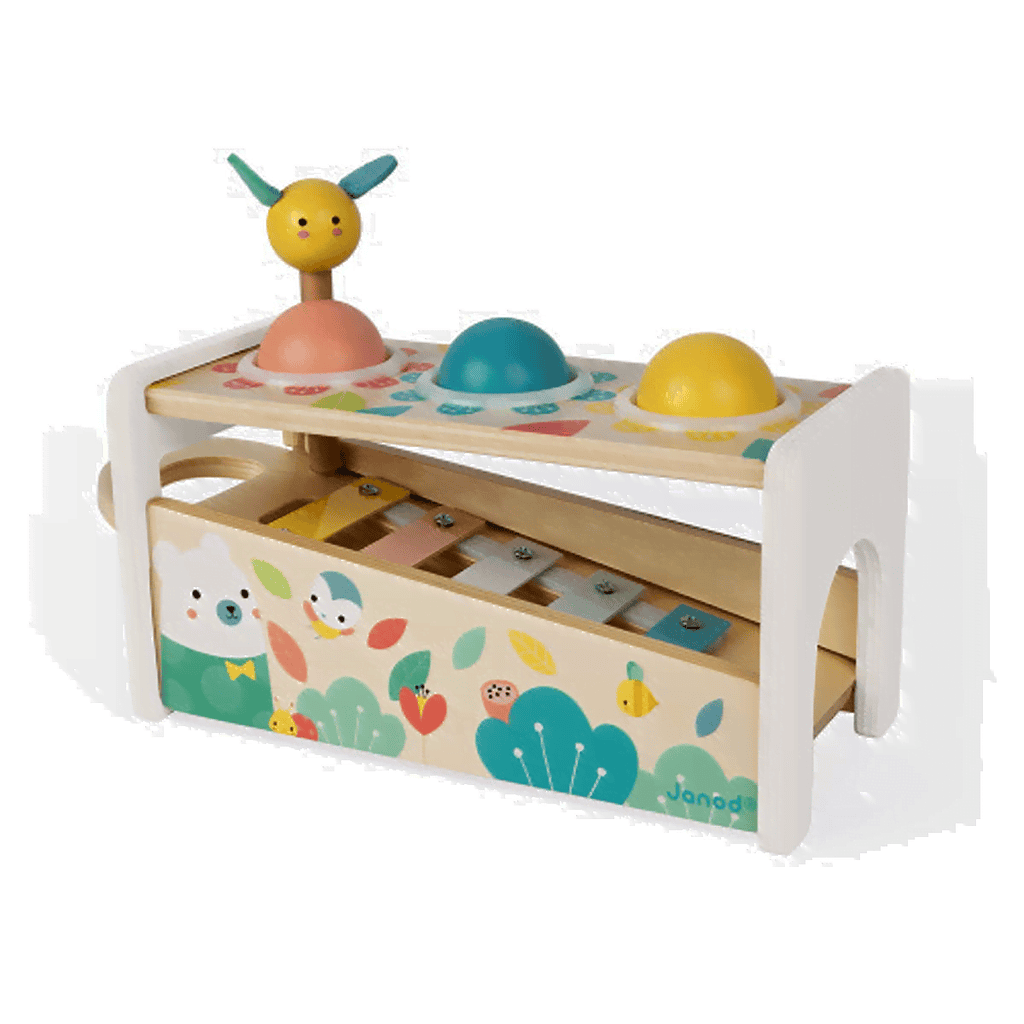 The Janod Toys Pure Tap Tap Xylophone combines two fantastic musical learning activities to promote musical awareness and fine motor skill development. Your youngster will enjoy hitting the balls through the holes with the included bee hammer to change the tone of the xylophone.
The toy is made from solid wood and helps in developing dexterity, sensory development, and shape and color recognition. Moreover, the xylophone is removable and can be used on its own.
Image: The Tot
Bajo Baby Walker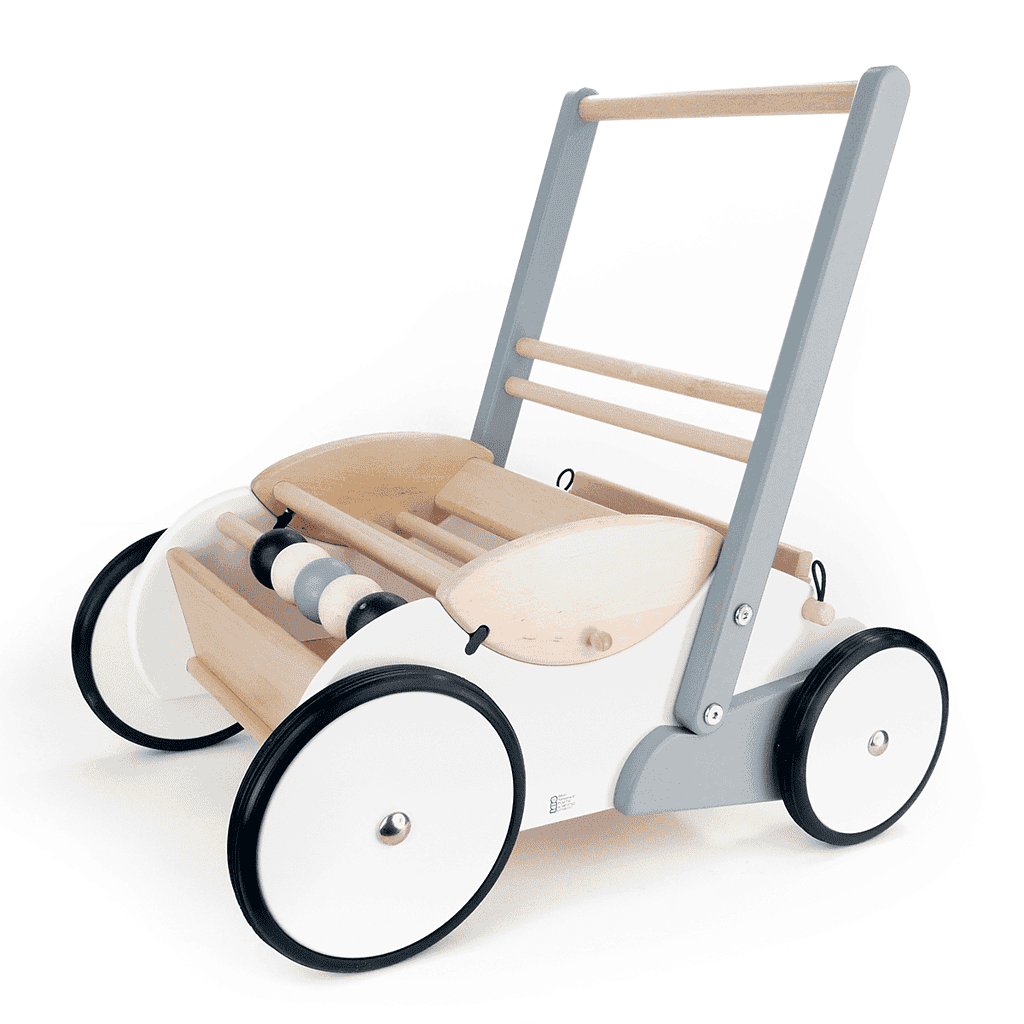 Bajo, a toy manufacturer situated in the picturesque Polish Carpathian Mountains, emphasizes the use of eco-friendly and non-toxic materials. Bajo is dedicated to encouraging active play, and because its toys really instruct, they are frequently utilized as educational tools in kindergartens. Bajo Toys offers items created with premium materials from regional vendors who adhere to eco-standards for the manufacturing of wood, with an emphasis on promoting positive social change and environmental consciousness.
The Bajo Baby Walker helps develop confidence when it comes to a baby's early steps because it is quite durable. For seasoned walkers, it converts effortlessly to a wagon thanks to its one-bar abacus, detachable tray, adjustable handlebars, and rubber tires!
Image: The Tot
Melissa & Doug First Bead Maze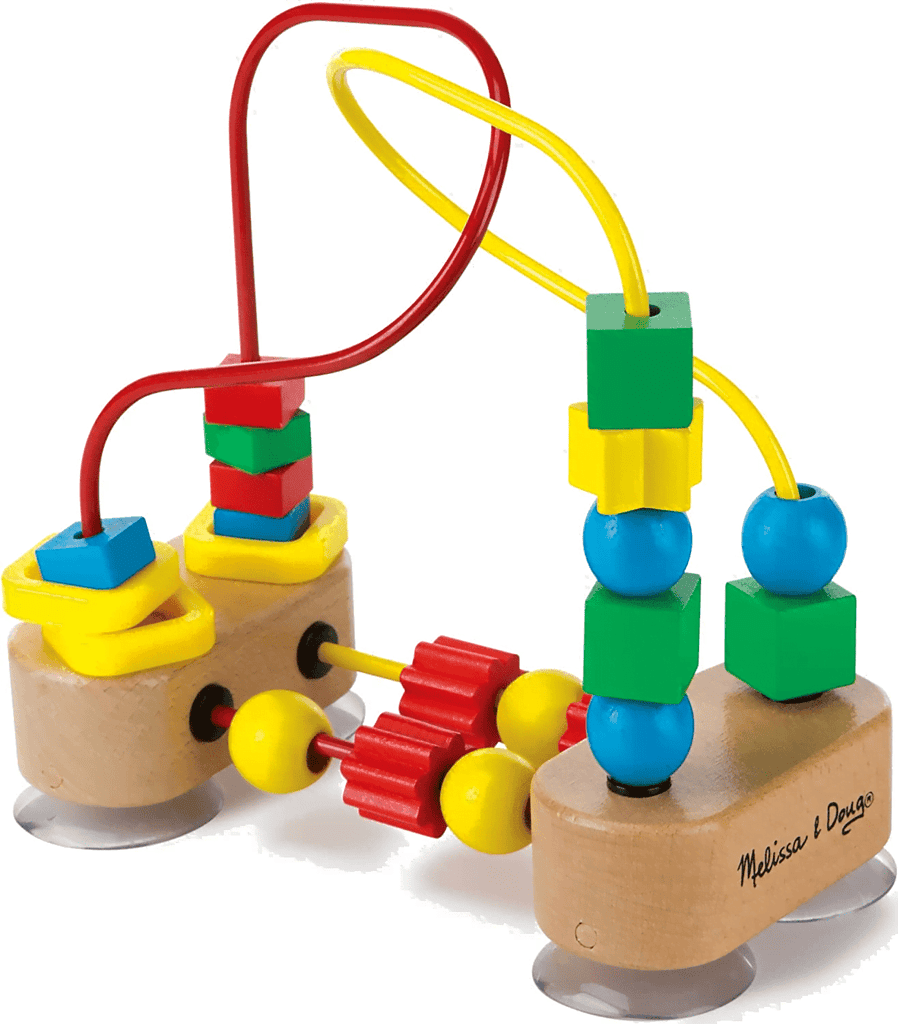 This amazing bead labyrinth makes sitting on a high chair much more enjoyable. It has vividly colored, multi-shaped beads that spin and slide over red and yellow wire paths that are supported by a sturdy suction cup base. This encourages fine motor development, hand-eye coordination, and color identification via play!
This Melissa & Doug baby toy has been created to support youngsters 12 months and older in developing a variety of important abilities. High-quality materials were used to create this baby bead labyrinth. Four soft-coated wires are twisted and turned between two blocks of solid wood, which show excellent craftsmanship and are designed for prolonged safe usage.
Children from the age of one year old and up will love and learn from The First Bead Maze. Include the Melissa & Doug Shape Sorting Cube to complete the hands-on learning and give them an enjoyable screen-free play choice.
Image: Amazon
PlanToys Solid Drum Wooden Musical Toy Instrument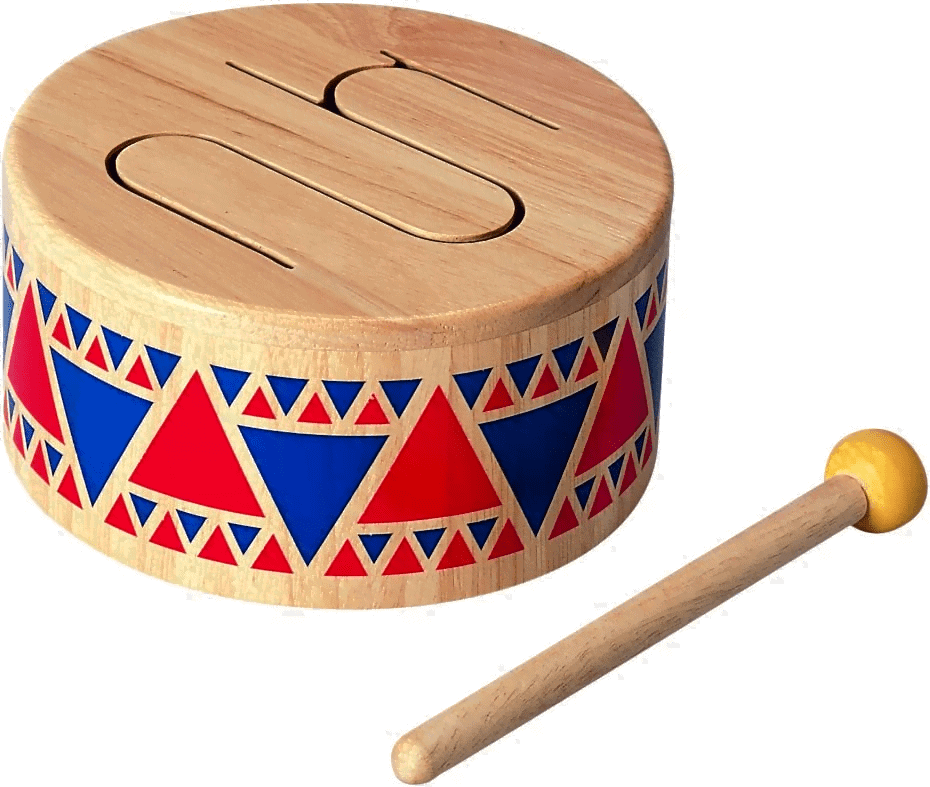 This Solid Drum, which is produced in Thailand from rubber wood, is a great method to get kids interested in music and rhythm. The rubber head on the hardwood drum stick softens the sound, giving the toy drum a softer beat akin to a calming tympani. This is so that grownups won't lose their minds over the noise!
Suitable for toddlers and preschoolers 18 months and older, this drum and drum stick come in the ideal size of around 6 inches all around. Children develop their hearing abilities and arm muscles as they play, with different sounds that they'll learn to produce by tapping on different parts of the drum's surface. They'll also have a great time!
Image: Amazon
Melissa & Doug Shape-Sorting Wooden Dump Truck Toy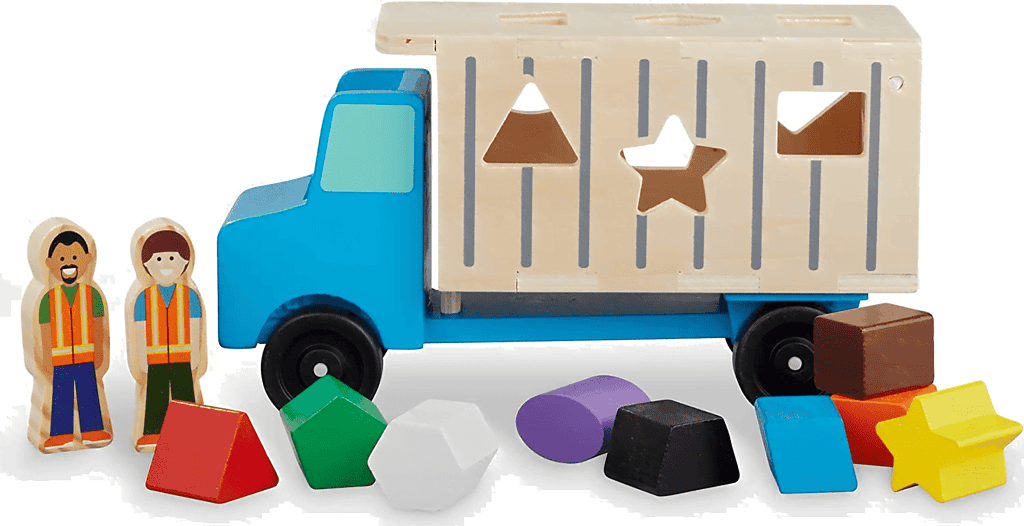 Our final addition to this awesome list of wooden toys for babies is the Melissa & Doug Shape-Sorting Wooden Dump Truck Toy. With this versatile shape sorter and wooden truck in one, you can "drive" home the fundamentals of basic math abilities. The nine shaped, colorful wooden blocks drop into the truck bed with a satisfying *clunk* and fit into cutouts on three sides of the dump truck.
The blocks are delivered anywhere using smooth-rolling wheels. Toss the blocks into the container and tilt it to the side to start over, lift the back door. Two of the supplied toy figurines fit snugly within the truck's cab. This well made toy promotes imaginative play and creativity while aiding in the teaching of form and color awareness. The Shape-Sorting Wooden Dump Truck Toy is a fun and instructive present for kids between the ages of 2 and 5.
To complete the hands-on play experience and to give youngsters a fun screen-free option, include the Melissa & Doug Magnetic Car Loader in your collection of natural baby toys. The imaginative and creative goods Melissa & Doug has been producing for more than 30 years have been dubbed "the gold standard in early childhood play" by NBC News. The American Academy of Pediatrics and Melissa & Doug are working together to promote early brain development and assist kids in developing crucial life skills via play.
Image: Amazon