In today's eco-conscious world, sleep enthusiasts are turning towards greener alternatives for their bedding. Organic mattress toppers, crafted from natural materials and devoid of harmful chemicals, are rapidly gaining popularity. Not only do they offer a plush, comfortable sleep surface, but they also ensure you're resting in an environment that's both sustainable and free from toxins.
Dive into our curated list of the 8 best organic mattress toppers, and discover the perfect blend of luxury and eco-friendliness for your bedtime sanctuary.
Best 8 Organic Mattress Toppers That Will Help You Sleep Better!
Choosing Organic Mattress Toppers
Being aware of the telltale signs of a bad mattress will prompt you to get rid of it right away. But, are you aware of the environmental cost of ditching your old mattress?
Our regular mattresses often contain a host of chemicals. Gone are the days when they were stuffed with pure cotton or horsehair and wool. If you have been wondering what makes you sweat so much when you sleep, the answer may lie in the numerous off-gassing chemicals mattresses use today.
These chemicals include Polyurethane foam (a.k.a. Polyfoam), synthetic latex, flame retardants, and volatile organic compounds (VOCs) – that also make your mattress give off a weird stench. Such chemicals make mattresses extremely toxic and unsafe – right from their manufacturing process until the point when they're discarded.
Choose non-toxic mattress toppers. These toppers increase the life of your mattress and help your body adapt well to them, giving you a reason to not ditch your existing mattress too soon. Organic and non-toxic mattress toppers are safe to use – which means you won't be tossing and turning in chemicals.
Non-toxic and organic mattress toppers score high in our department of sustainability. First off, these revolutionary products prevent additional toxic waste that is already present in tonnes in our ever-overflowing landfills. Secondly, these toppers have health benefits your unyielding mattress doesn't. Thirdly, given how many chemical compounds are used in our mattresses, an organic mattress topper will be a better choice as the materials used in it lessen petroleum consumption by a significant margin.
If you are thinking about hopping on to the wagon and getting yourself the best organic mattress topper to save those bucks – go for it and do so with pride!
What Makes a Great Organic and Non-Toxic Mattress Topper?
Let's give eco-friendly mattress toppers a chance!
Before we tell you about the jazz around eco-friendly mattress toppers or bed toppers made from organic latex, you stand warned – just like any other trendy products hitting the market right now, including non-toxic hair dyes, green supplements to enrich your diet with vegan Omega-3 or garbage disposal bags, even mattress toppers are not safe from the dangers of greenwashing.
However, it is always good to be knowledgeable about things – especially when you're combining your demands with a conscious purpose to become more sustainable and channel your goals for a zero-waste lifestyle.
As far as non-toxic and organic bed toppers are concerned, they are judged by a standard yardstick that is painfully obvious. Yet, we are putting it down for you because while shopping for something that is still an infant trend catching up slowly, we tend to get a little confused.
Keep these pointers in mind while shopping for eco-friendly mattress toppers.
Whatever Fits the Bed!
Because frankly, who would like a bed topper that slides right off the mattress or is too short that it leaves your feet totally unloved and uncomfortable? Also, if you care too much about your mattress peeking beneath the bedspread, look for a bed topper that's the perfect fit – 'Goldilocks' style!
Motion Transfer
If you're someone who is irritated by the creaky springs in your mattress, especially during a well-deserved cuddle hour – you must invest in a mattress topper that improves your bed's motion isolation.
Simply put, motion isolation is when you can feel the presence of movement in another part of the mattress. Sensitive sleepers are perhaps hyper-aware of this and might jump at the slightest movement they feel when their pet or partner comes in to share their sleeping space. Check out how mattress toppers are checked for their motion isolation, right here!
A Topper, a Mattress Pad and a Mattress Protector
You can actually skip a whole lot of pain by reading up on these different products. Though they sound synonymous, they're completely different products.
Mattress pads and protectors are like raincoats for your mattress to protect it from the onslaught of dirt and stains. They do nothing to aid your sleeping experience, which mattress toppers do.
Materials
Of course, we're going for options that help us combat the harm we have been doing to the planet! Look for materials like natural latex. Natural latex is sourced from the rubber tree and does not contain any petroleum additives.
Other natural alternatives for mattress toppers are the ones filled with bamboo, kapok or hemp fiber, organic wool, or organic cotton.
Density
The correlation between the material filled in the mattress and how effectively it supports your body is positive. So look out for a mattress topper stuffed with goodness, and for heaven's sake DO NOT go for something poorly stuffed. Also, check if the distribution of the stuffing is uniform.
Thickness and Firmness
Now, this is something that depends a lot on your personal preferences – you need to listen to what your body is telling you. Buying a harder or a softer mattress topper is dependent on how well you know your mattress and its 99 problems.
Third-Party Certifications for Organic Mattress Toppers
Like every product out there, even organic mattress toppers have some certifications signifying that:
They do not release a high concentration of smelly and dangerous chemical fumes and ensure cleaner indoor air
They are made from organic materials
They are climate-neutral and carbon-offsetting
These certifications are:
1. GREENGUARD Gold: Certifies that your eco-friendly mattress topper has passed the toughest industrial standards and results in cleaner indoor air quality. It is important that your mattress and toppers do not release fumes that can interfere with your health and cause respiratory problems.
2. CertiPUR-US: Ensures that your mattress toppers are free of formaldehyde, mercury and lead along with being low on those VOCs.
3. GOLS and GOTS: Benchmarks endorsed by the USDA's National Organic Program, ensuring that the textiles and organic latex used in mattress toppers are organic and socially responsible as well.
What are Organic Mattress Toppers Made of?
Natural Latex
Going for an organic latex mattress topper can work wonders for you, especially if you shy away from options like wool because you are vegan. And yes, veganism doesn't just apply to food habits or Veganuary – it extends to other aspects of our lifestyle as well.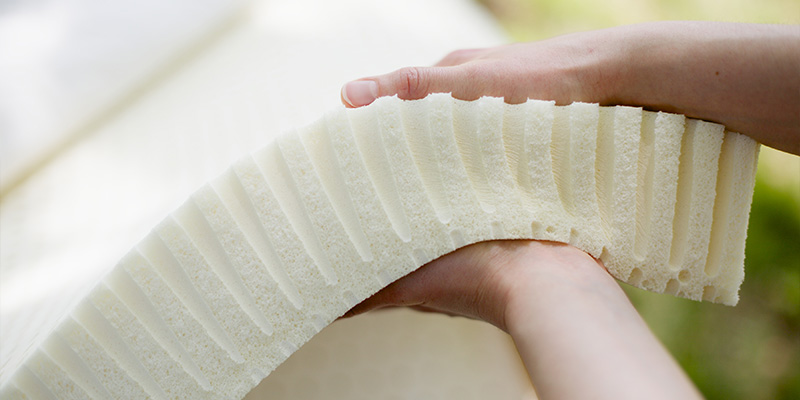 (Curious about Veganism? Read up on vegan leather, soy candles that are totally plant-based, and more!)
Natural latex is a safe option for vegans – it is antimicrobial and a pro at regulating temperatures according to how hot and cold it is. Plus, it is biodegradable and will degrade without leaving any toxic residue behind.
Organic Cotton
While cotton will be a little heavier than other alternatives, the organically grown white saint will help you shush those sleeptime blues.
(Also, if something more than a faulty mattress is keeping you up, it might be good to look at these natural sleep remedies to treat insomnia and sleep apnea.)
Cotton that is grown free of pesticides is an excellent filling for your organic mattress toppers, despite the fact that it might lose its shape over time and is blended with natural latex to keep it firm.
Organic Wool
For people who are a little flexible with plant and animal produce (of course, the processes need to be ethical and cruelty-free, let's be sensitive to the dangers of mass breeding animals for commercial production), organic wool is a great option if you're looking for the best organic mattress topper.
Wool is flame-resistant, and antimicrobial and doesn't worry about it off-gassing bad chemicals that take your shut-eye time away with them.
Chemicals to Watch Out for in Mattress Toppers
This is our most important section – the harmful aspects of mattresses that you should steer clear of.
As we mentioned before, conventional foam mattresses are not the ideal option, contrary to how peacefully the people in the advertisements are sleeping on them. What they don't tell you is that they are full of chemical additives like polyfoam, VOCs, and flame retardants.
Our reasons for rejecting mattress toppers laden with such chemicals are quite simple.
Polyfoam Mattresses are Made From Carcinogenic Compounds!
Yikes, that really made us look at mattresses with wide-eyed shock. Polyfoam is also the result of an energy-hungry process that involves creating it with polyols and diisocyanates that are known to cause tumours and also, air pollution. If you wish to know more about it in detail about how polyfoam plants are wreaking havoc on our atmosphere by leaking out pollutants like hydrogen cyanide, read this eye-opener. The compounds that are used in the manufacture of polyfoam are also carcinogenic.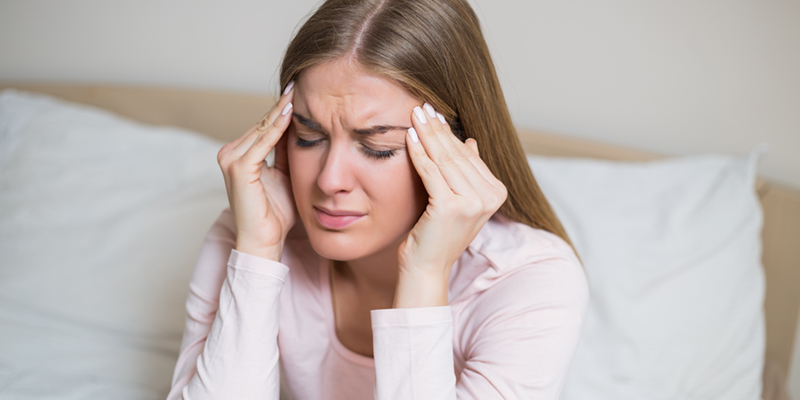 Moreover, worker safety during the manufacture of polyfoam is heavily compromised since the process releases compounds like methylene chloride, toluene diisocyanate (TDI), and hydrogen cyanide which can cause asthma and even death.
VOCs Cause Major Health Hazards!
Another word you should be including in your blacklist is VOC- or volatile organic compounds. Most VOCs are categorized as carcinogens and are emitted as breathable gases whose concentration increases tenfold when you are indoors.
Some of these compounds are also greenhouse gases and contribute to climate change. VOCs are also a hazardous thing to deal with as they can give you serious headaches, nasal irritation, dizziness, liver and kidney damage, and even increase the risk of miscarriage and other fertility problems.
Flame Retardants Contaminate the Environment and Your Body!
Flame retardants are yet another class of chemicals you should steer clear of when you are buying a mattress or are going to ditch one very soon. Flame retardants are substances that are used to protect mattresses and furniture to insulate them from minor burns that can turn into a conflagration.
These substances also called Polybrominated Diphenyl Ethers (PDBEs) can lead to an increased risk of cancer, disruption of thyroid function, and neurodevelopmental anomalies.
Moreover, they persist in the environment, which is a cause for genuine worry as PBDEs can easily accumulate in human bodies (like fertilizers, ever heard of biological magnification?) and can contaminate the whole environment in utterly disastrous ways.
Other Chemicals
We have categorized other singular chemicals in this division. Chemicals like Antimony, Boric Acid, and other Halogenic Flame Retardants can cause eye, heart, and lung problems along with causing damage to brain and nerve activity.
The Ecowiser Take on Organic Mattress Toppers
Enhancing your sleeping experience will benefit both your mind and body, especially when your bed is soft, welcoming, and ethical. Organic mattress toppers that are safe, non-toxic, and certified by verifiable organizations are great options. We encourage you to try these excellent bed toppers for yourself and see what they can do for you and nature.
After all, prioritizing conscious comfort is one of our top resolutions. About time we implement it in our lives to minimize waste and protect ourselves as well as the planet from harm while empowering farm communities and handicraft workers.
Curious about the sustainability of your favorite brands? Don't shop in the dark! Check out our comprehensive brand rating to discover how eco-friendly your choices truly are