Finally, you have decided to take things ahead with your significant other and want to mark the occasion with a glittering solitaire! Moreover, with the concerns pooling around making sustainable choices in every sphere of our life, it is obvious that couples would consider the ethical implications of their choices.
Choosing ethical engagement rings featuring conflict-free diamonds is one of the first steps that couples can take toward sustainability.
We know that it is widely perceived that being sustainable roughly equates to being 'stingy' but it does not have to be just that. In fact, ecologically sensible and ethical decisions should be called prudent instead of a mere bid to cut down costs as if your life depends on it.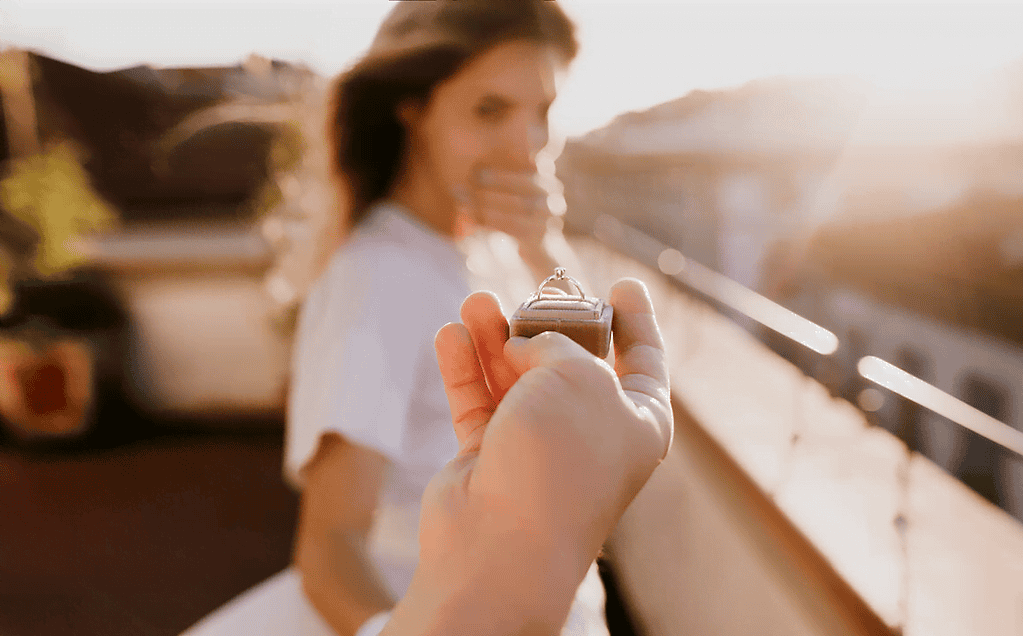 Sustainability can go hand-in-hand with luxury and our dreams of opulence. Decisions about ethical jewelry do not have to be antithetical to environmental and human ethics. And this is where the concept of ethical and conflict-free diamonds come in. Socially and environmentally conscious couples are trying to take things slow.
More than that, since they realize the impact that each of their choices makes on their lives and those of others, choosing ethical wedding and engagement jewelry is an obvious choice for them.
And so in our latest BeZen update, we will learn a thing or two about ethical diamond rings and the economics of it. In case you were wondering about where to get one of these sustainable solitaires to surprise your ladylove and pop the question, we have you covered. Besides telling you everything you need to know about sustainable diamond rings, we will tell you about 7 jewelry manufacturers who marry your dream proposal with a dash of consideration.
What are Ethical Engagement Rings?
We have all heard that diamonds are a woman's best friend (Thanks Marilyn.). But we wonder often- if all these solitaires can do is sparkle and glitter in posh showrooms and velvet showcases? Where do they come from? And who are the people behind the cute little engagement ring you want to buy for your beloved?
The value and the appeal for diamond rings are unquestionable. However, as all that glitters is not gold, a diamond can sparkle and hide all the tedious and usually non-ethical processes that are involved in bringing it to you.
In a world where bloody civil wars funded by sales of diamonds and the exploitation of workers who mine them are really common, finding ethical, conflict-free diamonds can be a daunting task. But several brands and customers are choosing to reflect on these decisions. After all, every product choice, no matter how priceless it is involves three key pillars- ecology, economy and sociology. When we talk about ethical and conflict-free gemstone rings, they take all these factors into account.
To begin with, several jewelry enthusiasts and prospective buyers do not know much about ethical diamonds. Put in simple words, ethical engagement rings feature ethically mined gemstones which are set in a band made out of recycled metal.
The metal can also be fair mined- which means that the mining process has low environmental impact and does not exploit the workers who are engaged (pun intended) in sourcing these precious gemstones and metals.
The main thing about looking for an ethical, conflict-free diamonds is to reduce the extensive demands of mining. Mining processes and industries place a heavy cost on the environment. Therefore, what you should be going for is recycled diamonds and refurbished metal that doesn't lose its shine.
Perhaps the most ethical way to go on with the proposal is to use a family heirloom from your grandmother's trousseau (with the respected matriarch's blessing and permission of course.)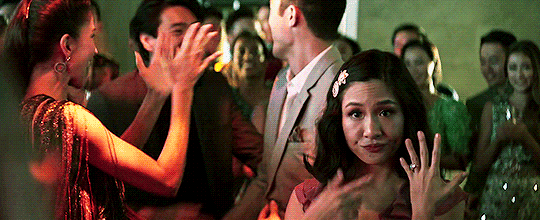 Most of us are still 'awww-ing' over the proposal scene from Crazy Rich Asians where our handsome hero sweeps off his smart and self-respecting lady with his mother's precious emerald ring. And maybe, isn't vintage a timeless thing that would help you cement your precious bond even more?
All the Potential Roadblocks for Ethical Ring-Hunting
Of course, every love story isn't complete till it has a proverbial villain who attempts to sabotage everything. It can be nosy relatives, or a host of problems that can crop in between a couple.
And for those who are actively seeking an ethical ring, a significant antagonist to encounter will be greenwashing and clever marketing! Now that several companies know that you won't say yes to that dress or ring that has potential environmental implications- they take a different route to still sound persuasive enough for their customers.
Brands, jewelers and companies often do this by not being transparent about their supply chain processes and clearly lying about where they source their diamonds from. These hurdles are quite significant when it comes down to finding ethical engagement rings for your partner. The truth is a bitter pill to swallow- even the most conscious of consumers cannot be entirely sure about the veracity of their little treasure.
Labels like conflict-free, vintage and recycled are also loaded with potential misuse by jewelry companies that would do anything to attract customers. Currently, the easiest bet to do it is to claim that a particular gemstone has been ethically sourced, when discerning its origin is quite tough. You may never know whether your diamond is coming from artisanal mines or industrial corporation led mining processes.
Diamonds and metals keep changing so many hands till the moment they show up on a ring that it seems a tedious task to go all the way in finding where they are coming from? Moreover, what is the guarantee that these diamonds are not forcibly occupied by violent groups and are coming from mines where workers rights are respected?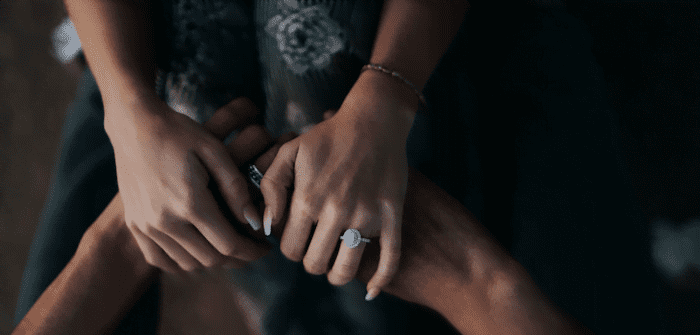 But all such challenges are a lesson for couples to conduct better research into the origins of the diamond on your ring.
We speak truthfully- ring-hunting is no joke when you are trying to find an ethical one in a haystack of not-so sustainable choices.
But, with BeZen, matters will become a breeze as we will tell you everything there is to know about finding the most sustainable engagement rings- from which certifications to look for and the topmost jewelers who strike a fine balance between social responsibility and budget, we have everything down to a T!
The Economics of Conflict-Free and Ethical Diamonds
Going ethical for your engagement involves knowing a little about the history and the reason why the term is so in vogue. Understanding the economics of conflict-free diamonds is the beginning to search for the right one for your soon-to-be missus.
First off, we begin by differentiating between ethical and conflict-free gemstones and metals. For many, the two concepts are one and the same. But each has its own history and aspects. More specifically it's actually how climate change and global warming are different, despite sounding similar.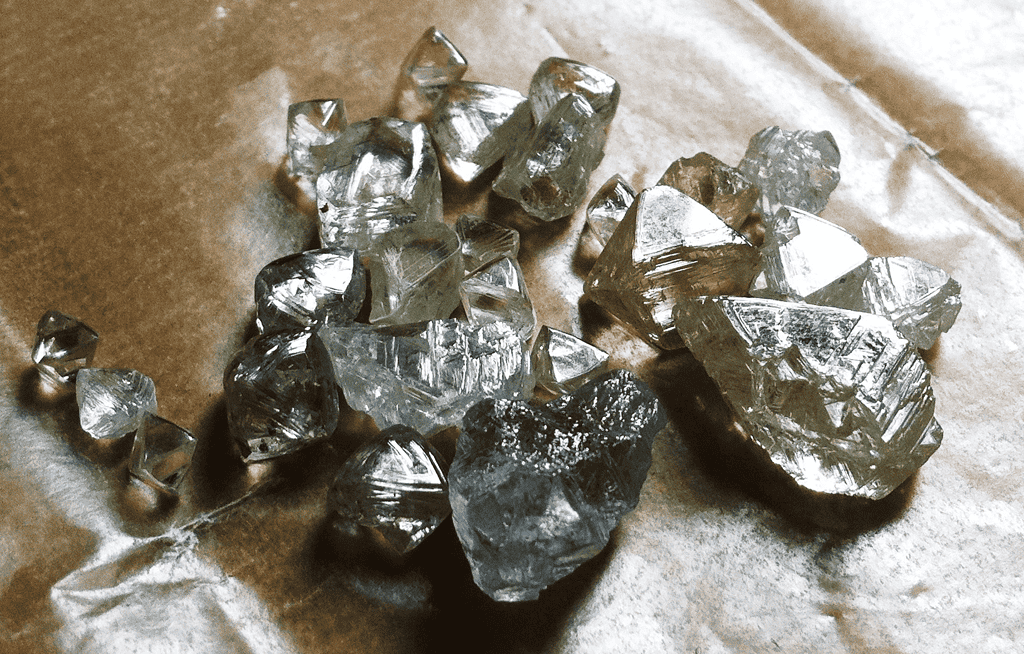 When we refer to conflict-free diamonds, these are gemstones tat are not used to fund civil wars. If this is looking like a vague definition, let us specify this further and explain how are diamonds employed in civil wars. Ever heard the term 'Blood Diamonds'?
Yeah, we know it is the title of a famous film released in 2006, but the term itself goes back to the 1990s. The United Nations defined blood diamonds or conflict diamonds as illegal products that are mined in war-torn areas. The context of the term is set in the ghastly 21st century civil wars happening in parts of Africa such as Sierra Leone, Angola, Liberia, Guinea and Guinea-Bissau.
The following section of the article will sum up the scenario in Sierra Leone, which is considered one of the hubs of diamond conflicts. While it is difficult to process this connection, the example of Sierra Leone is the key to understanding how conflicts yield war diamonds and how do they figure in the entire equation of finding a safe diamond.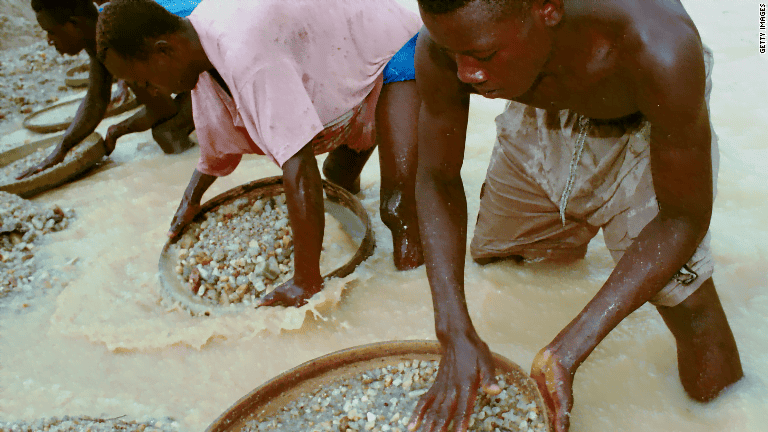 Ethical diamonds on the other hand are a more complex and broader dimension than conflict-free diamonds. When we say that a diamond is ethical, it means that no human rights and environment abuses occurred during the entire process of circulation.
Ethical diamonds also mean that the workers involved were given fair wages and they were not working in the draconian conditions as is the case for most industrial mining practices.
Artisanal mining practices compliant with the Kimberley Process are ways through which people ensure that the diamond sitting on their ring is ethical. However, there are concerns that even put the established Kimberley Process under suspicion.
Despite claims that say otherwise, artisanal mining is not a sure shot way to ensure that a diamond is ethically sourced. Even if artisanal miners use traditional tools and implements, there are concerns about child labor, unsafe work practices and environmental degradation.
Moreover, the most contentious aspect is that ditching artisanally mined diamonds is not an ethical option in itself as about 1.5 million miners derive their income from this profession.
What one can do to improve the conditions in artisanal mines in the world by contributing to the Diamond Development Initiative (DDI). We will elaborate this aspect in the section dealing with the factors to consider when you are trying to find an ethical diamond.
The Long-Short Story of Sierra Leone
The beginning of this diamond conflict began when the reputed company DeBeers took control of mining prospects in Sierra Leone in 1935 for the next 99 years. Despite the entire control exercised by DeBeers, the Lebanese miners in the region discovered that they can mint huge profits by smuggling diamonds out of the country. This led to the boost in illegal mining and diamond smuggling across Sierra Leone.
In the years between 1950 and 1960, illegal mining and smuggling networks flourished due to faulty government policies such as the Alluvial Mining Scheme in 1956. After Sierra Leone got independent in 1961, the regime of Siaka Stevens encouraged illicit mining and gave conflict diamonds a political dimension.
Seventeen years hence, DeBeers sold all its shares to Precious Metals Mining Co. headed by Stevens ally Jamil Mohammed. Mohammed got more access to power as Stevens' political successor was a novice. By 1991, Sierra Leone was mired in a destructive civil war led by the Revolutionary United Front.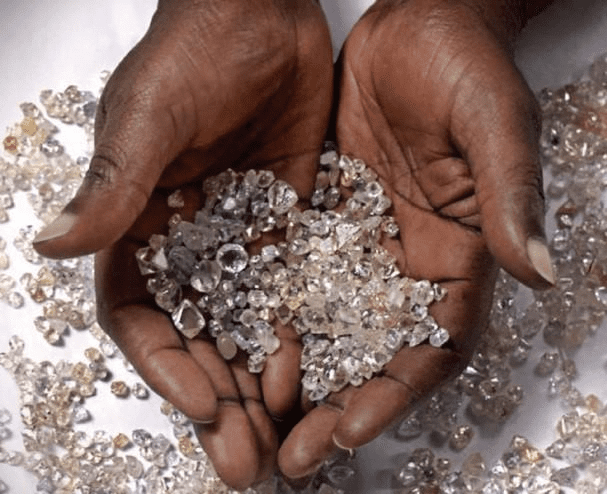 The RUF knew that seizing the control of the diamonds mines from the country's government will give them the rein over Sierra Leone. And hence began a vast rape and massacre of the country's citizens. RUF leader Foday Sankoh employed the most brutal tactics to show that the government was weak and unable to protect its citizens.
Instead of delivering peasants their share of mineral wealth, Sankoh delivered them death and mutilation by the dozens. The RUF is still a key actor in these diamond wars that cheated Sierra Leone's economy of billions of dollars. Despite being sentenced to death for his war crimes, Sankoh was later made the chairman of the Strategic Mineral Resources Commission which again put him in control of the region's diamond exports.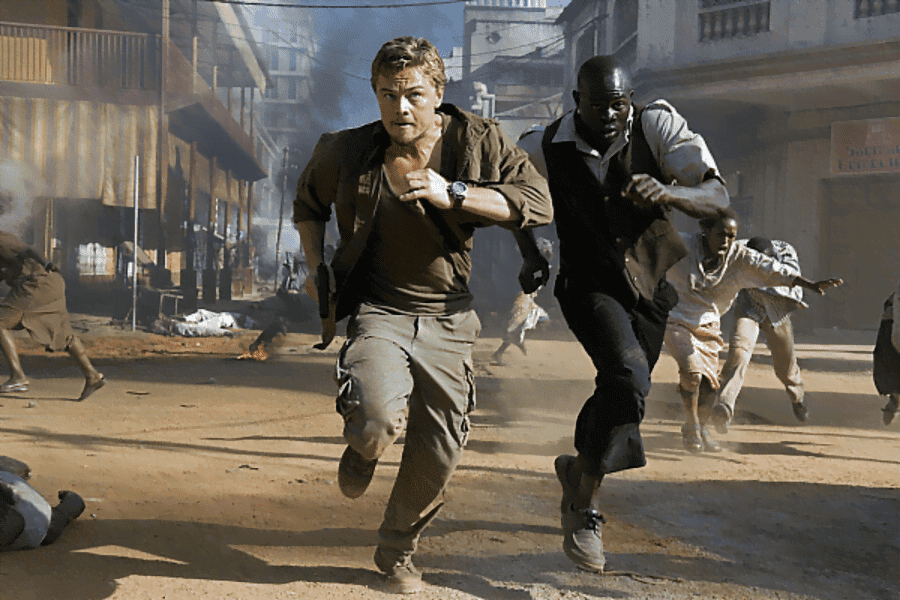 This bloody history prompted the UN to impose a ban on nongovernmental diamonds in the country. The sensitisation about conflict diamonds and their costs on humanity prompted the establishment of the Kimberley Process and the US' efforts to introduce a Clean Diamond Act. Both of these create paper trails to locate the origins of a diamond and eliminate conflict diamonds entirely from the market.
Introduced in 2003, the Kimberley Process requires the word from a trader that certifies a parcel of diamond as conflict-free. Since there is a high possibility that blood diamonds can still be mixed in Kimberley Process Certified diamonds, one cannot be sure of the veracity of such diamonds.
However, couples can contribute to incremental efforts focused at alleviating the situation as every process can be riddled with mix-ups that have potentially threatening implications.
The rising concerns around the origins of a diamond also prompt couples to research about why they should go for a conflict-free diamond ring and what they should look for while making a sustainable choice.
Why Choose Ethical Diamond Rings?
The reasons for buying ethical and conflict-free diamonds are pretty much self-evident. One, they are not a product and cause of bloody conflict that claims lives, thereby honoring the ecological and sociological pillars of sustainability.
Secondly, ethical diamond rings that power ethical and humane artisanal mining practices ensure that small miners are not alienated from their share of progress. Although it is difficult to ascertain exact origins, the right research will bring you closer to what you want.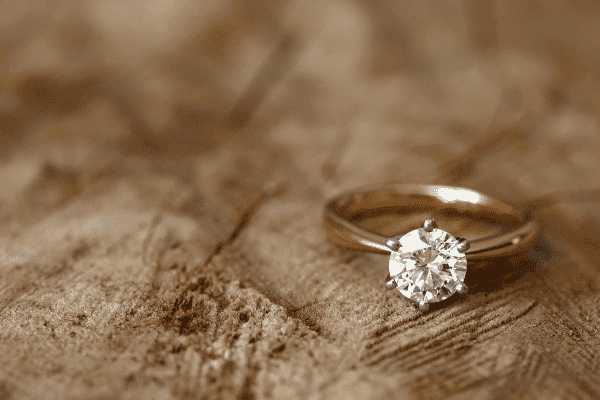 The intent of choosing a sustainable ring is to empower humanitarian practices that are less cost intensive on the environment and ensure more progress for the people involved in the process. After looking at the harm Africa went through due to blood diamond-fueled civil wars, companies like DeBeers have also taken solid steps to govern the policies of diamond mining and procurement.
What You Should Look for While Choosing Sustainable Diamond Rings?
There are several metrics to look for when choosing ethical diamond rings for women. One is to limit the damage to labour and environment that the Kimberley Process aims to address.
However, due to the suspicions around the process, people are increasingly tilted towards diamonds certified by the Canadamark system. If your ring is Canadamark certified, it will bear a girdle inscription consisting of serial numbers which you can enter on the Canadamark website. In this way, you can check out the diamond's movement through the supply chain.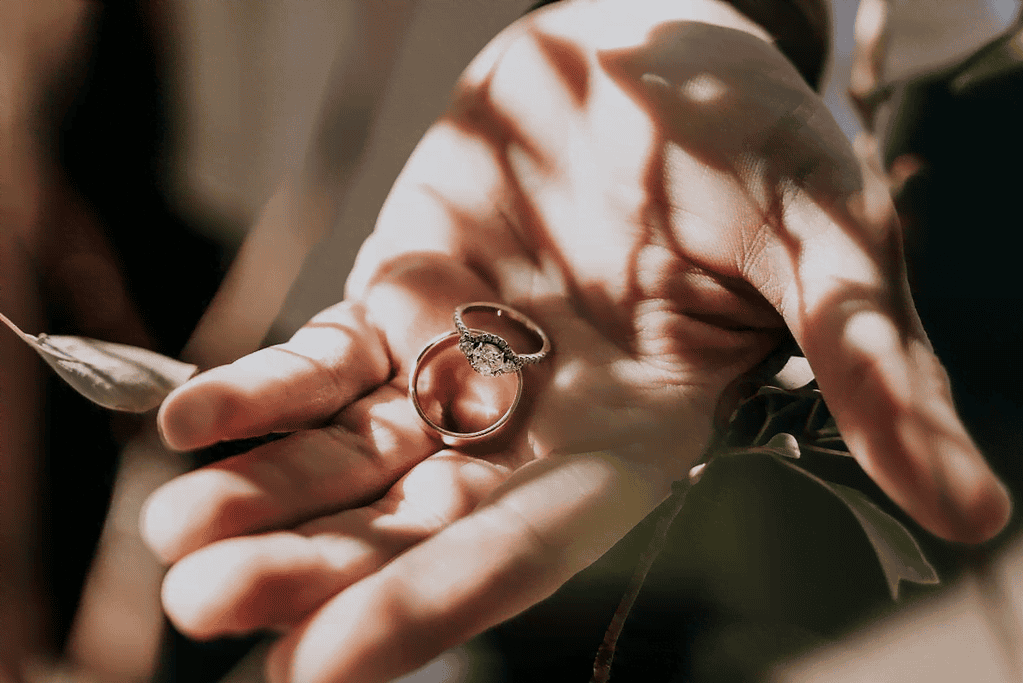 Other supply chains that are globally verified are the Kalahari Dream and Botswana Sort. You can also refer to lab-made diamonds, which although have a less resale vale, but are way more environmentally efficient. You can even get a larger gemstone for a price less than real diamonds. Synthetic gemstones such as lab-made mossanite also make excellent ethical substitutes that are conflict-free.
Using secondhand vintage pieces is also a great way to opt for sustainability. Opting for recycled gold or fair trade certified gold for the band is also a good option to make your rings more ethical and sustainable.
The Best 6 Brands for the Brightest Ethical Engagement Rings for Women
Mejuri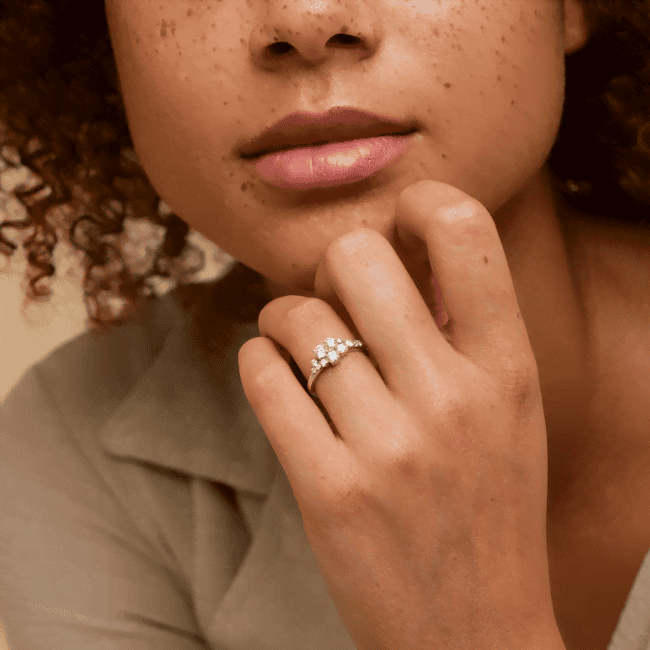 Mejuri is an online jewelry shop that offers glittering diamonds without the guilty cost of funding wars and causing environmental damage.
Founder Nora Sakkhija has established Mejuri to deliver conflict-free everyday wear jewelry and engagement bands focused on empowering customers and communities.
With a 100% tracing process for material availability, this jewelry brand offers customers the fairest prices and the best engagement rings to mark the occasion.
Traceability and transparency are hallmarks of this brand along with using gold from recycled sources. Their pieces are SCS and RJC verified. Mejuri also contributes to an Empowerment Fund.
Catbird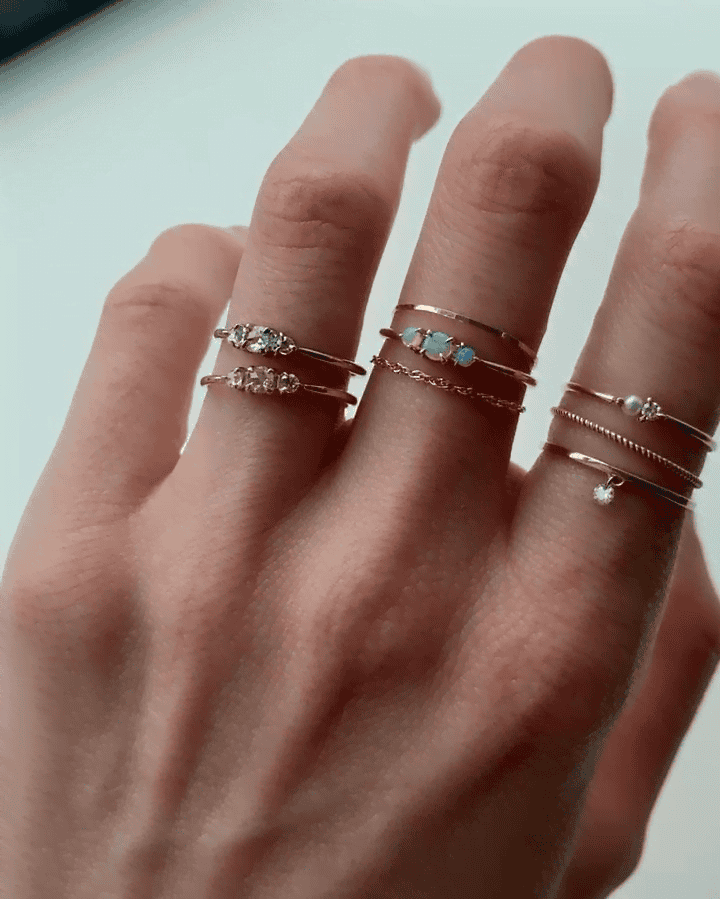 Catbird is one of the leading jewelry brands that sells ethical engagement rings for women. Their Swan Solitaire, Oval Supreme ring can be something you were looking for.
The brand goes beyond diamonds and includes rubies, tourmalines and emeralds.
Consciously made in their own Brooklyn studio, Catbird features 95% recycled gold in their collection as well as sparkling recycled diamonds.
Taylor & Hart
Delivering your own custom-designed memory, Taylor&Hart are one of the pioneers in selling engagement jewelry that is ethical. The brand emphasizes the importance of ethical sourcing and fair business practices.
Taylor&Hart diamonds are sourced from reputable suppliers and miners from Botswana and South Africa. The company is proactive in excluding conflict-free diamonds and ascertains origins via a Diamond Time Lapse process.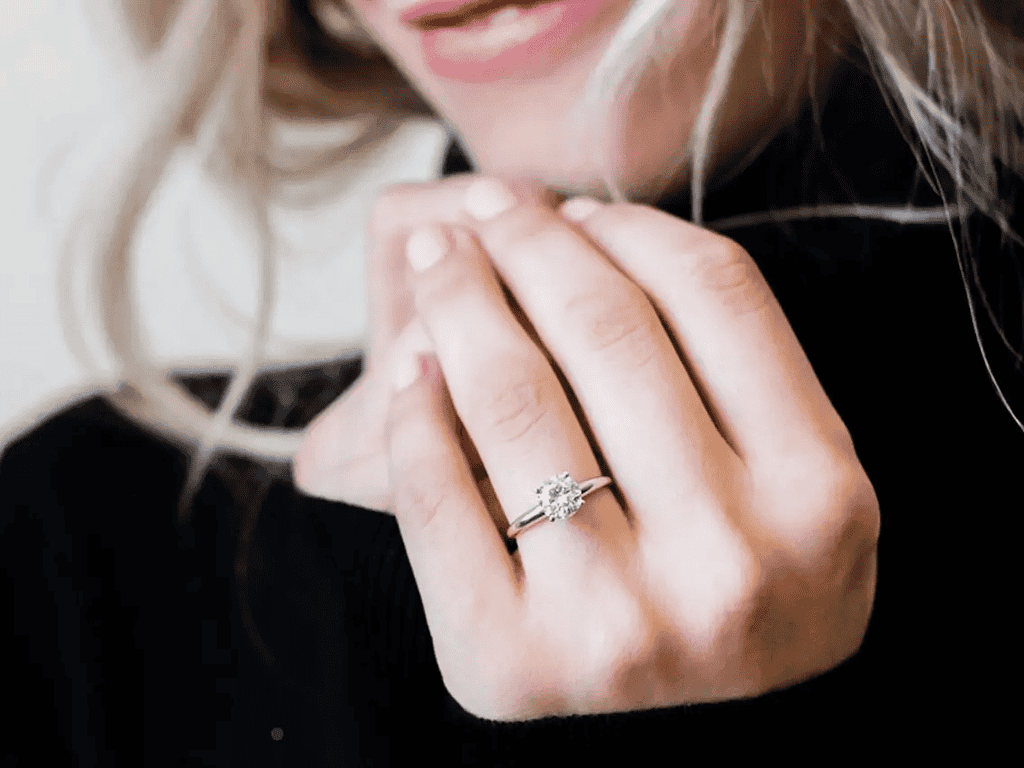 Speaking of lab-created diamonds, Clean Origin is a leading brand that offers the most ethical engagement rings and also plants a tree with every purchase.
Customers can choose a diamond of any cut which is ethically sources, eco-friendly and competitively priced. Clean Origin rings are subject to the most popular diamond certifications such as GIA, IGI, GSI and AWDC.
Sofia Kaman
Unique and sustainable, all engagement rings from Sofia Kaman are luxury personified. Made from recycled precious metals and ethical diamonds, Sofia Kaman goes beyond diamonds to cement your precious bond.
Say hello to coupledom with bright and beautiful rings. Bad Romance, Chloe and Claudette Bands are some of the most popular rings the brand offers.
Aurate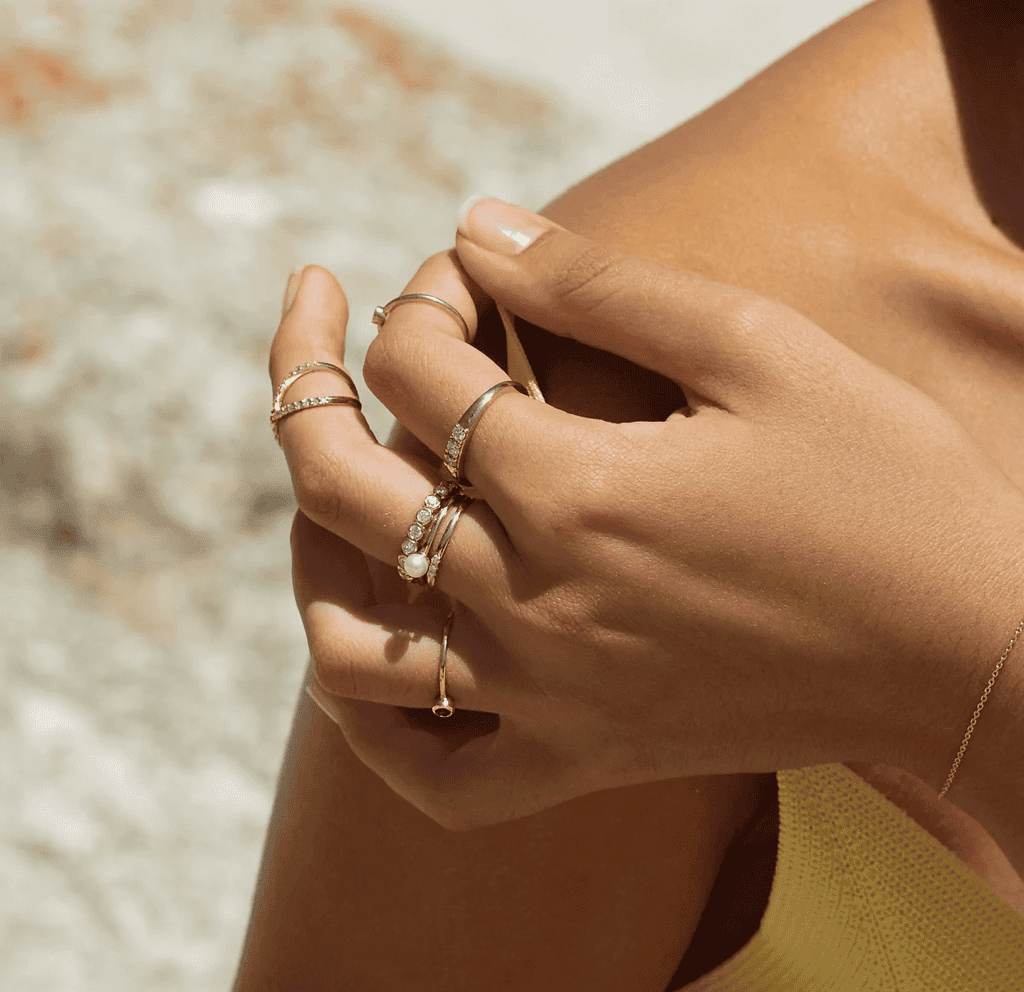 Mentioning sustainable fine jewelry without Aurate is unimaginable. With fairest prices and the clearest conscience, all Aurate pieces are made from 100% recycled gold that are made to withstand time and tide.
The brand highlights the importance of diamond education and makes all its engagement rings in their New York lab. With Aurate, looking good and feeling good is a possibility!
The Eco Wiser Take on Ethical Engagement Rings
Getting engaged is a significant moment in one's life. It is about holding someone's hand, and making a conscious choice of spending the future with your life partner. And when both of you have made a conscious decision to be together and commit yourself to a beautiful phase of life, it is equally important to commemorate the occasion with a conscious choice.
Ethical engagement rings are one of these steps towards ensuring that what is an occasion for you becomes an occasion for someone else. Leading jewelry brands are turning towards more sustainable options and eliminating conflict-free diamonds. But the main onus of research lies with you and how you want to make the occasion even more special for your lady love.