A handbag can make or break your outfit and is the perfect accessory to spruce up any look. The market is flooded with a thousands of handbag companies, and let's just say they aren't the most ethical. From using wasteful, polluting materials to animal leather, the industry is plagued with problems. However, a perfect solution to this most certainly exists in the form of a vegan handbag!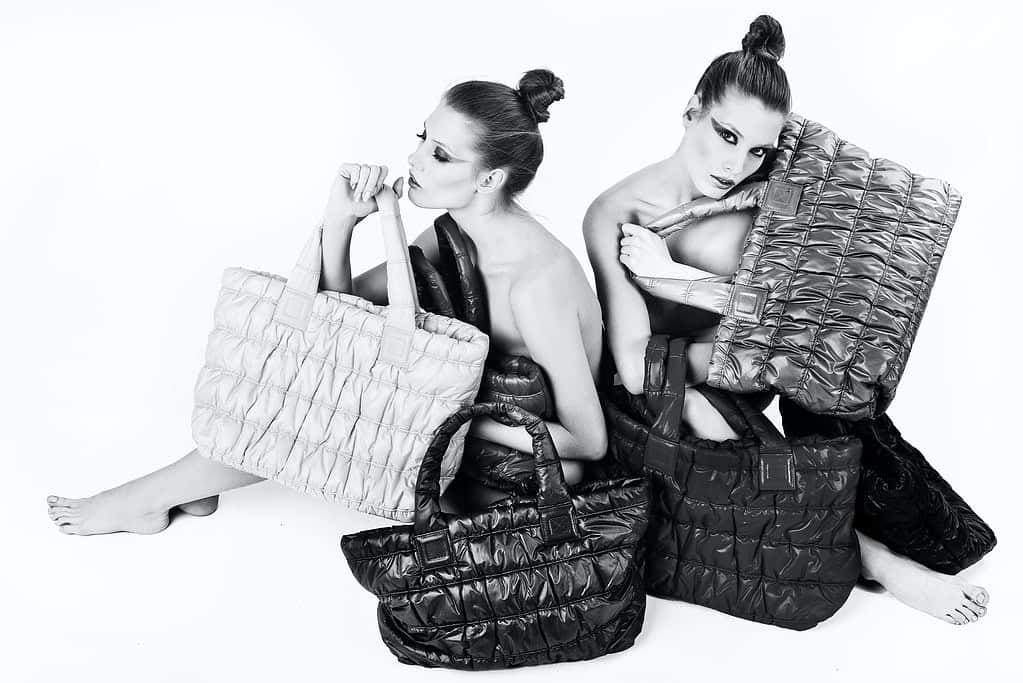 Vegan handbags have taken the fashion world by storm with new sustainable innovations using everything from cactus to mushrooms. Now doesn't that redefine haute couture! Big fashion houses like Stella McCartney and Altuzarra are crafting some of the most impeccable vegan purses and handbags so you can look stylish while being eco-conscious.
Faux leather has become increasingly popular due to the growing awareness about animal cruelty. Their propensity to imitate actual leather is something that has piqued the interest of several conscious consumers and brands wanting to preserve their relevance. Faux leather is one of the most popular materials used in manufacturing a vegan handbag. Not sure what a vegan handbag entails? We'll guide you as you keep reading. And at the end, we'll help you find your next best vegan handbag!
What's a Vegan Handbag?
Veganism is not just limited to a diet. It is a lifestyle that extends to the use of cruelty-free products. Vegan handbags do not contain animal products or by-products and are cruelty-free. It is important to look for certain certifications when purchasing a vegan purse. We've listed them below.
Global Organic Textile Standard (GOTS)
OEKO-TLX Certified (Products use safe, non-toxic ingredients)
Leaping Bunny Certified (Products are cruelty-free)
Fair Trade Certified
Bluesign Certified (Textiles are made adhering to strict standards for environmental and waterway impact)
Certified B Corporation (Company is transparent, accountable, and eco-conscious)
Bear in mind that aside from GOTS, none of the other certifications guarantee that a product is organic. All it ensures is that your handbag is vegan and cruelty-free but can still be made of products like polyester, nylon, and acrylic.
What's Vegan Leather?
Initially, vegan leather was almost exclusively made of plastic and referred to as 'pleather'. It was made of virgin plastic derived from fossil fuels, and used a ton of chemicals to manufacture. However, with the advent of new technology, it has become possible to create leather with natural ingredients like mushrooms and cacti.
Vegan leather is now more durable, flexible, lightweight, and convenient. You can rock a vegan leather bag that's clean label and free of plastic. Some vegan leather sources include apple, fungi, pineapple, natural cork, organic waxed cotton, and more. Innovations in technology have also led to the use of SCOBY in making leather, as well as recycled nylon and PET.
The Best Vegan Handbags to Buy
Matt And Nat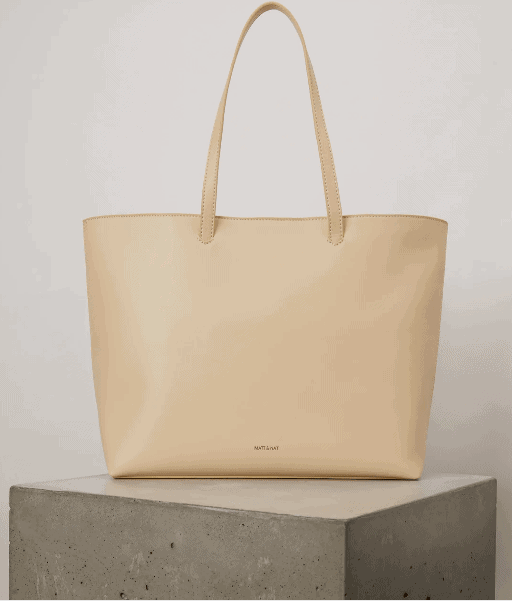 There are many different faux leather purses to select from the vegan leather-focused company Matt & Nat. We absolutely adore the Nivi Vegan Tote Bag since it is both fashionable and constructed of the company's patented Appleskin fabric, which replaces waste from the fruit juice industry with raw chemical resources to help lower emissions and energy usage. We love that the company uses recycled nylon lining in every one of its bags as evidence of its dedication to sustainability.
Pixie Mood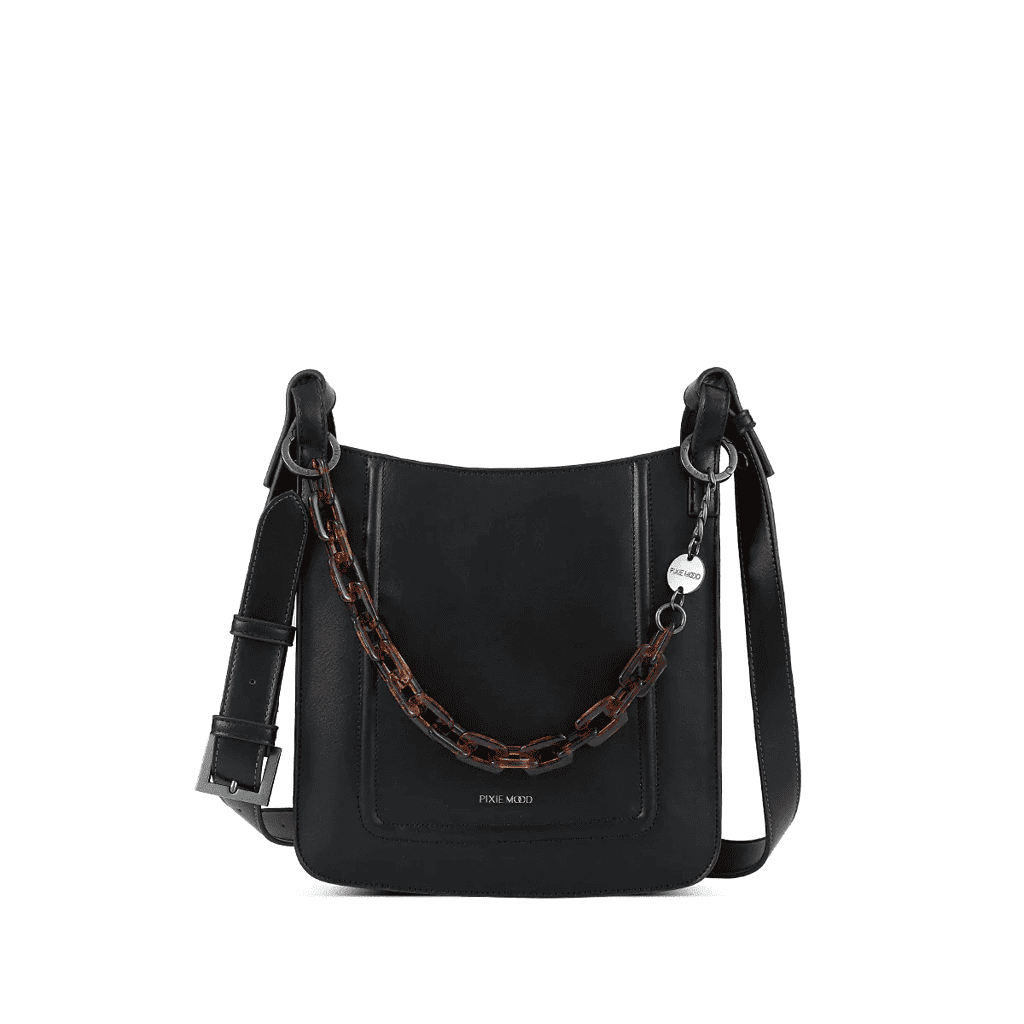 Pixie Mood sells high-end vegan handbags that are created sustainably and transported in packaging that is completely recyclable. The firm only uses vegan leather that is devoid of solvents to create all of its items. Their bag linings are produced from recycled plastic bottles. The firm also conducts annual material testing to make sure all products adhere to California's Prop 65 requirement for dangerous chemicals.
Pixie Mood has been climate positive since January 2021. This was achieved through a collaboration with TerraPass, which provides funding for initiatives that reduce greenhouse gas emissions and provide renewable energy. These initiatives include converting landfill pollutants, generating electricity from animal manure, using wind energy, and absorbing methane emissions from defunct coal mines. 2020 saw a partnership between Pixie Mood and TerraPass to offset all of the company's carbon emissions since Pixie Mood's founding in 2010. Every order that is dispatched now contributes to reducing the amount of carbon in the atmosphere.
Their newest line, Eco-Mood, is as environmentally friendly as they come. The bags are created from low-impact materials, including sustainably sourced cork, recycled vegan leather, vegan leather without solvents, recycled plastic linings, and hardware that complies with the European Union's REACH guideline for hazardous chemicals.
Gunas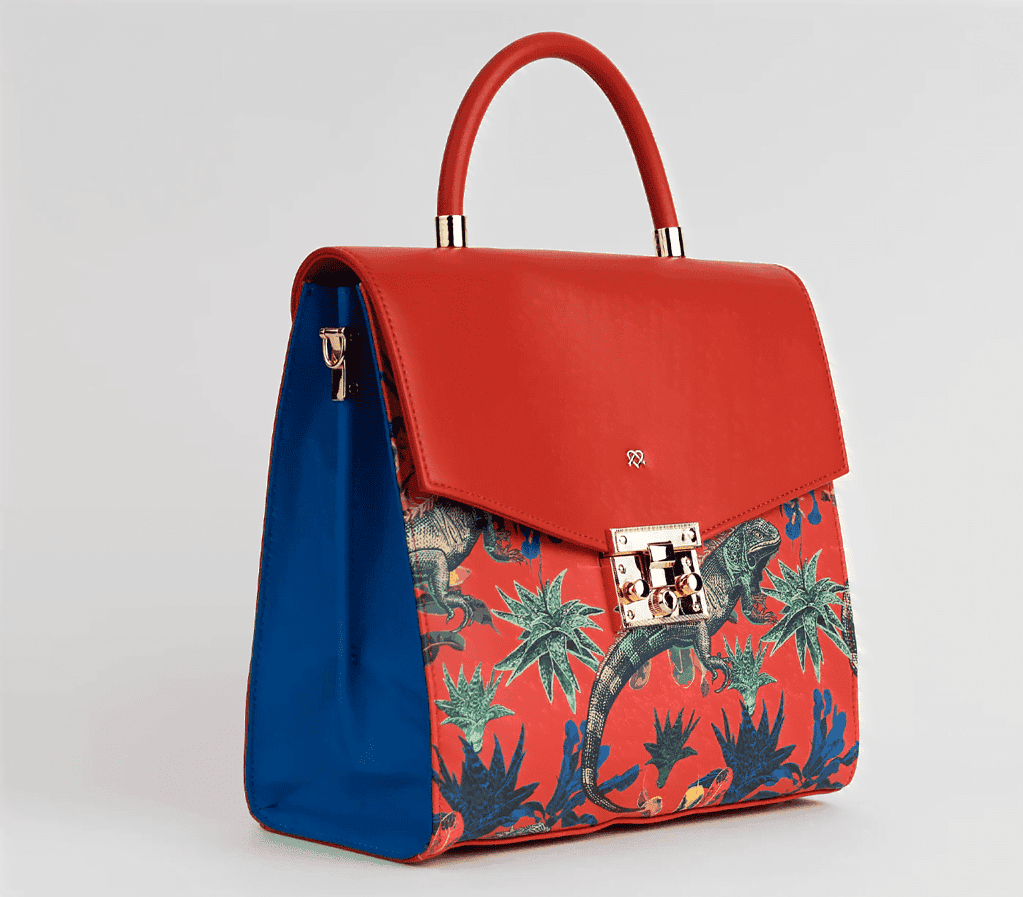 Gunas was one of the first companies to make sustainable goods. The business has been offering vegan handbags and shoes for over ten years. Gunas uses recycled fabrics, nylons, canvas, and other eco-friendly materials rather than leather to make their goods.
Clutches, totes, and shoulder bags are among the many styles of handbags and purses they provide. These bags are straightforward yet strong, and they come in vibrant colors to match your style and price range.
Elvis & Kresse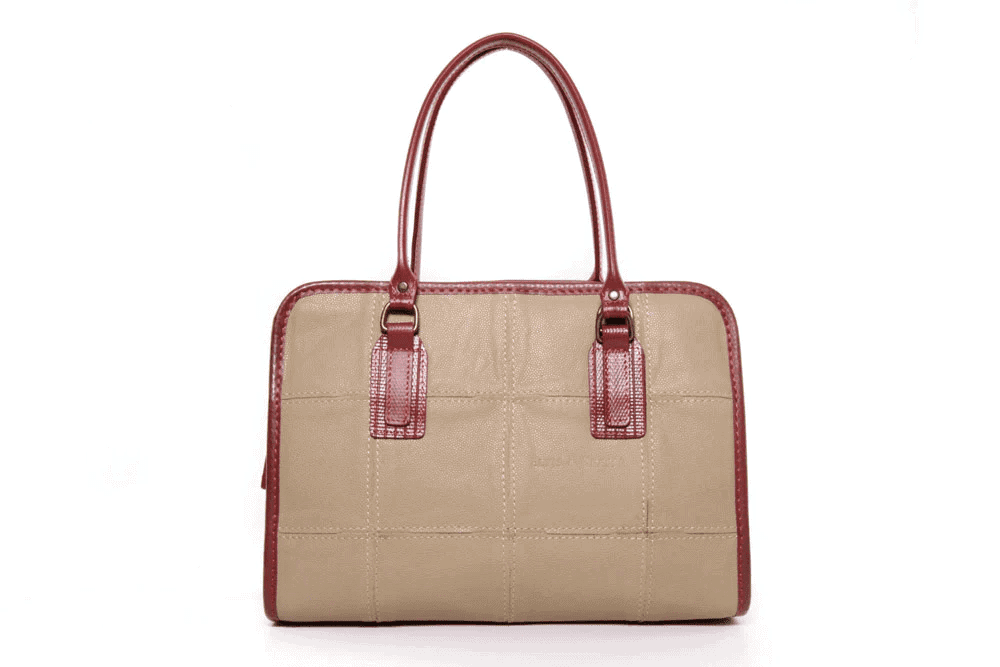 Elvis & Kresse is a certified B Corp company that was established in 2005 as a result of a fortuitous meeting with the London Fire Brigade. The creators discovered that hundreds of materials including broken, disused fire hoses, were dumped in a landfill in London, United Kingdom.
Since Elvis & Kresse was founded to divert this garbage, no fire hose from London has been disposed of in a landfill for the last 16 years. This totals more than 300 tonnes of material that has been recovered, much of which has been used by Elvis & Kresse to create stylish purses, belts, and other accessories!
A collaboration with the Burberry Foundation was established in 2017 to address worldwide leather waste. This collaboration sought to convert at least 120 tonnes of Burberry leather scraps into brand-new, high-end products.
Elvis & Kresse sells backpacks, briefcases, belts, tablet cases, purses, laptop sleeves, wallets, and duffel bags. Fire hoses, military parachute "silk" (really nylon), air traffic control strips, auction banners, and other repurposed materials are used to make all of their bags.
Angela Roi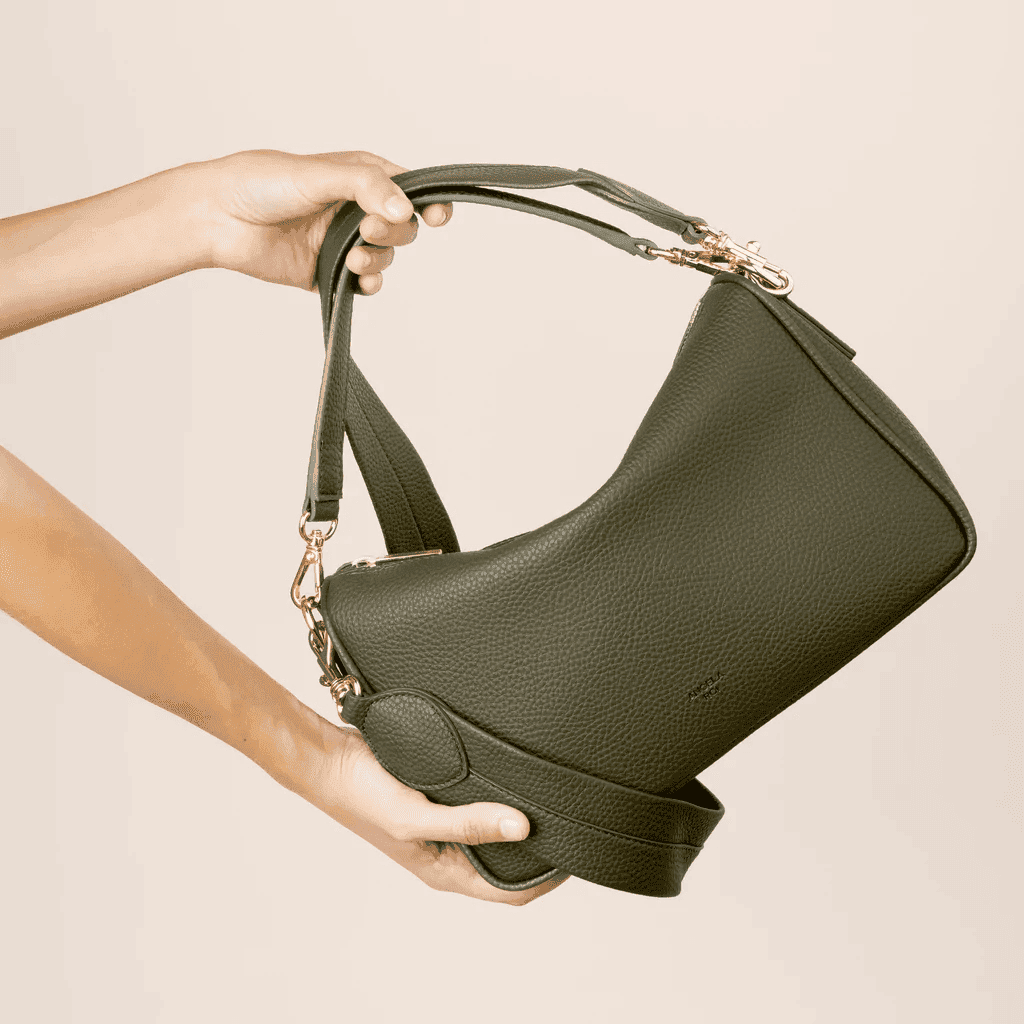 Luxury handbag company Angela Roi, located in New York City, uses materials that are obtained responsibly. The company strives to lessen waste which is a major problem in the fashion industry. The business uses high-quality materials to create its vegan leather handbags, which it then sells for a fair price. You'll love the bucket bags, pouches, and saddlebags by Angela Roi, which come in gorgeous hues and flawless patterns.
The business supports animals all around the world by saving those which are usually poached or abused. This is definitely one of our favorite vegan handbag brands.
Want to read more like this?
Get similar stories and a free sustainability checklist delivered to your inbox.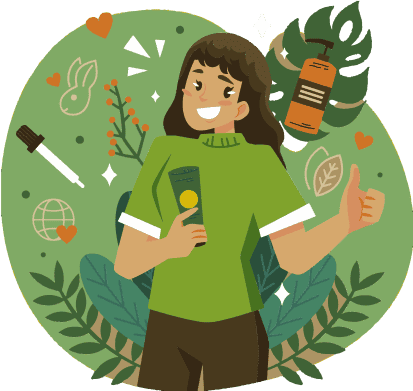 Get similar stories and a free sustainability checklist delivered to your inbox.
Malia Designs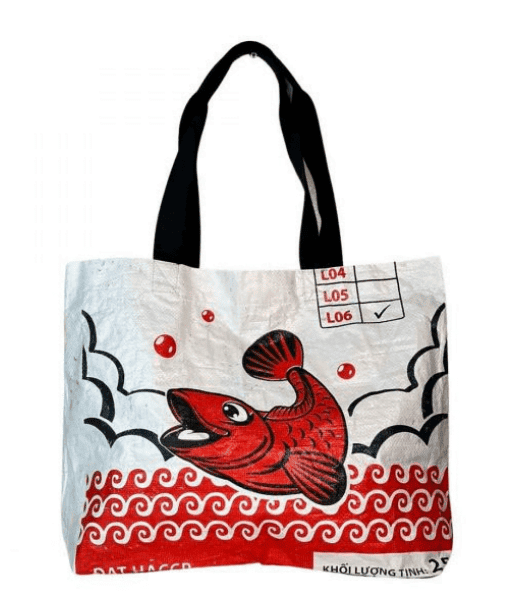 Lia Valerio established Malia Designs in 2005. The company manufactures fair trade vegan handbags and purses in Cambodia using recycled and sustainably sourced materials under ethical working conditions. The diverse collection draws inspiration from the lively, colorful, and textured streets of Phnom Penh as well as the Angkor ruins. These bags are made by Malia Designs using recycled cotton canvas, upcycled denim, repurposed cement, and feed sacks, among other things.
Their recycled fish feed bags can be repurposed into vegan purses since they are constructed of bright, lightweight, strong, and water-resistant materials.
The company encourages ecologically sound business practices, pays their employees a fair wage, and takes additional measures to build wholesome, contented communities locally and worldwide. Additionally, Malia Designs contributes a part of its earnings to anti-trafficking initiatives. To date, more than $160,000 has been given to non-governmental organizations that aid trafficking victims and children in need.
Lulu Dharma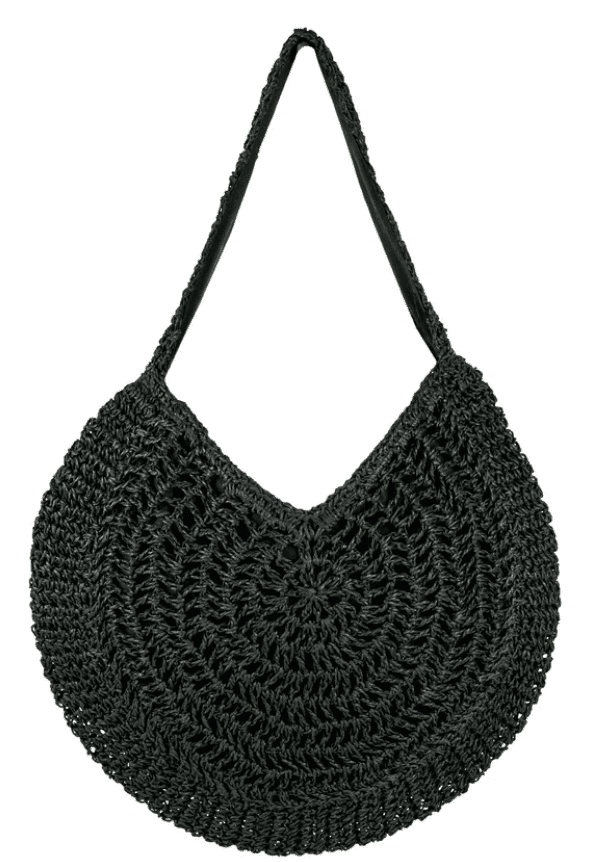 Lulu Dharma promises to be 100% sustainable at all steps of production. They don't use animal products or byproducts. This is the ideal option if you're looking for a vegan replacement for your everyday handbag. Pebbled leather bags, made without using animal products, are offered by this company. In order to create soft and comfy items, they also concentrate on hand-woven synthetic leather. Additionally, these bags are super spacious, making them great use as shoppers or for work.
Check out their website here!
Stella McCartney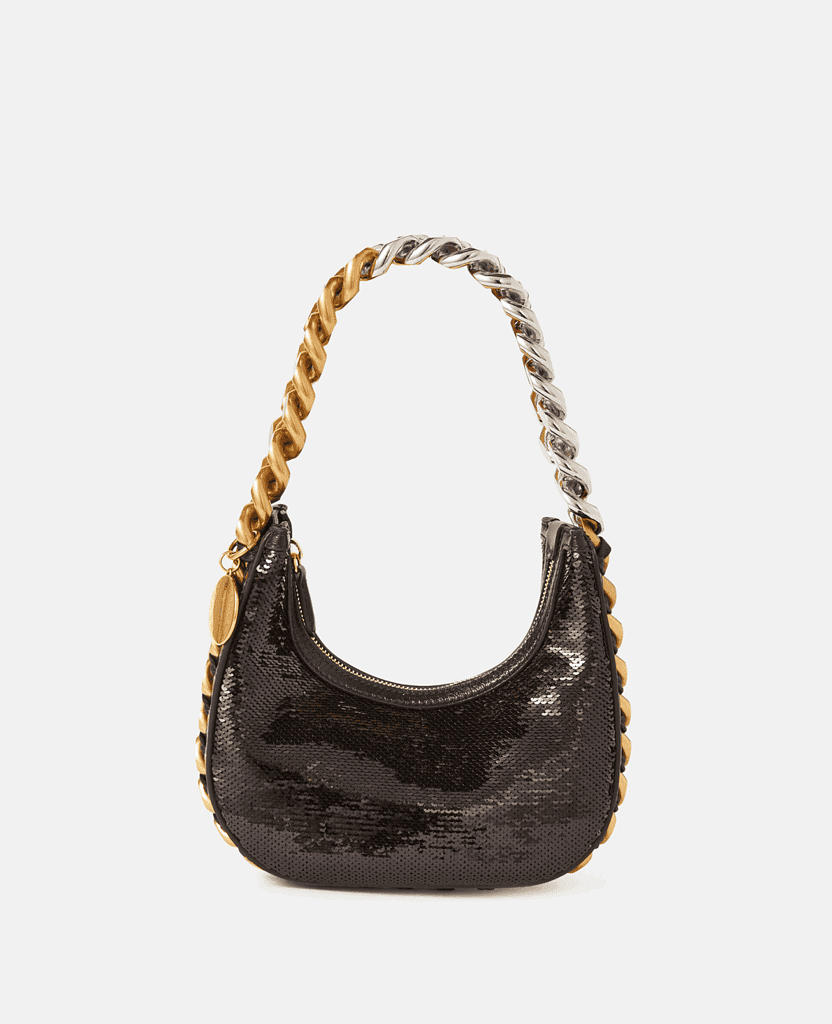 One of the most opulent vegan designer bag collections is made by Stella McCartney. The company adopts eco-friendly procedures when making their bags. Instead of using fur, Stella McCartney makes their bags from recyclable materials, but ensures every piece looks glamorous than the last! Although some bags have designs that mimic leather and snakeskin, they are 100% vegan.
Melie Bianco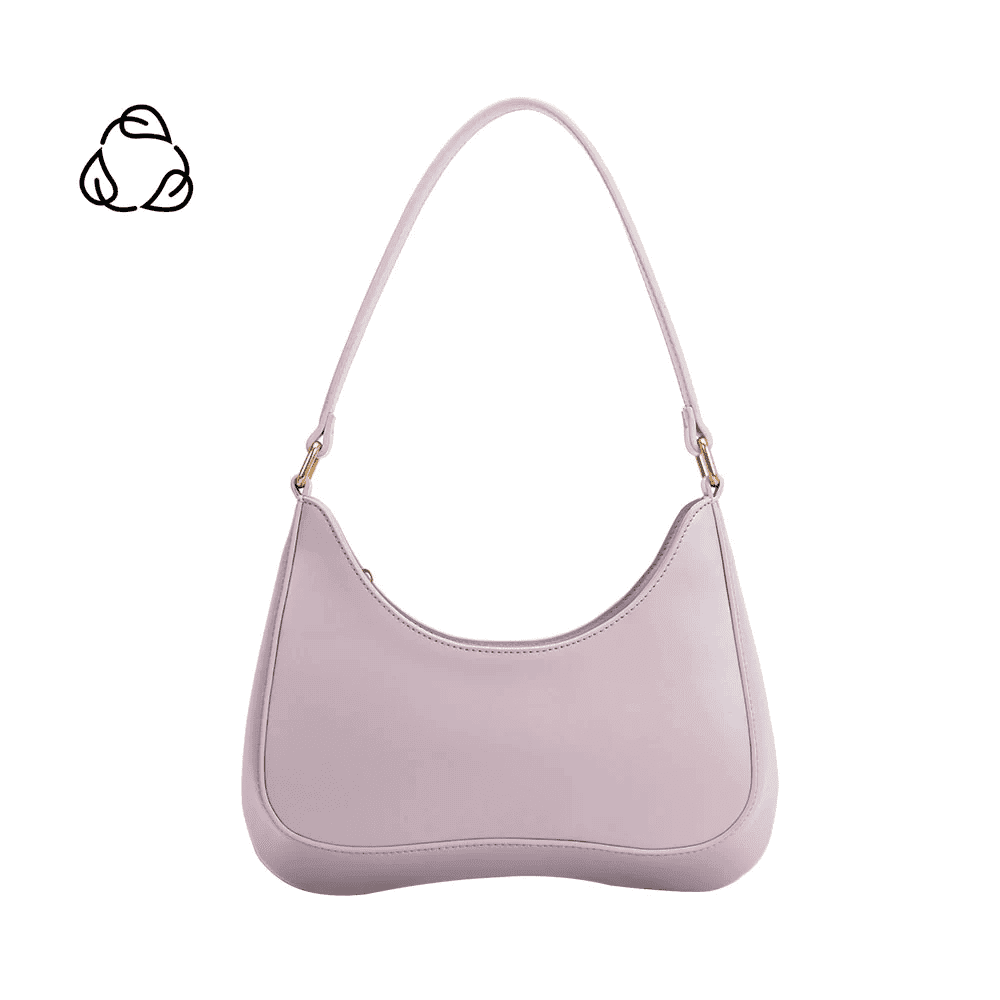 If you're searching for vegan purses that are both inexpensive and opulent, Melie Bianco is the brand to browse. The business manufactures its bags with eco-friendly materials, fair trade principles, and a passion for design. You'll enjoy the creative touches on their vegan bags, which include bows, bamboo and stunning natural hues.
Segan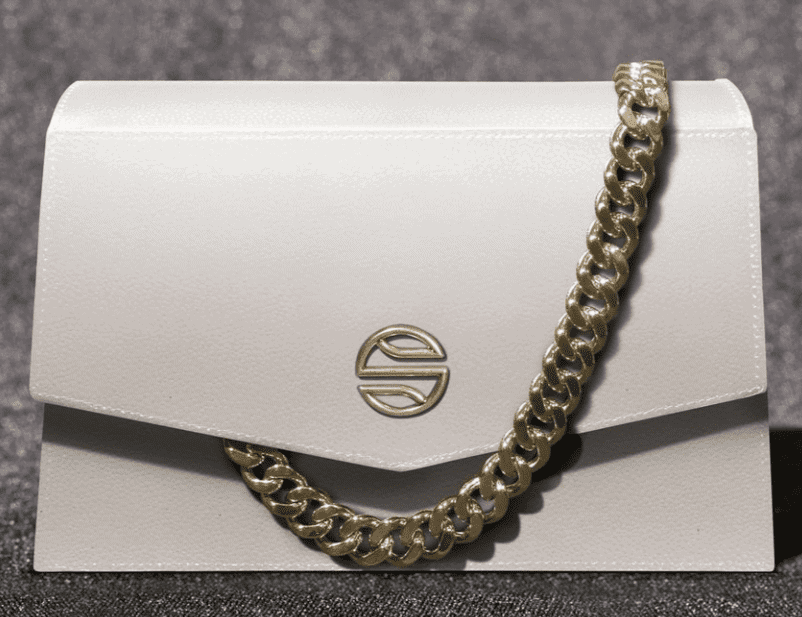 Another one of our favorites is Segan. This Canadian company is vegan, and was founded with ethics and sustainability as its key priorities. Sustainability, ethical manufacture, gender equality, activism, and nature make up the brand's name, which is an acronym. Segan is already a certified Fair Trade Workplace and has sought B Corp certification.
Segan's whole line is plastic-free and vegan, as recognized by PETA. Mirum®, a vegan plant leather manufactured with only natural ingredients and no plastic, is the company's hallmark material. In addition to being recyclable and produced using a low-impact, solvent-free method, this material is far more environmentally friendly than conventional vegan leather manufactured from polyurethane and other synthetic materials.
Want to read more like this?
Get similar stories and a free sustainability checklist delivered to your inbox.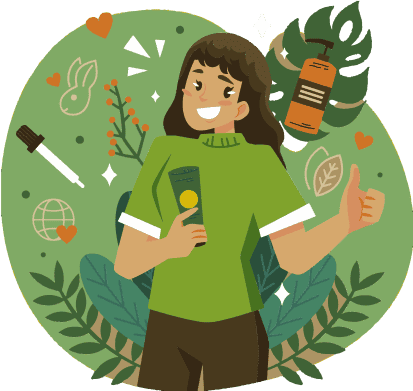 Get similar stories and a free sustainability checklist delivered to your inbox.