It's impossible not to think of a bag of Doritos with a dollop of tangy salsa when you're planning a movie night or a simple garden party. For some, tortilla chips are their go-to food whenever they need to satiate those hunger pangs.
This popular snack with its light and crunchy texture is easy on the tummy and is readily available in all departmental stores. However, with the large variety in flavored tortilla chips, it is a valid reason to be concerned about its nutritional profile and its suitability for vegans. Read on to find out – are tortilla chips vegan or not? Before that, let's take a look at some vegan tortilla chips that you ought to try!
5 Vegan Tortilla Chips That are Simply Exquisite!
1. Taco Bell Tortilla Chips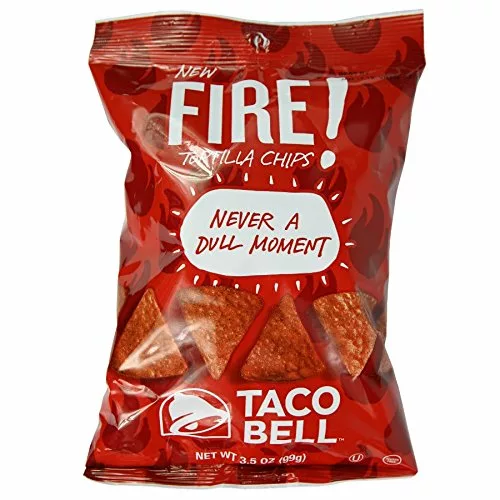 It will be a crime for a vegan foodie to not to mention chips from one of the most vegan-friendly fast food chains. Even the peeps at PETA swears by these potato chips (yeah, yeah- we know tortillas are made from corn. But innovation with a purpose gets some brownie points!) Taco Bell's chips come in three variants- Classic, Mild and if you're feeling more adventurous- Fire. Make sure you check out these crunchy delights!

Buy Now
2. Whole Foods 365 Restaurant Style Tortilla Chips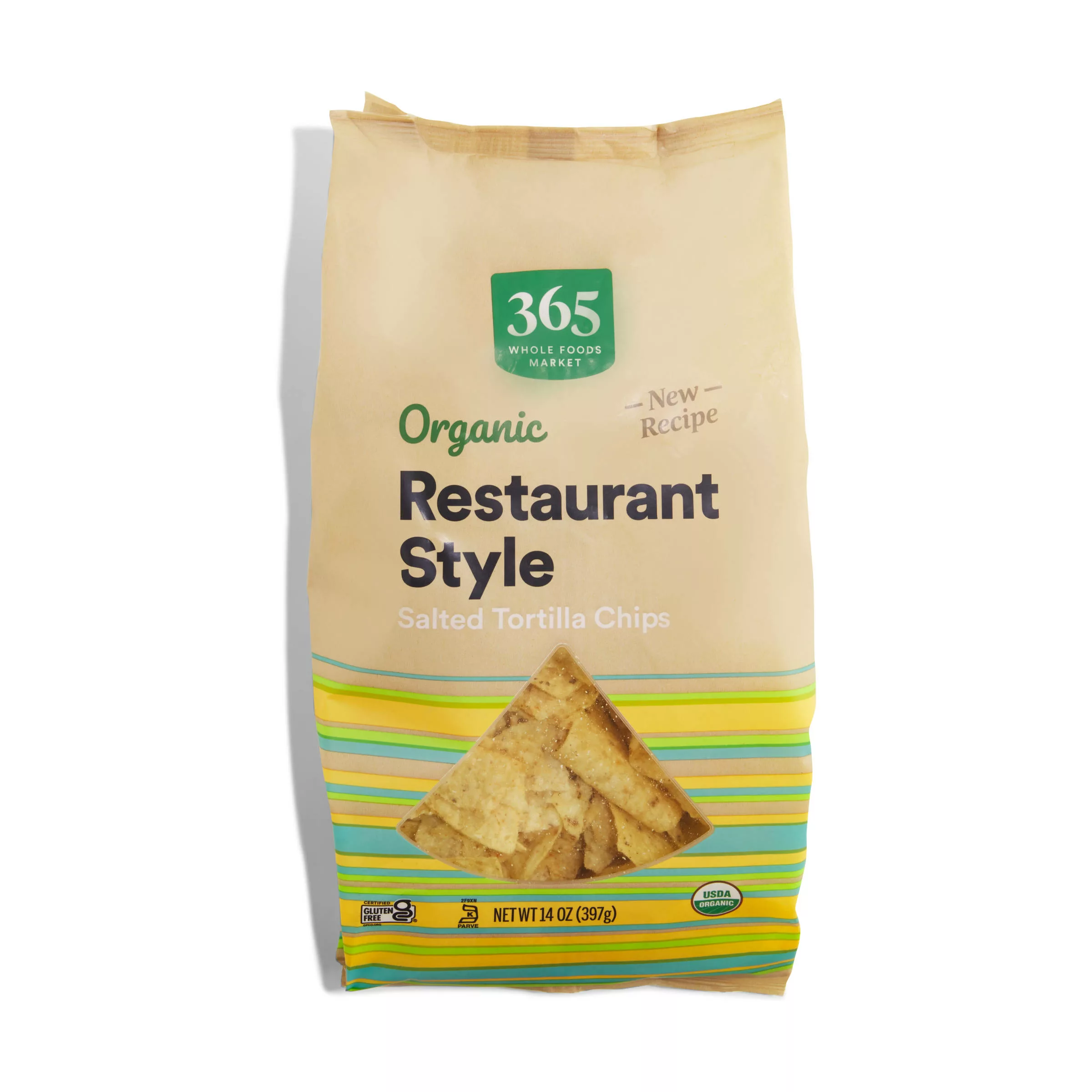 If you're looking for a flavorsome but cruelty-free option to satiate your late night tortilla cravings this might be something to keep you company on the nights you are hustling through assignments and mails. Lightly salted and crispy, have these chips absolutely free of guilt, because it is good for you and good for nature.

Buy Now
3. Tostitos Tortilla Chips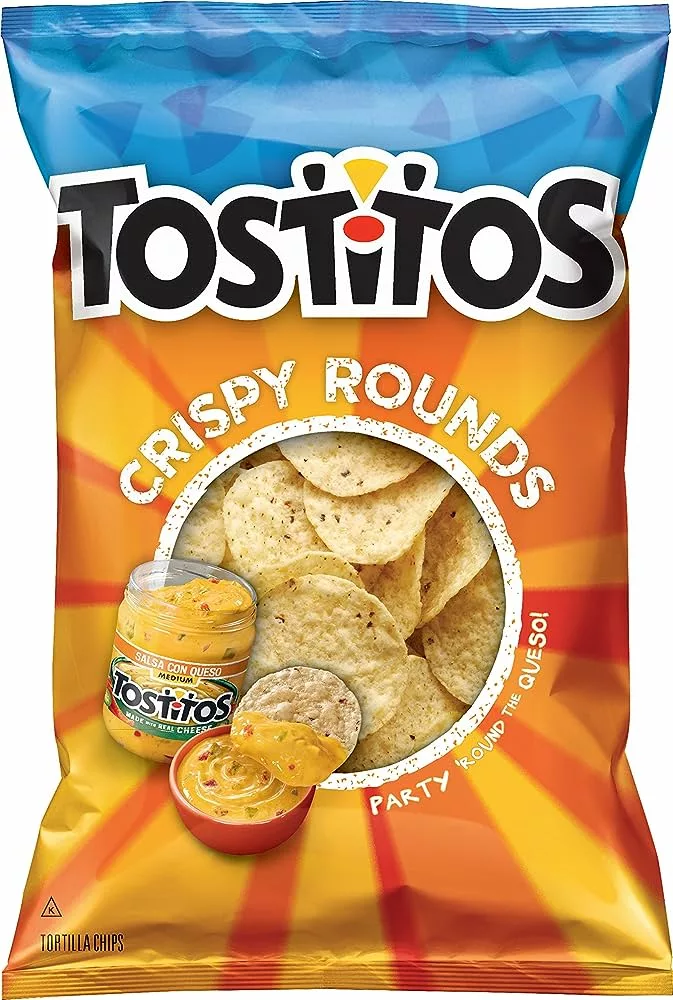 Low in saturated fat, these chips are absolutely safe for vegans and vegetarians. All varieties of Tostitos are made from standard vegan ingredients like corn, vegetable oil and salt. The multigrain variants are even better with plant-based ingredients like brown rice flour and buckwheat. All the more reason to go for it!

Buy Now
4. Siete Lime Tortilla Chips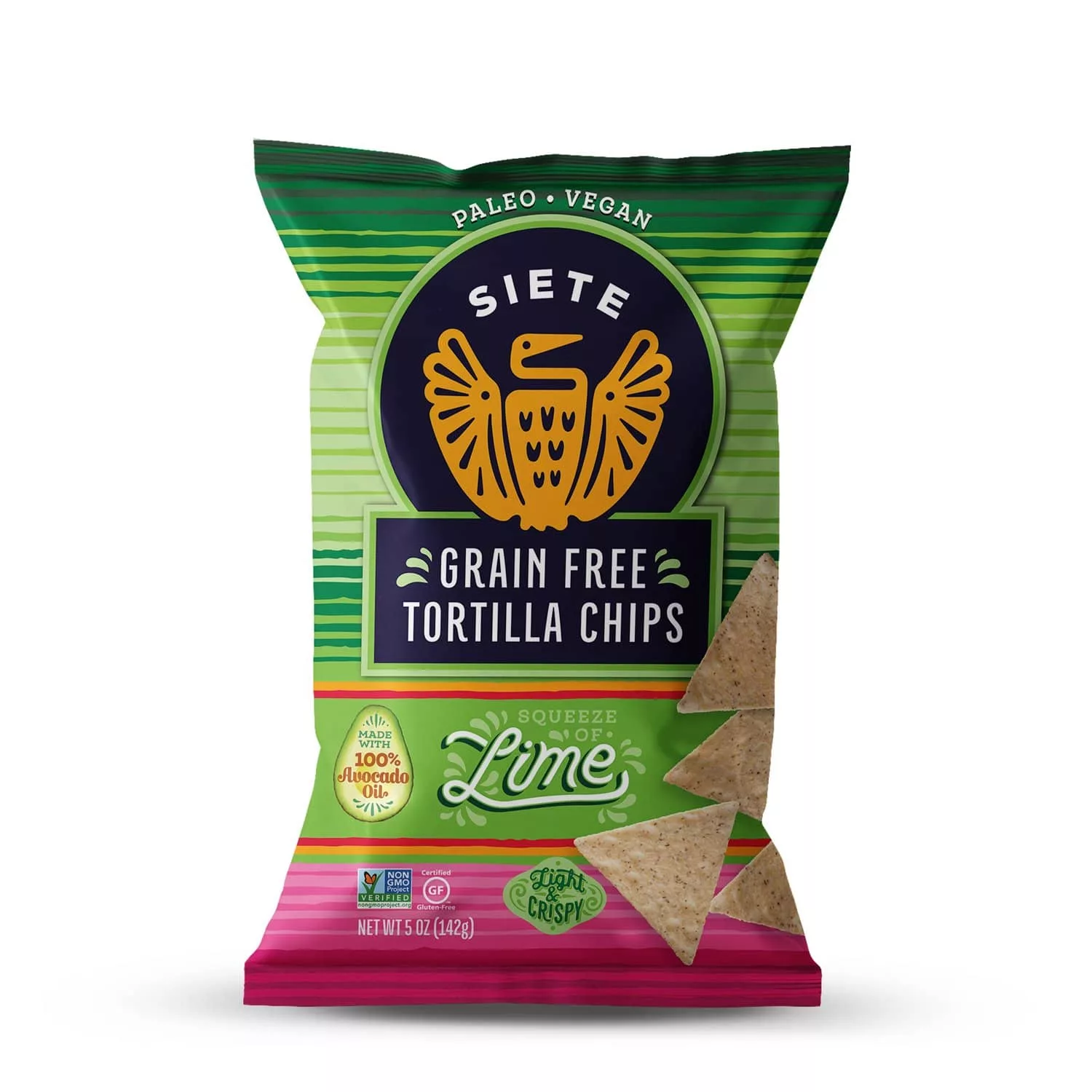 These chips are everything a vegan could dream of- they are gluten-free, dairy-free and woah- even grain-free? (Tortillas without grains are a thing. Yes, I was living under a rock and so were you.) These chips are made from Cassava flour. For those who don't know, Cassava is a root vegetable used to produce tapioca starch that features as the jelly-like bubbles in your Boba tea or sago pearls. Made in avocado and lime oil, Siete is giving tough competition to other vegan brands out there with its unconventional and lip-smacking formula. Take a look at their webpage to learn more, here.

Buy Now
5. Xochitl Mexican Style Tortilla Chips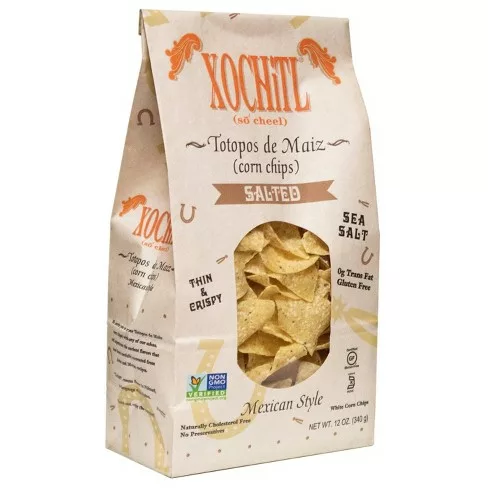 What's even a tortilla if that authentic Mexican flavor doesn't strike you as soon as you bite into it? Are tortilla chips vegan even when seasoned? Yes! Promising an authentic recipe, Xochitl offers foodies its whole range of chips and dips that is made from sustainably sourced palm oil and is Non-GMO verified. It's kosher too! Make sure you dig into their no salt chips if you aren't too keen on a bag full of sodium.

Buy Now
Are Tortilla Chips Vegan? How Do I Find Out?
Usually, tortilla chips are considered to be vegan. Since they are prepared with oil, flour, water and seasonings, which are all plant-based foods, most tortilla chips are safe for vegetarians and vegans.
But, there is a crucial detail that can turn your 'all-vegan' chips into a farce. You need to watch out for some specific flavors though. If you are keen on following a cruelty-free lifestyle, be mindful of flavors like cheese and cool ranch. Are tortilla chips vegan at all times? It is highly possible that some variants of tortillas are sprayed with animal fats and use synthetic food colors that are tested on animals.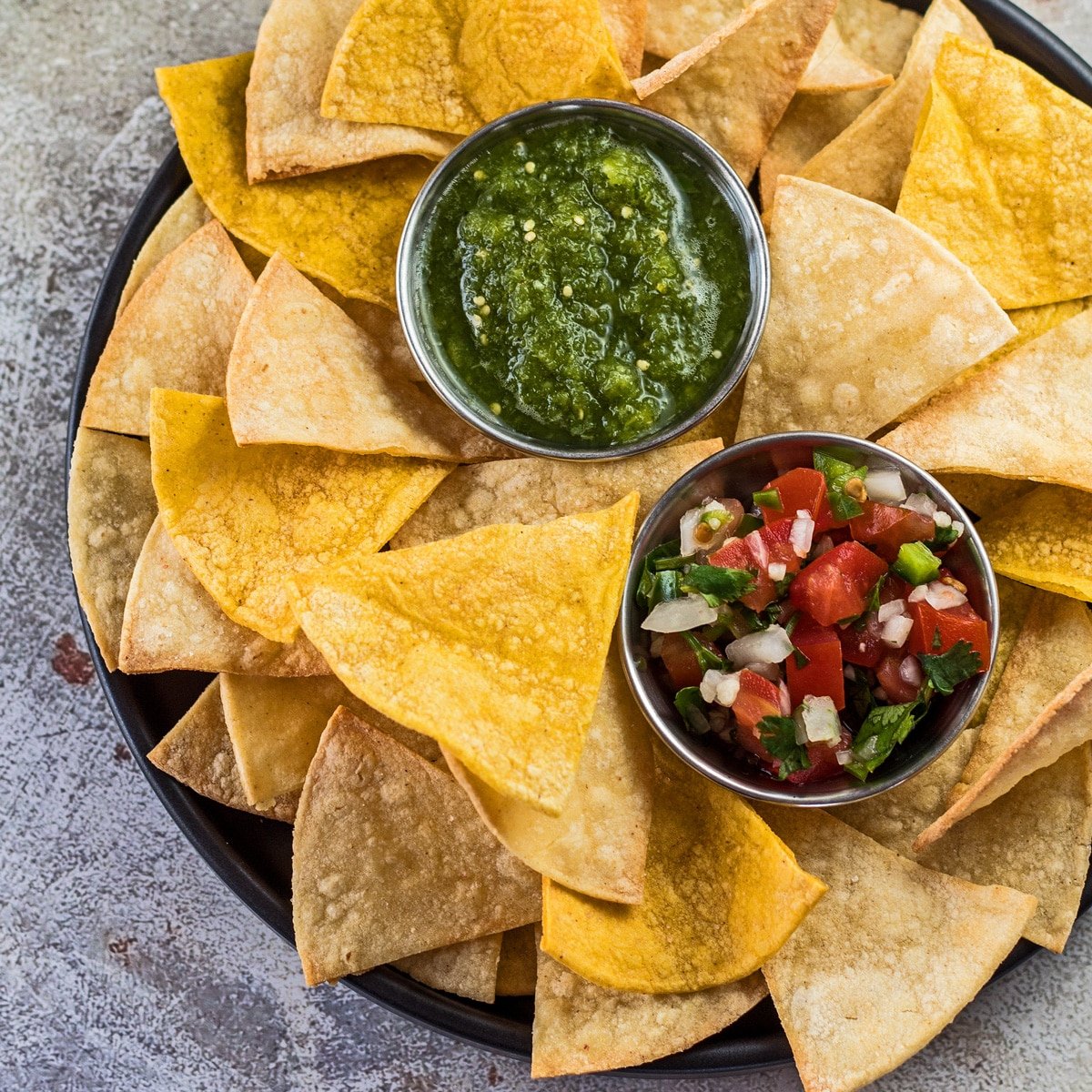 If you are dining out and ordering a plate of nachos, remember to ask your waiter, "Are tortilla chips vegan in your restaurant?" and find out what fat they're fried in. Although lard is uncommon, some restaurants and outlets use it to fry the chips.
Are Tortilla Chips Vegan – From Doritos or Takis?
Unfortunately, Doritos contain dairy-based ingredients in most of their variants, hence, it is not vegan.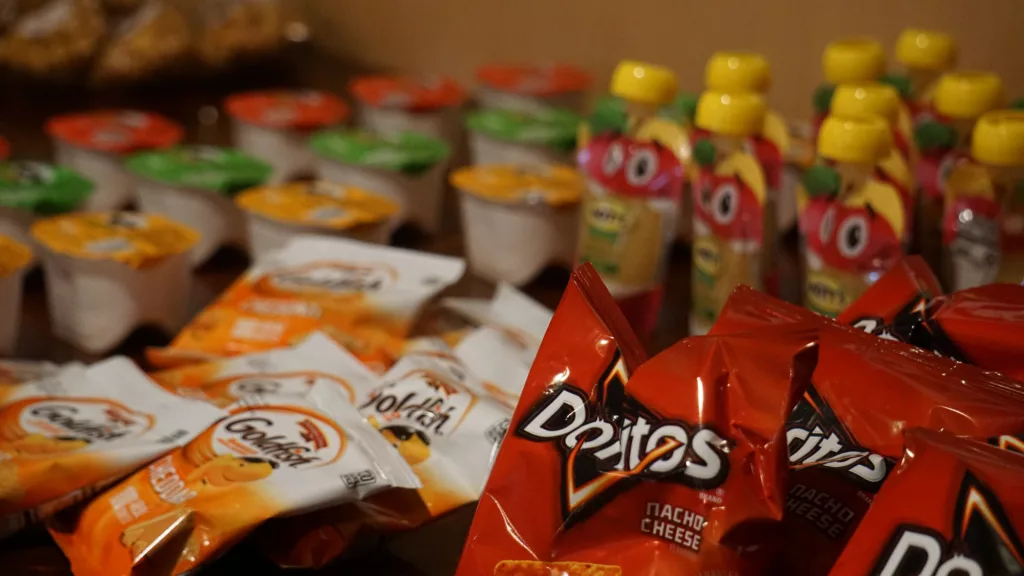 Are tortilla chips vegan always? Well, just because most Doritos are off-limits for vegans, it doesn't mean that all of them are. Vegan tortilla fans can try the following flavors that are absolutely safe to consume:
Doritos Blaze Tortilla Chips
Toasted Corn Tortilla Chips
Doritos Spicy Sweet Chilly
Lightly Salted Tortilla Chips
Are tortilla chips vegan from Takis? These four flavors are safe for vegans to consume:
Fuego (Purple Bag)
Salsa Brava (Yellow Bag)
Zombie Flavor (Green Bag)
Nitro (Black and Red Bag)
(Source: Cruelty-free reviews)
Just steer clear of something that has cheese in it and you'll be good to go. Take a look at these brands below if you are intent on skipping Doritos because you're vegan or lactose-intolerant.
Your DIY Vegan Tortilla Chips Recipe
Are tortilla chips vegan if you make them at home? Yes, they can be! If you want to bowl your friends and relatives over with your cooking skills and expand your portfolio beyond cooking a pot of instant ramen and messing up even boiled water, then you should try this easy-peasy (don't forget the lemon squeezy) tortilla chips recipe that is fully vegan!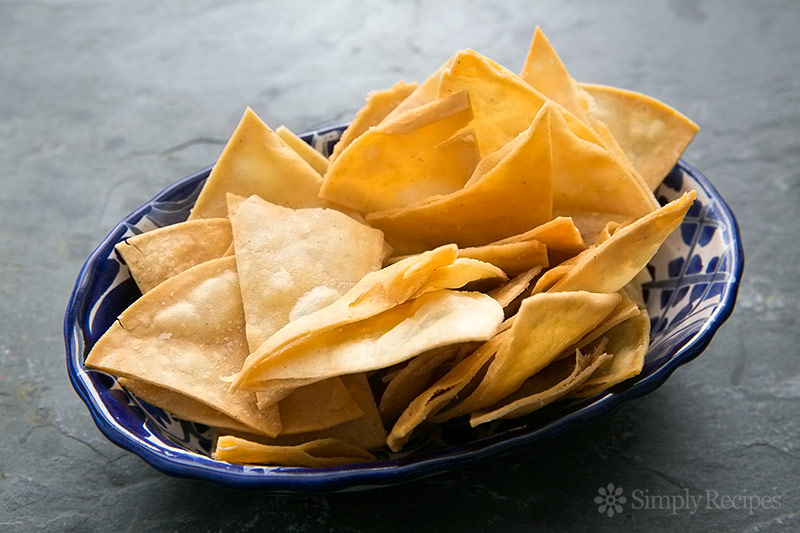 You need the following ingredients:
350 grams of precooked white corn flour
2 cups of water
2 teaspoons salt
Extra Virgin Olive Oil or any plant-based oil you like
Onion Powder
Cayenne Pepper
Garlic Powder
Pepper
1/2 teaspoon nutritional yeast
Here's what you need to do:
Knead a soft dough by combining the corn meal, water and salt. Make sure that you are using warm water, because you don't want your tortillas to break before you cut them up into chips.
Make as many little balls from the kneaded flour according to how many you need. Roll them into the thinnest round sheets you can manage and place them on a skillet to cook. You do not have to wait till the tortillas turn black and bitter, just enough to cook them.
After the tortillas are cooked, cut them up into triangles or any shape you desire. Baste both the sides with oil and place them on a tray lined with parchment paper.
Bake them! If you are using the oven, bake tortillas for 5 minutes at 200ºC. You can also use an air fryer, but take care that your tortilla chips don't burn.
Mix all the powdered spices separately in a bowl till the chips are sitting in the oven. Once they are out, let them cool down. Put the spice mix liberally on the chips and mix them well.
You can serve your chips with salsa or some guacamole and relish them to your heart's content.
Vegan Dips for Tortilla Chips!
Are tortilla chips vegan with dip? Yes, provided you choose vegan dips. Here are some of our best suggestions: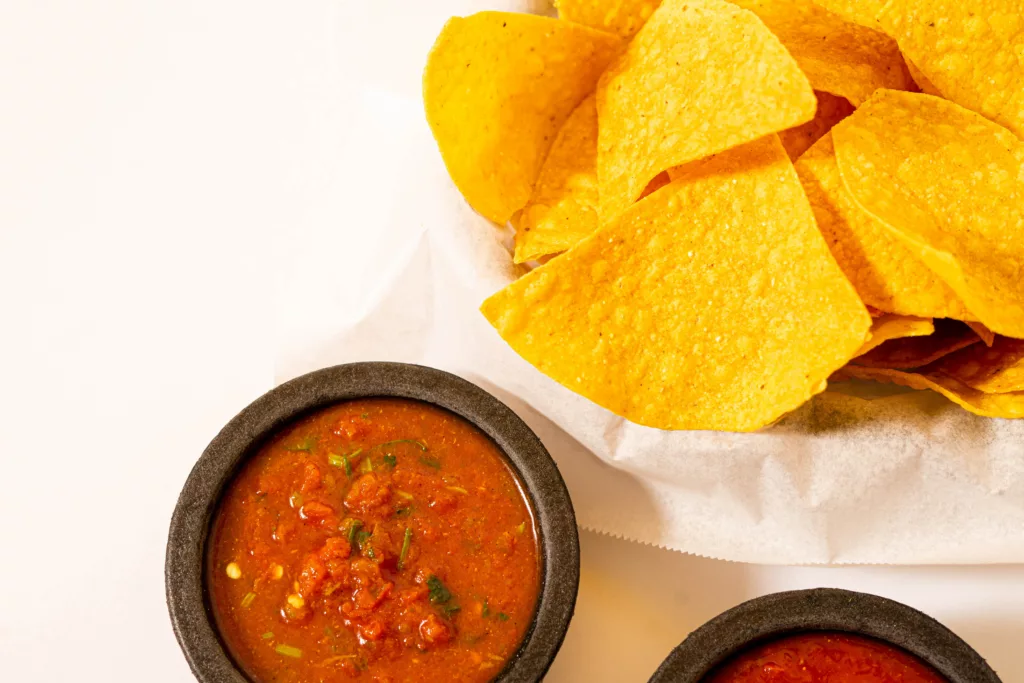 Homemade Tomato Salsa
Also known as Pico de Gallo, a good homemade tomato salsa will pack the punch in your snack time. It's easy to make- all you need is to roast an onion on an open flame and mix it up with tomatoes, green chilies and coriander. Season it with salt, paper and lemon juice for some acidity and voila!
The salsa will sit nice and smoking hot on those chips. You can always add more chili for taste, just take care that you're not the one doing the salsa in the loo next morning.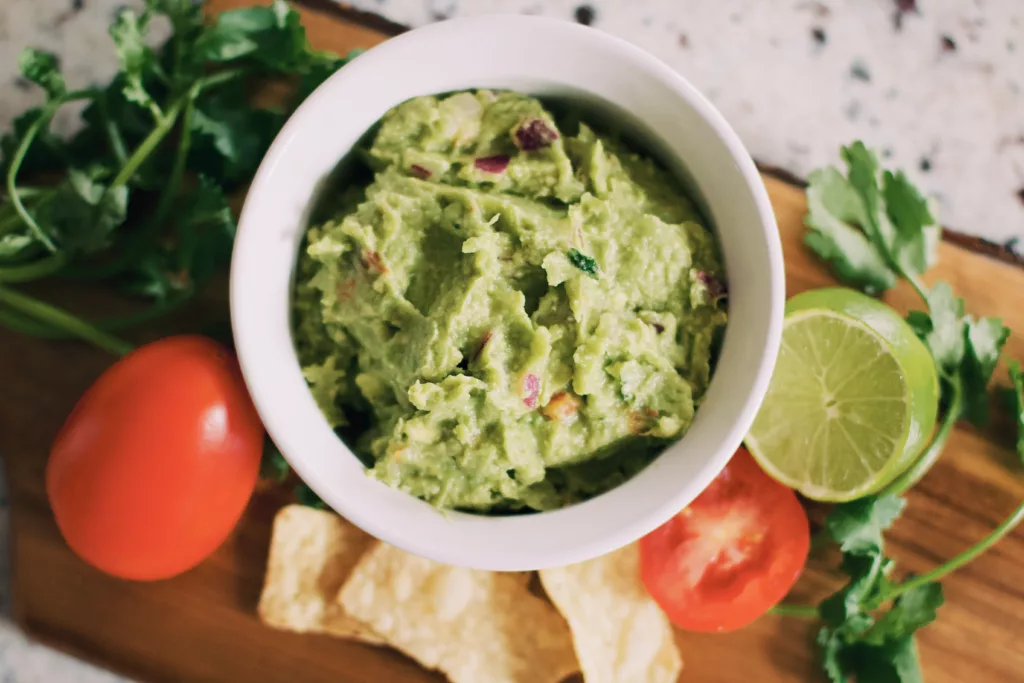 Holy Guacamole
Aztec cuisine without guacamole does not exist. This vegan dip is perhaps the easiest to make and project all your desired flavors in it given that avocado is practically a buttery tabula rasa. You can never go wrong with guacamole.
Do the classic by just mashing avocados and mixing them with salt. Or for a dash of tangy, mix that tomato salsa in the mashed avocados. Or, you can check out this recipe if you want something different!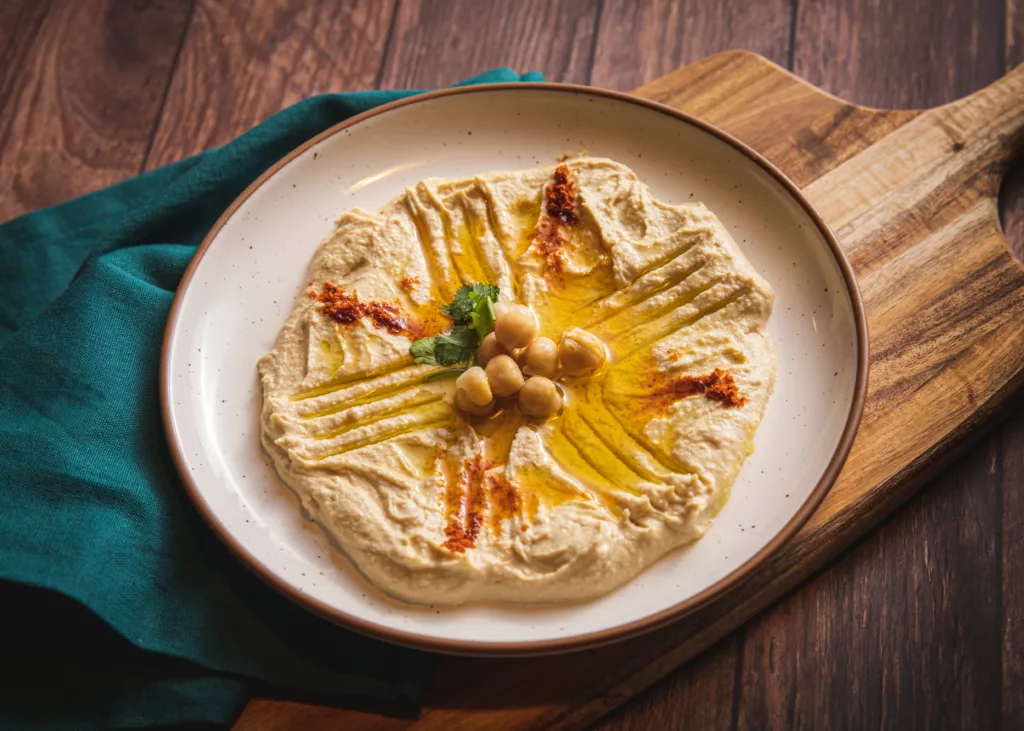 Hummus
Mix the Middle East with Mexico and you will get one of the most bombastic and healthy combinations to snack on.
Hummus is usually made with chick peas, tahini and lemon juice. But you can make red pepper hummus by blending roasted chilies in the classic recipe. Add some ground cumin, garlic and salt and watch it take hold of your senses so much so that you will love to have a jar of hummus in your fridge at all times.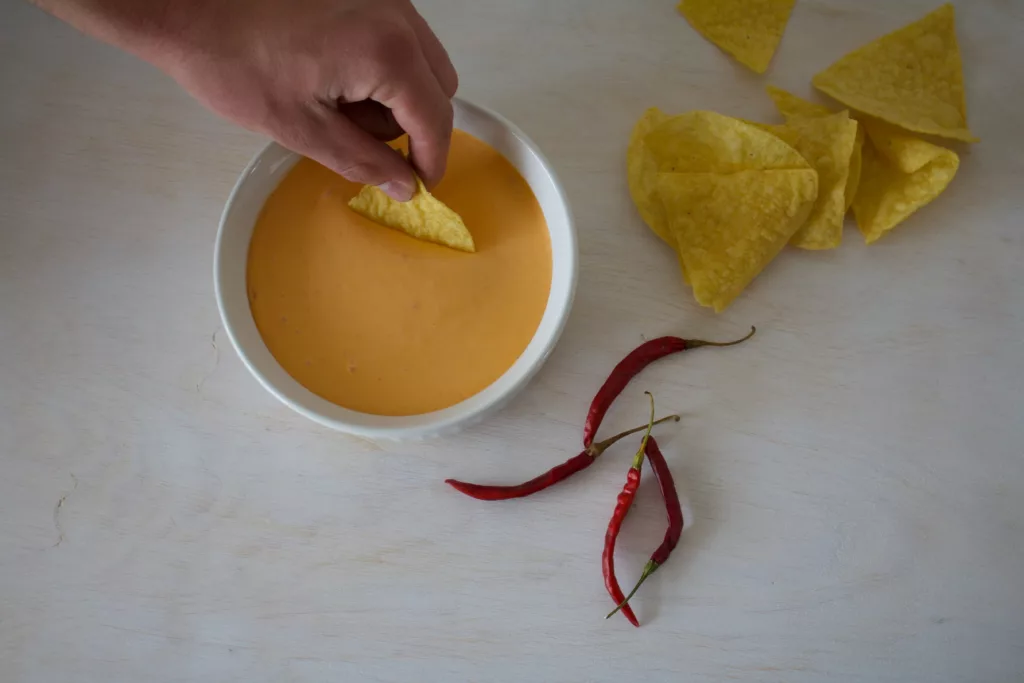 Vegan Cheese
This cheesy dip is not your regular melted cheddar.
You can make this dip with potatoes and carrots. Boil and blend them with onion powder, garlic powder, olive oil and nutritional yeast in a super powerful blender. If this isn't finger-lickin' good and vegan, then we don't know what is.
Are Tortilla Chips Vegan After All?
Our answer to 'are Tortilla chips vegan?' is affirmative, however, you have to look for cruelty-free, organic ingredients in your edibles.
The best part about Mexican cuisine is that vegetarians and vegans have no trouble adapting to it and they don't have to stare at a dreary plate of fading microgreens. You can always make vegan tortillas and dips, you can even introduce some colour in your tortillas by mixing beetroot or spinach puree and making it even better! If you're looking for more vegan munchies, visit our sustainable store now!
Want to read more like this?
Get similar stories and a free sustainability checklist delivered to your inbox.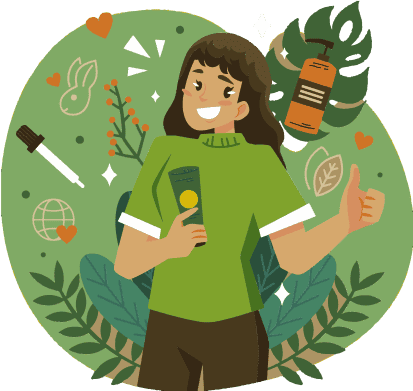 Get similar stories and a free sustainability checklist delivered to your inbox.