While you might think that some form of dish soap must have been in existence ever since we started eating our food from plates, the fact is that the idea of dish soap, let alone an eco-friendly dish soap, is a fairly modern invention; produced in the 1930s and 40s.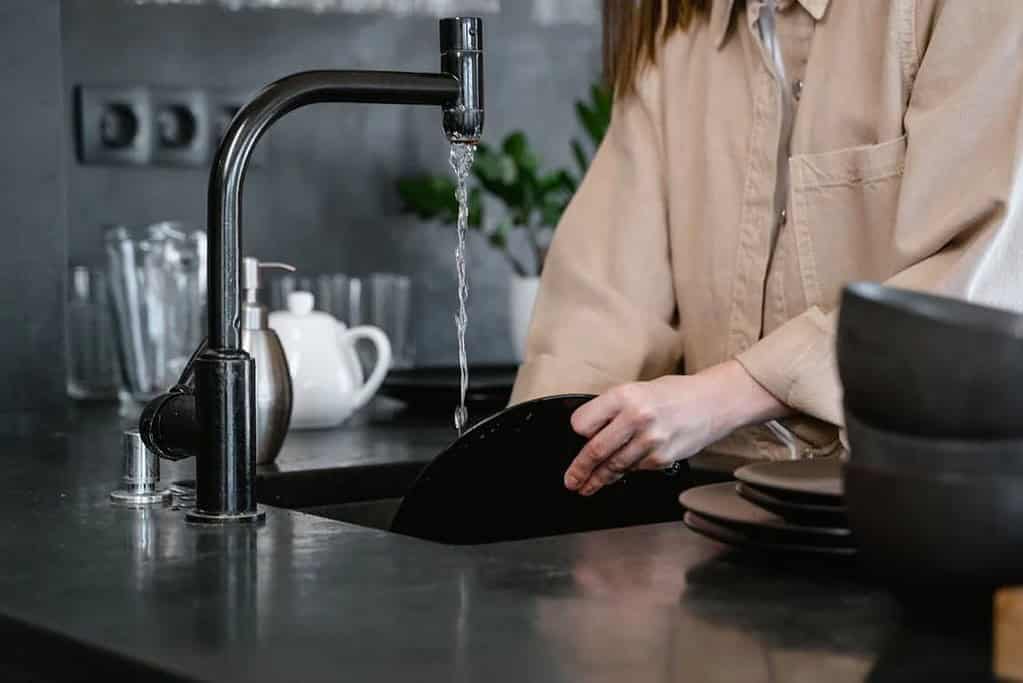 Before this invention, many people would use natural cleaning agents such as baking soda, ash from wood, cow dung, brick and bone, as well as sand. In some parts of the world such as rural India however, natural elements such as sand and coconut fibre are still used for cleaning dishes.
Your contemporary, everyday dish soap, contains a multitude of surfactants; which are in other words, foaming agents that aid in cleaning by loosening food residue so that they are easier to wash off. Essentially, they change the water properties by reducing the surface tension of the water so that the dish soap becomes easier to spread.
Problems With Using Regular Soap
The majority of dish soap that's available today contains various chemical ingredients that could potentially be dangerous for your health, especially in areas where dishwashing is done primarily by hand. The main ingredient that is used in the majority of dish soap that's available, is Sodium Lauryl Sulfate, which is essentially used to cut through the grease of food residues. However, the problem is that once this ingredient touches the skin, it can cause irritation, rashes and allergic reactions.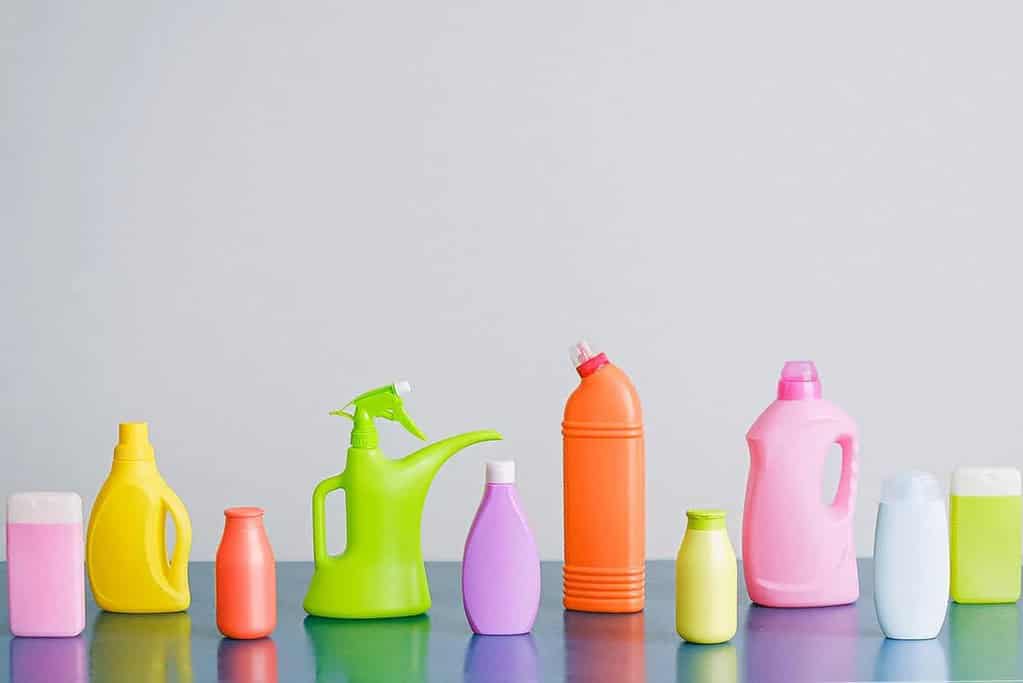 Here are a few more notable chemical ingredients that your regular dish soap could contain:
Phosphates – While this chemical can make your dishes cleaner, it can also cause eutrophication in water bodies when contaminated with domestic wastewater.
Triclosan – Primarily used as a pesticide in 1969, Triclosan is now commonly seen in many household cleaning products since the 90's due to its properties that prevent the growth of bacteria and fungus. Evidence has shown over time that triclosan can change hormone regulation, and meddle with muscle functions, skin irritation, asthma, and even tumour development! Additionally, when triclosan enters the drains and sewage system, it can cause damage to aquatic plants and animals.
Formaldehyde – Commonly used in detergents and dish soap due to being widely available and cheap, formaldehyde is known to be toxic for humans and causes skin infections such as eczema and dermatitis, as well as eye infections with those that are in daily contact
Fragrance – The majority of dish soap liquids contain a variety of non-specific ingredients. Does your dishwasher promise to lend your dishes the scent of a 'spring garden' or 'morning dew? Many dishwashing liquids contain perfume which is a collection of non-specific ingredients that could be highly toxic. Synthetic fragrances have been known to cause allergic reactions, respiratory difficulty and skin trouble.
In addition to these, there are other harmful ingredients in dish soap such as bleach, colourants, and alcohol that are used in different quantities and can be detrimental to human health.
What is Biodegradable Soap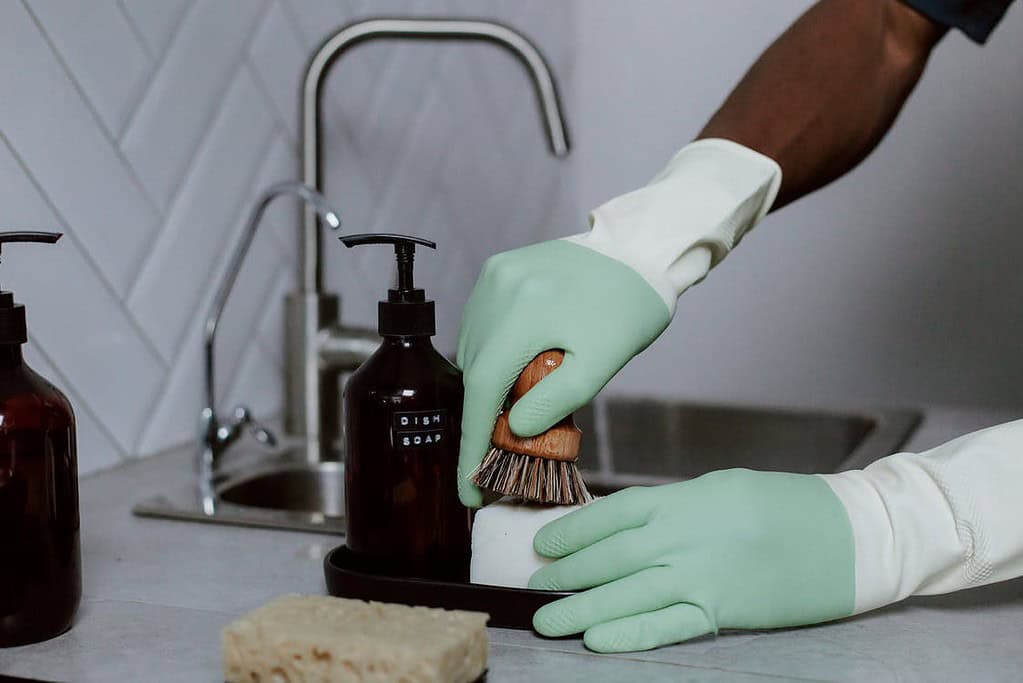 Choosing a biodegradable soap alternative for your everyday household cleaning needs is not only beneficial for the planet but also for your health because people are usually in regular contact with most home cleaning products; with perhaps dish soap, being the most prevalent.
Biodegradable soap is essentially free of all toxic chemicals, such as chlorine, phosphates and sulfates, and aims to be environmentally responsible to protect our waterways and our planet as a whole, while additionally helping you ease your transition into living a more sustainable life.
Moreover, biodegradable soaps are usually either naturally scented or fragrance-free, to avoid any toxic inhalation that causes multiple health problems, as well as avoid irritability with the skin. Using dish soap on a day to day basis, should not only be apt for rinsing your plates squeaking clean, but also ensure your hands, and health doesn't get damaged in the process!
The majority of eco-conscious and biodegradable dish soap also ensures to include thoughtful packaging. While the natural dish soap would be doing wonders on your dishes and your skin, once its lifespan comes to an end, it should also be mindful of the impact that'll be left in our landfills, and environment altogether. In turn, Biodegradable soap usually uses recycled paper packaging, and is free of any plastics that could do potential harm beyond your party plates!
DIY Eco-Friendly Soap Recipe
Making your dish soap might be the solution to saving money, saving the planet, and the luxury of making a household product by, and for yourself! Not only is it natural and biodegradable, but also works well in terms of cleaning power. This DIY eco-friendly and non-toxic dish soap can remove grease like nobody's business and will leave your dishes sparkling clean, and takes just a matter of minutes to make!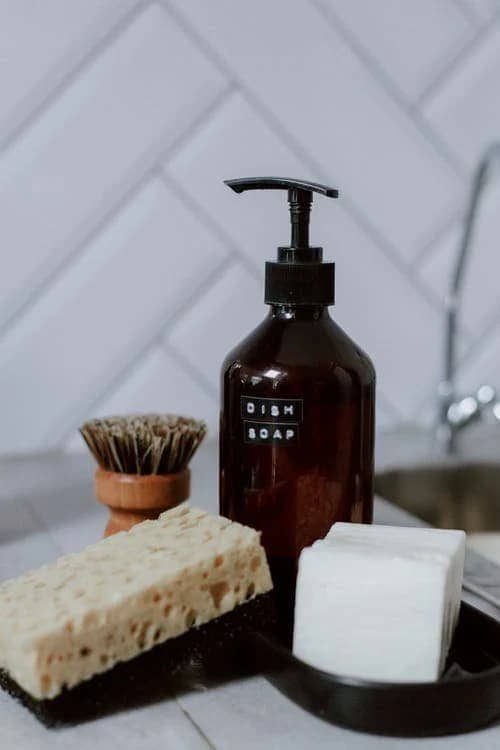 The ingredients:
Sal Suds – Sal Suds is a strong, biodegradable detergent, and is known to be one of the best cleaning products out there. The pros of using sal suds are that they can cut through grease effectively, with exceptional power, yet remains mild and gentle on the skin.
Distilled water – Using distilled water helps to dilute the Sal Suds; wherein using regular tap water would in turn affect both the consistency as well as shortening the shelf life.
Distilled white vinegar – While this ingredient is optional, distilled white vinegar increases the cleaning strength, and helps to remove spots.
Preservatives – The majority of DIY natural cleaning products that contain water, usually need preservatives to prevent bacteria and mould growth. You can choose a natural preservative such as Optiphen Plus which ensures that your DIY dish soap is organic.
Essential Oils – Although adding up to 20 drops of essential oil to your DIY dish soap is optional, it no doubt adds a fresh smelling scent.
Once you have collected all of the ingredients, first, combine the distilled, vinegar, and your organic preservative into a soap dispenser. Then, shut the bottle, and shake to mix the ingredients. Finally, mix the Sal Suds with your essential oils, and there you'll have your homemade DIY eco-friendly dish soap.
Best Natural Dish Soap Brands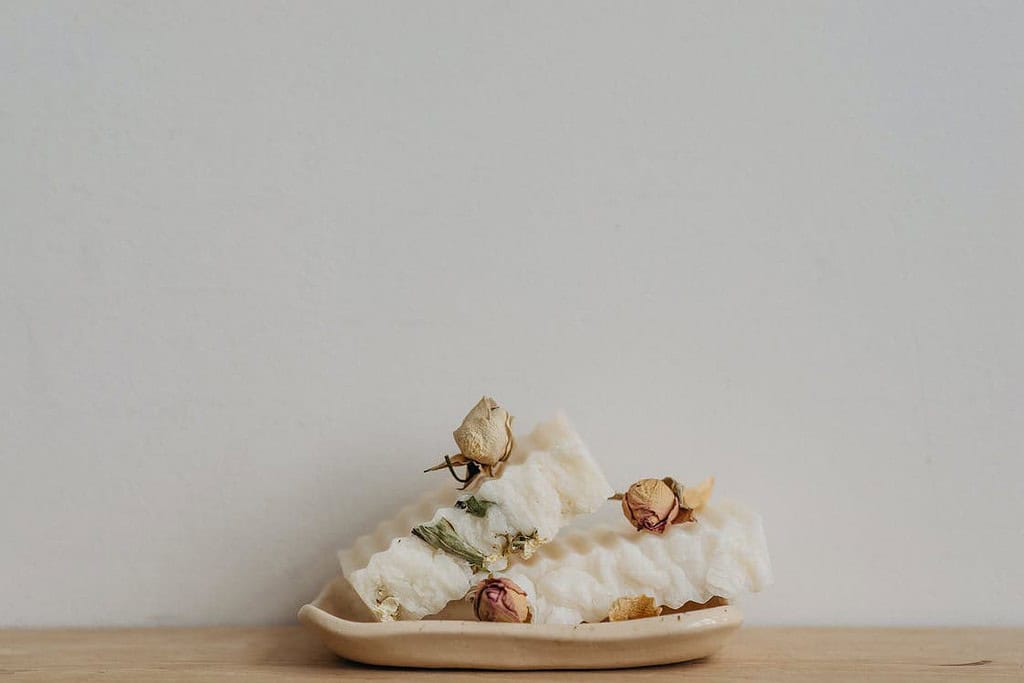 No-Tox Life Dish Block
This eco-friendly dish soap is not only sustainable in all its senses; free of sulphates, phosphates and fragrances, but 100% vegan, non-toxic, and palm oil-free! At the same time, it fights off the toughest grease from your dirty cookware, with an additional touch of aloe vera, that allows you to do the dishes without the worries of drying out your skin. It's essentially designed to replace 3 of your typical liquid dish soap, and can last a single user up to 3 months! Not only can it be used for your dirty dishes, but also for laundry stains, hands, and carpets too!
Bestowed Essentials
Bestowed Essential's organic dish soap is 100% vegan, palm oil-free, and non-toxic, as well as being delivered to you with ethical and thoughtful packaging! This natural dish soap is made up of water, olive oil, coconut oil, french green clay, pacific sea salt, and sodium hydroxide, which is required in the process of soap making. While also containing no additional fragrances and preservatives, or toxic chemicals, this proves as your perfect organic dish soap alternative. With just a small amount needed to scrub each dish, it is sure to last you a long while!
Cassia Organics
If you're looking for a perfectly elegant and sustainable dish soap alternative, look no further than Cassia Organics, which is wrapped up in compostable recycled paper, and packages up a lush and natural scented soap bar. Be it cucumber and mint or rosemary and thyme, these vegan, and cruelty-free dish soaps are made up of natural ingredients, including distilled water, coconut oil, cocoa butter and safflower oil, and are free of any harsh chemicals. Aside from these properties, Cassia Organics natural dish soap also boasts great antibacterial and stain removing properties and can also be worked on kitchen tops and laundry!
ECOS Dishmate Dish Soap Free and Clear
If you're looking for that budget-friendly, yet 100% biodegradable soap for cleaning up your dishes, ECOS should be your new best pal! This organic dish soap is also 100% plant-based, and free from any chlorine and petroleum-based ingredients. The surfactant used by Eco's is, sodium coco sulfate, which has essentially the same cleaning properties as your regular sulfates, only that it's made from anionic coconut kernel oil, making it devoid of all the harmful toxins! ECOS holds the US Environmental Protection Agency's Safer Choice Certification and an A grade from EWG!
Sea Witch Botanicals
Created with no toxic kaolin clay, the natural fragrance of orange essential oil, along with fair trade organic coconut oil, the Sea Witch Botanicals dish soap is free of any petroleum derivatives, parabens, and phthalates, making it safe and sustainable to use! While orange naturally cuts through grease, this zero waste, biodegradable soap, can also be used for your kitchen top, glass, fabrics, and more. In that regard, you can replace all of those unnecessary bottles of cleaning products with a single natural soap bar, to be all the more eco-conscious!
Conclusion
In conclusion, it's safe to say that using eco-friendly dish soap as opposed to your regular washing up liquid, is not only safe for you, but for the environment, you live in! Essentially, biodegradable soap is a cleaning agent that can decompose naturally over some time and is made up of natural ingredients that have been proven to be beneficial for your health, and devoid of all the harsh toxins.
Whether you want to avoid those nasty chemicals entering your body, consuming chemical residues, polluting your groundwater, harming the aquatic life, or seeing those plastic bottles piling up in landfills and affecting the environment at large; an eco-friendly dish soap alternative is the first household change to making a bigger difference!