Celebrating Christmas in 2022 should mark a break from how we have been doing it till now- in a better way, of course. Decorations and sparkly ornaments form an important part of the festival, and one we look forward to. But, a lot of these ornaments and decorations are not eco-friendly, which is why it is high-time that we encourage our family and friends to embrace sustainable Christmas decorations this season and the ones after it!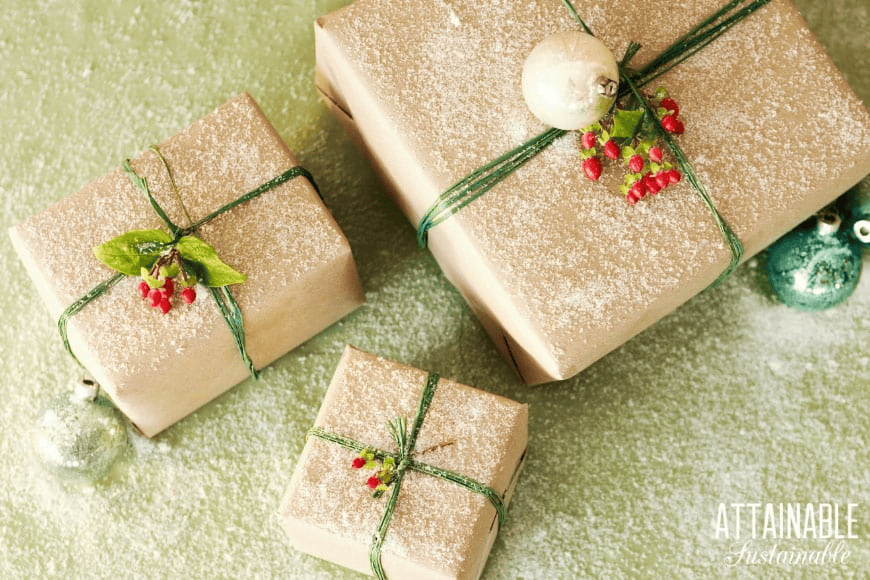 The festive season means spending quality time with near and dear ones. It means meeting relatives, family and friends. It also is a time for deep reflection and gratitude.
Unfortunately, Christmas is not the greenest of festivals. Consumption patterns and waste generation peak during the weeks leading up to it. The celebration has become synonymous with different excesses: purchases, food wastage, mindless felling of trees and increased energy usage. Hence, it has become important that we consider celebrating the season with sustainable Christmas decorations.
As consumers, we become highly susceptible to impulsive purchase decisions during the festive season, which we deeply regret later. Here at Be Zen, we believe controlling overconsumption and unsustainable consumer behaviour should be a year-long affair and not just limited to a particular time of year. So, here are the 7 sustainable Christmas decoration ideas for greener, eco-friendly celebrations!
---
7 Sustainable Christmas Decoration Ideas (With DIY Tips at the End!)
There is no end to innovation when it comes to doing things the sustainable way- from reusing and recycling to making new decorations from available home supplies without spending a bunch, the train of ideas does not end, contrary to what people believe. It's time to let your craft supplies and scissors out, along with the old decor you have stored away to make some more decoration items! Here are 7 sustainable Christmas decoration ideas you should follow to make something timeless, just like the holiday spirit of cheer and warmth.
Re-use and Re-purpose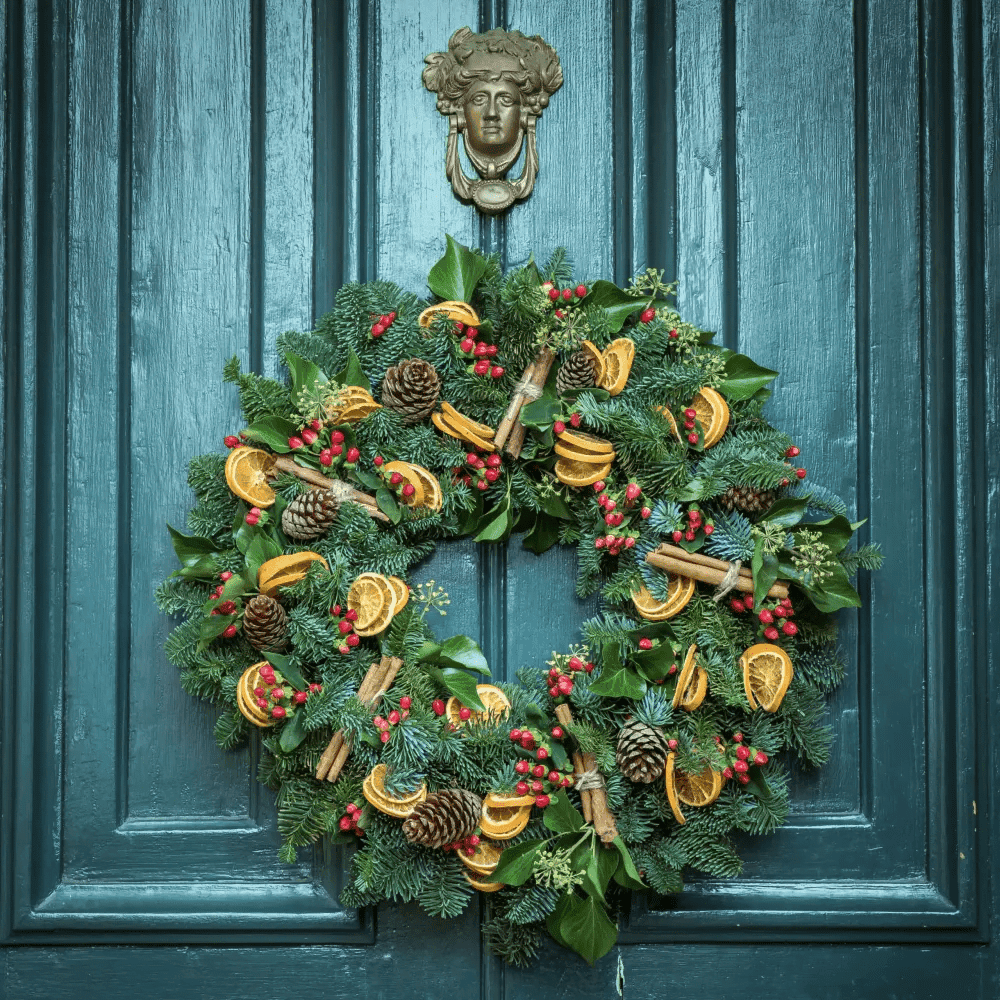 Before you head out to splurge on new items for decorations, it would actually be a good idea to pull out the old decorations from last year. At Be Zen, we believe the best sustainable Christmas decorations are those which you already have at home.
And what's more, you can also put on your creative hat and re-purpose the old item to make unique and exciting decorations. Be it the ribbons, the ornaments, the big old wreath or even the leftover greenery. If they are creative enough, they can have a lot of fun with their old leftovers.
Another idea is to repair and mend those decorations which can use a stitch or two. Some decorations are in peachy condition save for a broken hook, or a seam that is coming off. You don't need to throw them away- get working and prevent the Christmas waste pile from increasing.
---
Making a New Wreath from Reused and Repurposed Materials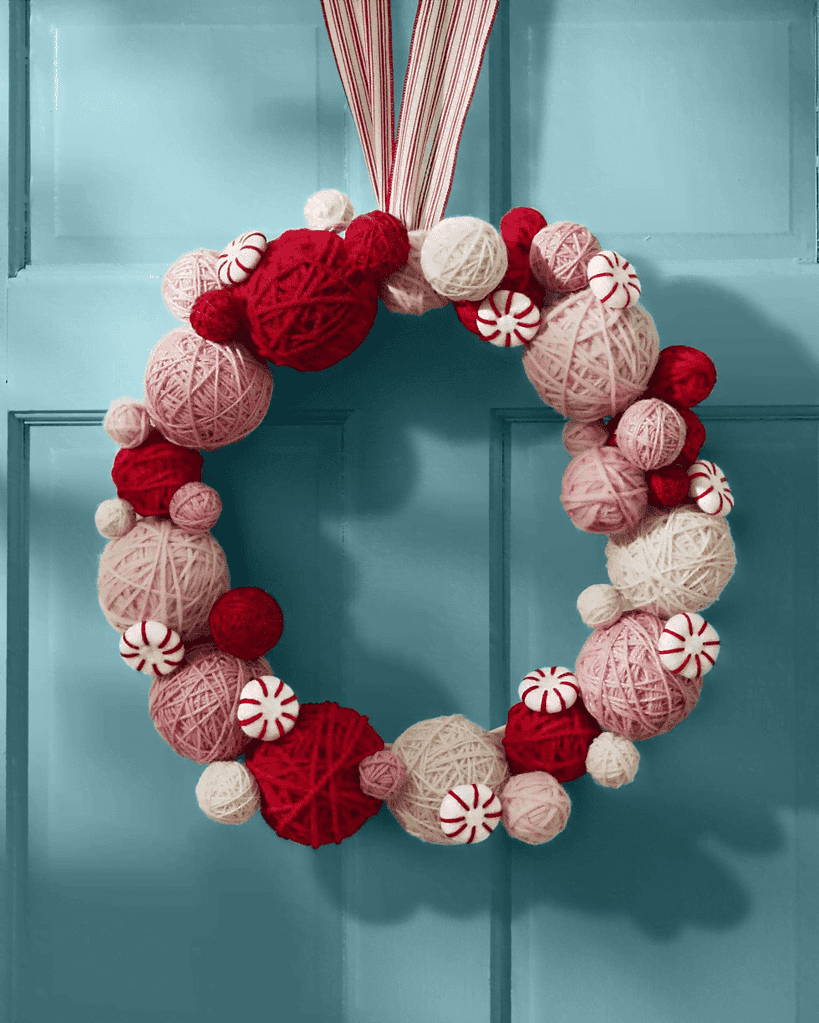 Making a wreath from sustainable materials has never been this easy. Some of the materials one can use include yarn balls wrapped around styrofoam balls, balloons, dried orange peels, pine cones or even magnolia leaves collected from your backyard. The possibilities when it comes to making a wreath from sustainable material are endless.
Take for example this unique Christmas decoration idea: a life-preserver wreath, re-purposed with simple materials you would find in your garage!
Or this wreath made solely from eco-friendly balloons.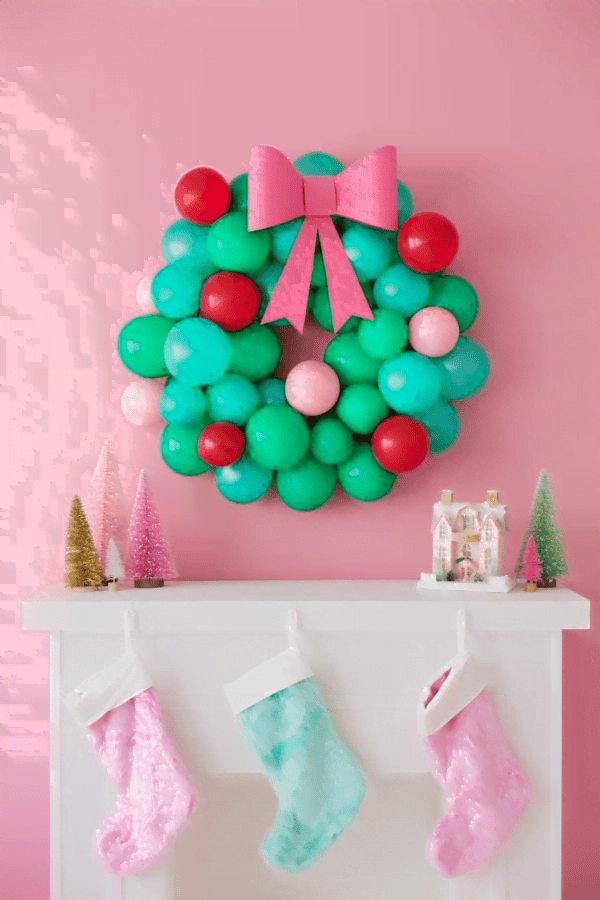 You can even upgrade and customize your store-bought wreath by including readily available everyday materials.
---
Just Thrift It!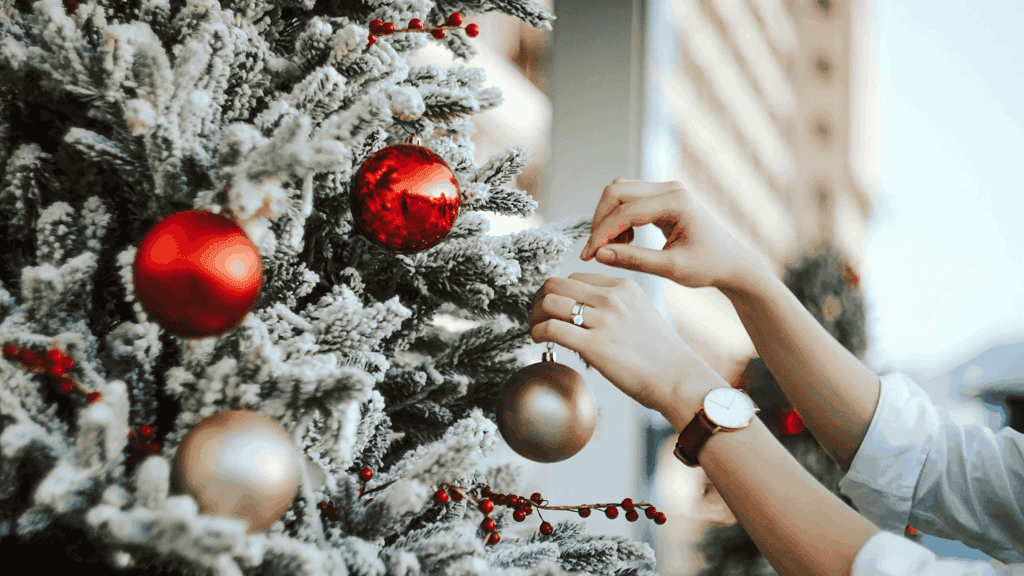 Another excellent sustainable Christmas decorations idea is to give thrift stores a chance. Allow us to give you a detailed guide on what you can do once you are inside the thrift store.
Alright, folks so the first rule you must abide by when looking out for festival decorations at thrift stores is to keep your eyes wide open.
Christmas decor comes in all shapes, sizes and styles. And that's exactly what makes hunting for it in thrift stores so much fun. One comes across all kinds of ideas for a happening Christmas. Always keep your preferred style in mind when you look through the rows at the thrift store and then decide what you can use to fit that style perfectly.
What we can suggest here is to keep an open mind. While hunting for treasures at the thrift store you might require multiple trips leading up to holidays. But trust us, it would be all worth it in the end. Understand this, thrift stores need to move Christmas decorations fast since it is seasonal and fast moving so they continue to bring new stuff out all the time.
Go as often as you can. But, also keep your budget in mind. Spending beyond our limit at the thrift store is very much possible. Hence, It is advisable to keep in mind one's budget when going into the store. Then, when you are deciding on things, that number will make the choices very easy. And yes to maintain the spirit of a sustainable Christmas only buy the things you truly need.
---
Go Plastic-Free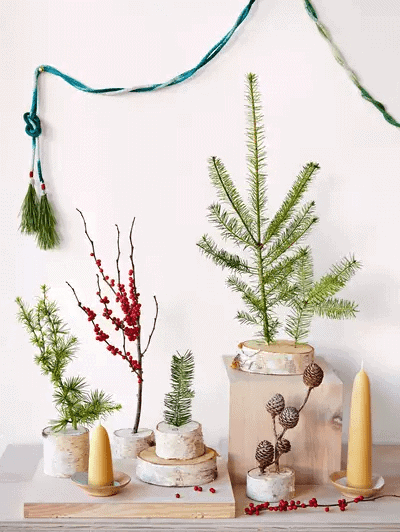 Next on our list of sustainable Christmas decoration ideas is using all-natural decoration items rather than using plastic or artificial decorations. From the evergreen wreaths embedded with the freshest berries to repurposed pine cones weaved into wreaths and garlands, decor made from nature is often as delicious as it is pleasing to the eyes.
Using all-natural floral decorations on the Christmas tree instead of generic plastic decorations will also prove to be a welcome change. Imagine you wake up on Christmas day and are greeted with the scent of fresh lavender, rose and jasmine.
The only downside we see of using natural ornaments over artificial ones is that they probably won't last you till the new year's celebrations. But that is an acceptable trade-off as the benefits of going natural far outweigh the cons. Or hey, maybe support some small businesses that can make cute ornaments out of used flowers by preserving them in resin?
---
Using Renewable Energy to Light It Up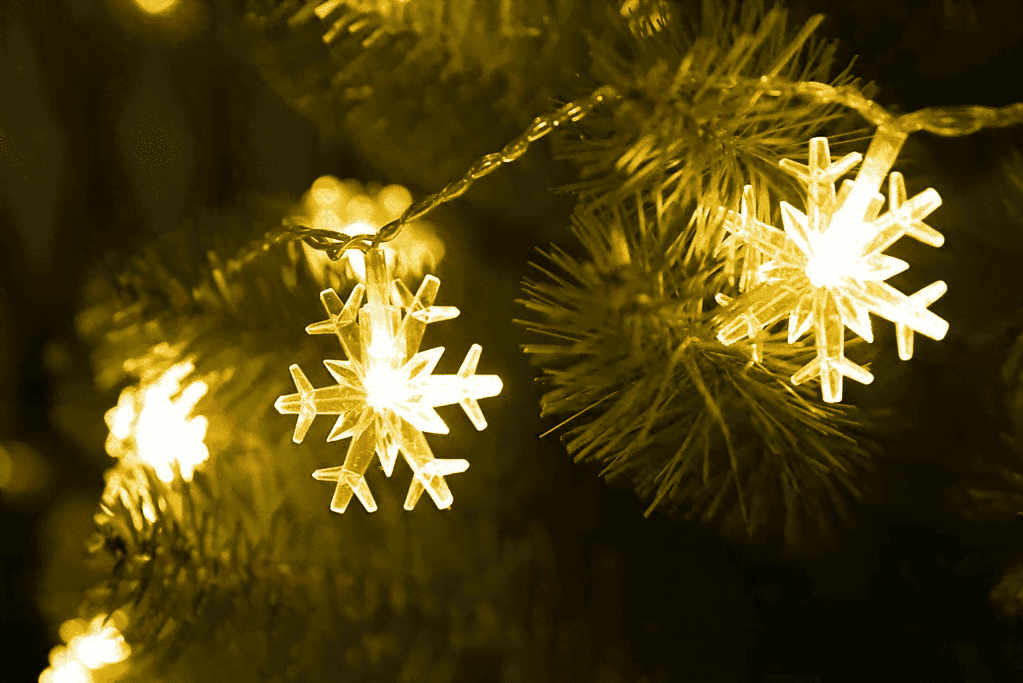 Christmas lights add flavor to the holiday spirit and brighten up festivities. However, it is also true that these lights consume a ton of energy which unfortunately comes from highly polluting non-renewable toxic sources. Using solar-powered Christmas lights can be a way out of this situation.
Without a doubt, solar Christmas lights are a better option. They are excellent for the environment. They will help reduce the carbon footprint without taking away the festive spirit. Moreover, the use of LED bulbs leads to the use of less energy, charging more rapidly, and lasting longer than any other alternatives.
Solar-powered products allow you to be far more creative. Say farewell to being restricted by your outdoor plug socket. Bend these lights in the shape of a Reindeer or wrap it around the tree in your garden, solar lights have got you covered!
---
Wrap Gifts in an Eco-Friendly Way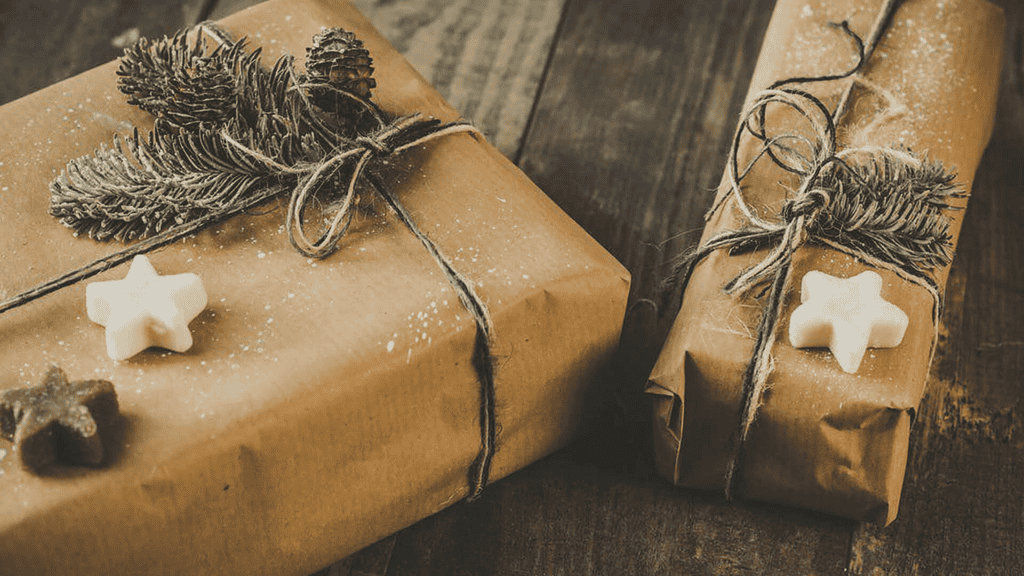 Christmas is synonymous with gifts, and so many of them. It is a great way to express your gratitude for the near and dear ones, who have been our pillar of support throughout the year. However, what happens after the gifts are opened? An obscene amount of discarded paper finds its way into the trash bin. And what's more, the vast majority of the gift paper is not even recyclable.
So, it becomes imperative to look for sustainable alternatives for wrapping our gifts and that too without compromising on the aesthetics factor. But before we explore alternatives to traditional wrapping paper, we urge you to look through your drawers. If you could find old travel maps, brown paper bags, newspapers etc., they too can make an excellent wrapping material. And what's more, this will give your gift a unique and different presentation.
When it comes to a unique and sustainable wrapping option one can explore options like old Tote bags, wine bags, children's artwork or even a piece of cloth which is no longer in use. All of them will make a great wrapping paper alternative.
---
Source Decorations From Ethical Marketplaces!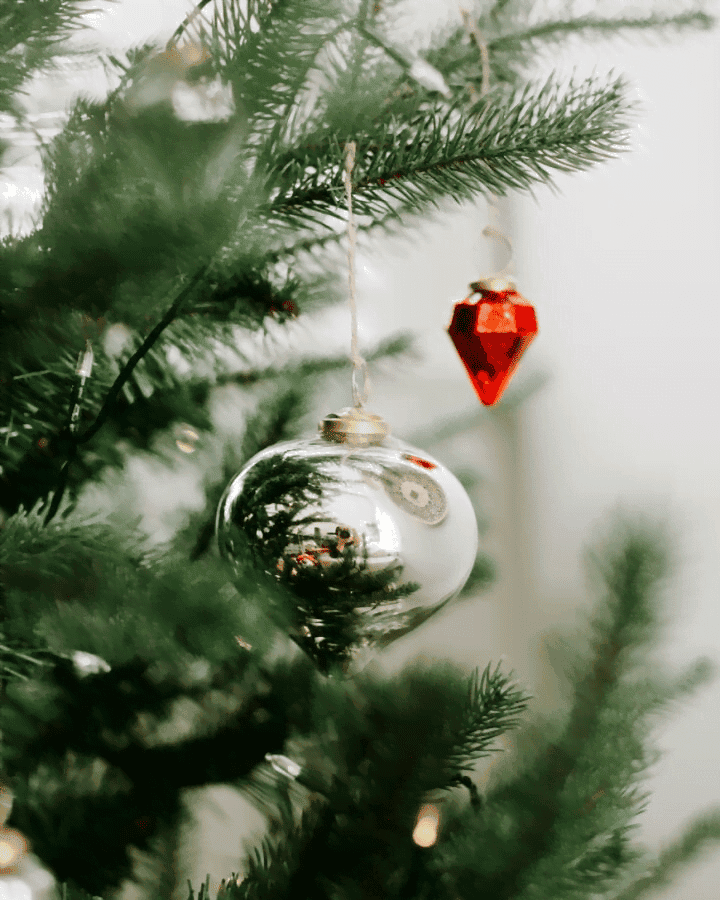 Alright, you have used the above suggestions and still feel you need to step out and make a decoration purchase. Now, there is no need to panic, here what could be done is to ensure that whatever decorations you are buying for Christmas are ethically and sustainably sourced.
There are a lot of companies in the market which deal in ethical and sustainable zero-waste Christmas decorations. These companies create sustainable employment opportunities for vulnerable sections of the population.
Some of the companies which deal with ethically sourced sustainable Christmas decorations include Eco-Vibe, a BIPOC-owned boutique which also deals with holiday decor items including ornaments, garland, stoneware Christmas trees, holiday candles, glass ornaments, and much more.
Another brand that is trying to create a sustainable impact via Christmas decorations that last is Acacia Creations. The brand deals with the design of fair trade home decoration items. Rather than focusing on extreme profitability, Acacia focuses on the overall well-being of its partner artisans. Their zero-waste Christmas decorations catalogue features glass blown & recycled paper holiday ornaments plus wool stockings made out of ethically sourced organic fibre!
---
DIY Christmas Decoration Ideas that are Eco-Friendly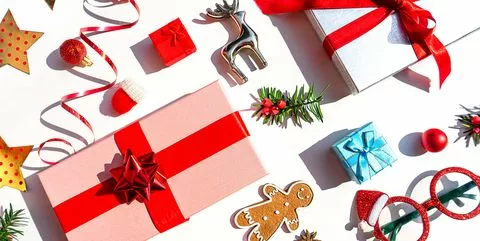 There's something so special and charming about Do-It-Your own Christmas decorations. Not only are they creative, but they also save you the stress of spending more and don't generate more plastic waste.
Contrary to popular opinion, there are hard and fast no rules when it comes to decorating for holidays. Having a sustainable Christmas doesn't mean you must forego fun Christmas decorations or deliberately keep everything low-key just for the sake of being. There are many fun DIYs to help you get into the festive spirit. These DIY Christmas projects are beneficial if you've got little ones around who are desperately counting the days until Santa's arrival!
From door decors to candlesticks, from staircase bows to table decorations there is much that could be done in the evergreen Do-it-yourself section. DIY is the peak of zero-waste Christmas decorations and one of the most sustainable Christmas decoration ideas out there. Hence, Be Zen highly recommends doting Moms and Dads to try DIY this festival season with their kids for a more enriching and eco-friendly experience.
Recycled Bottle Gnomes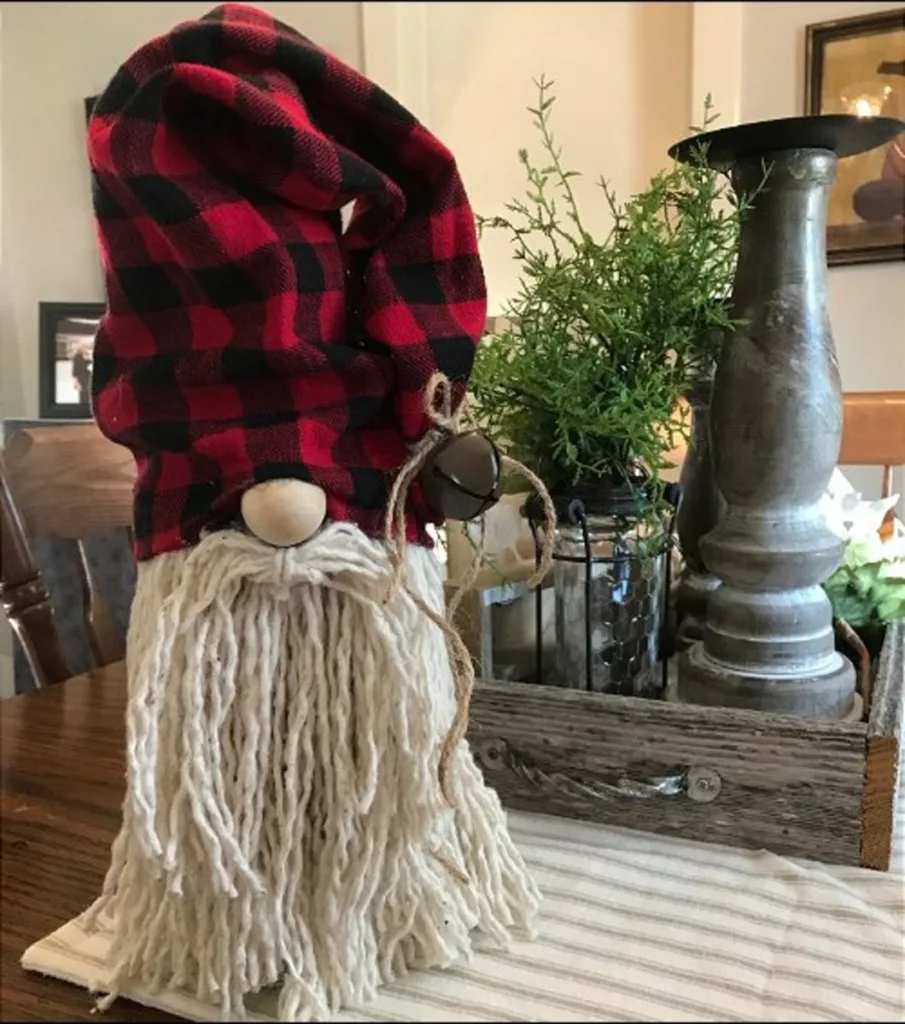 Repurposing your used plastic or wine bottles into cutesy bearded gnomes is a fantastic Christmas craft idea. Moreover, gnomes can be a decoration that last beyond the holiday season. Use a bit of twine, some plaid fabric, or anything like a bitty bow or wooden chipped board to embellish these characters and give your Christmas some personality. You can give your gnome a beard, or rosy cheeks and even googly eyes- whatever you see fit!
---
Ribbon Christmas Tree Decoration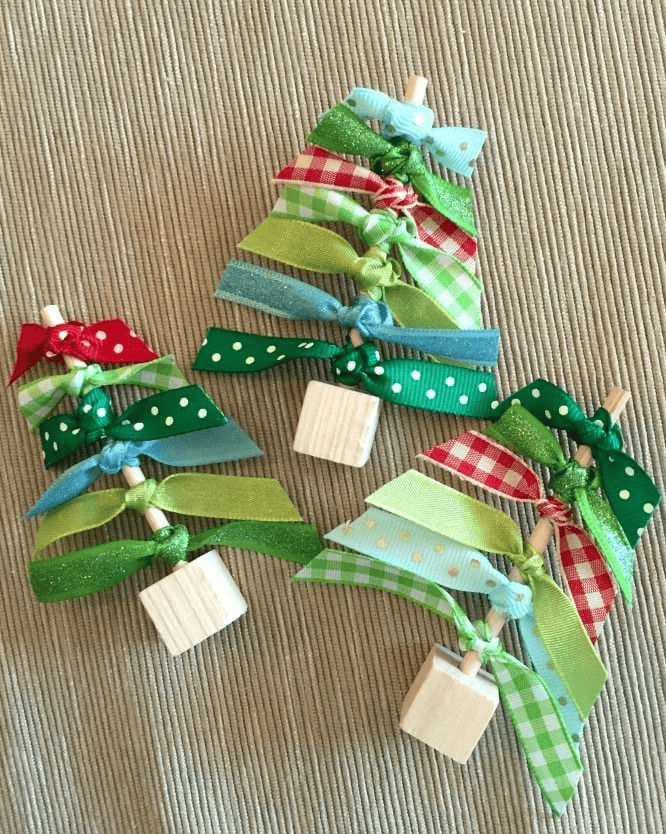 Got some little ribbon scraps that are too short to make a banner with? Use them to make ribbon Christmas trees! This craft idea needs you to do the bare minimum- you can take random ribbon scraps, arrange them however you wish to on a stick. Tie them onto the stick into simple bows. Don't forget to stick the craft into a base of sponge, or a wooden block so that you can put them on the table or anywhere you like. There is no limit to these trees- you can even make a cute forest from these zero waste Christmas decorations!
---
Used Sweater Christmas Trees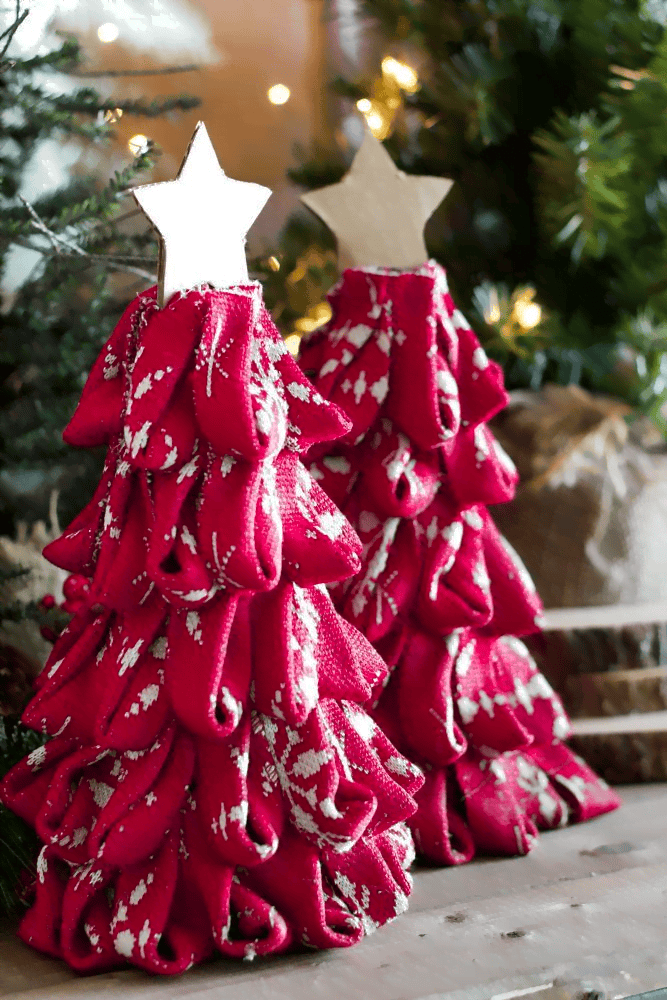 Using your ugly Christmas sweaters to make trees is one of the most ingenuous craft ideas for Christmas decorations. Wipe that mopey face because you hate that sweater, or it is too short for you- snip it into strips, fold them and stick it together on a stable vertical base like a stuffed plastic bottle, or a glass jar. Top it off with a star and you have a Christmas tree without damaging the actual green cover!
---
What Be Zen Thinks About Zero Waste Christmas Decorations?
We believe that the principle behind combatting overconsumption during Christmas is the same as combatting overconsumption in general – that is to only buy what you need. And when you do, try to buy from local producers who practice sustainability.
Whenever you are out shopping do keep in mind that there's always a sustainable alternative! Try to give gifts intentionally, buy only what you and your family will need for the festive season. Try out an alternative, sustainable Christmas tree from one of the many ideas we discussed in this article and make eco-Christmas decorations that are either fully compostable or reusable year after year.
We hope you will give Sustainable Christmas decorations a chance this holiday season. Happy Holidays!