Did you know? 90% of the child's brain development occurs in the first five to six years of their life, and children spend most of their time playing around at this age. Therefore, choosing suitable Montessori toys for your 2-year-old becomes crucial for healthy brain development. To make your job easier as a parent, our research team has compiled a list of the best places to find the most sustainable Montessori toys for your 2-year-old.
Find Sustainable Montessori Toys for Your 2-Year-Old
1. PlanToys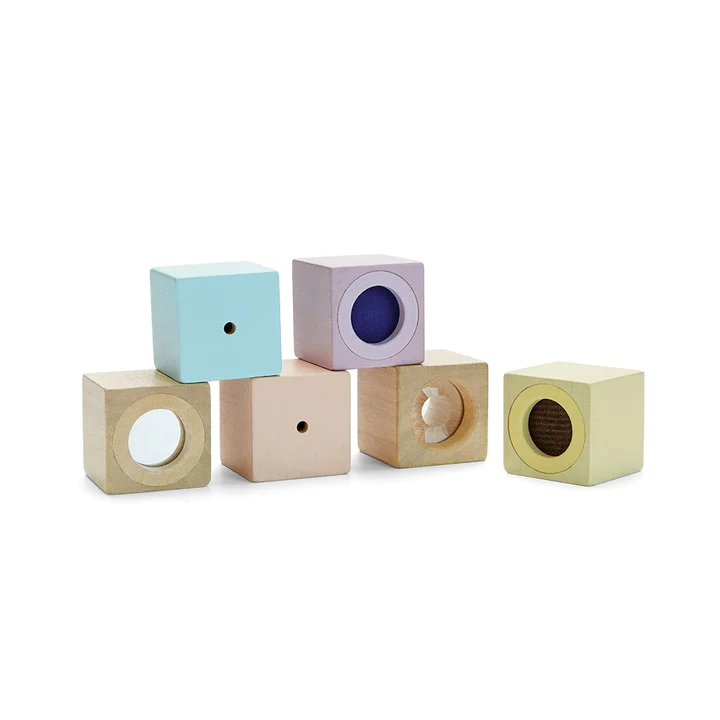 Price: $6.00 – $380.00

Best For: Push & Pull Toys, Pretend Play Sets, Wooden Musical Toys, Water Play, Lacing Boards/ Beads, Nuts & Bolts, Construction, Race Ramps, Dough Sets, Spin & Fly Airplanes, Fraction Blocks, Build a Robot, Pounding Toys, Hand Sign Alphabet A-Z/ Numbers Set, Games & Puzzles

Badges: Sustainable Materials

Certifications: SA 8000, ISO 45001, ISO 14001, ISO 9001, ASTM (USA) & EN71 (Europe)

Shop Now
PlanToys manufactures its products using rubber trees that have ceased latex production (usually after approximately 25 years). Instead of allowing these trees to be cut down and incinerated, they are reclaimed from plantations for production. The brand also uses sawdust and finishes its products using non-toxic dyes and formaldehyde-free glue, making some of the safest Montessori toys for your 2-year-old.
2. Montessori Mama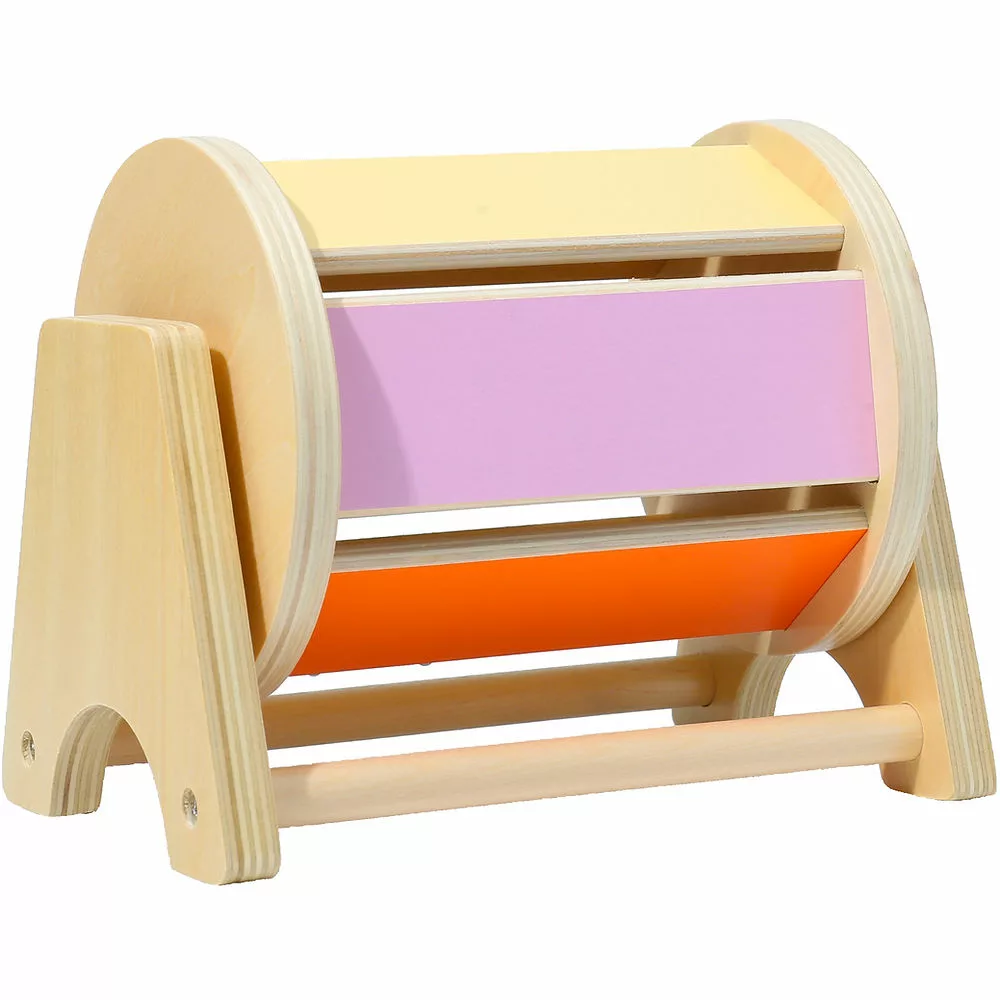 Price: $4.00 – $70.00

Best For: Object Permanence Box, Puzzles, Activity Cubes, Push Toys, Alphabet Tracing Board, Kitchen Playsets, Baby Toy Collection, Sensory Sets, Learning Clock Boards, Busy Boards, Tool Box Sets, Race Ramps

Badges: Sustainable Materials

Certifications: Forest Stewardship Council (FSC)

Shop Now
The Montessori toys for your 2-year-old manufactured by Montessori Mama are FSC certified and align with their commitment to providing sustainable, educational toys for your child. Each toy is a labour of love that is designed using the highest quality wood and can be passed down through generations, thus having the smallest carbon footprint and saving the environment.
3. The Montessori Room
Price: $12.00 – $537.00

Best For: Tactile Cards Set, Magnetic Books, Puzzles, Rocky Rocker, Wooden Loose Parts, Toddler Climbing Toys, Push Toys, Playsets, Activity Tables, Story Cards, Padlock Boards 

Badges: Sustainable Materials

Certifications: Forest Stewardship Council (FSC)

Shop Now
A company started by three mothers and educators with the vision to make 'Montessori' more accessible. Each item in their store is carefully selected and made in Canada, keeping in mind the natural materials, ethical manufacturing, and small batches. They have some of the best Montessori toys for your 2-year-old.
4. Guidecraft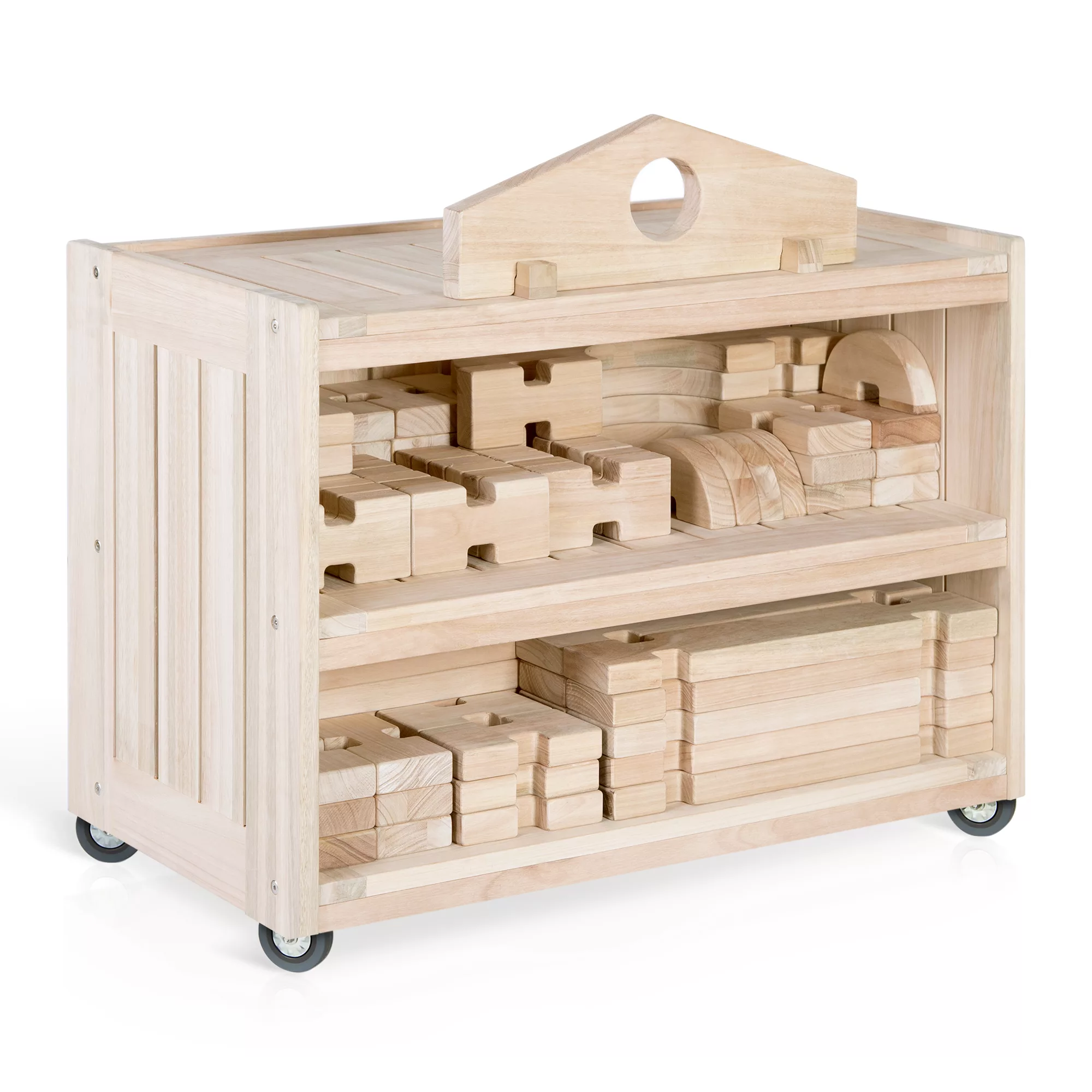 Price: $569.95 – $999.95

Best For: 25 Pc. Outdoor Hollow Block Set, 89 Pc. Notch Blocks Set

Badges: Sustainable Materials

Certifications: Forest Stewardship Council (FSC)

Shop Now
Guidecraft has been designing safe, quality educational toys for over 55 years. Young children can play using their toys to improve fine motor skills, colour and shape recognition, and inspire imagination. Wooden unit blocks are also available for children of all ages, making them the perfect place for Montessori toys for your 2-year-old.
5. Bigjigs Toys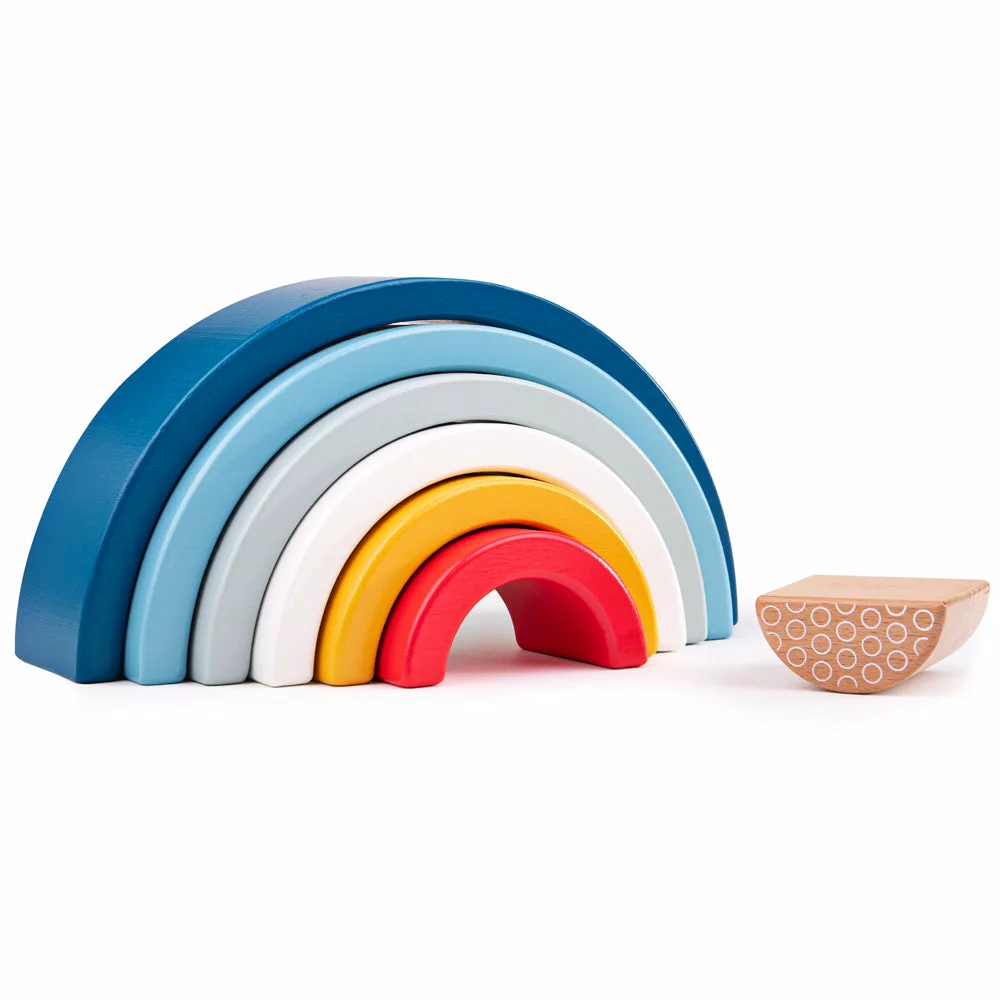 Price: $20.00 – $82.00

Best For: Woodland Animals, Wooden Noah's Ark, Shape Sorters, Stacking Toys, Sensory Blocks, Activity Cubes, Hammer Bench

Badges: Sustainable Materials

Certifications: Forest Stewardship Council (FSC)

Buy Now
Bigjigs' Montessori toys for your 2-year-old are certified and made using top-quality wood to ensure durability and an engaging experience for your kid. They are an environmentally conscious company and make sure to reduce environmental impact at every stage of production and delivery. No polythene is used in parcels and 99% of their invoices are emailed, keeping air freight to a minimum.
6. Hape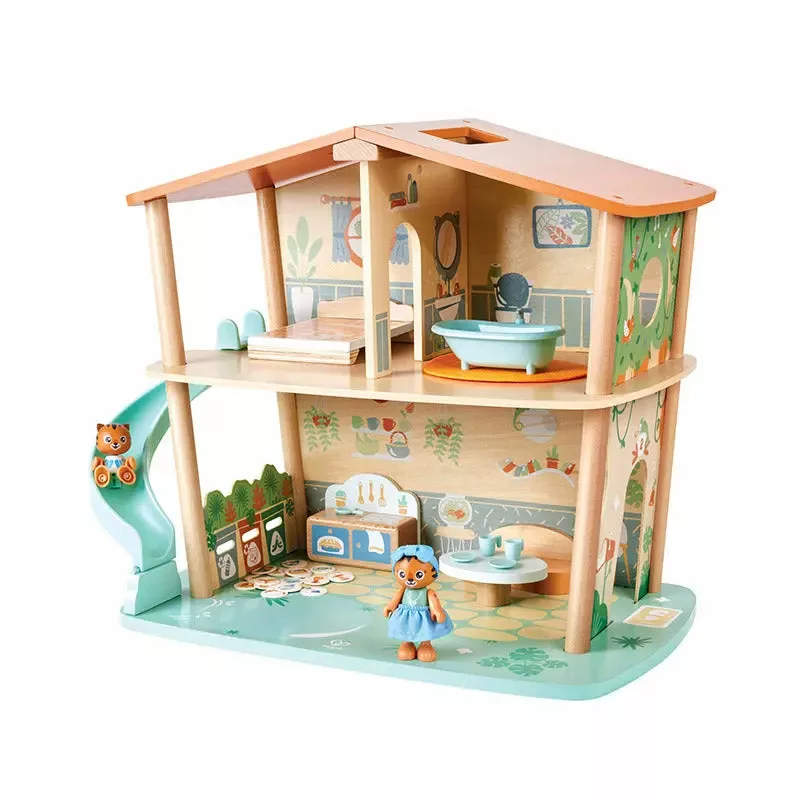 Price: $10.00 – $150.00

Best For: Playset Houses

Badges: Sustainable Materials

Certifications: Forest Stewardship Council (FSC)

Shop Now
Since its inception in 1986, Hape has had an international presence and is loved by all! These creative and eco-friendly toys help children become more independent, self-confident, and imaginative. Not just this, the brand has made many new schools around the globe to provide a better education for children. The strict inspection and certifications make it a perfect choice for Montessori toys for your 2-year-old!
Unlock Your Savings with Exclusive Offer Coupons
Save big while shopping for sustainable products! Grab your exclusive coupons today!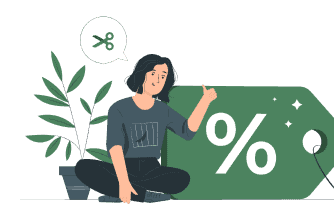 What Are Eco-Friendly Montessori Toys?
What makes a toy eco-friendly? Eco-friendly toys are made using natural materials like bamboo, wood, metal, organic cotton and other sustainable materials. Most of these sustainable toys for kids use natural dyes for colouring, ensuring your child is not exposed to harmful chemicals.
Sustainable Montessori toys for your 2-year-old include eco-friendly toys that are closely aligned with the philosophy of Dr Maria Montessori's learning method, made using natural materials. Since these toys are designed to help children learn through touch and exploration, the Montessori toys for your 2-year-olds will help them develop essential skills, which include motor function, problem-solving and improved concentration.
Usage of sturdy and natural materials makes these sustainable toys for kids more durable. Once your child outgrows them, you can even sell them or donate them, making these toys the best choice for the environment as well. These notable benefits of Montessori toys and the brightly coloured design promote curiosity and foster the love of learning in your child that will last a lifetime and is good for the environment, too!
Environmental Impact of Toys
What is the environmental impact of plastic toys? The toy industry is said to use a whooping 40 tons of plastic for 1 million dollars in revenue, making it the most plastic-intensive industry in the world. Around 90% of toys available in the market are made of plastic. This contains harmful chemicals such as dioxins and heavy metals.
Almost all the children and toddlers have a habit of chewing on their toys. Some studies have shown that children who chew on PVC toys are exposed to harmful chemicals in their bodies, so it is recommended to opt for eco-friendly toys. Eventually, these toys, which are made up of plastic, end up in landfills and pollute the environment. Therefore, choosing sustainable Montessori toys for 2-year-olds not only saves the planet but also aids in your child's brain development.
Fact: Each year, 60 million Barbie dolls are sold, contributing emissions equivalent to burning 381 million gallons of gasoline.
Are Montessori toys for your 2-year-old a better alternative? Yes, they are. The Montessori philosophy, developed by Dr. Maria Montessori, educates children in a transformative way, emphasizing independent learning, curiosity and self-motivated growth in all areas of development – cognitive, emotional, social and physical.
"When a child is given a little leeway, he will at once shout, 'I want to do it!' But in our schools, which have an environment adapted to children's needs, they say, 'help me to do it alone.'"
– Dr Maria Montessori, The Secret Of Childhood
Tips to Reduce Toy Waste
Can you recycle plastic toys? Most recycling facilities usually address single-use plastic and do not recycle hard plastic, which is what most commercial toys are made up of. Toys are usually a mixture of different materials, making the process of recycling nearly impossible. Plastic toys eventually end up in landfills, polluting the environment.
Besides choosing Montessori toys for your 2-year-old, there are others ways to be sustainable. Here are some tips to reduce plastic toy waste:
Tip 1: When purchasing toys for your kids, make thoughtful decisions. Buy from a local thrift store, garage sale and online exchanges for gently used toys. And once your child has outgrown them, donate it again.
Tip 2: Invest in high-quality quality, durable toys made of sustainable and eco-friendly materials like wood, organic cotton, wool, metal, etc. These toys won't break easily, are free from harmful toxins, and can be donated once your child grows up.
Tip 3: Choose toys with multiple functions or adaptability. This will ensure your child can play with them longer and won't outgrow them only after a few months of playing.
Conclusion
As a conscious parent striving towards sustainability and knowing the impact of the toy industry on the environment, it becomes crucial to make informed decisions while purchasing. In this case, choosing Montessori toys for your 2-year-old has the added advantage of making learning joyful while improving your child's brain function and motor skills. And since these toys are made using eco-friendly materials, it's a win-win for you and the environment!
Looking for more sustainable products for your child? Visit our eco-friendly store and see what conscious parents are currently stocking up on!
Read Next:
Want to read more like this?
Get similar stories and a free sustainability checklist delivered to your inbox.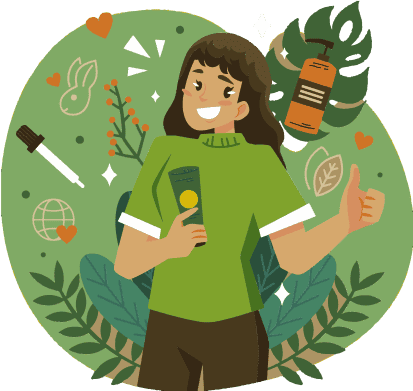 Get similar stories and a free sustainability checklist delivered to your inbox.