Skincare gurus never fail to rave about the importance of using sunscreen, and it's all for good reason.
We often underestimate the nasty effects UV rays have on our skin and health.
From skin pigmentation to cancer, they come with a whole bunch of problems that are a big NO-NO.
And so, here's a skincare tip we'll never tire of sharing—if you use nothing on your skin, use sunscreen. Please. Your future self will THANK you.
To help you better, we're here with a guide on what you need to stick to and what you need to avoid, and the best non-toxic sunscreens for all your needs.
Keep reading for the deets.
Is Sunscreen Safe?
The Environmental Working Group (EWG), a non-profit advocacy organization, has deemed that around 3/4th of the sunscreens available in the market do not provide adequate sun protection.
And they also contain ingredients that the FDA has not yet accepted as safe for exposure.
Most chemical sunscreens soak into the skin and can cause health issues ranging from minor to severe.
Not to mention, what is the purpose of slathering up all that lotion if it's not going to protect you in the first place?
So, what's the solution to this?
The key is, of course, to only use the most effective and safest sunscreens.
What Is the Safest Sunscreen to Use?
Here are some factors to keep in mind while choosing the safest sunscreens for yourself.
Avoid These Chemical Ingredients
It's best to steer clear of chemicals like Avobenzone, Oxybenzone, Homosalate, Vitamin A, Octinoxate, etc, in your sunscreen. Scroll down to know more.
Choose Carefully Between Chemical and Physical Sunscreens
Physical sunscreens or mineral sunscreens sit on the top of your skin to reflect off UV rays, while chemical sunscreens soak into your skin.
Mineral/physical sunscreens are the safest choice as they are more natural and less risky.
Look For Broad Spectrum Sunscreen
Broad spectrum sunscreen blocks both UVB and UVA rays, making it a lot more effective than other sunscreens.
Read Up on the Brand's Safety Measures and Testing Policies
When purchasing sunscreen, choose a safe, organic brand. Scan through the info provided on the brand's website to find out what ingredients were used and why.
It's always a wise idea to do a bit of research before purchasing personal care products.
Is Zinc Oxide Safe in Sunscreen?
Zinc Oxide is a mineral that's an active ingredient in sunscreens meant to block UV rays.
Because it can block both UVA and UVB rays, it's called a broad spectrum blocker, aka the safest sunscreen ingredient.
Non-nano zinc oxide is safe to use in sunscreen, as it does not get absorbed into the skin and the bloodstream, like some other chemical ingredients.
Also, it is less likely to be ingested by coral reefs, which is a win-win.
Chemical Ingredients To Avoid in Sunscreens
Read this guide by EWG for an even more comprehensive understanding. There are several chemical ingredients that make sunscreens quite toxic. Watch out for these chemical agents when you are shopping for the sunscreen you want. Many of these are known skin irritants and environmentally dangerous substances.
Oxybenzone
This chemical causes coral bleaching and harms marine life in the oceans when disposed of. Not something you'd want to smear all over your body, would you?
Apart from that, according to EWG, it's a form of synthetic estrogen that can disrupt your hormones.
Retinyl Palmitate
Retinyl Palmitate is a form of Vitamin A, a powerful antioxidant. Usually, we're fans of good nutrients that help your skin.
However, when you apply this chemical to your skin and it gets exposed to the sun, it breaks down into radicals that can cause cancer.
Now, that's not how we want to consume our nutrients, do we?
Homosalate
Homosalate is a common chemical used in products containing SPF. It is an excellent absorber of UV rays.
But, in June 2021, the European Commission deemed Homosalate unsafe when it's present in a concentration of more than 10%.
Octinoxate
Like Oxybenzone, Octinoxate is also harmful to coral reefs and marine life.
It's also been shown to cause skin allergies, reproductive problems, and thyroid malfunctions.
Avobenzone
Avobenzone is not as toxic as other chemicals on the list.
However, according to the EWG, it's shown to cause severe irritation.
It also only works as a sunblock when combined with a stabilizer like Octisalate.
Octocrylene
Octocrylene is often used with Avobenzone to help block UV rays.
But, it's shown to break down into another chemical called benzophenone which can cause cancer.
Best Non-Toxic Sunscreens For All Needs and Ages
These sunscreens come in different variants—sticks, lotions, and sprays, and are some of the safest, non-toxic options available out there.
Babo Botanicals Sheer Zinc Continuous Spray Sunscreen SPF30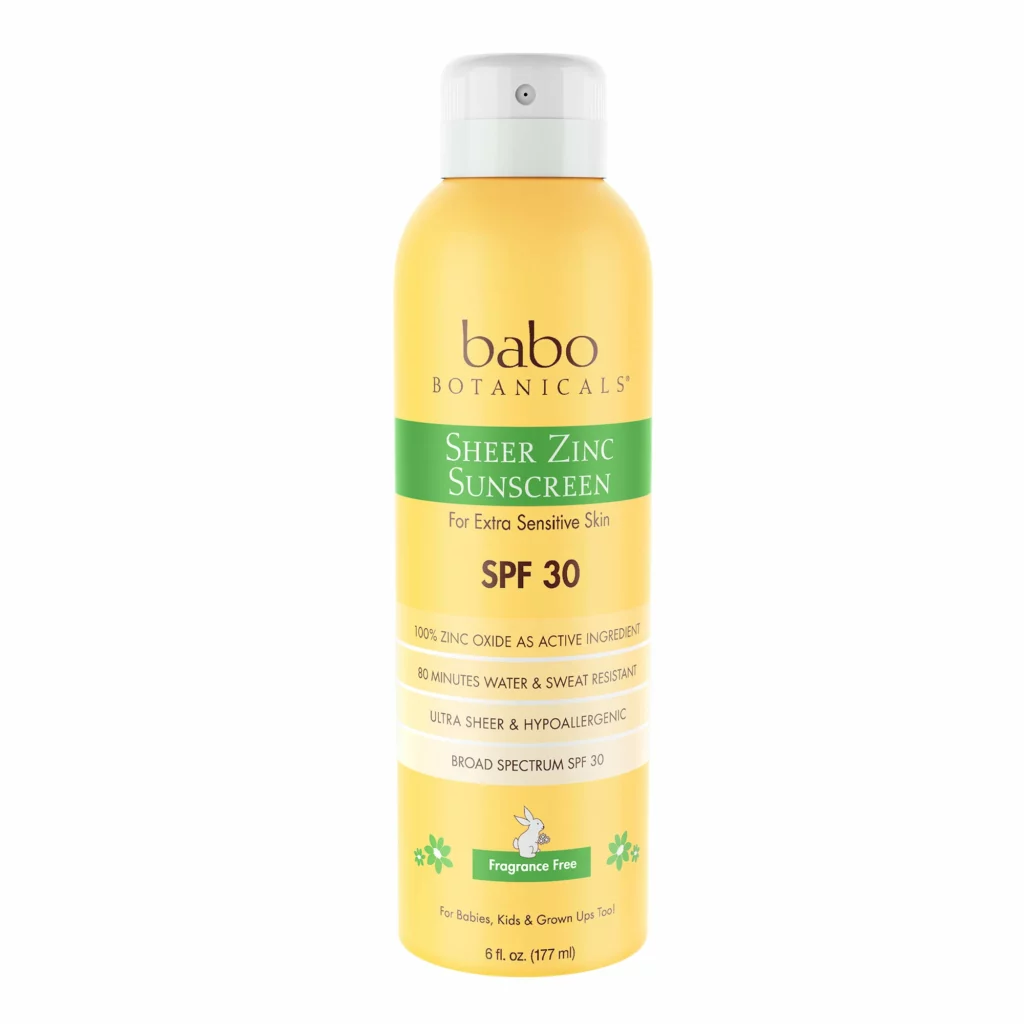 Price: $18.99
Quantity: 6–oz.
Type: Lotion spray
Best For: Adults and Kids, Normal Skin
Key Ingredients: Zinc Oxide, Aloe Vera, Calendula, Chamomile, Sunflower
Image: babobotanicals.com
Why we like it:
This non-toxic sunscreen spray is 100% vegan, cruelty-free, fragrance-free, made in the USA, and non-nano.
It has a pleasant scent of Calendula and Chamomile, blends easily into the skin without leaving a white layer, and is non-greasy to the touch.
We love the lotion-like feel of the sunscreen in the convenience of a spray bottle (not aerosol). This is the best overall sunscreen on the list, we wholeheartedly recommend it for all ages.
SHOP BABO BOTANICALS SUNSCREEN
Badger Kids Mineral Sunscreen Cream – SPF40
Price: $17.99
Quantity: 2.9–oz.
Type: Cream
Best For: Kids, Sensitive Skin
Key Ingredients: Uncoated Zinc Oxide, Sunflower Oil, Jojoba Oil, Vitamin E
Image: badgerbalm.com
Why we like it:
This organic sunscreen by Badger is cruelty-free, hypoallergenic, and gluten-free.
It has a mild formulation, is super non-greasy, and the kids will love the organic tangerine and vanilla scent.
It can also be used as a facial sunscreen for adults with sensitive skin types.
Note: This product has beeswax. If that is not a concern for you, it's a perfect non-toxic sunscreen for kids.
All Good SPF30 Sport Mineral Sunscreen Lotion
Price: $17
Quantity: 3–oz.
Type: Lotion
Best For: Adults, Body
Key Ingredients: Zinc Oxide, Calendula, Aloe Vera, Green Tea, Coconut Oil
Image: allgoodproducts.com
Why we like it:
The Sport Mineral Sunscreen by All Good is cruelty-free, gluten-free, reef-friendly, made in the USA, and hypoallergenic.
It has a super non-greasy and lightweight formula and is also water-resistant for 80 minutes after application.
This is one of the best suntan lotions we've come across—ideal for long days out in the sun.
The Sunscreen Company Ava Isa Sun-e-Serum Drops SPF35
Price: $45
Quantity: 1–oz.
Type: Serum
Best For: Women, Face
Key Ingredients: Zinc Oxide
Image: thesunscreencompany.shop
Why we like it:
Priced at $45, this is the most expensive sunscreen on the list. But, hear us out.
This is THE sunscreen to go to when you need a super-effective yet super light formulation to apply before you do your makeup for the day.
It's a serum so it sets transparent and moist, giving you a flawless base, as well as the ultimate sun protection.
If you want to invest in a bougie non-toxic sunscreen for your face, let this be it.
SHOP THE SUNSCREEN COMPANY FACE SERUM
Thinkbaby Safe Sunscreen SPF50
Price: $15.49
Quantity: 3–oz.
Type: Lotion, Cream
Best For: Babies, Kids
Key Ingredients: Zinc Oxide, Glycerin, Castor Oil, Papaya Extract, Sunflower Oil
Image: gothink.com
Why we like it:
This is one of the best suntan lotions for kids. It's 100% vegan, cruelty-free, and free of harmful chemicals.
It offers sun protection of SPF50, has a mild scent, and blends comfortably on sensitive skin without leaving any residues or greasiness.
If you want a fuss-free, safe, and organic sunscreen for your little one, get this one.
Goddess Garden Daily SPF30 Mineral Sunscreen Continuous Spray
Price: $19.99
Quantity: 6–oz.
Type: Lotion Spray (non-aerosol)
Best For: Adults, Body
Key Ingredients: Zinc Oxide, Titanium Dioxide, Aloe Juice, Lavender Oil, Vitamin E
Image: goddessgarden.com
Why we like it:
This is another non-toxic sunscreen spray that we adore.
It's super easy to use, like other spray sunscreens, you just spray it onto your skin and rub it in with your palm.
It has a refreshing scent of lavender and aloe, feels lightweight on the skin, and offers amazing complete protection for a few hours.
The product is also vegan, cruelty-free, reef-safe, and organic. Get it below.
Green Goo Solar Goo Sunscreen Stick
Price: $7.99
Quantity: 6–oz.
Type: Stick Sunscreen
Best For: Adults, Body & Face
Key Ingredients: Zinc Oxide, Calendula Oil, Coconut Oil, Shea Butter, Vitamin E
Image: greengoo.com
Why we like it:
This is the best budget, overall organic sunscreen on the list, hands down.
It's made of all-natural ingredients, without any nasty chemicals and synthetics.
It is a stick formulation. You can rub it directly on clean skin and massage it in. It sets clear, feels non-greasy, and has a pleasant mild scent.
You do have to apply it a bit more frequently because of its natural formulation, but we think it's totally worth it.
Earth Mama Baby Mineral Sunscreen Lotion SPF40
Price: $14.99
Quantity: 3–oz.
Type: Lotion
Best For: Babies, Face
Key Ingredients: Zinc Oxide, Coconut Oil, Raspberry Seed Oil, Shea Butter, Calendula Extract
Image: earthmamaorganics.com
Why we like it:
Earth Mama makes amazing organic personal care products for mamas and babies alike.
Its products are Plastic Neutral Certified, USDA Organic Certified, Non-GMO Verified, and Cruelty-Free.
This super non-toxic sunscreen by Earth Mama is gentle on sensitive baby skin while providing complete sun protection.
Note: This product contains beeswax. If that is not a concern for you, it's one of the safest sunscreens for babies.
Supergoop! Unseen Sunscreen SPF40
Price: $27
Quantity: 1–oz.
Type: Cream
Best For: Face
Key Ingredients: Red Algae, Frankincense, Shea Butter
Image: supergoop.com
Why we like it:
This is the original INVISIBLE sunscreen, and we've been in love with it for a while.
The product offers broad spectrum sun protection, and is best for everyday use, by itself, or as a primer for makeup.
It feels extremely light on the skin and blends completely transparent, leaving you prepared to step out into the sun or apply a layer of your favorite makeup.
It's an amazing non-toxic sunscreen for face—we're sure you'll love it too!
Thinksport SPF50 Clear Zinc Sunscreen
Price: $15.49
Quantity: 3–oz.
Type: Cream
Best For: Adults and Kids, Body
Key Ingredients: Zinc Oxide, Aloe Vera, Papaya Extract, Sunflower Seed Oil, Olive Oil
Image: gothink.com
Why we like it:
This is another one of the best overall non-toxic sunscreens.
It's cruelty-free, gluten-free, vegan, reef-safe, and biodegradable.
It's got a mild scent, rubs into the skin easily, and offers the ultimate sun protection for up to 1–2 hours. It's also water resistant for 80 minutes.
It's perfectly safe for kids and adults alike, making it the right choice for the entire family.
FAQs on Sunscreen Application: Can We Do Better?
How Much Sunscreen Do You Need?
For your face a generous amount of 1/4th teaspoon of sunscreen is ideal. Especially if you're in sunny weather.
For your body, to get the Sun Protection Factor (SPF) mentioned on the bottle, you need a quantity of 2mg per square centimeter of skin.
For a better idea, use an amount that makes your skin feel fully coated without any stickiness or heaviness.
How Do You Know if Sunscreen is Effective?
There are two ways you can ensure that the sunscreen you choose is effective.
One is to get a sunscreen that says 'broad spectrum' on the bottle. This means that it protects from both UVA and UVB rays.
Another is to look for the 'water resistant label.
Sunscreens that have this label are required to follow a standard SPF test procedure. And state how long it stays effective while swimming or sweating.
What Goes On First, Moisturizer or Sunscreen?
Moisturizing your skin preserves its hydration while sunscreen protects it from harmful rays.
So, you can use moisturizer first, as it soaks into the skin to hydrate it.
Sunscreen sits on top of it to block the ultraviolet rays.
Should You Apply Sunscreen At Home?
Experts suggest sunscreen should be applied to exposed skin, no matter if you're indoors or outdoors.
This is because UV rays can penetrate through glass, so even if you're inside your home or your car, it's the safest choice to put on sunscreen.
Which One Should You Choose, a Chemical Sunscreen, or a Physical Sunscreen?
Chemical sunscreen soaks into your skin and absorbs UV rays, releasing them as heat.
Whereas, physical sunscreen sits on the surface of the skin, reflecting the UV rays outward.
People with sensitive skin tend to prefer the latter.
And we also recommend physical sunscreens, as they're a lot more natural compared to chemical sunscreens.
Is a Higher SPF More Effective?
SPF15 blocks 94% of UVB rays, SPF30 blocks 97% of UVB rays, and SPF50 blocks 98% of UVB rays.
Anything above that is only a mere 2% better at shielding you, so it's advised to not choose a sunscreen above SPF50.
We hope this guide helps you understand the importance of using safe sunscreen and pick the best one for yourself.
At Be Zen, our sole motto is to make mindful consumption effortless and time-saving for you so that it never feels like a chore.
We do so with these informational features and our super helpful Chrome extension—it finds you 100% sustainable alternatives to products on e-commerce sites, with merely a few clicks.
All you gotta do is add it to your browser, select your preferences, and scroll away!
P.S. We also offer juicy discounts—shopping with us is just as budget-friendly as it is sustainable.
Watch this video to learn more and get the Be Zen Chrome extension right here.