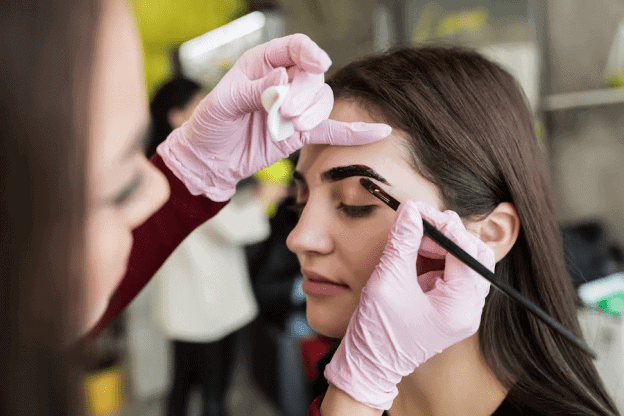 .
Eyebrows have come a long way from being a functional facial feature to a coveted beauty statement. The latest craze in the brow world is creating bold, full, and natural-looking arches that perfectly frame your face. But sometimes, these changing trends can be hard to keep up with. That's why we've compiled a comprehensive guide on the latest eyebrow techniques to help you stay on top of your brow game.
Anastasia Technique
The Anastasia Brow Technique has recently gained popularity and is a favorite among many celebrities and beauty bloggers. This technique combines waxing, tweezing, and trimming to achieve a precise and defined brow shape.
.
One of the biggest benefits of the Anastasia Brow Technique is that it is highly customizable to fit individual face shapes and features. The technique also allows for a natural-looking result that enhances your overall appearance.
.
However, this technique has some potential drawbacks, such as discomfort during the waxing process and the need for regular maintenance to keep up with the desired shape. Additionally, if not done correctly, the technique can lead to over-plucking and damage to the brow hairs.
Precision Brow Mapping
Precision Brow Mapping involves using a special technique to measure the exact proportions of your facial features, such as the distance between your brows and the shape of your face. Once these measurements have been taken, a skilled brow technician can use them to determine the ideal shape and placement. This method ensures that your brows are symmetrical and flatter your face shape, resulting in a more polished and put-together look.
.
Precision Brow Mapping can be especially useful for those with asymmetrical features or those who have struggled to achieve the perfect brow shape through traditional methods.
.
The results of this technique are long-lasting, making it a popular choice for those who want to achieve a perfect brow shape without having to spend time filling them in every day.
.
One drawback of Precision Brow Mapping is that it can be time-consuming compared to other brow techniques, as it requires precise measurements and calculations to achieve symmetrical and flattering brows. However, for those willing to invest the time and effort, this technique can result in flawless and long-lasting brow shape.
.
Microblading
Microblading involves using a small handheld tool to create small, hair-like strokes on the brow area, resulting in a natural and full appearance. While there are numerous benefits to microblading, such as saving time and money on daily makeup routines and achieving a long-lasting look, it is important to weigh its pros and cons before deciding.
.
On one hand, the results can be incredibly impressive and transformative, but on the other hand, it is a semi-permanent procedure that requires proper aftercare and maintenance. But ultimately, if you're willing to put in the effort and follow the necessary steps, microblading can be a game-changer in enhancing your eyebrows with a professional touch.
.
Powder Brows
Powder brows are the new "it" thing in the semi-permanent makeup world. This technique involves using a small, electrically-powered blade to deposit pigment into the skin, creating the look of filled-in, perfectly shaped eyebrows.
.
The benefit of powder brows is that they provide a more natural, softer finish than traditional eyebrow tattoos. Plus, they can last for up to two years with proper care!
.
However, one potential drawback of powder brows is that they may require a touch-up session after 6-8 weeks. Additionally, the aftercare process can be lengthy and restrictive. Nevertheless, those who opt for powder brows end up with a stunning, low-maintenance brow look – making them well worth the effort!
.
Ombré Brows
This technique creates a natural-looking gradient, with darker pigment at the tail and lighter shades towards the front of the brow.
.
One of the major benefits of ombré brows is that they last longer than traditional eyebrow makeup methods like pencils and powders. They also require less maintenance since they don't smudge or wear off quickly.
.
However, it has drawbacks. Ombré brows can be more expensive than other eyebrow treatments and require a skilled and experienced technician to achieve the desired result.
.
Final Thoughts
.
There are many new eyebrow techniques out there that can help you achieve your desired brow look. Whether you want a subtle enhancement or a bold, dramatic look, there's a technique that's right for you. So go ahead, try out some of these new eyebrow techniques and see which ones work best for you!
.
.