Cooking is an art, and your cookware will decide the outcome of how well it turns out to be. The right cookware will make all the difference to your dish's texture, taste, and appearance. A recent popular favorite option among people is granite stone cookware.
Durable and sturdy with a non-stick coating, it makes an excellent option to add to your eco-friendly kitchenware collection. Let us look at the top 10 granite stone cookware sets available.
Top 10 Granite Stone Cookware Sets
1. CAROTE Non-Stick Granite Cookware Set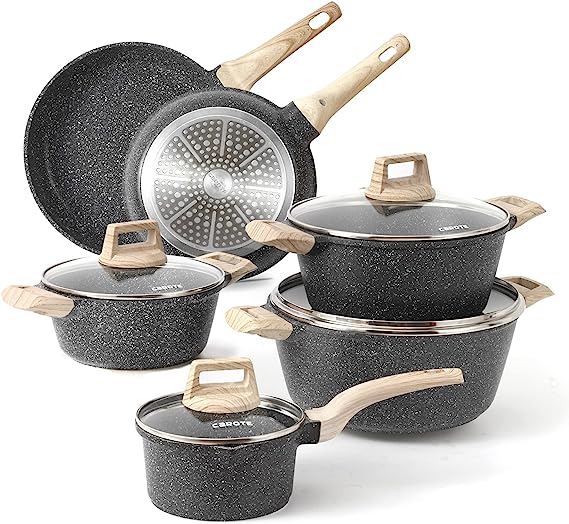 Price range: $149.99

Pieces: 10

Features: 
All stove-compatible
100% free of PFOAs, PFAs, Lead and Cadmium
5 layers of granite-coated surface feature premium, non-stick
Reduces 60% oil fumes and carbon dioxide emission
Saves space with a stackable design
Ergonomic stay-cool handle design
4mm thick die-cast aluminum base for lifetime use
30 days return and one-year warranty

Pros:
Lightweight and easy to clean
Made with sturdy material
Value for money

Cons:
Handles get hot on high heat
Not safe to be used in oven
Buy Now
Carote's cookware is made of eco-friendly classic granite, a non-stick granite material that is SGS and EUROFIN certified and PFOS and PFOA free. These cookware are easy to clean. Plus, it is compatible with all types of stoves and gives consistent and quick heating thanks to the expanded bottom. Every piece has a rigorous multi-inspection process to ensure the best quality and durability.
2. KOCH SYSTEME Nonstick Cookware Set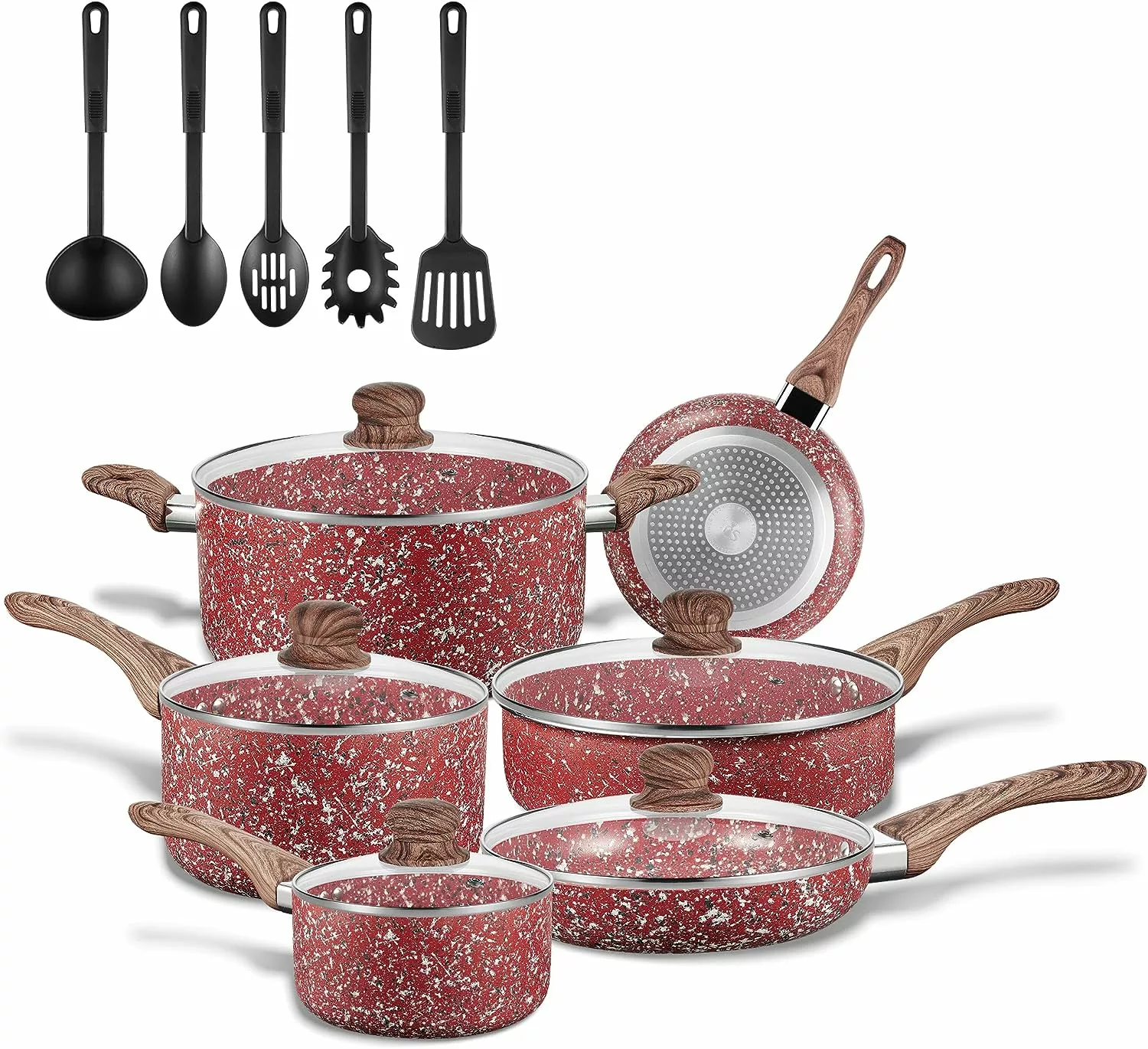 Price range: $124.59

Pieces: 16

Warranty: Lifetime limited warranty

Features: 
Heavy gauge pot sides contribute to even/quick heat distribution
Double non-stick coating for easy food handling and cleaning
Tempered glass lid with vent prevents overheating and clear view while cooking
The bakelite handle stays cool while cooking, comfy to hold
Comes with 5 heat resistant tools
Toxins free 
Lifetime limited warranty

Pros:
Durable with even heat distribution
Non-stick layering for easy cleaning and cooking

Cons:
Handles will heat up at a higher temperature
Buy Now
This set's varied sizes of utensils add diversity to your kitchen to cater to every need. Its superior non-stick surface prevents food from sticking and makes cleaning very easy. A sturdy exterior prevents chipping, peeling, and flaking, ensuring that cookware lasts years to come. This granite stone cookware set has a Whitford coating, which responds instantly to heat adjustments and allows healthy cooking as it requires less oil.
3. MICHELANGELO Stone Cookware Set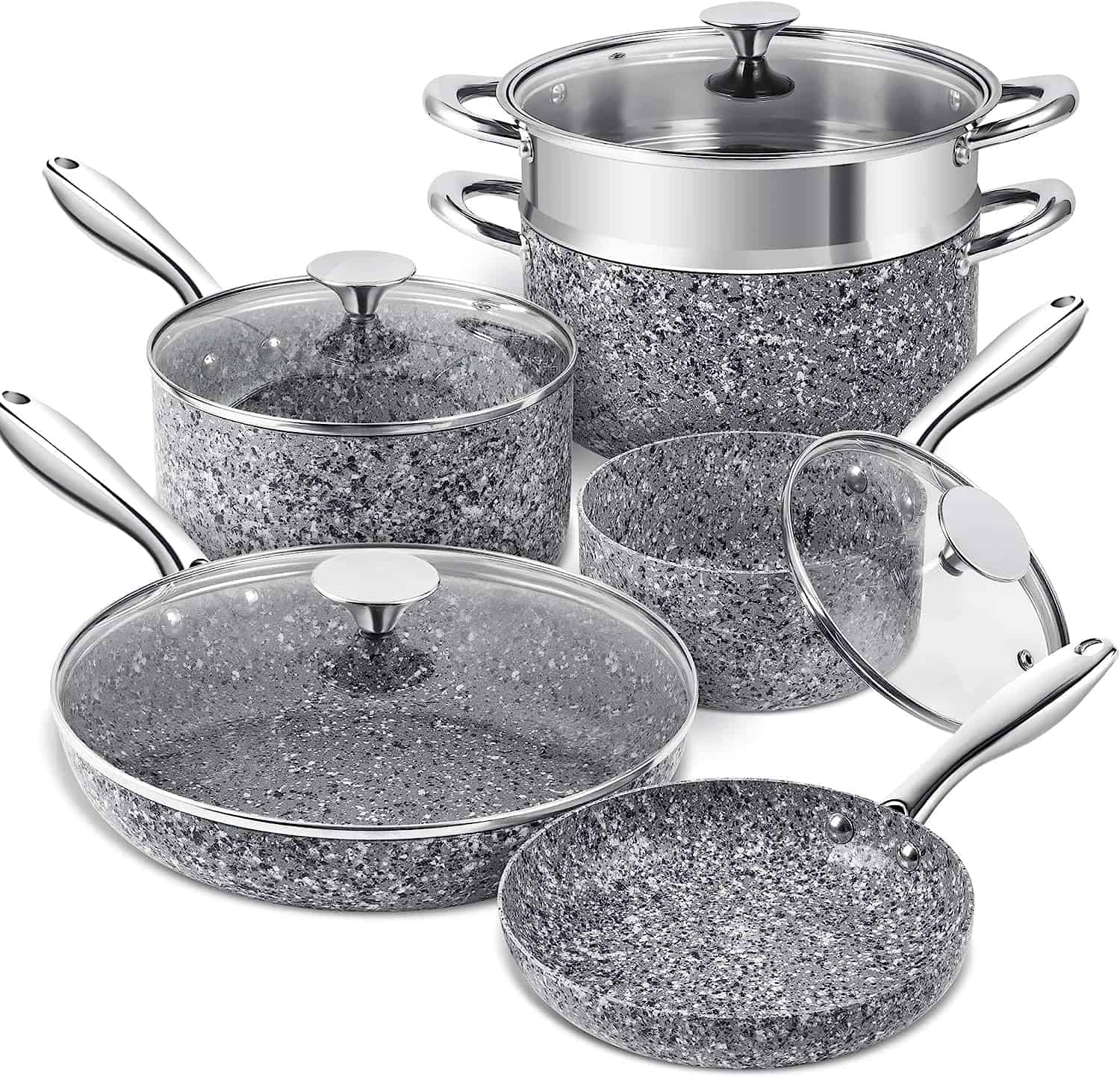 Price range: 129.99 $

Pieces: 10

Features: 
Scratch-resistant non-stick coating helps with easy cleaning and cooking
Induction-compatible and oven-safe up to 400 degrees F
Lightweight design and easy cleaning
Cadmium Free, Perfluorooctanoic Acid (PFOA) Free, Polytetrafluoroethylene (PTFE) Free, Lead-Free
Constructed from premium quality aluminum alloy for quick heating and even distribution
Multi-layer non-stick granite interior for long-lasting durability

Pros:
Induction compatible and oven safe up to 400 degrees F
Scratch resistant non-stick coating

Cons:
It's not dishwasher safe
Buy Now
This set features a scratch-resistant stone-derived non-stick coating, ensuring unprecedented non-stick performance. The set is also induction-compatible and oven-safe up to 400F. The coating material is free from toxins, thus making it a safe choice for your family. This granite stone cookware has an aluminum core, which allows even heat distribution and reasonable temperature control. Handwashing is recommended for a long life span.
Want to read more like this?
Get similar stories and a free sustainability checklist delivered to your inbox.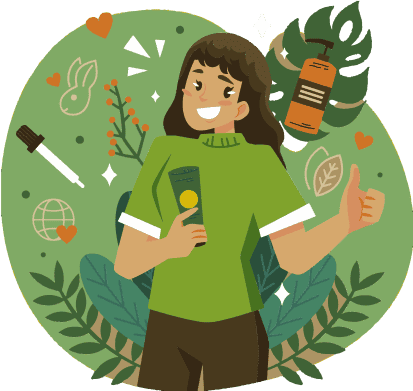 Get similar stories and a free sustainability checklist delivered to your inbox.
4. JEETEE Non-stick Cookware Set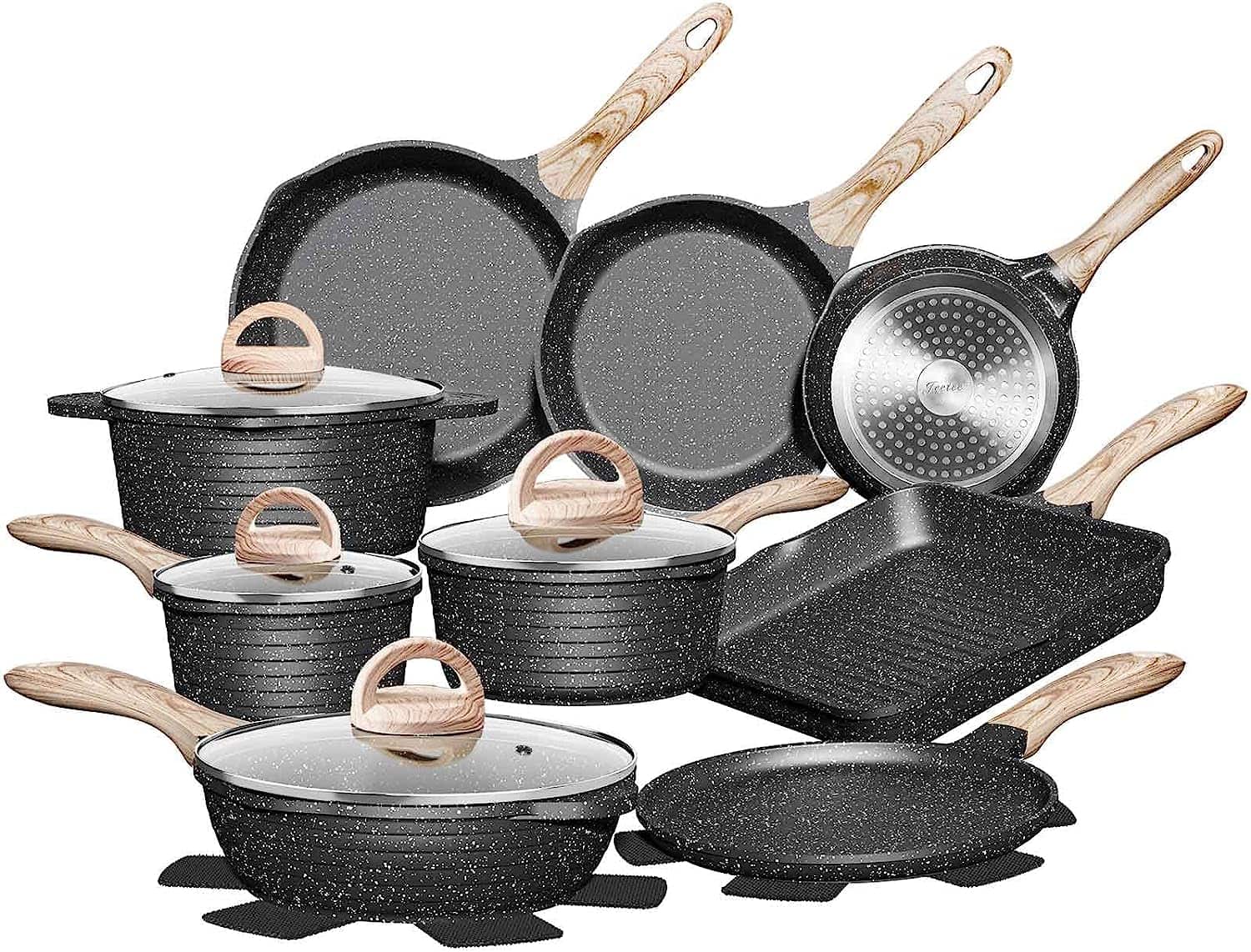 Price range: 209.99 $

Pieces: 20

Features: 
Compatible with Electric, gas, induction, ceramic stove
PFOA, PFOS,  lead and cadmium-free, non-toxic material
Heat-resistant handles for easy handling while cooking
Easy to clean 
Even heat distribution while cooking
Shipped with sustainable recycled packaging
Vented tempered glass lid and heat-resistant handle

Pros:
Heat-resistant handles for convenience
Even heat distribution

Cons:
Not dishwasher-friendly or oven-safe
Buy Now
JEETEE's granite stone cookware has a classy look and can be a stylish addition to any kitchen. The rigged edges function as a heat accumulation system. The wood-effect non-slip handles and clear glass lids make the cooking process convenient. Additionally, each pan has two spouts for an easy pouring experience. Thick and flat bottom allows for even heat distribution while also contributing to durability and sturdiness.
5. Granite stone Pro Hard Anodized Pots and Pans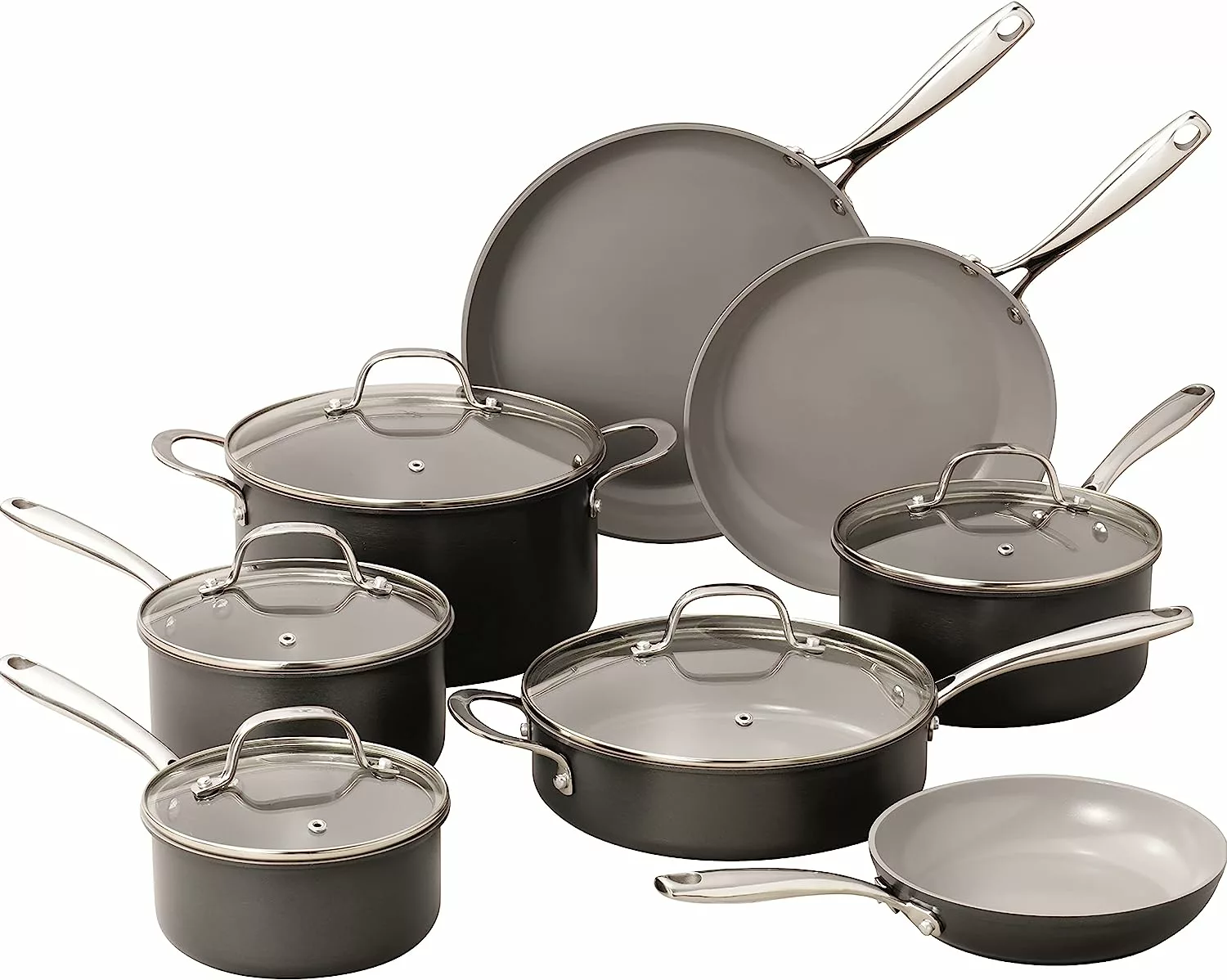 Price range: $165.99

Pieces: 13

Features: 
Hard anodized material is stronger than stainless steel & standard aluminum cookware 
The hard-anodized aluminum exterior is dense, non-porous, highly wear-resistant
Conducts heat  well for the ultimate pro performance
Experience the ultimate food release with our ultra-nonstick ceramic coating, reinforced with titanium.
Easy clean up 
The pan's coating is durable and can withstand metal and electric utensils.
Limited lifetime warranty

Pros:
Dishwasher-safe and oven-safe
Heavy and durable pieces 

Cons:
Handles get hot at higher temperatures
Buy Now
Granite stone is a favorite customer choice due to its versatility and rugged design. It is both dishwasher-safe and oven-safe up to 500 degrees Fahrenheit. Easy to clean, this set is compatible with all kinds of stoves. The pan's ultra-nonstick ceramic coating is reinforced with titanium, making it durable enough to withstand metal utensils and delivering years of non-stick use. Cook healthier options with less oil and butter, and enjoy every meal without any guilt!
6. Kitchen Academy Granite Cookware Set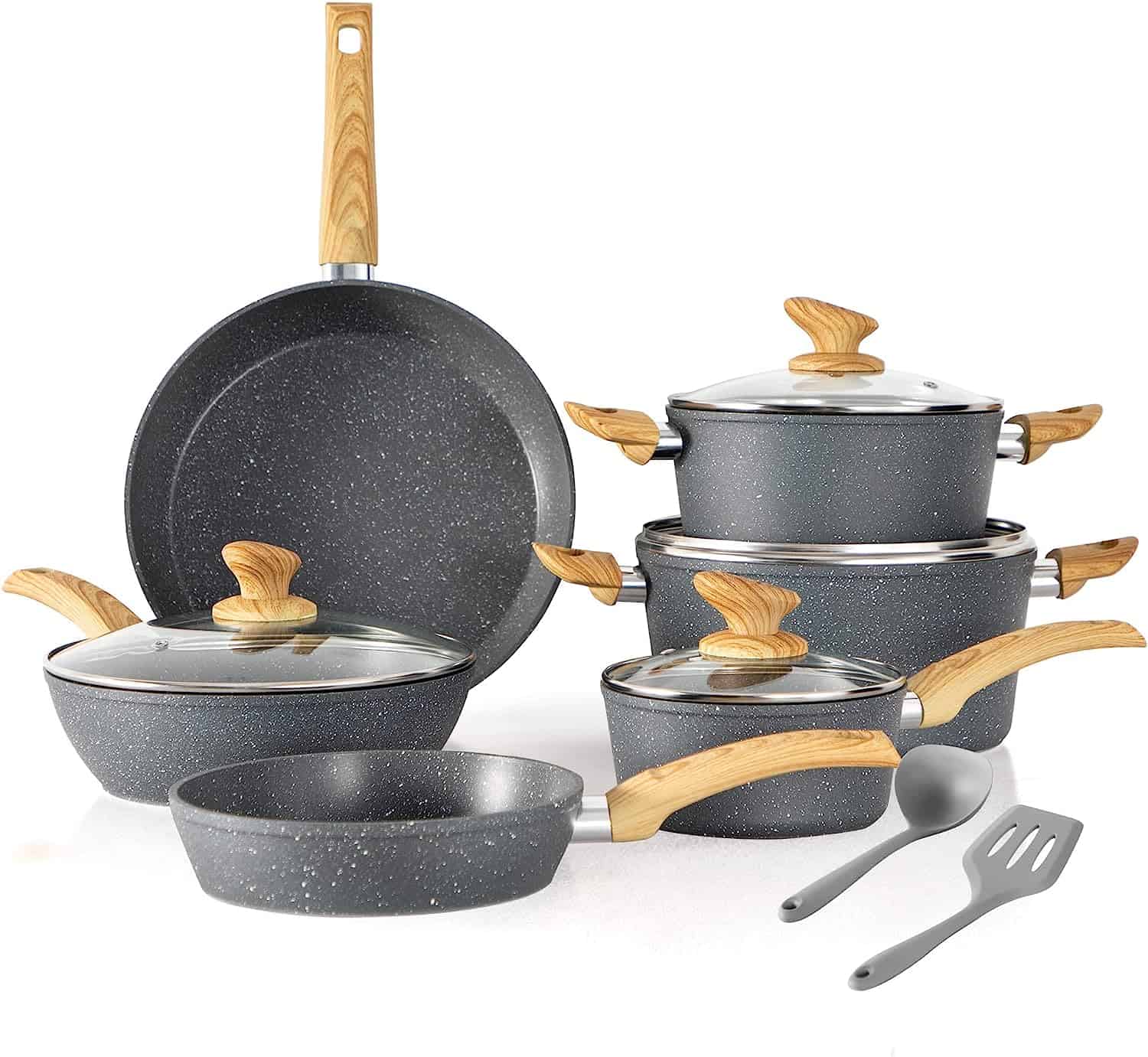 Price range: $119.99

Piece: 12

Features:
Triple food-grade granite layer exteriors
Natural marble-coated interior for non-stick cooking and easy clean-up
Forged aluminum bottom with high heat conductivity for even surface heating
Bakelite handle with wood effect for a comfortable grip
Resistant to warping due to heat and age
Suitable for all stovetops, including induction
Oven safe to 500 degrees Fahrenheit

Pros:
Durable and lightweight 
Even heat distribution

Cons:
Handles need to be tightened
Buy Now
The Kitchen Academy Induction Cookware Set is perfect for healthy and eco-friendly cooking. The non-stick granite coating prevents food from sticking, while the aluminum core heats up quickly and distributes heat evenly. The scratch-free pots are compatible with all cooktops, and Kitchen Academy recommends using wooden or nylon utensils to avoid damage.
7. BALLARINI Parma by HENCKELS Nonstick Pot and Pan Set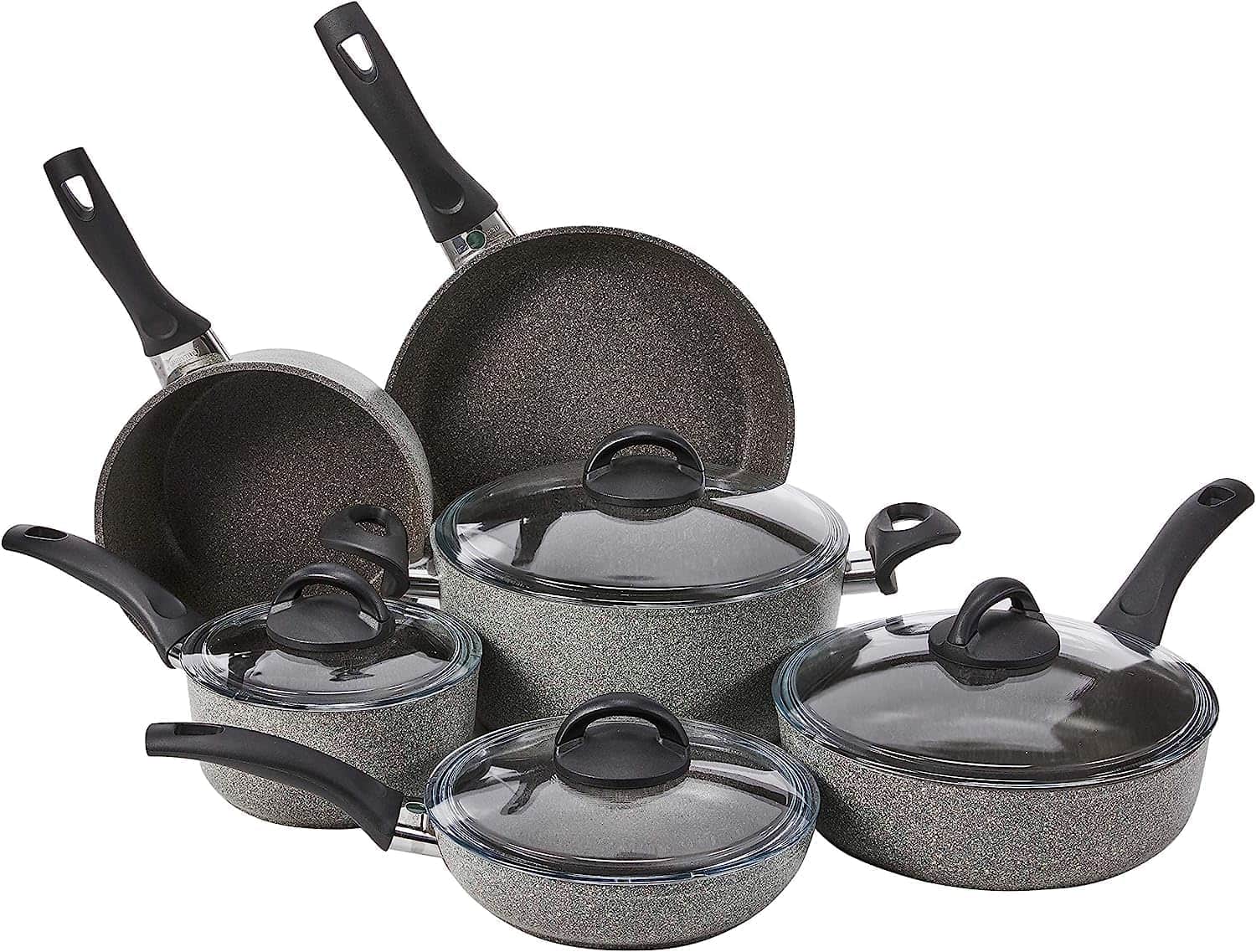 Price range: $249.99

Pieces: 10

Features: 
The cold-forged aluminum body ensures uniform heat-spreading
Granitium non-stick 3 layers of ceramic reinforced coating are safe to use with metal utensils
Free from toxins like PFOA
Thermopoint technology – Red and green light sensor on the handle signals when your pan is ready to cook or cool enough to clean 
Easy clean-up exterior ceramic coating is dishwasher safe.

Pros:
Dishwasher safe
Oven safe
Durable with even heat distribution

Cons:
A bit pricey
Buy Now
This revolutionary Granitium non-stick coating with speckles allows for effortless cooking. This scratch-resistant coating protects your pan, making it metal-safe and fork-proof, and it also has an easy-to-clean surface. Ballarini's fry pan features a Thermopoint handle that turns red when hot and green when cool. This lets you know when the pan is ready for cooking and when it's cooled off for cleaning. Its cold, forged aluminum body heats up evenly and rapidly.
8. Caannasweis Kitchen Non-stick Cookware Sets
Price range: $76.99

Pieces: 11

Features: 
Free of PFOA, PFOS, lead & cadmium
Have FDA certification for SGS testing
All-in-one design: Rivetless interior to prevent snags and food buildup
The pots and pans in this cookware set do not have a magnetic induction bottom, which allows faster heating on other cooktops designed for people who do not use induction cooktops
Non-stick coating, super easy to clean
Pour spout design pour liquid, avoid spilling
Heat quickly and evenly
100% PFOA free

Pros:
Dishwasher safe
Durable and faster heating 
Easy to clean
Buy Now
Introducing the Caannasweis Cookware Sets – the perfect kitchen essential for all your cooking needs. This set offers practicality and convenience in one package, including a 19.5″ reversible grill/griddle plate for barbecues. This granite stone cookware set features an aluminum core for even heat distribution and a non-stick granite coating for easy cleaning. Upgrade your kitchen for a hassle-free cooking experience.
9. Hausfrau pots and pans set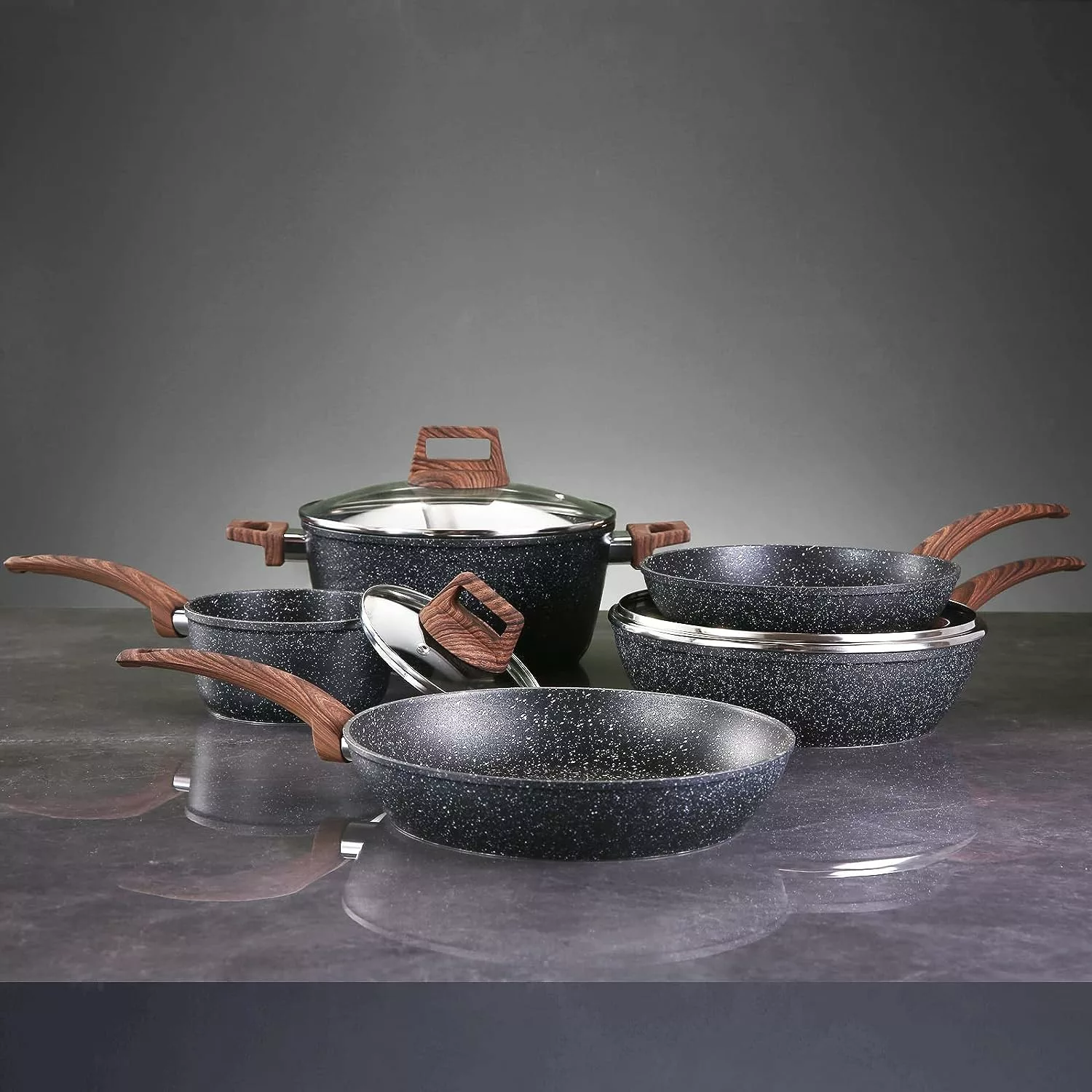 Price range: $99.99

Pieces: 8 

Features: 
Compatible with electric, gas, induction, halogen, and ceramic stoves
PFOA, PTFE, cadmium, and lead-free
More ergonomic wood grain Bakelite handle for a comfortable grip
Glass Lid – A durable tempered glass cover makes it convenient to see the cooking status and limits splashes on your stove.
Easy to clean and heats up evenly

Pros:
Eco-friendly non-stick coating
Works on all cooktops
Buy Now
This granite stone cookware features an eco-friendly, non-stick coating that is 100% free of PFOS and PFOA. Its rivetless interior prevents food buildup and makes cleaning easy, while its high magnetic conductive base allows it to work on all cooktops, including Electric, halogen, ceramic, gas, and induction. The cookware's extended bottom ensures durability and quick, even heating. It is a versatile option and helps you cook healthier meals with less oil.
10. Bazova Pots and Pans Set with Detachable Handle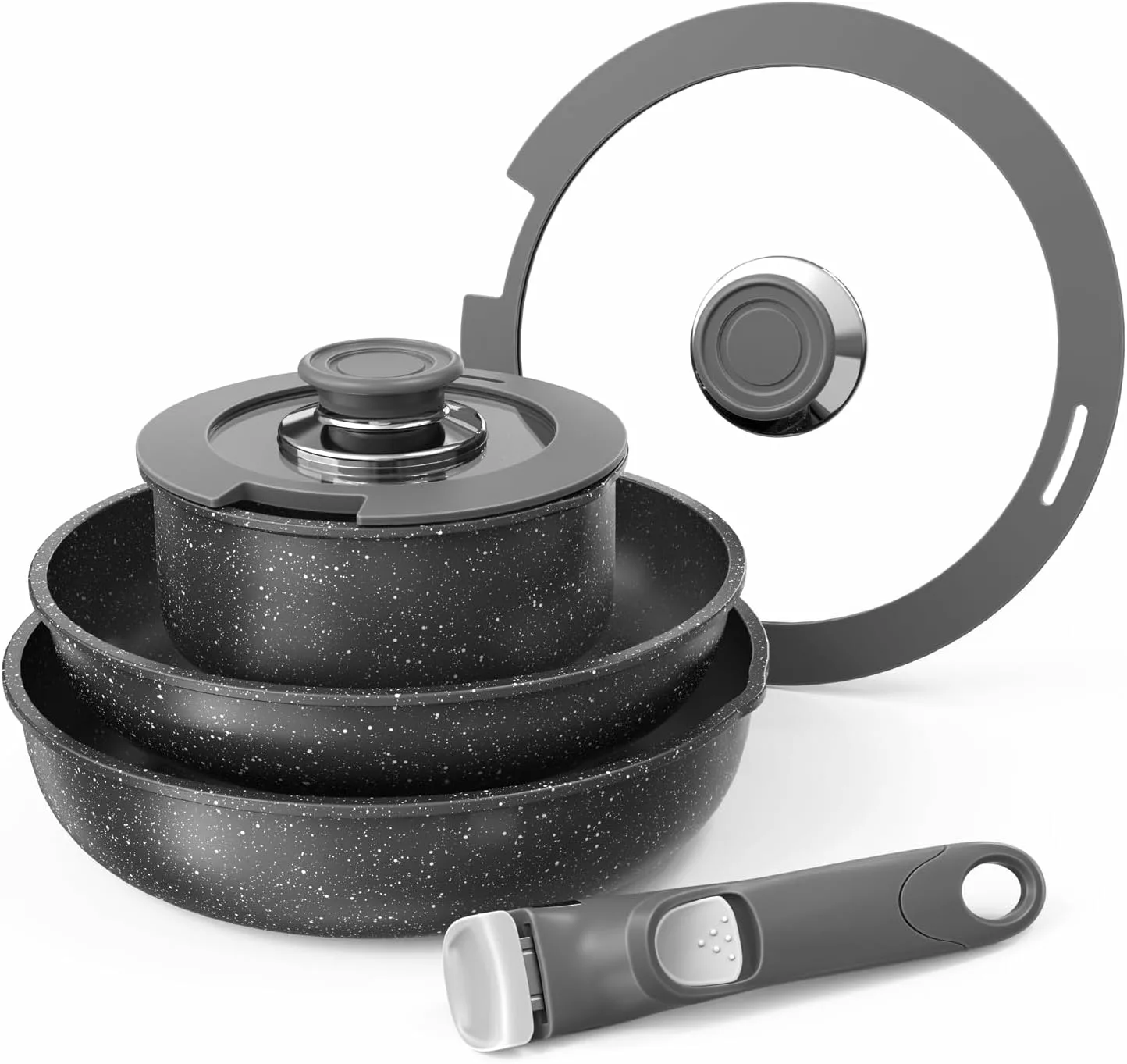 Price range: $79.99

Pieces: 6

Features: 
Compatible with gas, induction, and electric stoves
The Detachable Collection is designed to save space; it is fairly easy to store even in a compact kitchen
Non-stick cookware is stain-resistant and easy to clean, which makes it easier for your daily cooking
Free of PFAS, PFOA, PTFE, cadmium, and lead
Oven safe up to 480 degrees F
Heaters up rapidly and evenly

Pros:
Ultimate versatility – used as tableware, bakeware, storage pot or RV cookware
Detachable handles save space.
Buy Now
The Bazova Cookware Set is a 6-piece non-stick granite stone cookware set that can save up to 80% of space in your kitchen. With the ability to stack each pot and pan and removable handles, it offers a space-saving solution for your drawers or cabinets. It is compatible with all stoves, including induction, heats up rapidly, and is lightweight and easy to clean, making it a must-have in your kitchen!
What is Granite Stone Cookware Made Up of?
Granite stone cookware is not made of granite but uses materials like stainless steel, aluminum, enamel-coated cast iron, and glass-ceramic and then coated with a non-stick material that's easy to clean and durable. These enamelware are called granite stone cookware because of their blotchy and speckled appearance, resembling granite stone. They are easy to clean. Just wipe it off with a cloth and run it under water, and you are good to go. Avoid using the dishwasher as it might damage the non-stick surface in the long run.
History and Benefits of Granite Stone Cookware
Porcelain enamel cookware was first invented in Germany in the late 1700s, where glass coating was fused onto a metal base using high temperatures of about 2000°F. Cast iron pieces were originally coated with granite to give them a smoother texture, and the popularity of porcelain enamel spread to Europe before reaching the US.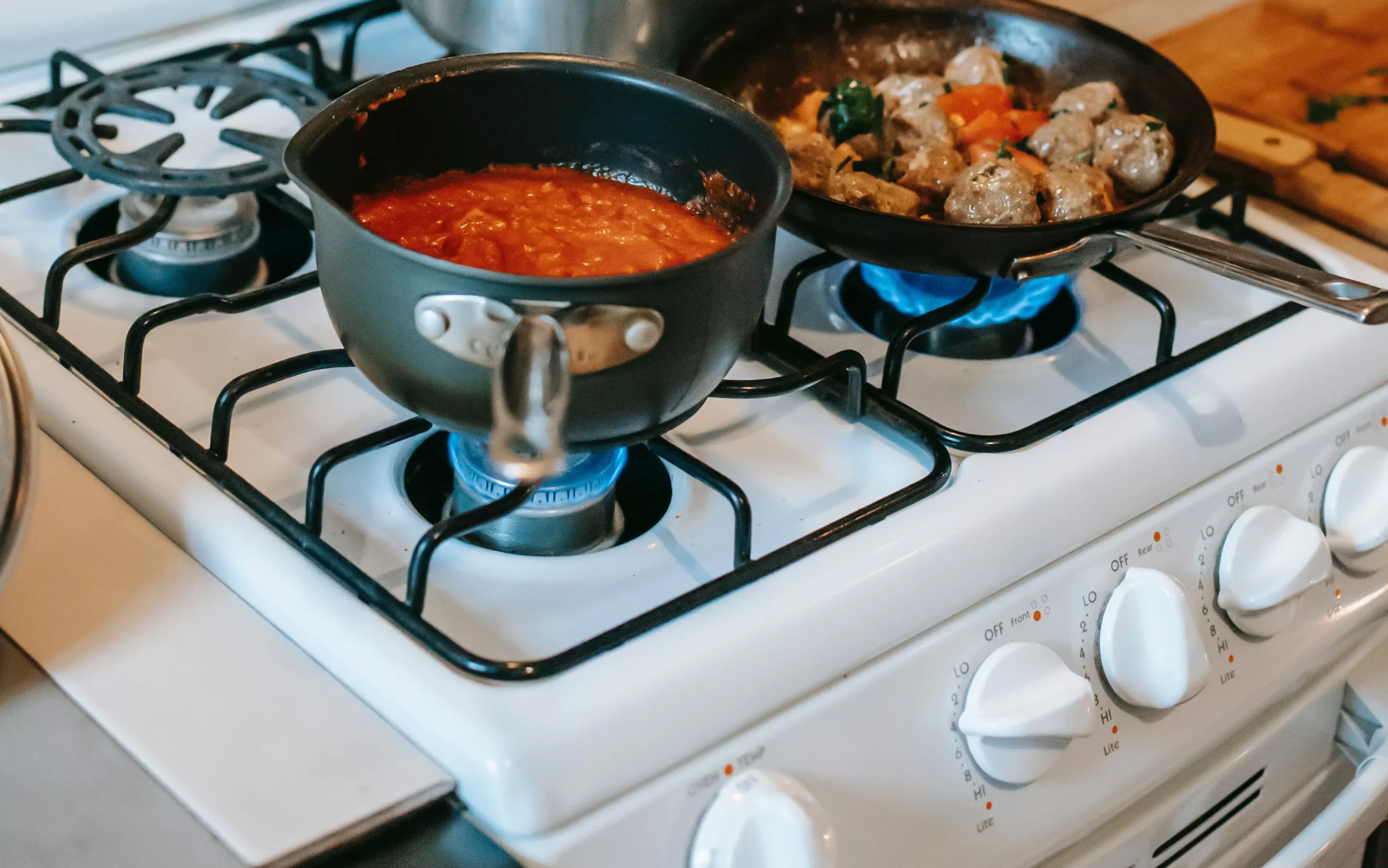 Nowadays, the coating is applied on an aluminum alloy, carbon steel, or stainless steel core, resulting in a glossy surface that is inert and non-porous. Modern porcelain enamel cookware is lighter and thinner. It provides an excellent, durable cooking surface, is easy to clean, and won't break or chip like other materials. It has high heat conductivity, offering many benefits that different types of cookware can't match.
Conclusion
These sturdy and durable cookware are a sustainable kitchenware option that will last a long time. The non-stick coating does not use Teflon or other toxic substances linked to health issues. Plus, you can cook using the least amount of oil due to its non-stick nature. With so many upsides and a perfect choice for your kitchen, it's to say no to this sustainable kitchenware.
Passionate about the planet? Explore our range of products for a truly eco-friendly shopping experience. Make a difference with every purchase!
Want to read more like this?
Get similar stories and a free sustainability checklist delivered to your inbox.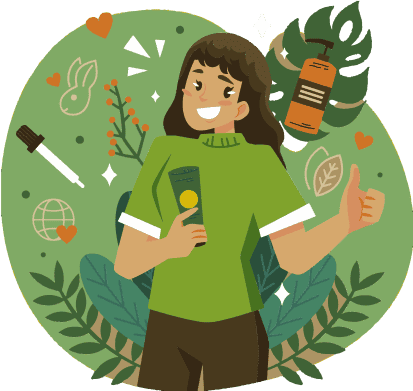 Get similar stories and a free sustainability checklist delivered to your inbox.