Is safe and remarkable menstrual health something you're interested in? Organic tampons have exploded in popularity in today's health-conscious society. This is because regular tampons have potentially dangerous synthetic components and chemicals. Also, did you know the average woman will use approximately 11,000 tampons in her lifetime? Shocking!
This article examines the top five environmentally friendly and secure organic tampons currently available. If you'd like to choose a more eco-friendly and healthy personal care product, keep reading to explore the top-rated organic compound tampons now available in the market.
Top 5 Certified Organic Tampon Brands
1. Natracare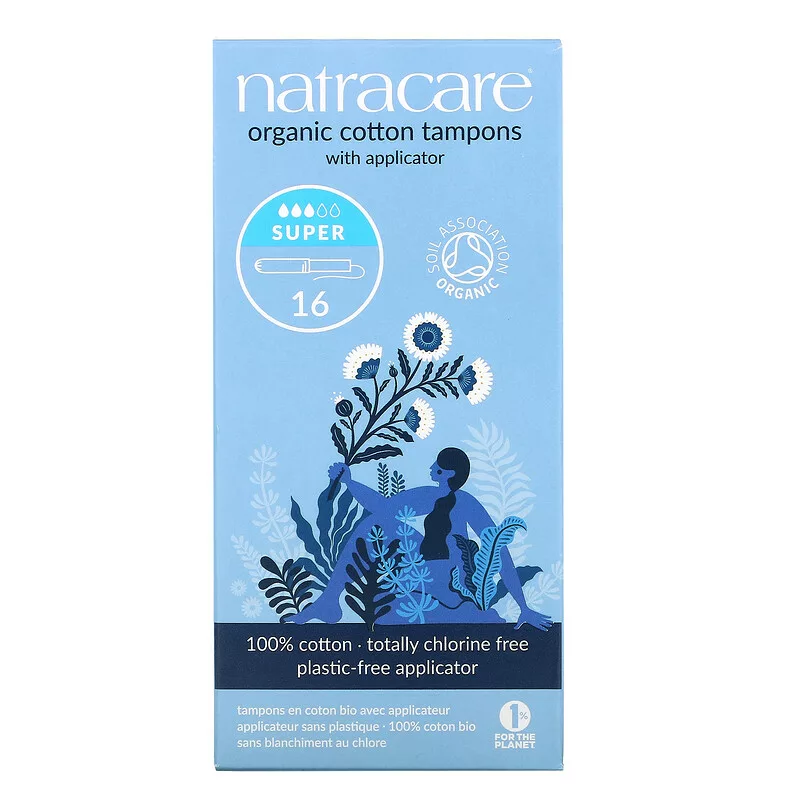 Price: $8.88 for 20 Count

Badges: Non-Toxic, Certified Organic, Vegan, Certified Natural, Woman-Owned, Gives Back

Certifications: Vegetarian Society Vegan Approved, Soil Association Organic, Global Organic Textile Standard (GOTS), USDA Certified Biobased Product (100%), Made Safe Certified, 1% for the Planet

Shop Now
For customers who care about the environment, Natracare provides sustainable menstrual products such as organic tampons. Their organic feminine care range offers a secure and healthy substitute to traditional products that are devoid of dangerous chemicals and additives.
Natracare's supplies are biodegradable tampons therefore lessen the negative effects of menstruation on the environment because they are committed to sustainability. To practise feminine hygiene in a way that is more eco-friendly, tampons, healthy, and responsible, switch to Natracare.
2. Organyc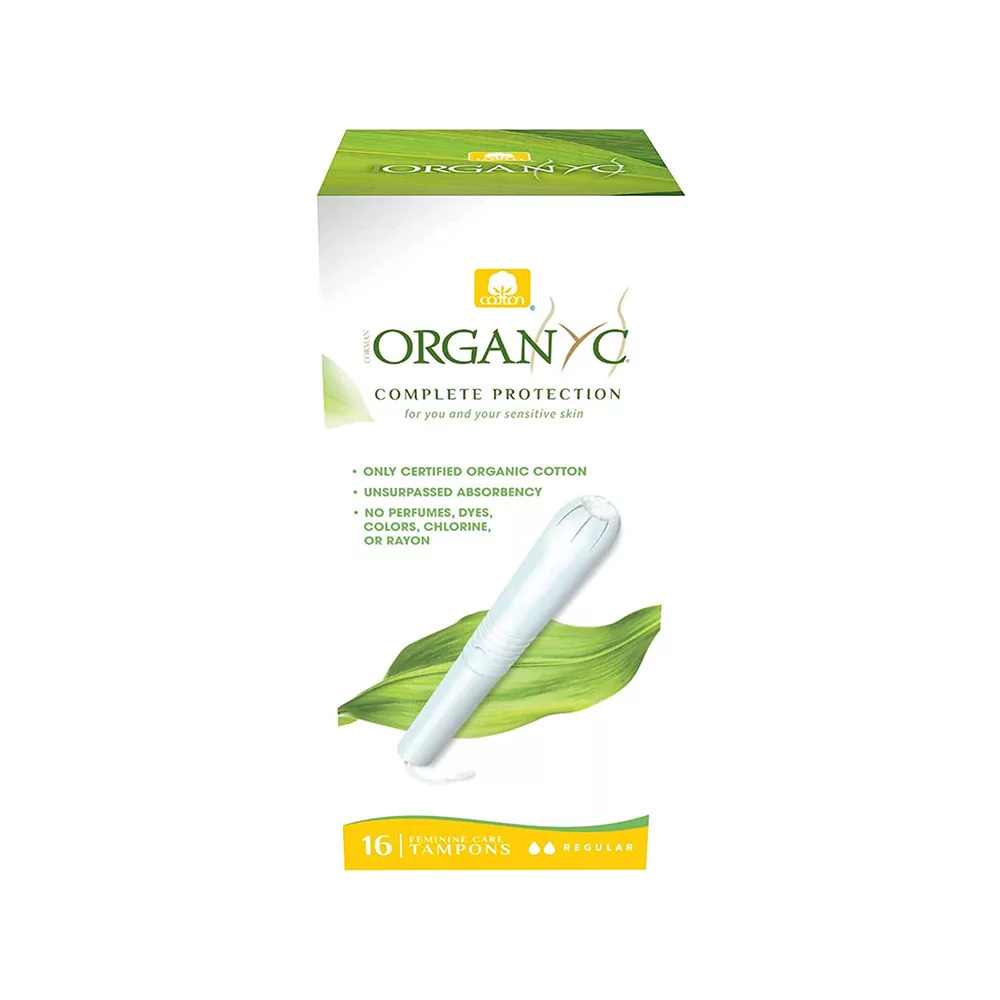 Price: $6.59 for 16 Count

Badges: Non-Toxic, Certified Organic, Vegan

Certifications: Institute of Certification for Ethics and the Environment (ICEA), VeganOK, Made Safe Certified

Shop Now
Organyc is a well-known brand of feminine care goods that focuses on making organic and environmentally friendly solutions for women. Their products include tampons, pads, along with liners made of organic cotton, which are a safe and friendly way to take care of period hygiene.
The products offered by Organyc are perfect for environmentally sensitive customers because they place a high priority on product safety. With Organyc, you can confidently select feminine care items that prioritise both your health and reducing the environmental impact of your menstrual cycle.
3. The Honey Pot Company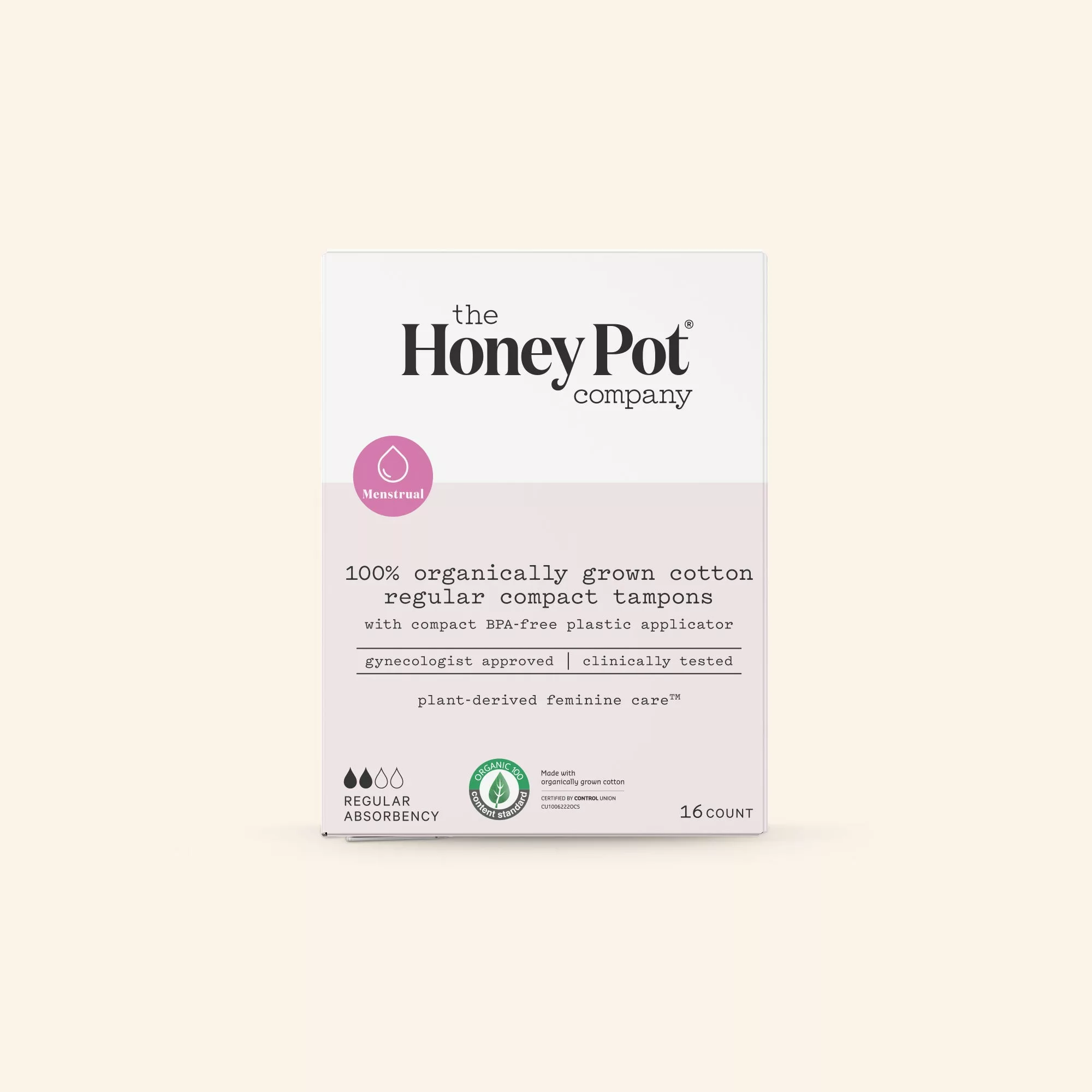 Price: $9.99 for 18 Count

Badges: Certified Organic, BIPOC-Owned, Woman-Owned, Gives Back

Certifications: Organic Content Standard (OCS)

Shop Now
The Honey Pot Company is an innovative brand that makes a wide range of natural goods for women's health. Their products, like tampons, pads, as well wipes made from organic cotton, are all made with women's health and pleasure in mind.
The Honey Pot Company is distinguished by its steadfast dedication to social impact, which it manifests through a number of activities that benefit vulnerable communities. By selecting The Honey Pot Company, you can put your own wellbeing first while also supporting a company that strives to improve the world.
4. Cora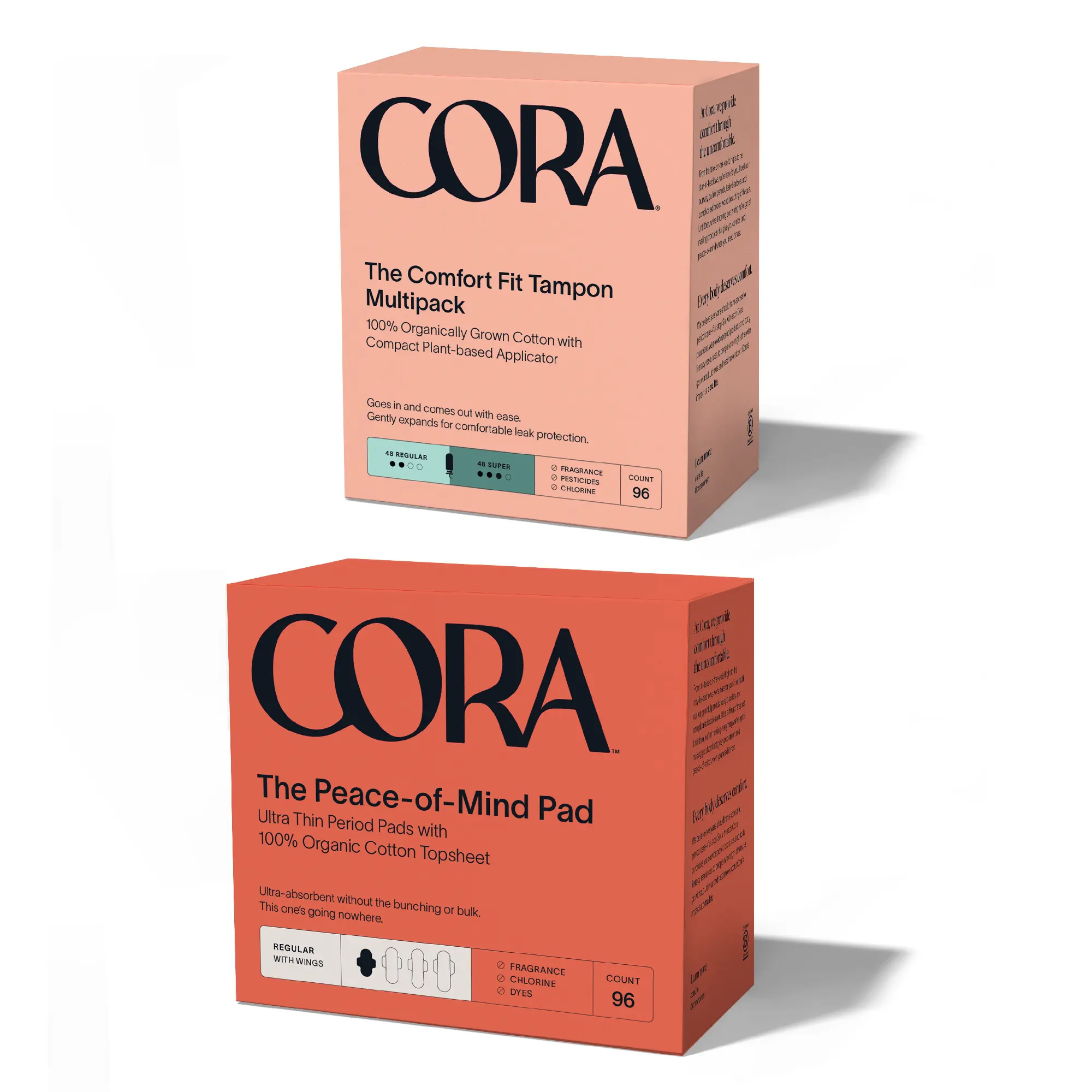 Price: $9.00 for 18 Count

Badges: Certified Organic, Woman-Owned

Certifications: Global Organic Textile Standard (GOTS)

Shop Now
Cora is a brand that changes the way women take care of themselves by giving a luxurious and environmentally friendly experience. Their products include organic tampons, pads, liners, alongside other items that women need when they have their periods.
Cora is proud of its dedication to sustainability, which it shows by using materials that are ethically found and packaging that is good for the environment. Cora stands out because they care about making a difference in the world. They work with groups like Pads4Girls to give period goods to girls who need them.
5. Seventh Generation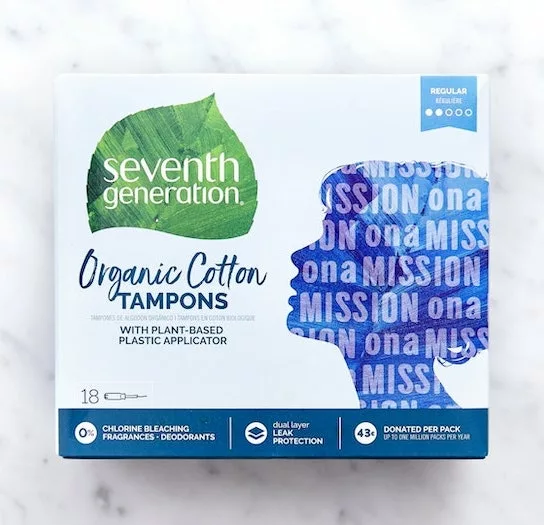 Price: $23.94 for 36 Count

Badges: Certified Organic

Certifications: Organic Content Standard (OCS), B Corp

Shop Now
Menstrual products that are long-lasting and environmentally friendly are produced by the well-known brand Seventh Generation. They manufacture tampons, pads, and liners from organic cotton with the wellbeing of women and the environment in mind.
For those who want to act ethically, Seventh Generation is a wonderful option because of their strategy of employing non-toxic products and reducing waste by using recyclable packaging. Change to the 7th generation in order to maintain a better period care regimen.
The Need for Organic Tampons
There is a growing need for organic diapers in today's world. Conventional tampons often have chemicals and man made additives that are bad for your health and can throw off your body's natural balance. This can cause pain and health risks. Switching towards organic cotton tampons is a better option that will give you tampons without chemicals for your period.
The Negative Effects of Conventional Tampons
Conventional tampons may contain artificial additives including chemicals, colours, and scents. Due to the delicate balance of the body being upset, they could result in discomfort, allergic reactions, or even infections.
The fact that certain tampons are composed of non-organic cotton, which might have been exposed to pesticides, increases the danger of chemical exposure through menstruation even more. These negative consequences highlight the significance of taking safer options into account.
The Change to Organic Tampons
Using organic tampons has a number of advantages. First of all, as they are manufactured entirely of organic cotton, your body is protected from any potentially hazardous chemicals or artificial additives. They are therefore a softer and safer solution for menstruation hygiene.
Further reducing the environmental impact of menstrual waste, organic tampons usually use biodegradable and eco-friendly components. By making the shift, you prioritise both your health and the sustainability and responsibility of menstruation.
Unlock Your Savings with Exclusive Offer Coupons
Save big while shopping for sustainable products! Grab your exclusive coupons today!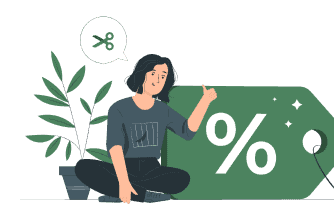 Benefits of Using Organic Tampons
Beyond period hygiene, switching to organic tampons has many advantages. These risky, traditional tampons with synthetic additives and chemical substitutes are created from 100% organic cotton and are environmentally and health-conscious. By selecting organic tampons, you prioritise both your health and a menstrual practice that is both ecologically friendly and sustainable. Let's examine the principal benefits of utilising organic tampons.
Health Benefits of Using Organic Tampons
Organic tampons are made from 100% organic cotton and don't have any dangerous chemicals or synthetic additives. This makes the experience safer and more comfortable and lowers the chance of irritation and allergy reactions. By picking organic tampons, you put your health and well-being in your intimate areas first.
Environmental Benefits of Using Organic Tampons
Choosing organic tampons helps the environment. They are also biodegradable and usually come in packaging that is better for the earth. By making such a decision, you help make the world cleaner by reducing the amount of trash that doesn't break down in landfills and the seas. Additionally, using organic tampons encourages menstruation that is sustainable and dramatically lowers environmental impact.
Economic Benefits of Using Organic Tampons
Organic tampons may cost a little more at first, but they save money in the long run. Their quality and dependability can lead to a smaller amount product changes and less health problems, which can lead to lower healthcare costs. Also, when you support sustainable practices, you encourage low-cost ways to help the earth, which is good for everyone.
How to Choose the Right Organic Tampon
A big step towards achieving a happier and less harmful menstrual cycle is selecting the proper organic tampon. In this article, we'll discuss four important criteria to take into account when choosing a product: material, absorbency, packing, and certifications.
Material
To provide a gentler choice free of chemicals, choose tampons that are constructed from 100% organic cotton. By avoiding hazardous artificial ingredients and encouraging sustainability, this decision puts the environment and your health first. By switching to organic cotton tampons, you are prioritising both your health and the wellbeing of the environment.
Absorbency
Tampon absorbency should be matched to your flow to prevent pain; light days should have lower absorbency options, and heavy days should have higher absorbency choices. It's critical to choose the right absorbency level to guarantee a hassle-free and comfortable menstrual cycle.
Packaging
For more eco-friendly shopping, pay attention to the packaging. Choose tampon brands that are dedicated to environmental sustainability, both with regard to their manufacturing procedures and their packaging. Try to choose products with minimum or recycled containers, such as tissue applicators or sustainable wrappers, to further reduce your environmental effect.
Certifications
Examine tampons for certifications like GOTS or OEKO-TEX to ensure the safety and veracity of the product. Your trust in your decision will increase knowing that those tampons are devoid of dangerous toxins thanks to these certificates. A vegan certification also means that the item adheres to ethical and environmental standards because it doesn't contain any components or byproducts generated from animals.
Common Myths of Organic Tampons
Myth: Organic tampons are less effective.
Fact: Providing consistent menstruation protection while prioritizing your health and the environment, organic tampons are equally as effective as conventional ones.
Myth: Natural tampons aren't safe or secure.
Fact: Natural tampons don't leave you prone to irritation or allergies because there are no synthetic ingredients in them.
Myth: Natural sanitary products are more expensive.
Fact: Although they may cost a little more, the long-term benefits outweigh the price difference when considering the advantages to your health and the environment.
Myth: Natural tampons are less absorbent.
Fact: Just like regular tampons, natural ones are available in a range of absorbency levels. Natural tampons are available for both light and heavy flow days, and provide good protection.
Myth: Organic sanitary products are uncomfortable.
Fact: The same user-friendly characteristics as traditional tampons are included in organic tampons' comfort-oriented design. They are gentle, simple to implant, and are consistently comfortable during your period.
FAQs
1. What are organic tampons?
Organic tampons are feminine hygiene products made from 100% organic cotton and have no chemicals or synthetic additives.
2. Can organic tampons decompose?
Most organic tampons do biodegrade, which is good for the earth.
3. Are organic tampons more expensive than regular ones?
They could initially cost a little more, however in the long haul, they're healthier for you and the environment.
4. Do organic tampons provide the same level of security as conventional tampons?
Yes, they work well as safe menstrual protection.
5. Are organic tampons certified?
Yes, check for safety and reliability by looking for certifications like GOTS or OEKO-TEX.
6. Can someone with sensitive skin use organic tampons?
Yes, they are usually a good choice for people with sensitive skin because they don't contain any manufactured irritants.
7. Can I use organic tampons if I have sensitive skin?
Yes! Since they don't include artificial irritants, organic tampons are a great option for people with sensitive skin.
Conclusion
Choosing organic tampons isn't just the latest fad; it's a choice that benefits both your health and the planet. Our research into the best 5 organic tampon products uncovered an impressive combination of reliability, environmental friendliness, and efficiency.
These feminine hygiene products are a better choice since they do not contain harmful chemicals and pesticides that are usually present in ordinary tampons. They promote sustainable living by reducing the negative environmental effects caused by sanitary napkins since they are made of organic cotton.
If you need to stock up on more sustainable personal care supplies, visit our eco-friendly store now and get shopping!
Want to read more like this?
Get similar stories and a free sustainability checklist delivered to your inbox.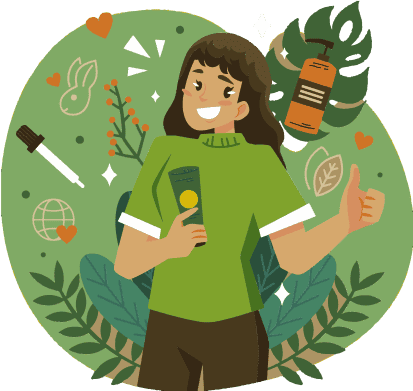 Get similar stories and a free sustainability checklist delivered to your inbox.