Holiday season is here, and we know that you must be in a real blizzard with so many plans for shopping for gifts, planning visits and most of all- deciding the menu for the much awaited Christmas dinner. Those who are celebrating their first vegan Christmas or hosting their vegan chums might be at a loss for ideas here. It is because traditionally, a lot of our favorite and timeless holiday classics go all out with eggs, meats and dairy- in short, everything vegans are averse to.
But hear, hear- you don't need to walk on eggshells around vegan recipes. Thankfully, due to the power vested in us by several animal welfare organizations, vegan chefs and home cooks, and the upcoming Veganuary 2023- we were able to compile this list of some droolworthy vegan Christmas recipes to grace your table.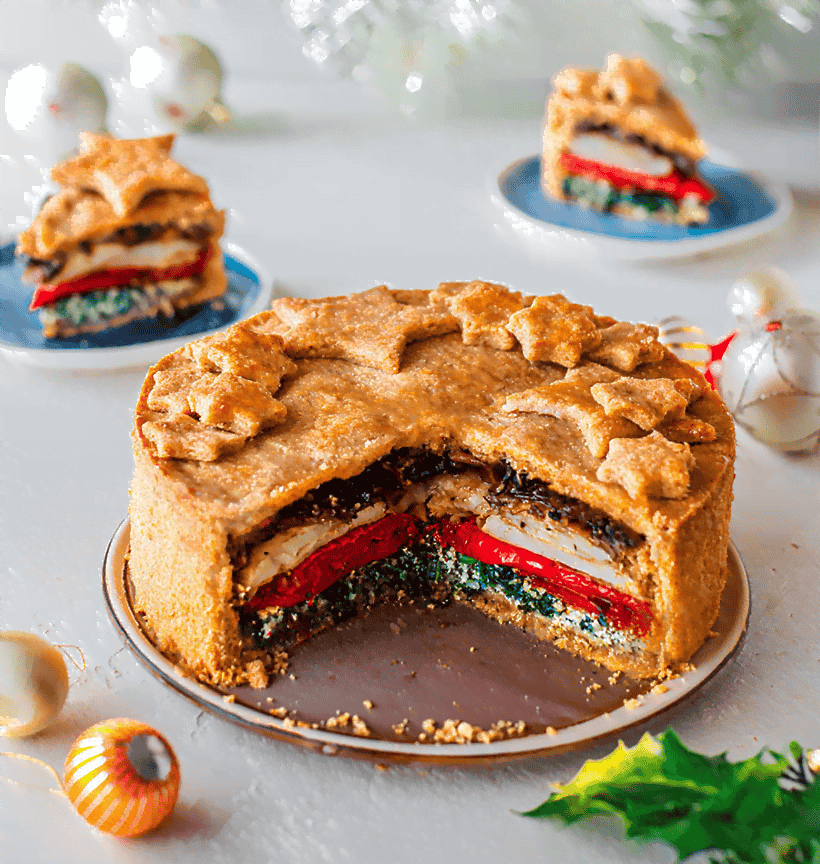 This little holiday cookbook introduces you to veganized classics and some new recipe ideas that are free of any animal derivatives. You can easily host a holiday gala without offending the cruelty-free sensibilities of your guests. Let's have a look at a few of these ideas that feature recipes for everything- from starters to an awesome Christmas cake, we have covered every course that will bring home the vegan (err…bacon? Vegan bacon? Most likely.).
What Do Vegans Eat for Christmas?
For several people who cannot imagine a Christmas without a huge roast turkey and eggnog, vegan Christmas recipes might sound like something impossible. But as many vegans would tell you, it is not like they starve or look at non-vegan feasts longingly. Thanks to the ingenuity of the human mind that decided to travel the ethical way of eating, we can now easily turn all our classics into vegan fare without any FOMO or inconvenience.
Be it appetizers, mains or desserts- the vegan cookbook is no less than any conventional guide and can have a kiki without a turkey. And just so, if you were curious about what do vegans eat for their holiday dinners, here is the deal-
Roasts Made from Vegan Meats
Now that vegan meat alternatives such as seitan, meat analogues, jackfruit based fish have flooded the market, seasoned vegans prefer a good ol' roast as a star dish on their holiday spread. And the best part about is that no one has to run around like a headless chicken to know how to make it. Or like Mr. Bean below. If you wish to see what are some of the best meat analogue options available to make that roast, you may check out these recommendations from us, here!
Vegan Alcohol and Cocktails
We vegans know how to tango with some booze, and without it too. Vegans can actually have a great time with a range of juices and cocktails made from vegan alcohol and fruit juices. For most part- almost all alcohol is vegan, except for drinks that feature honey or cream-based liqueurs. So, who's gonna stop the holiday train? We can ace that Christmas beer pong with aplomb.
Dairy, Honey and Egg-Free Desserts
We told you that vegans do not always have to walk on eggshells, and they don't. With eggless and dairy-free recipes for cakes, cookies and even the mandatory eggnog, the vegan Christmas dessert arsenal is loaded for the season. We have featured some of these gems in our mini-cookbook.
How to Cater to Your Vegan Pals?
In case you're the host who wants to include some vegan recipes so that your guests don't feel left out, you can try following some tips which will make that holiday dinner a success! But before we delve into this portion, we would like to tell you that vegans are not the problematic group of people that internet has made them to be. For a person who loves eating meat, accommodating them might be a new experience, but it surely isn't ultra troublesome. After all, Christmas is the spirit of sharing and caring! Just take care of the following points and watch your dinner become a vegan hit among your guests!
Vegan Desserts Don't Feature Honey
You will find several blogs listing down some desserts that contain honey and term it vegan. It is inaccurate because honey is not a vegan product, although it may seem very innocuous and an obvious alternative to sugar. Steer clear of recipes that feature honey if you want to serve it to your vegan pals. You can choose stevia instead, or sugar itself isn't too bad- provided it is unrefined.
Dairy and Eggs Are Off-Limits
While people are aware about eggs, they are quite ambiguous about using dairy. Well, using dairy might make a dish vegetarian, but not vegan. You can use plant-based milks, yogurts and cheese instead for vegan Christmas recipes. As for eggs, several egg substitutes can be used such as flaxseeds or aquafaba, or tune into this list to know about them.
Go for the Easy Win Options
Catering vegans isn't all trouble. You can easily go for plant-based curries and courses such as soups, lavash, and hummus and replace meats with lentils, meat substitutes and tofu. But take care that the condiments you are using do not contain traces of dairy. Hosting your vegan pals is a piece of cake with easy win vegan Christmas dinner recipes.
16 Best Vegan Christmas Dinner Recipes For All Courses!
Compiling some of the best from the holiday spread exclusively for vegans is a task. Not for the reasons you think! The vegan recipe pool is large enough to make everyone feel included- those who love meat should also give these a taste to see what it is all about. The hype around vegan Christmas recipes and desserts is not undeserved. To some, they can taste as good as those featuring eggs, dairy or animal derivatives.
We say you give these a try- because the more you cook, the more you find out! We are sure that your vegan family members and friends would appreciate you for going the extra mile and making them feel like they are included! To make things easy for you, we have divided these recipes into categories, so that you are covered for every course!
Beverages
This juggernaut of vegan Christmas recipes kicks off with a mix of drinks- both classics and some new picks. We have selected these beverages as they will set the tone for the rest of the dinner. There is something for everyone here- the classic eggnog fan, the hot chocolate enthusiast and the more picky cocktail fairies and elves who would like to await Santa with a drink in their hands. On a side note- these drinks are an excellent accompaniment to your personal Christmas traditions!
Vegan Eggnog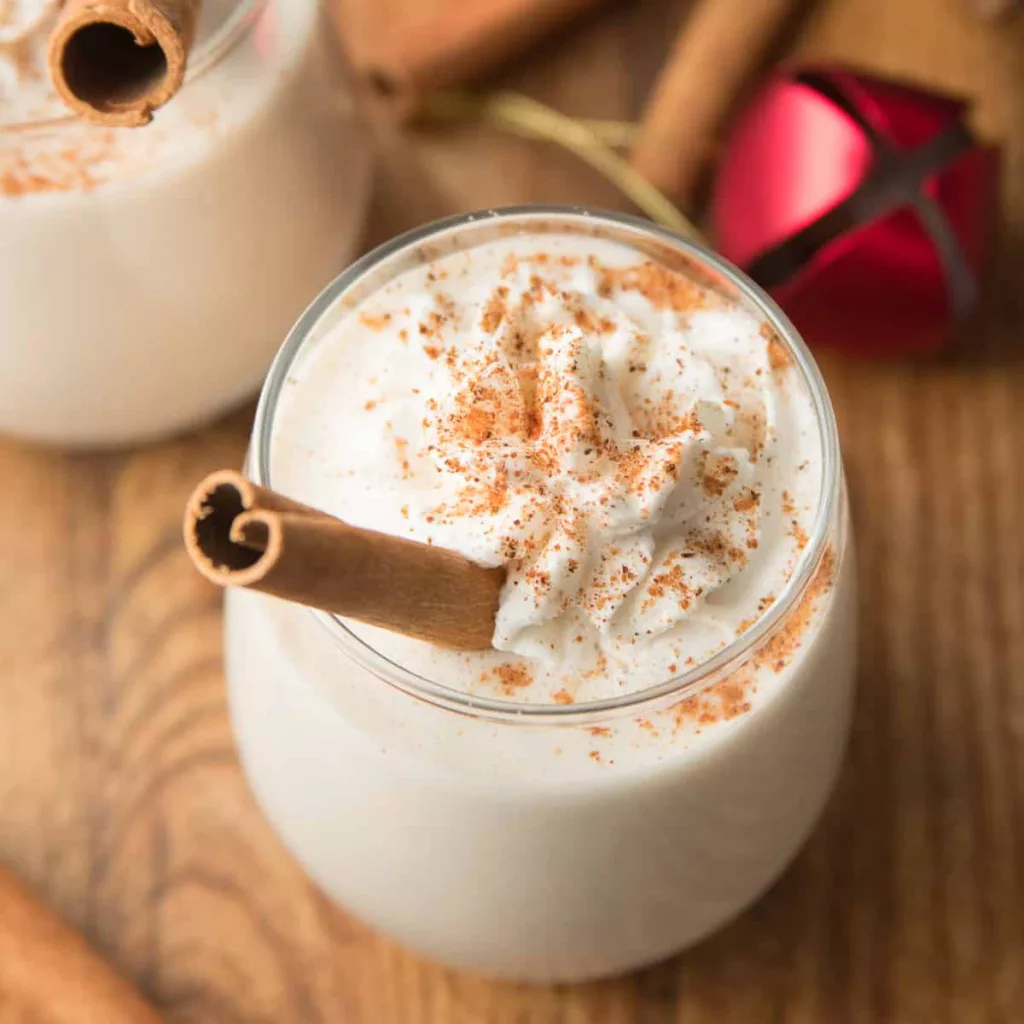 Whipping an ultra-creamy and thick eggnog is possible- that too without the egg. This Christmas classic drink is prepared by whipping eggs, whipping cream, milk, a little Bourbon, ground nutmeg and sugar. But you can prepare it with plant milks. For a lighter version, try mixing some coconut milk and you have a winner! Follow this recipe by the Minimalist Baker for a vegan eggnog!
---
3 Ways Hot Cocoa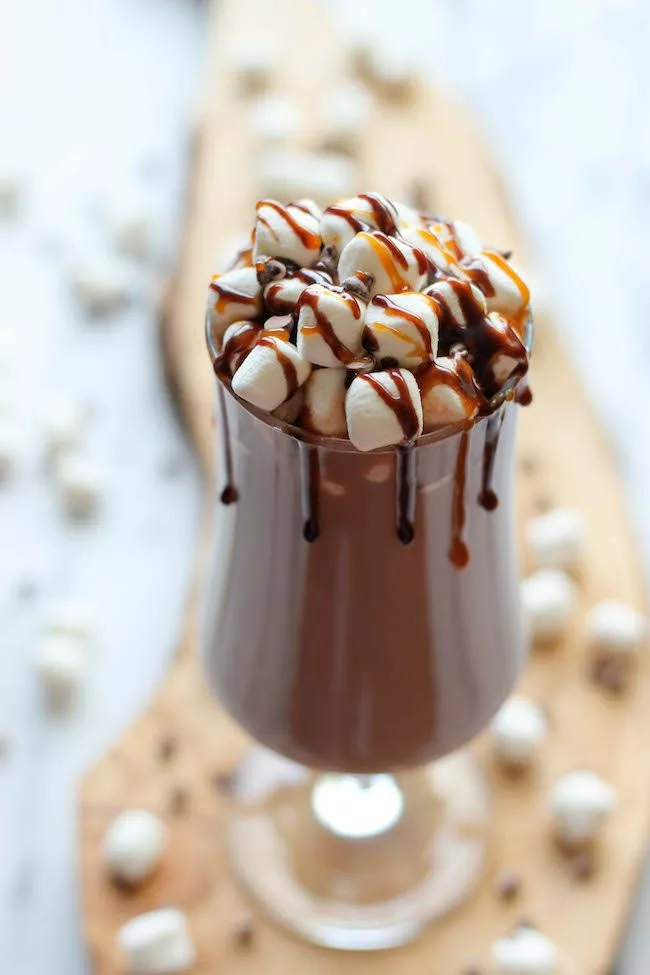 We could have mentioned a simple hot cuppa of chocolate, but we can't stop at just one- we love being multidimensional. So is the case with this delectable hot cocoa that can be prepared in 3 ways. Home cook Lauren Caris makes this treat in three flavors with vegan supplies- peppermint, orange and classic sea salt. You are free to experiment with your palette, we say you can go a step further and make it with a spicy touch of chilis, taking inspiration from the Mexican Mole. Follow this guide for Caris' recipe– rest, we trust your impeccable skills!
---
Festive Christmas Mojito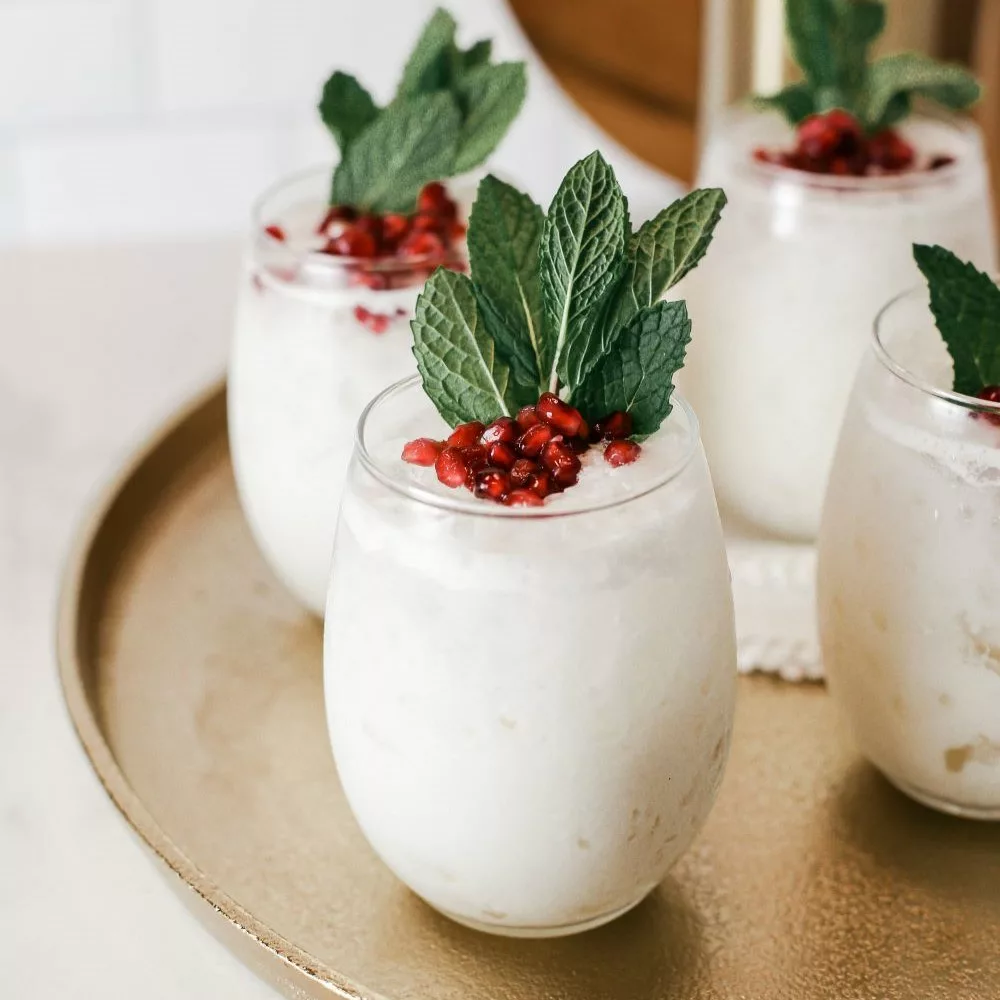 We love ourselves a drink that looks like Christmas, topped off with fake mistletoe for you to share the drink (and maybe, a sweet little peck…and the evening is yours, we're just giving ideas, you know. *wink*). Top this frothy goodness with a few pomegranate arils and mint sprigs for a more thematic execution, or just for garnish's sake. Follow this recipe for a perfect little cocktail guide and rock that vegan feast!
---
An evening with cocktails is incomplete without a spunky margherita. To make your ensemble of vegan Christmas drinks more off-the-beat, use cranberries and tequila and shake it together for a party in a glass. You can also dust the rim of the little shot glasses with powdered sugar or desiccated coconut for an expert touch. Add some crazy bartender mixing tricks for a dramatic effect, but don't spill it on that white rug!
---
Appetizers
We can't not mention the importance of great appetizers that are followed by an equally wonderful dinner. Next up in our vegan Christmas recipes lineup, we have a range of starters. Soups, pinwheels, Chacuterie, or cauliflower wings- we have spared no expense in introducing you to ideas that will please everyone. Thank us for all the jolly and fulfilled faces you'll be seeing on the table, who would gorge on this food fiesta you have set up!
Vegan Minestrone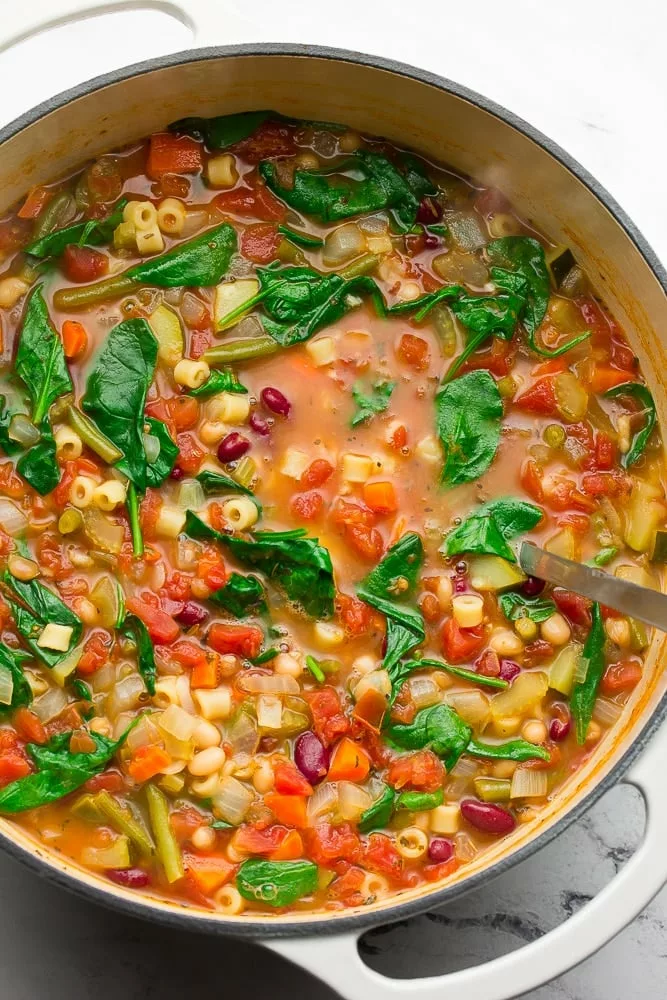 Ah, the good ol' minestrone in a pot for a warm evening by the fireplace and Monopoly. Alliteration aside, what makes this one pot wonder work its magic is the ultra-rich golden broth with a bite of veggies. You can use one of these gluten-free pastas, or work your way without them! Either way, it is going to taste delish. Additional benefits- this will keep you warm and full on a cold night. You can also sneak a bowl for a leftover late Christmas treat when you are homesick with all the fun you had helping your family prepare it! Follow this recipe for an amazeballs vegan minestrone!
---
Pomato Pinwheels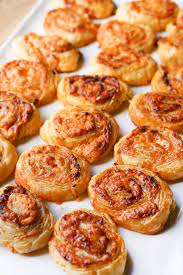 The name is cute, we agree! We all love the Indian samosa with its spicy filling of potatoes and peas. In case it's too spicy for you and you wish to give it a more festive twist- you can make pinwheels filled with mashed potatoes and sundried tomatoes. Add a pinch of oregano, roll it up in a pastry sheet and freeze overnight. You can then pop it in the oven or the air-fryer till they turn into these golden roundels of sunshine. You can also add some vegan cheese to the mix for a flavor party. For a full-fledged recipe, follow this guide!
---
Christmas Chacuterie Board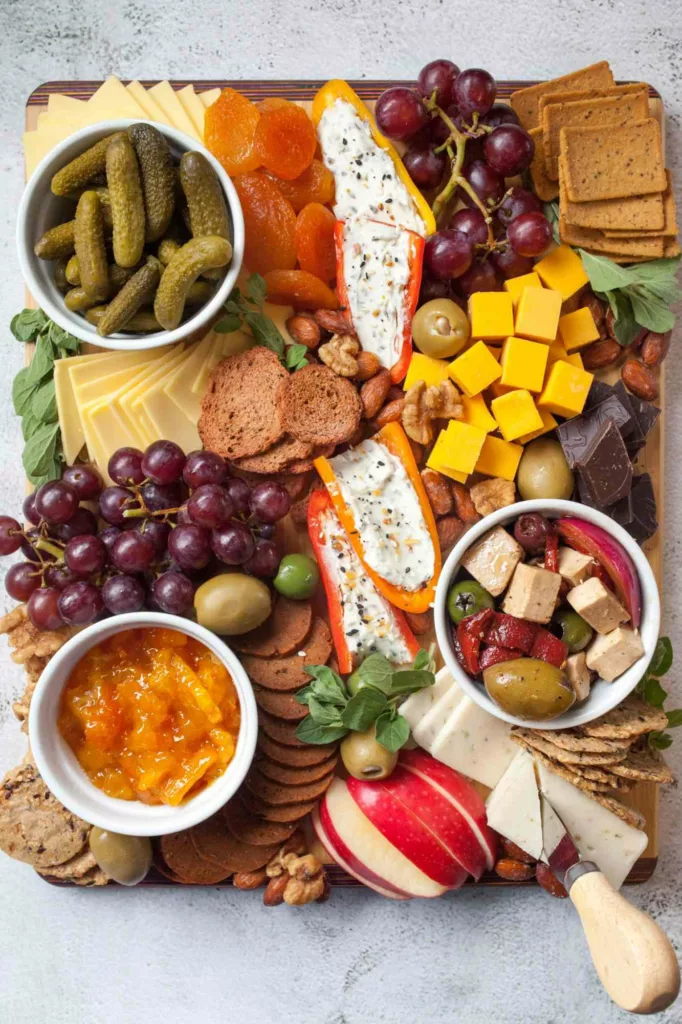 If you wish to impress your vegan guests with a variety of snack options, all at one place, then a vegan Chacuterie board would be a perfect appetizer! You can fill it with gluten-free and vegan snacks, fruits, vegan cheese, a tofu salad, slices of vegan salami, pickles and something sweet. Simple, yet sophisticated, this option has a little something for everyone. From salads, to stuffed veggies, vegan meat and desserts- leave no stone unturned to impress your pals!
---
Cauliflower Wings with Vegan Mayo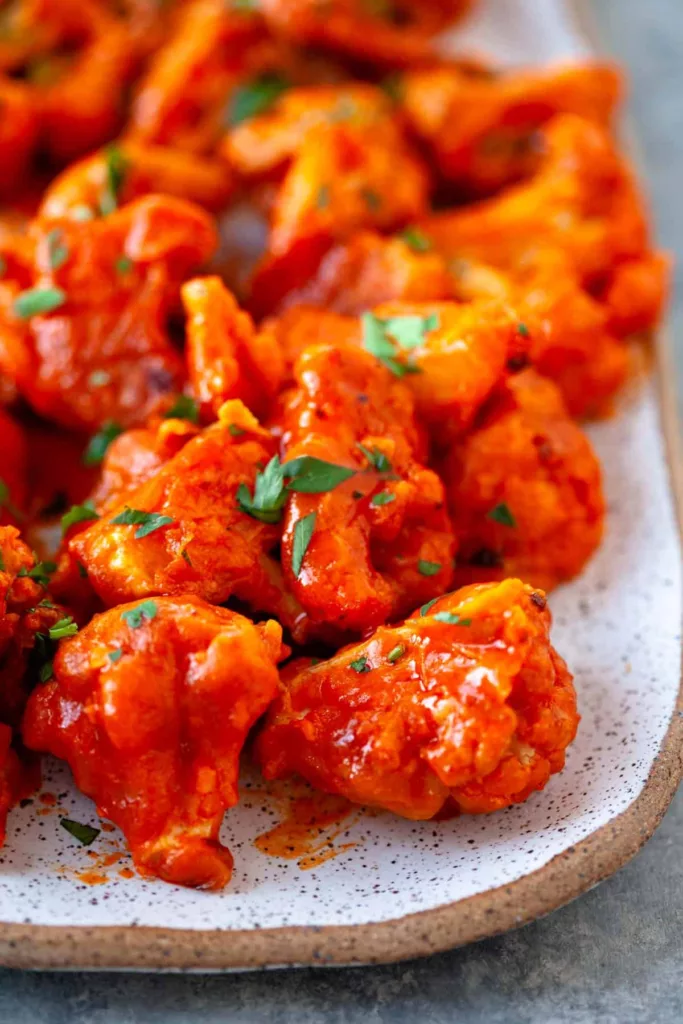 Buffalo chicken wings are a raging favorite- be it on a game night or a family event. But hey, vegans could pull it off too- with cauliflower wings tossed in a hot, spicy sauce and garnished with scallions or a bit of parsley. You can experiment with the seasoning and sauce- let it be topped off with crunchy sesame, or if you are hankering for an Asian twist- toss it into some Schezwan sauce and own that party like you are meant to. Check out this recipe for some classic cauliflower wings. Don't forget the mayo!
---
Main
Now for the mains- and here is the most exciting part of vegan Christmas recipes. These courses feature a lot of mushrooms and vegan meat with tangy curries and sauces, plus flaky puff pastry crusts which are also vegan. These choices will make for a sumptuous spread. Briskets, Wellingtons, Pot Pies and curry puffs- we have everything that will keep you hooked to the plates!
Vegan Seitan Brisket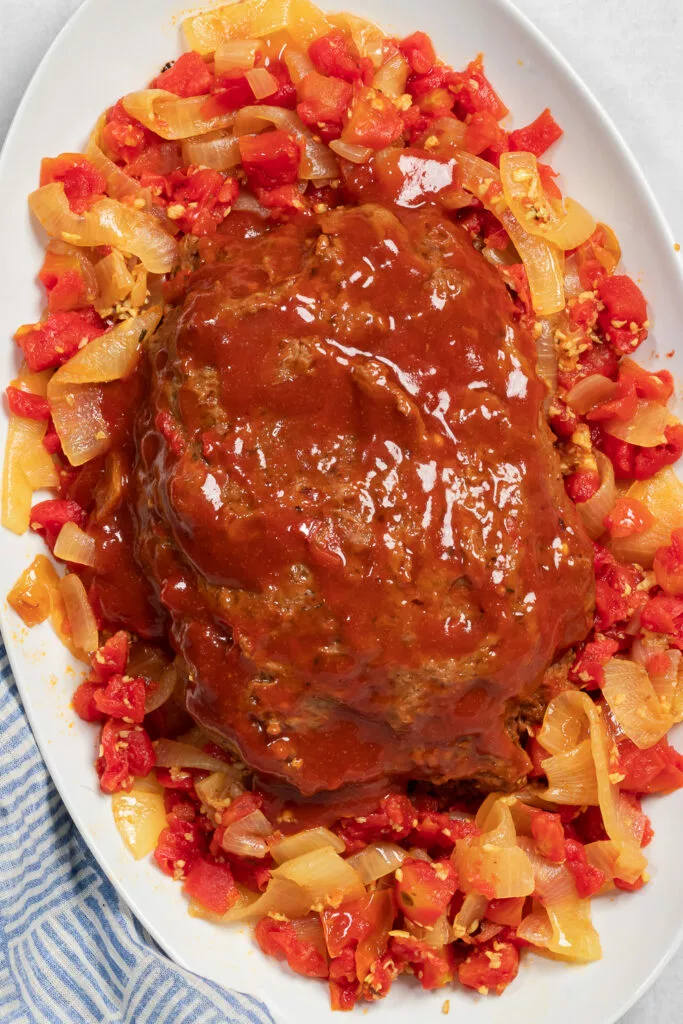 Seitan is getting all the hype it deserves, and we are happy about it. Why not integrate this delight into a tangy brisket for your main along with the aforementioned vegan Christmas starters? Not only will this delight taste as good as your traditional meat-based brisket, it also has a less cook time. Now, who does not like a main that is easy to make without actually having to go through the ordeal of killing animals for your meals? Follow this recipe to whip this mouth-watering main dish!
---
Vegan Pot Pie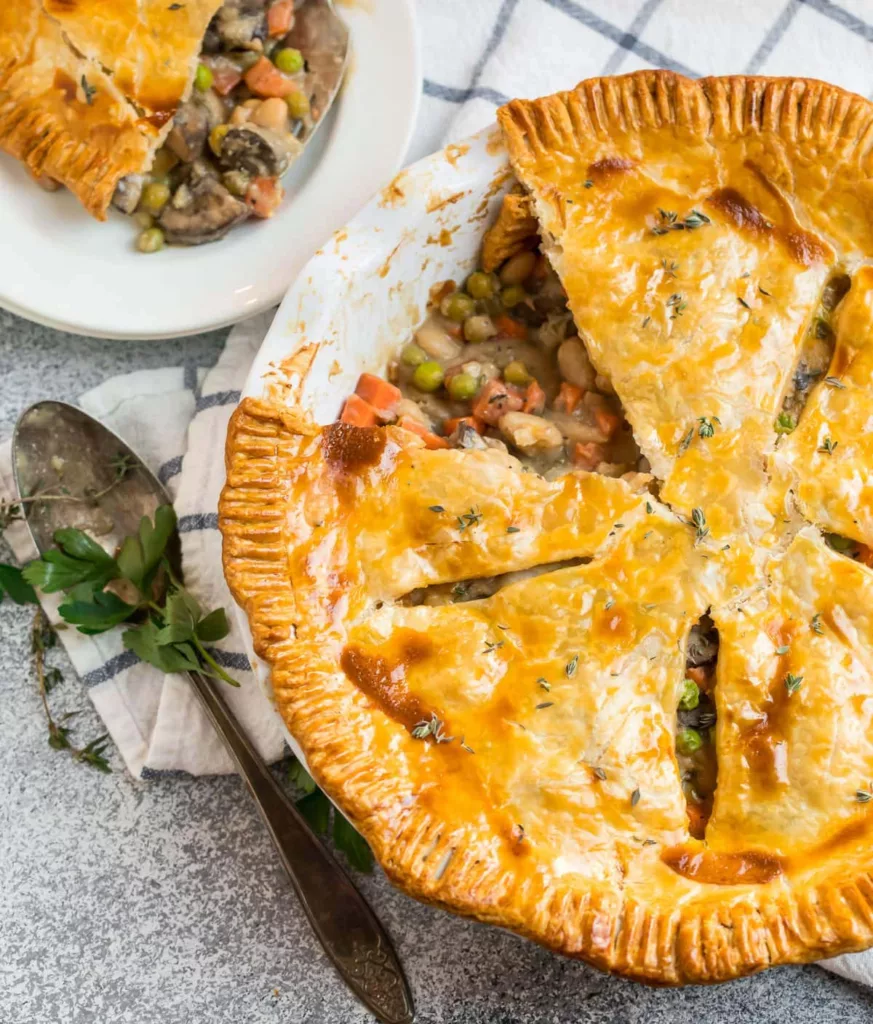 A pot pie made of gluten-free flour and lots of veggies enveloped in a creamy sauce without the dairy would be an excellent addition to your main course. Baked golden to perfection, a vegan pot pie would be an immediate hot favorite among the guests. Use the fresh seasonal vegetables of your choice with a vegan pie crust for a plate of goodness that is flaky on the outside and creamy on the inside. You can even add chunks of tofu or vegetarian meat for a more meaty flavor! Home cook Nora has this wonderful vegan pot pie recipe worth a try!
---
Spinach and Cheese Puff Pockets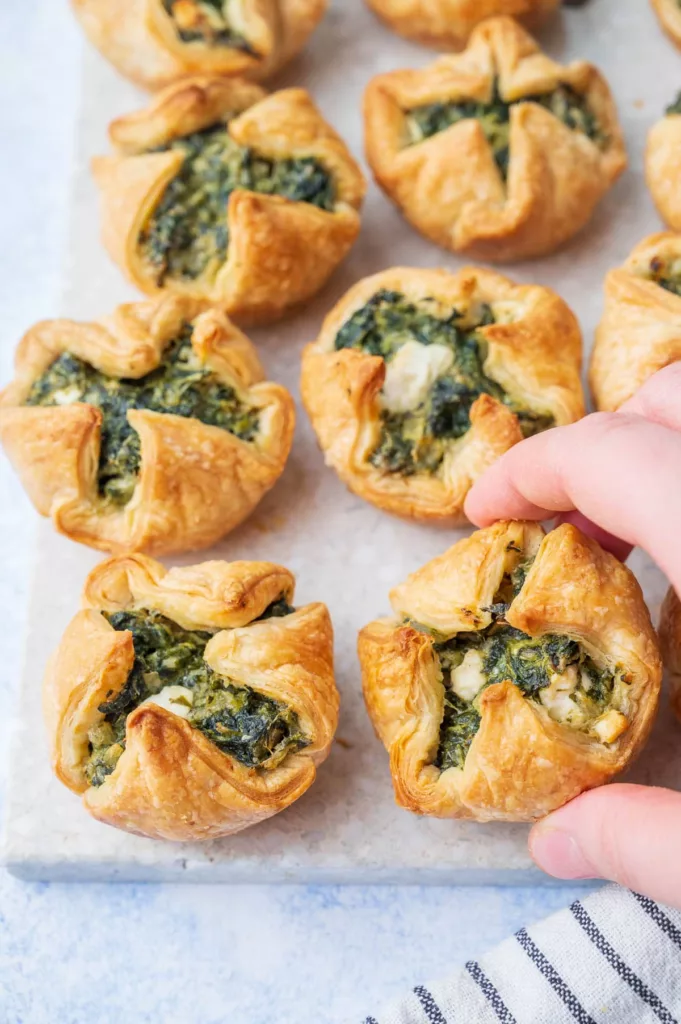 Speaking of flaky crusts and ultra-rich fillings, what could be better than these mini spinach-cheese puff pockets? You might object since cheese isn't vegan, but well…there can be vegan cheese if not dairy. Anyhow, it won't make much of a difference- in fact, your guests are going to e more pleased, if anything. You can choose from a variety of dairy-free cheeses to make the filling. For this recipe, you can use cashew cheese. Putting your creative skills to use is all that this main demands from you- open pockets or closed little packets of some herbaceous goodness- follow this recipe guide to make these tiny bundles of packed with flavor.
---
Christmas Wellington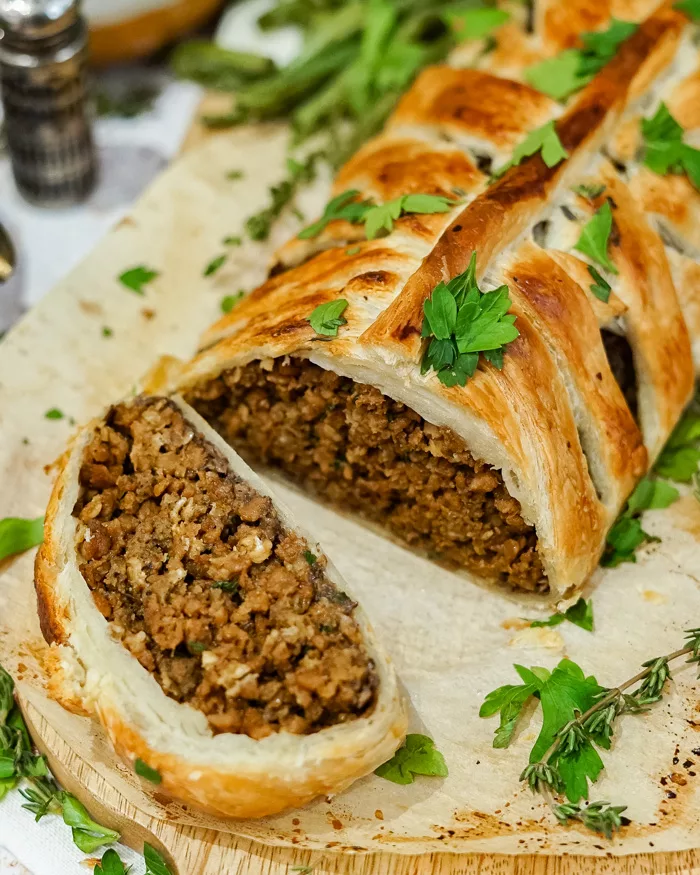 Our retinue of vegan Christmas recipes for the main course comes to an end with the much loved Wellington. Wellington is a holiday favorite that consists of beef wrapped in layers of puff pastry and a mixture of mushrooms. Adapting the veganized version of this Christmas staple is easy- just replace beef with a meat analogue or a mixture of your choice of mushrooms with a dash of spices and wrap it p in a dairy-free and vegan puff pastry sheet. Anna Glover gives her touch to this classic with chopped porcini and chestnut mushrooms. We're eager to see how this works out for you!
---
Desserts
Last but not the least, we will finish this compilation of vegan Christmas recipes with some sweet sinfulness without the sin of cruelty. We have included two holiday regulars and two other choices that will make you drool once you take a look at them.
Rum N Raisin Cake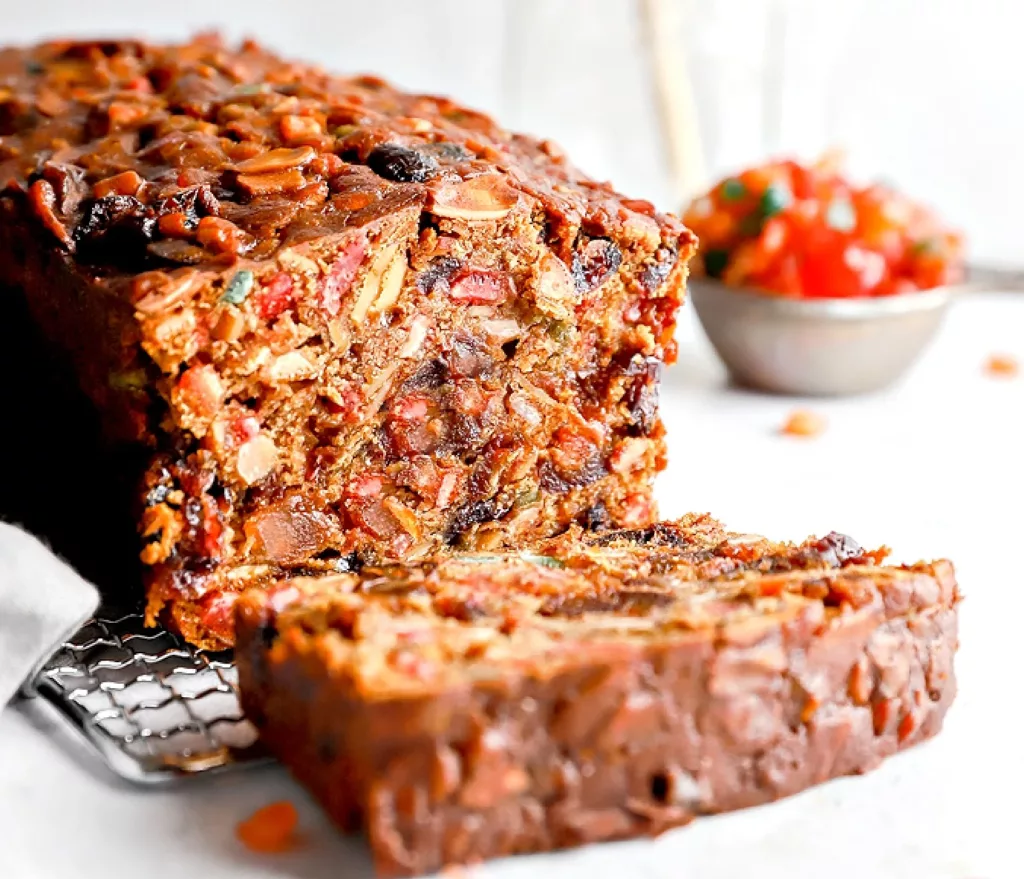 We kick off this list of vegan Christmas desserts with the king of holiday sweets- a Run n Raisin Christmas cake! One of the most commonly found dessert, this cake doesn't require much- just the usuals but also their vegan versions. Soak the raisins in rum, prepare the nuts by chopping them and use coconut milk and coconut oil as wet ingredients. You can also create a space for creative cooking and introduce orange juice as a half and half with rum for the boozy, just like Richa here!
---
Snowfrost Gingerbread Cookies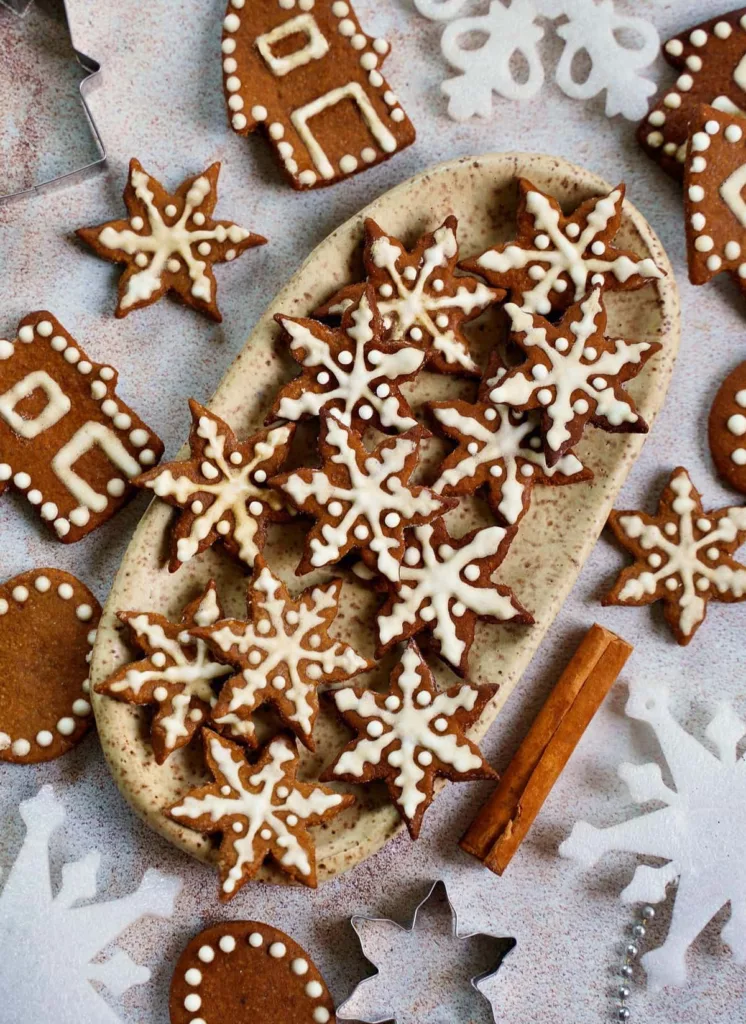 Gingerbread cookies dusted with white sugar and made with love get the Christmas going. The star of every holiday dinner, a tray of these little darlings is a hit with everyone across the ages. Making this vegan Christmas dessert is easy. Jasmine and Chris use all the usual ingredients, save for some sticks of vegan butter and almond milk to make these cookies crispy and crunchy. You can decorate these cookies with vegan vanilla icing- which is easy to make! Biting into these delights will give you so much joy, and we guarantee it!
---
Christmas Pavlova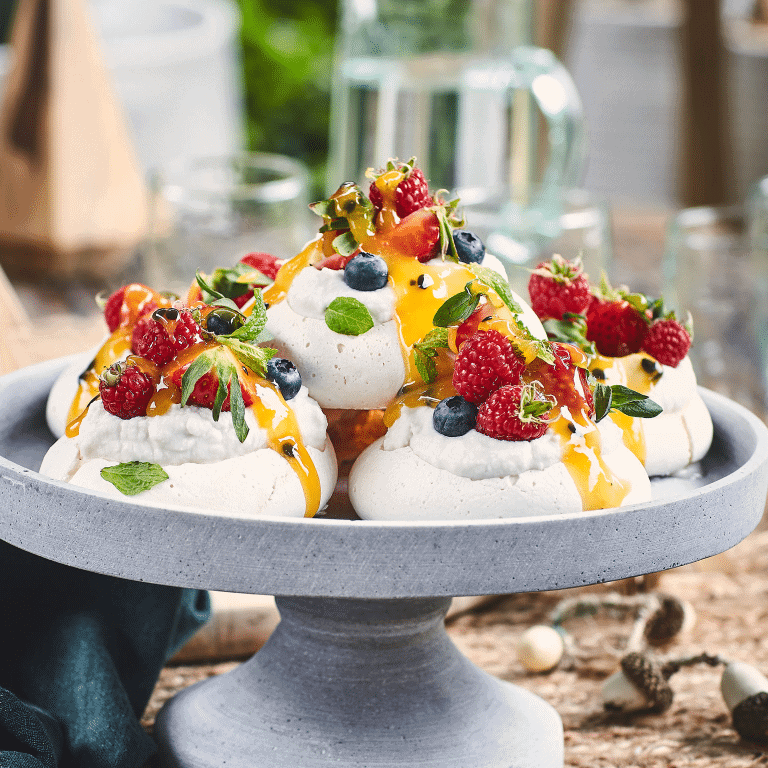 At last, the snowy pavlova, loaded with fruits. Traditionally prepared with eggs, a vegan pavlova might sound like something truly out of the box. And it is so- plus it is so easy that you won't notice that it is any different from the creamy dessert we adore so much. The meringue in this vegan version is made of sugar and aquafaba. The result is going to be wonderful, we know. Follow this recipe and bake that pavlova to perfection!
---
Chocolate Raspberry Pudding Parfait
We conclude with our personal favorite combination of fresh raspberries and vegan chocolate brownies. A chocolate raspberry pudding parfait served in a little glass is not only aesthetic, but really easy to assemble. All you need to do is make layers of vegan chocolate cake crumbs or vegan brownies, vegan chocolate ganache made with non-dairy milk, whipped coconut cream and fresh raspberries. Take notes from this recipe that will give you a better look at how to prepare each of these components.
---
What Be Zen Says About Vegan Christmas Recipes?
We at Be Zen commend you for adhering to your commitment of making this Christmas extra-special for your vegan family and friends. This short menu will help you draw up your own plans in the kitchen. Couple it with these zero-waste cooking tactics and you will make a thoughtful impact via what's on your plate. A vegan holiday feast will be an excellent prelude to the upcoming Veganuary. By making these vegan Christmas recipes, and keeping in mind the essential to do's and not to do's, you can easily make an enviable holiday spread that will also entice your meat-loving guests alike.
Christmas should be celebrated with good cheer and spirit- and food is an important aspect of these festivities. Besides these recommendations, stay tuned for our guides on Christmas shopping, gifts and decoration ideas that are sustainable and eco-friendly to the core. After all, we think that holidays should be marked with a substantial step towards planet-positivity and a promise of extending kindness to every life form out there. Cheers to this vegan and sustainable Christmas!